Being healthier and happier this year doesn't have to involve drastic changes or any kind of detox or cleanse. It can be easy to set yourself huge unrealistic goals and then fall at the first hurdle. Making one small change at a time will help you to be healthier and happier this year - mentally and physically. If you want to know how to be happier, then we have 100 ideas for you!
Whether your goal is to stop constantly worrying, lose weight, increase your fitness levels, focus on mental health, relax more, work on positive body image or just eat a few more vegetables, there will be a small change listed that you can make to make you healthier and happier Just make one over the year, make one a week or aim for them all over the year - find what works for YOU!
How to be happier and healthier - 100 small changes:
1 - Set yourself small Goals. Set goals like "run 5km" rather than "run a marathon" or "eat less processed food" rather than "lose 100lbs". The small goals will all add up to the bigger goals. Set small monthly goals, and they all add up.
2 - Hidden vegetables. Getting enough vegetables is a struggle for many us, but even more so if you really don't like them. Try hiding them in meals by blending them in to pasta sauces, soups or enchilada sauce.
Try our Hidden Vegetable Beef Burgers, Healthy Mac and Cheese or Slow Cooker Hidden Vegetable Pasta Sauce.
3- Walk where you can. Consider getting up earlier and walking rather than taking the bus or if your journey is too long, take the bus but get off 2 stops earlier and walk the rest. If you drive, park your car as far away as possible.
If you are working from home (or even if you aren't), then try taking a walk on your lunch break too - the fresh air will do you good.
4 - Morning internet. Do you check Facebook or your emails first thing in the morning? Try doing it whilst walking on the spot. You can easily get an extra 2000 steps done before you leave the house.
Bonus tip: if you click on a link to read a news story or do that super important "how big a Friends fan are you" quiz, run really fast on the spot whilst the link loads.
5- Take the stairs. There are usually always stairs next to the escalator or lift, yet most of us will take the easy option. Take the stairs instead to get some extra steps in and feel the burn in your legs. Learning a language this year? Count every step in that language for an added challenge.
6 - Drink your greens. Start each day with a green smoothie to get in lots of vitamins before you have even left the house. A smoothie doesn't have to replace a meal, it can be in addition to one. This is my favourite easy Green Smoothie Recipe.
7 - Focus on portion sizes. Anyone that has ever measured out a sensible portion of pasta will know that we are often eating way too big a portion size. If you don't want to change what you are eating, try focusing on the portion size of that. You could use a smaller plate too. No need to cut out the foods you love, just be mindful or portions.
8 - Compliment yourself. When you look in the mirror first thing in the morning, instead of being negative about yourself, give yourself a compliment. Perhaps you really like your smile - tell yourself that. It doesn't have to be a compliment about the way you look - celebrate everything you can do, not just what you look like.
9 - Read labels. One of the healthiest changes I made was starting reading the ingredients on all the labels. I was so shocked at what actually went in to the food I was eating that it helped me to eat fresher, less processed food.
10 - Make the most of TV adverts. TV advert breaks can be wasted time before our favourite show comes back on, so make the most of them by doing a mini workout. Get the whole family involved too and turn it in to a bit of a competition. Here is what I do during the adverts.
How To Be Healthy
11 - Find a way to enjoy exercise. Or at least find a way to hate it less. Not everyone is a runner or a swimmer, so don't force yourself to do something you really don't enjoy, as you won't stick to it (but do give something a chance for a couple of weeks as I hated running for the first 2 weeks).
Try different workouts to see what you enjoy - maybe yoga, pole fit, dance or cross-fit is more for you.
12 - Track what you eat. This isn't something that works for everyone, but I found that tracking what I was eating through either the Weight Watchers app or My Fitness Pal helped me with portion sizes.
It isn't even about restricting calories, I used it to make sure that I was eating enough vegetables, drinking enough water or to see how many calories I was burning each day. I can struggle to eat enough protein sometimes, so this is a good way to track it.
13 - Follow healthy eating pages. I know there is a lot of unhealthy information out there and people that are promoting restrictive lifestyles, but there is also a lot of great bloggers and Instagram pages out there. Never follow a page that makes you feel bad.
14 - Start your day with a healthy breakfast. Not everyone feels like eating first thing in the morning, so it doesn't have to be anything huge, but having something small will stop you from being starving come 11am and then eating everything in sight. Take a look at my Quick and Easy Breakfast Recipes.
15 - Cook more from scratch. Not only will this save you money, but you have total control over what is going in to your meals, so they can be healthier. Thing like pasta sauces and curry pastes are so quick and easy to make yourself, but the store bought ones have lots of added salt and sugar.
16 - Don't beat yourself up. You will skip workouts, you will still eat junk food, you will have a lazy day/week and you will want to give up - don't beat yourself up about this.
The journey to being a healthier and happier person is a marathon, not a sprint and there is no such thing as perfection. One burger won't undo anything, the same way that one salad won't instantly make you healthy. It's about consistent habits over time.
17 - Fit in workouts where you can. Perhaps in an ideal world we could all fit in 5 gym sessions a week, but for various reasons that isn't an option for many. I always say that a little workout is better than no workout, so I fit in exercise where I can.
I do squats whilst I am waiting for the kettle to boil or if I am stirring something on the hob I will lift a weight with my other hand. Just do what you can! I try to get the kids involved as much as possible too, so I am spending quality time with them too.
18 - Healthier alternatives to takeaway. I am not suggesting that you totally give up ordering pizzas or Chinese for the whole year, but try making your own healthier alternative takeaways every now and then. Take a look at my Healthier Takeaway Recipes.
19 - Get enough sleep. I know, I know, we've all heard this before, but it really does make a difference. If you plan on getting your workout done first thing in the morning, then you need to be getting to bed at a decent time. Here are some other reasons why Getting Enough Sleep Is Important.
20 - Don't be scared of weights. Are you the cardio queen? Try adding a few weights sessions to your workouts and you will notice a huge difference. Lifting weights won't make you huge, but it will help to change your shape (if that is what you want) and make you stronger.
21 - Stop dieting. Diets are so 90s and also damaging. Stop thinking of it as a diet and just focus on healthier changes that are not totally restrictive. You are more likely to be successful at making those changes if you don't see it as a boring diet.
22 - Switch to complex carbs. A life with carbs would make me very sad and would mean that I would be too weak to workout, so I definitely don't cut them out. I just make sure that the majority of my carbs come from complex carbs like brown rice, beans and vegetables rather than all white bread etc (but I don't exclude that).
23 - Drink more water. Fizzy sugary drinks can be so tempting, but they don't keep you very hydrated and they can cause a serious sugar crash, so try drinking more water. I like to add a squeeze of lemon juice to mine to make it more exciting.
24 - Stop saying I can't. Sometimes it is more of a mental battle than it is a physical one, so stop saying "I Can't" and say "I can't do that yet". Obviously this doesn't apply to everything, but don't say you can't run 5km, when it is just something that you can't do right now. However, never be afraid to give up on something if that is the right thing for you.
25 - Cut out the negative people. Unfortunately this isn't always an option for everyone, but seeing less of those friends that are not supportive and just bring you down can make a big difference to your mental health.
26 - Listen to your body. If you are hungry, then eat, but try to distinguish between physical hunger and mental hunger. Also listen to your body when it needs rest. Just because you have a workout scheduled, doesn't mean you have to do it if you really need to rest.
27 - Reward yourself. If you reach a goal, like running a personal best, then reward yourself for that. Celebrate the big and small things.
28 - Buy yourself some nice workout clothes. This one kind of follows on from the one above, but I find that if I feel good in my workout clothes, then I am more likely to workout. The brighter the better for me too.
29 - Stop comparing yourself to others. The only person you are in competition with is yourself. Just try to set personal bests and don't worry about what other people are doing. Sure, you can be inspired by others but we are all very different and we all go at a difference pace.
How To be Happy
30 - Deal with emotional eating. If you find yourself eating when you are sad, even though you are not hungry, then you are not alone. It can feel like a vicious cycle, but keeping an emotional eating diary can really help.
31 - Plan your meals. Not only is meal planning a great money saving tip, but having your meals planned for the week helps you to make healthier choices, rather than just ordering a pizza because you had nothing else planned.
32 - Do some weekly food prep. As well as planning my meals, I do some prep on a Sunday to save myself some time during the rest of the week. Just by doing a few things like cooking a whole chicken and shredding it up to add to meals, or cutting up some veggie sticks for snacks can mean that you have easy healthy meals/snacks on hand.
33 - Snack wisely. Make some healthier snack swaps to give you enough energy to get through the day. I always feel a slump at around 3pm, so I have some almonds and cashews and a piece of fruit, rather than reaching for the cookies. There are some more Healthy Snack Ideas here too.
34 - Don't get stuck in a rut. Keep your body guessing by varying your workout routine and eating different meals. It will stop you from getting bored too.
35 - Post motivational quotes around the house. I do like a good motivational quote to pick me up when I am having a bad day. I have some all around my house, mainly ones that focus on positive body image rather than those quotes that make people feel guilty.
36 - Make time to relax. Being active is important for a healthy body, but resting is also very important for a healthy body and a healthy mind. Take some time out to read a book, or have a bath. It doesn't have to be hours, just 5 minutes to yourself can help you to reset.
37 - Smile. We smile because we are happy, but it also works the other way too. Just smiling more often can make us happy. So, try to find more things to smile about.
38 - Make appointments for your workouts. Just like you would write a work meeting in your diary, write your workouts in your diary so that they are harder to skip.
39 - Get a workout buddy. This isn't something that works for everyone, as some people prefer to workout alone, but I love having a workout buddy to keep me motivated, and to keep them motivated too. I think it helps to have someone that is at the same level as you.
I find it helps to keep me motivated because I would feel bad cancelling on someone else if we had a workout date arranged.
40 - Don't fear fats. Not all fats are equal, and they definitely shouldn't be avoided. I am sure you are all bored of hearing about how amazing avocados are by now (have you tried my Avocado Pasta recipe?), but they really are.
41 - Avoid going back for seconds. Of course, doing this once in a while isn't going to do any damage, but if you are having 2 portions of dinner every night, then that can all add up. I serve up our dinner before taking it to the table, rather than putting a big dish of a pasta bake on the table and being tempted to fill another plate full.
I then portion the leftovers in to Tupperware straight away and it can go in the freezer as soon as it's cooled.
42 - Make extra portions. This can be a big risky if you re easily tempted to go back for seconds, but I always make one or 2 extra portions of dinner to go in the freezer, this means I know we have some healthy meals in the freezer than can be easily reheated, rather than ordering a pizza just because we are lazy.
Most of my Mexican Recipes are freezable.
43 - Eat slower. It takes a while for your stomach to send your brain the signal that it is full, so if you are a quick eater you can easily eat way more than your body needs, so try slowing down. Not to mention that it is better for digestion too. Feeling like a balloon after eating? Try some peppermint tea.
44 - Do some yoga. Gone are the days where people thought that yoga was only for hippies. I honestly think that yoga can benefit everyone. You don't have to have plans of standing on your head (although that is my aim), but even some gentle stretches and sun salutations first thing in the morning can help you have a stress free day. Head to a class so you can be shown how to do all the moves safely.
Read more about the Benefits of Yoga.
45 - Bulk out pasta dishes. Pasta is the ultimate comfort food in our house, but as we can eat such a large portion of it we bulk it out with spinach. About 2 minutes before the pasta is cooked, we throw a bag of spinach in. A bigger portion and some extra greens - win win.
46 - Use more herbs and spices. Whilst I don't believe that healthy eating is boring, it can be if you are not being creative. Herbs and spices are a really easy and low calorie way to add more flavour to your dishes, so stock up on them. Buying them in bulk at an Asian supermarket can save you some money.
47 - Use your slow cooker more. Have you got a slow cooker that you hardly ever use? Get it out of the cupboard and put it to good use! You can put it on before you leave the house in the morning and by the time you get back it is cooked and ready to eat.
That way you know you have a healthy dinner waiting for you and prevents you picking up loads of junk because you don't know what to make for dinner. Take a look at my Slow Cooker Recipes or order a copy of my Healthy Slow Cooker Book. (aff)
48 - Don't totally deprive yourself. If you tell yourself that you can never have cake again, then after about a week everyone will start to look like a giant slice of cake. It isn't about total restriction, just making making healthier choices the majority of the time.
When I indulge, I make sure it is with something that I really want, rather than eating something just because it is there.
49 - Make sure you get enough protein. Getting enough protein will help you to stay fuller for longer, which can help stop too much snacking. However, most people are surprised at how much protein they are actually eating, as protein is in so much more than just meat.
50 - Get enough Omega-3. You can get these from fish, legumes and nuts.
51 - Cut back on coffee. When that 3pm slump hits, it can be so easy to pour yourself your 6th coffee of the day to perk you up a bit. Try a healthy snack instead.
52 - Don't be afraid to ask. When you go out to dinner, don't be afraid to ask to substitute things or order off menu. Little things like asking for dressing on the side, or asking for plain potatoes can save some calories if that is your aim.
However, if you are going for a rare meal out, just enjoy it as a treat. For those of us that travel for work and eat out a lot, these calorie saving tips can be helpful.
53 - Avoid eating in front of the TV. Having distractions at meal time means that you are not focusing on what you are eating, which can lead us to eat too much. Switch off the TV and don't take your phone to the table.
54 - Change your plates. Those huge fancy plates are the the rage at the moment. However, if you have a big plate, then you will fill it up with food so that it looks enough, when it will actually be too much. Swap your plates for smaller ones to help with portion sizes.
55 - Get up. Whether you work at home or in an office, sitting down all day and then coming home and sitting down in front of the TV all night can be really bad for us. Try to get up every 30-45 minutes and walk around - set an alarm on your phone if needed. I have a FitBit activity tracker that reminds me to get moving.
If you work in an office, trying walking to your colleague rather than sending them a quick email.
56 - Make the most of your lunch break. We all need some downtime and during your lunch break you might feel like totally zoning out. By taking just 15 minutes to go for a walk outside can help you get some more steps in and also make your more alert for the afternoon.
57 - Pack your own lunch. Again, this isn't just a money saving tip, but a healthier change too. Those pre-packed sandwiches are not the healthiest and they don't taste great either. You can easily make them yourself and not only are they healthier, but they will probably taste better too. Take a look at some of my Sandwich Recipes.
58 - Aim for 10,000 steps a day. This might seem like a lot, but it all adds up. Try topping up your steps by walking on the spot whilst waiting for the kettle to boil. Or run up and down the stairs a few times.
How To Be Happier
59 - Ban all electronics in bed. Whilst you might feel the need to see what everyone is doing on Facebook before you go to bed, checking your phone in bed can actually stop you from getting a good nights sleep. Try a book instead.
60 - Meditate in the morning. I find that taking 5 minutes in the morning to just sit and focus on my breathing really helps me to have a calm day.
61 - Stock up on frozen vegetables. They often have more nutrients than fresh vegetables as they are picked at their peak and frozen straight away. Having them in the freezer also means they won't go bad and you won't have to throw them away.
61 - Sit up straight. Did you know that sitting up straight can decrease your stress hormones and increase serotonin.
63 - Make your own salad dressings. You only have to read the label on the dressings to see what junk goes in to most of them. They are one of the quickest and easiest things you can make. Start with my Healthy Ranch Dressing.
64 - Learn something new. Make the time this year to learn something new. It doesn't have to be anything huge like become fluent in Spanish, but learning a new skill can really put your brain to work and give you a sense of achievement.
65 - Play more brain games. I sometimes feel that social media and computers in general have stopped us from using our brains as much. I think it's important to exercise our brains too, by doing things like brain teasers and crossword puzzles.
66- Learn how to say no. Some people can be really demanding and if you are polite, it's hard to say no. Remember that you have to look after yourself too, so if you don't have much time for that, start saying no to others more often. You should never feel guilty about setting boundaries.
67- Say yes more. On the other hand, saying yes to more opportunities can be a wonderful thing. If you find yourself turning down offers from friends because you can't be bothered, try saying yes more often and you might end up having a lot of fun.
68- Random acts of kindness. Not only is doing nice things for other people a good thing to do for them, but it will make you feel happier too.
69- Stop putting things off. How many times do you say you are going to do something and then you just keep procrastinating? Make this the year that you tick some of those things off your list. It's amazing how accomplished you will feel. Want to book that dream trip? Start working at it!
70 - Pay attention to your pee. Yes, this isn't the nicest goal to set yourself this year, but taking a look at the colour of your pee can help you to see if you need to be drinking more water. You should be aiming for a light yellow to clear colour.
71 - Try not to drink your calories. Those sugary Starbucks drinks can have enough calories for a whole meal in them. The same goes for store bought smoothies.
72 - Smile at people more. Just a simple smile at a stranger can go a long way. Not only does smiling make you happy, but you never know how much someone might need it.
73 - Watch a funny cat video. This might seem like a strange one, but if you are feeling a bit down, head to YouTube and watch a funny cat compilation and it will turn your mood around. Unless you hate cats of course.
74 - Dance like no-one's watching. If cat videos are not your thing, then turn your favourite song up really loud and dance around for 5 minutes. Guaranteed to lift your mood a little. When it gets to that time of the day that the kids are getting cranky, we have a dance party. We each choose a song and we dance.
75 - Add some cinnamon to your breakfast. Cinnamon can help to lower your cholesterol and it can always make the blandest of breakfast taste better. We really like our Apple Pancakes.
76 - Eat more berries. Berries can help to lower your blood pressure, so throw some in your smoothies or on top of your oats in the morning.
77 - Cut down on the booze. I know, that makes me sad too! But, not only is it empty calories and not only can it lead to some unhealthy food choices, but too much alcohol can increase your risk of cancer. It can also really effect your mood.
78 - Try a new workout class. Take a look at the list of workout classes that your gym offers (or look for online classes) and try something new. Push yourself out of your comfort zone and you might even enjoy it.
79 - Don't be afraid to ask for help. If you are struggling when it comes to healthy eating or working out, don't be afraid to ask a personal trainer or a dietician for help. Make sure you ask a professional though, as random people on the internet can have a lot of bad advice. The same goes for asking a family member to watch your kids for a little while so you can do something just for you!
80 - Try interval training. Interval training, where the speed is varied, can help you to burn more calories and fat. I like those kinds of workouts are they hold my attention more.
81 - Aim for half your plate filled with fruits and vegetables. Load up your plate with fruit and vegetables to get lots of vitamins and keep yourself fuller for longer. Take a look at some of my Veggie Packed Side Dishes.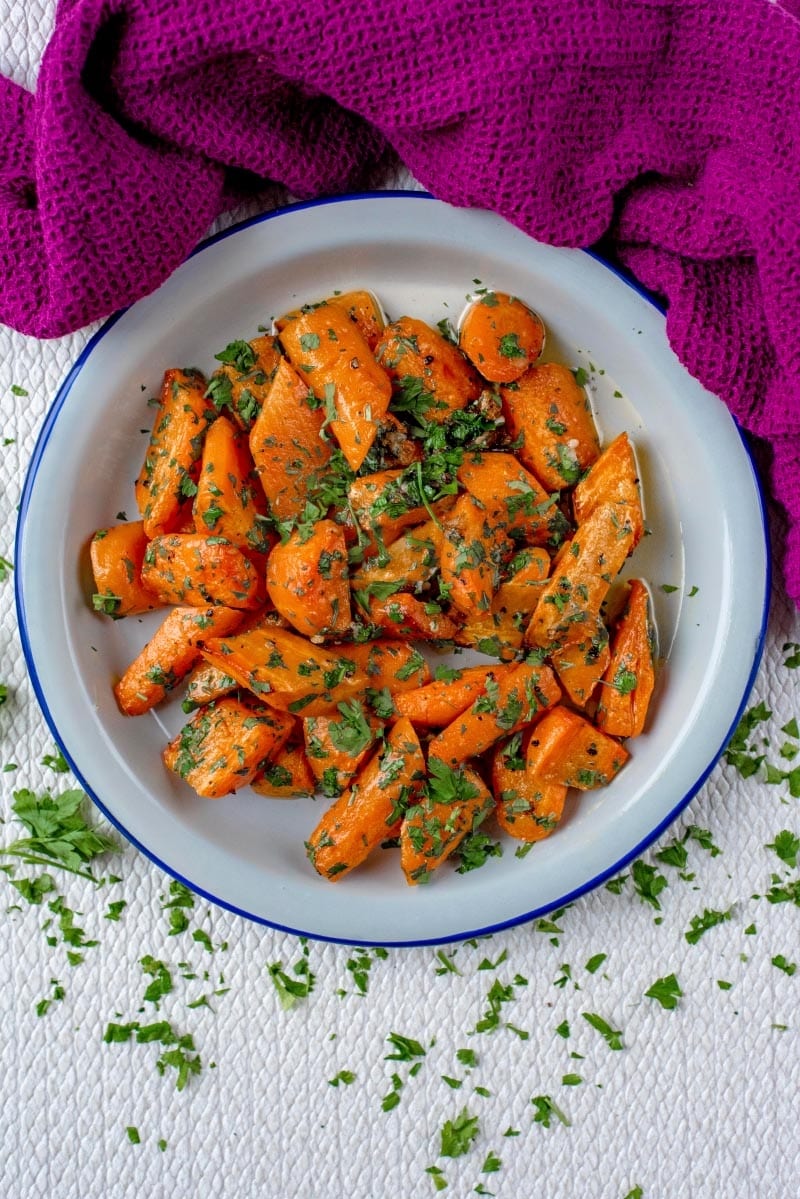 82 - Make an awesome playlist. Sometimes a really good playlist is the only thing that will get me through a workout. Add your favourite songs and turn them up. Those minutes will go by before you no it.
83 - Stick to the outside aisle of the supermarket. That is usually where the fresh food is. As a general rule, all the processed food is in the middle aisles, so try to avoid those. Although, in my supermarket the very outside aisle is beer ;)
84 - Take food home. Just because you get served up a HUGE portion in a restaurant, doesn't mean you have to eat it all. Ask your server for a takeaway box and take half the portion home. There is no need to waste it or eat all of it if you aren't that hungry.
85 - Don't fall in to the health food trap. The whole gluten free thing has really taken off and people are sucked in to thinking that if a cookie is gluten free, then it must be healthy. It's still a cookie and it is still full of sugar! Not that there is anything wrong with sugar, but don't think it's any different just because it is gluten free.
86 - Eat more curry. Curries are often packed full of garlic, ginger and turmeric, which all have lots of health benefits. It's an easy meal to add lots of vegetables to as well. Try my 10 Minute Spinach and Chickpea Curry.
87 - Get a good pair of shoes. No, I am not talking about a new pair of heels (although that can do wonders for your mental health), but make sure that you have the right pair of running shoes.
Head to a running shop and get them to do a gait analysis. You runs will be more comfortable, which can help you to improve your running. It can also help to prevent injury.
88 - Get outside more. Most people are not getting enough vitamin D, so head outside in to the sunshine and get some vitamins. Remember to stay safe in the sun too!
89 - Keep your hands clean. This might sound like an obvious one, but it's important to remember. Wash your hands often to help prevent colds and picking up germs.
90 - Don't obsessively weigh yourself. If losing weight is your focus, try not to keep your scales in the bathroom or anywhere you go regularly. There will be too much temptation to weigh yourself every day or even every hour.
Your weight is regulated by more than just what you eat and can change a lot. Try to stick to once a week if you want to weigh yourself.
91 - Get a good sports bra. Don't just buy the cheapest one, as they won't give you the support you need. When you are focusing on trying to beat your personal best, you really don't want to be worrying about what your boobs are doing.
92 - Fuel your body. Try to focus on the right foods to eat before and after your workouts. Eating a carb heavy meal before your workout (although not too soon before) will help you get through it. A protein packed meal after your workout will help your muscles to recover. I like this Asparagus and Feta Egg Bake after my workout.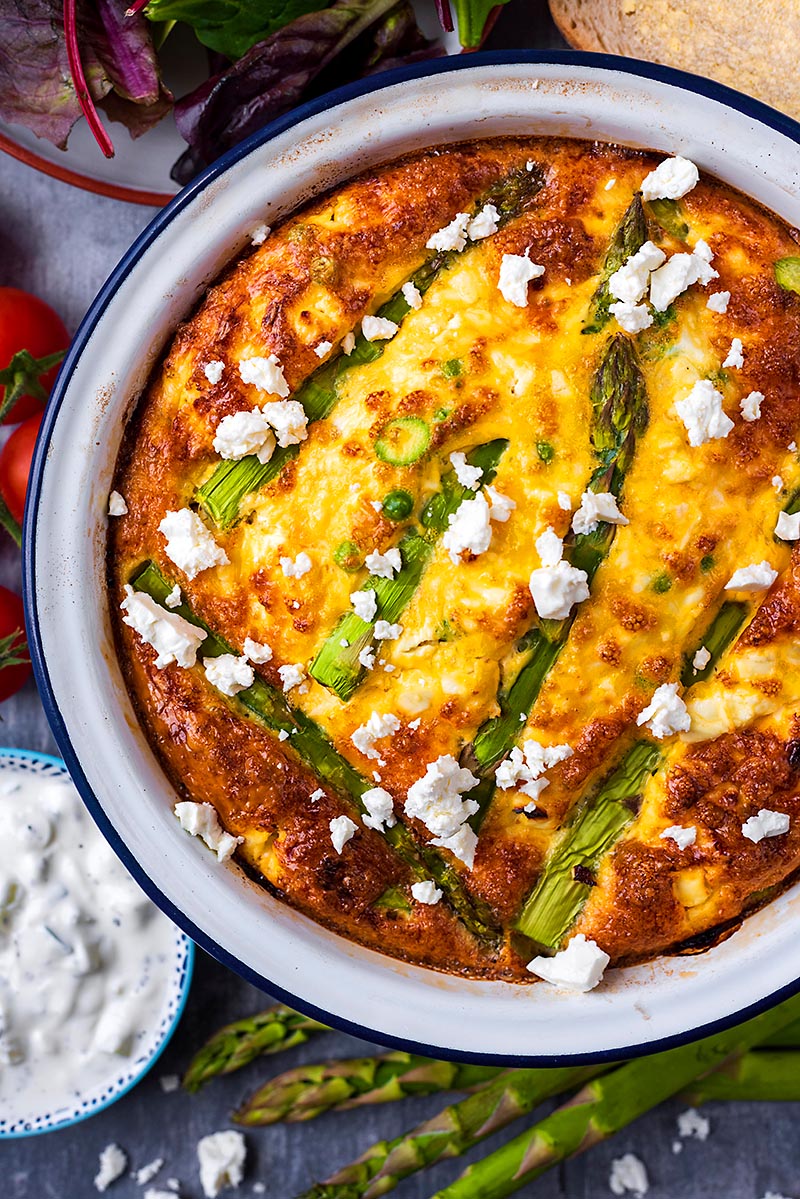 93 - Watch your salt intake. By buying less processed food, this will help you to cut down on salt. Too much salt can lead to bloating which will make you feel much bigger than you are.
94 - Set yourself a challenge. I like to set myself challenges each month, like doing a certain amount of squats or building my way up to a 5 minute plank. Here is a challenge I did back in 2014 and I do it again every year.
95 - Enter a race. If you are trying to improve your running, signing up to a race can be great motivations. I think there is a race out there for everyone, so take a look around and sign up for something. Get a group of you together to make it more run. I think a great first race is The Colour Run.
96 - Join a support group. You can find loads of Facebook groups that have the same goals as you.
97 - Focus on how far you have come. Rather than thinking of how far you have to go, remind yourself of everything that you have achieved. Your personal bests and the new habits that you are forming.
98 - Keep it simple. There is so much information out there, that we can feel like we have to try every new superfood and workout there is. Keep things simple and you are more likely to stay on track.
99 - Focus on health. It isn't about a number on the scale or the size of your clothes, but feeling better in yourself so you are healthy enough to do all of the things that you want to do. Focus on making small changes to be healthier, rather than obsessing over the scale.
100 - Remember that you are unique. Everyone is an individual and has difference needs. So skip those one size fits all diet plan and find what works for you to make YOU a healthier and happier person.
Do you want to be kept up to date on more delicious posts like this? Please subscribe to the blog mailing list (it takes 30 seconds). Click here to sign up.

If you've tried these tips or any of our recipes on the blog then let us know how you got on in the comments below, we love hearing from you!
Tag us in your creations on Instagram @hungryhealthyhappy - we love sharing photos when people make our recipes. You can use the hashtag #hungryhealthyhappy too.