Homemade sushi is much easier to make than you might think and we are sharing our favourite Easy Sushi Recipes with you. Once you have mastered the rolling technique, you can make sushi quickly and there are so many different varieties too. Read on for all our homemade sushi tips, how to eat it and what to serve it with.
Not only is homemade sushi much cheaper to make at home, but it is totally customisable, so you can add all your favourite ingredients and make it a different way every time. Although homemade sushi will never be NYC restaurant quality, it is fun to make and it will satisfy that sushi fix.
In this post you can learn how to make the perfect texture sushi rice and lots of different sushi recipes to use it in, from maki to hand rolls.
Jump to:
Sushi ingredients
Nori - These are the sheets of edible seaweed that sushi is wrapped in. Choose a brand that is dark green in colour. You can find these in the world food aisle of most supermarkets.
Sushi rice - You have to use sushi rice for the best results. Basmati or jasmine rice will not work. Follow our recipe for Sushi Rice for the best sticky rice.
Vegetables - Salad vegetables such as cucumber, bell pepper, carrot and avocado are what we have used. Roasted red peppers are also popular.
Seafood - We have used smoked salmon and tuna for two of our sushi recipes. Prawns (shrimp) can also be used.
Tofu - A great vegan filling for sushi.
Cheese - For our Philadelphia Rolls we used cream cheese. While cream cheese is not a traditional ingredient in Japanese sushi, it is gaining popularity.
Sauces - We have used mayonnaise and sriracha chilli sauce.
Sushi basics
Nori - For all of the sushi recipes that follow you will need to use Nori. It is a dried edible seaweed used in Japanese cuisine, and can be found in the world food aisle of the supermarket.
Sushi rice - While sushi ingredients differ from dish to dish, the one key ingredient is sushi rice. In Japanese, the word sushi (寿司) means "soured rice" as the rice is moistened with rice vinegar. Sushi rice can also also be referred to as shari (しゃり), or sumeshi (酢飯).
It might seem complicated, but sushi rice is really simple to make. It is a little more time consuming than regular rice, but once perfected, your sushi options are endless.
Equipment - Once cooked, sushi rice is put into a wooden bowl to cool. Traditionally, this is a flat, shallow bowl known as a hangiri (飯切).
You should never use metal implements to mix sushi rice. This is because the hard metal can damage the delicate rice grains and also the metal can tarnish the taste of the rice. You should always use wooden implements. A wooden spatula will work, but a traditional rice paddle, or shamoji (しゃもじ), should be used.
You will then need a rolling mat, known as a makisu (巻き簾) to roll the sushi.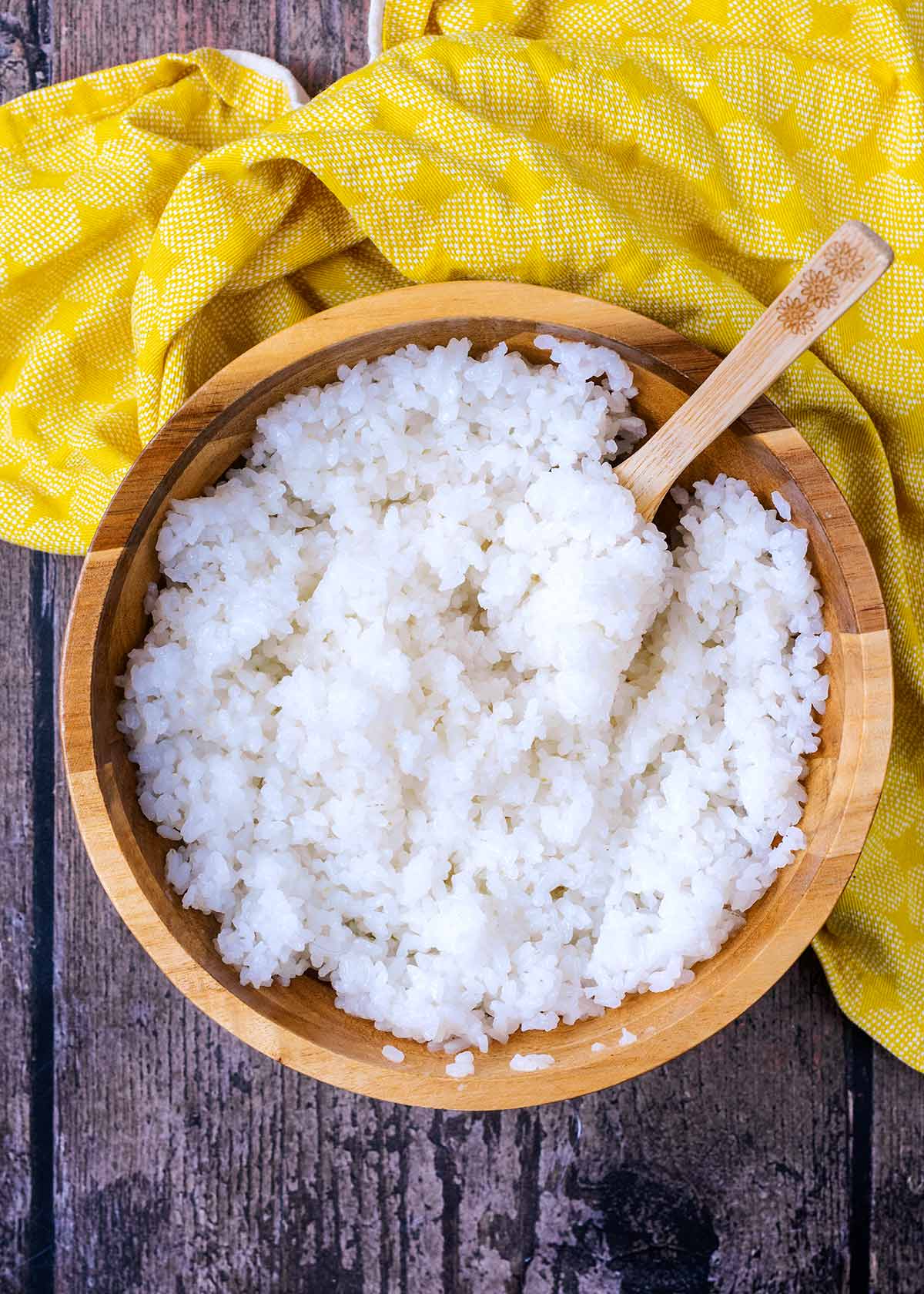 How To Make Sushi Rice
Follow our step by step instructions for how to make sushi rice that is perfectly seasoned and also lots of sushi recipes to use it in.
Check out this recipe
Sushi anyone can make
Cucumber Maki - This is a great sushi recipe to start with and a favourite with kids. It doesn't have any overpowering flavour, and it's refreshing.
Cucumber Maki
Kappa Maki, also known as cucumber maki or cucumber roll is a great sushi recipe to start with if you have never tried to make it before.
Check out this recipe
Avocado maki - Like the cucumber maki, this is a great sushi recipe to start with, especially if you are put off sushi because of fish. Creamy avocado goes through the centre of the roll and it's always been a favourite with our kids.
Avocado Maki
These easy Avocado Rolls need just 3 ingredients and are so simple to make. If you've never made sushi before, then avocado maki is a great place to start.
Check out this recipe
Salmon maki - If you want to ease yourself into sushi with fish, then start with this. We have used smoked salmon, which does have a strong flavour. You could cook a salmon fillet to use or use raw salmon (known as sake).
Salmon Maki
Salmon Maki is one of the most popular sushi rolls. Simple and delicious, this is our take on a classic, and is perfect if you are new to sushi.
Check out this recipe
Philadelphia roll - This is far from traditional, but it's a popular one in UK and US sushi restaurants. Salmon and cucumber are paired with creamy Philadelphia cream cheese in this roll.
Philadelphia Roll
When it comes to sushi, a Philadelphia Roll is one of our favourites. Really light and fresh, and adaptable too. Just a few ingredients and simple to make.
Check out this recipe
Rainbow sushi - A vegan favourite and a delicious and colourful way to increase your vegetable intake. Easy to adapt with vegetables the colour of the rainbow too.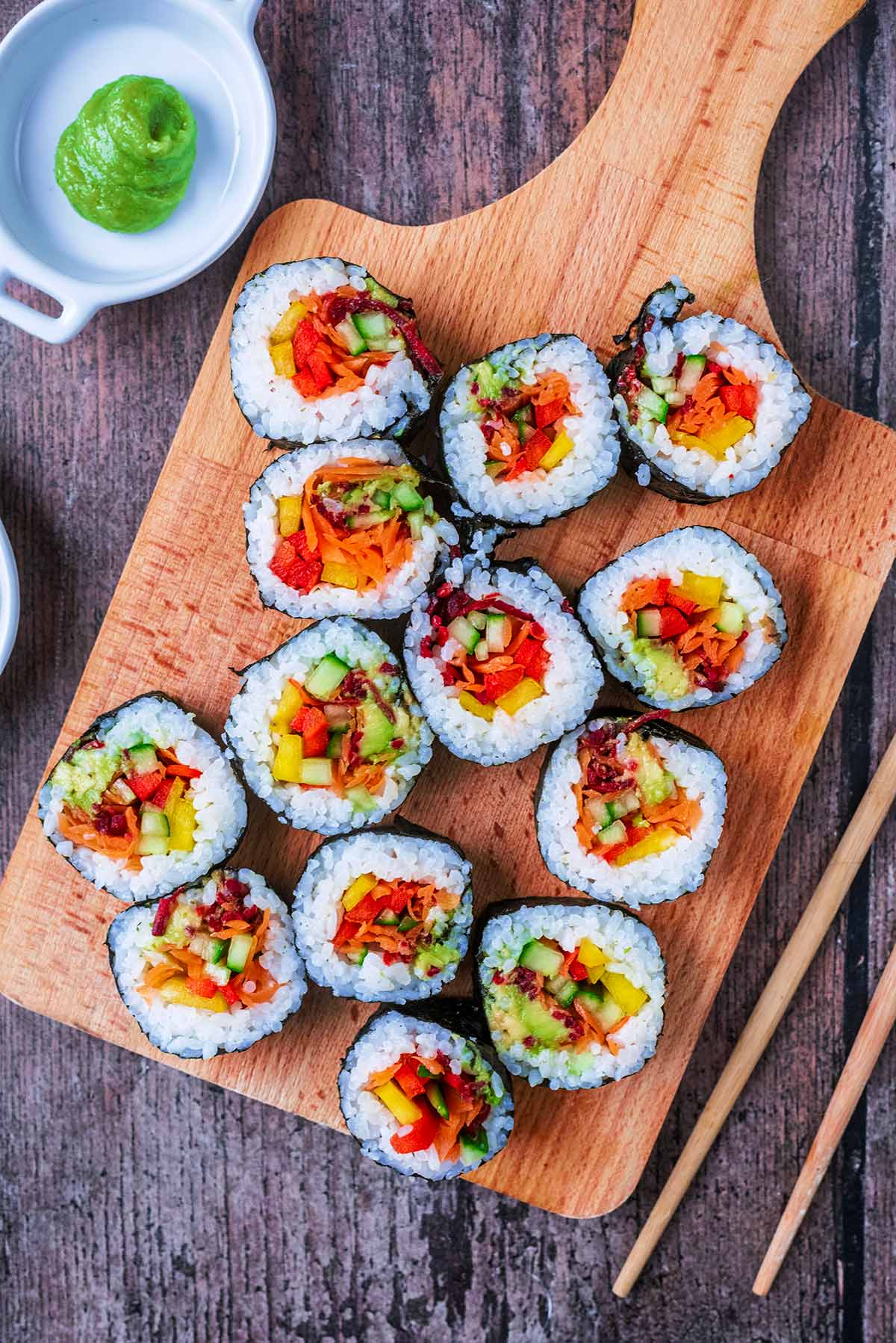 Rainbow Sushi
These brightly coloured Rainbow Sushi rolls are packed full of veggies and a fun way to get more vegetables in your diet.
Check out this recipe
Vegan sushi - Sushi really doesn't have to all be about fish and this vegan version proves that. Protein packed with tofu, even meat eaters will love this sushi recipe.
Vegan Sushi
This Vegan Sushi recipe goes to show that sushi is far more than rice and fish. These inside out sushi rolls are easy to adapt and taste delicious.
Check out this recipe
Spicy Tuna Rolls - This is one for those that love spice. Mix tuna with mayo and Sriracha for an easy and flavour packed sushi roll filling.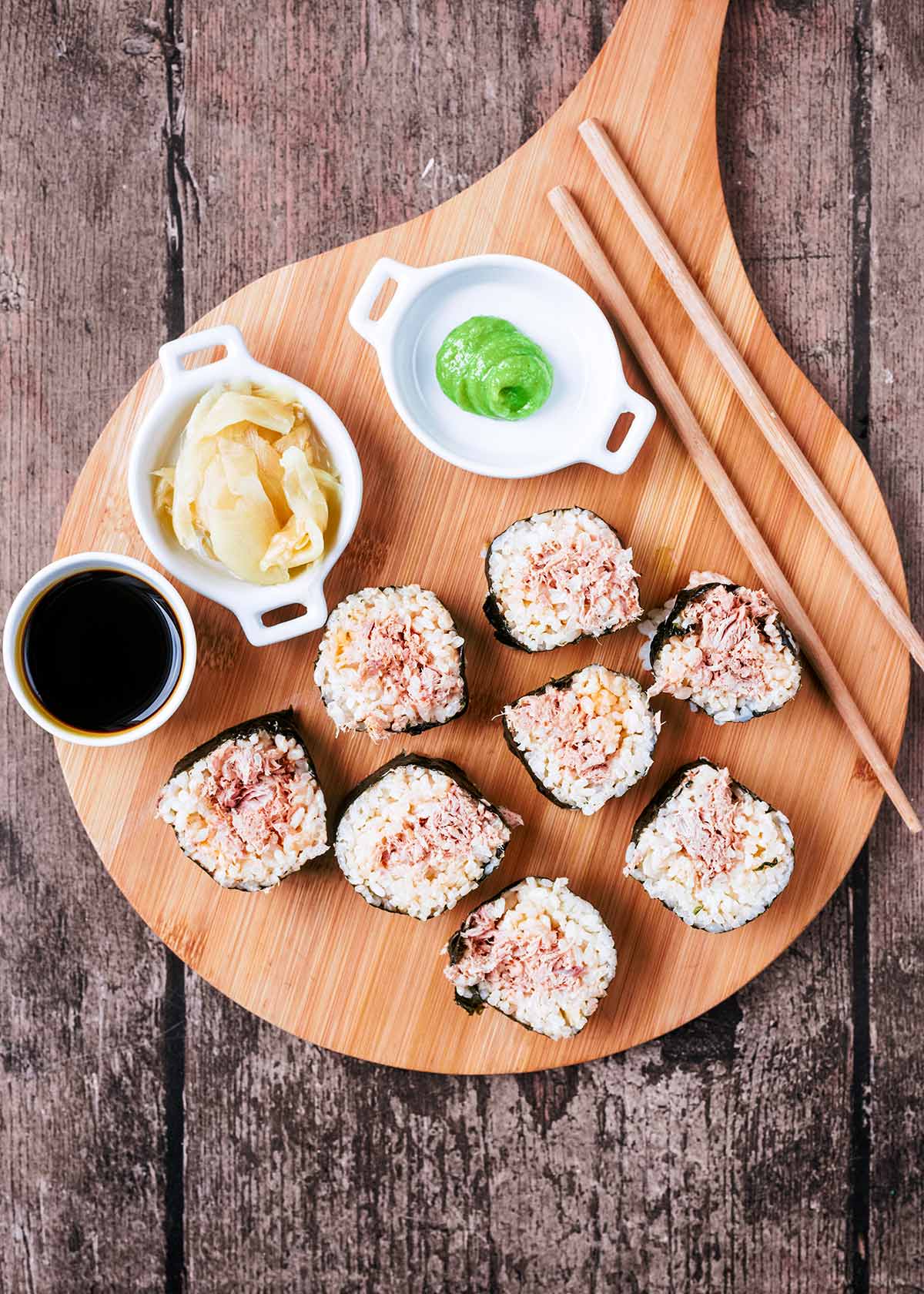 Spicy Tuna Rolls
These fiery Spicy Tuna Rolls have a real kick of flavour to them. A super easy sushi roll made with store cupboard ingredients and easy to adapt.
Check out this recipe
Hand Roll Sushi (Temaki) - Once you have mastered the maki roll, the next sushi recipe to move on to is the hand roll. They look SO good and you can stuff them with almost anything.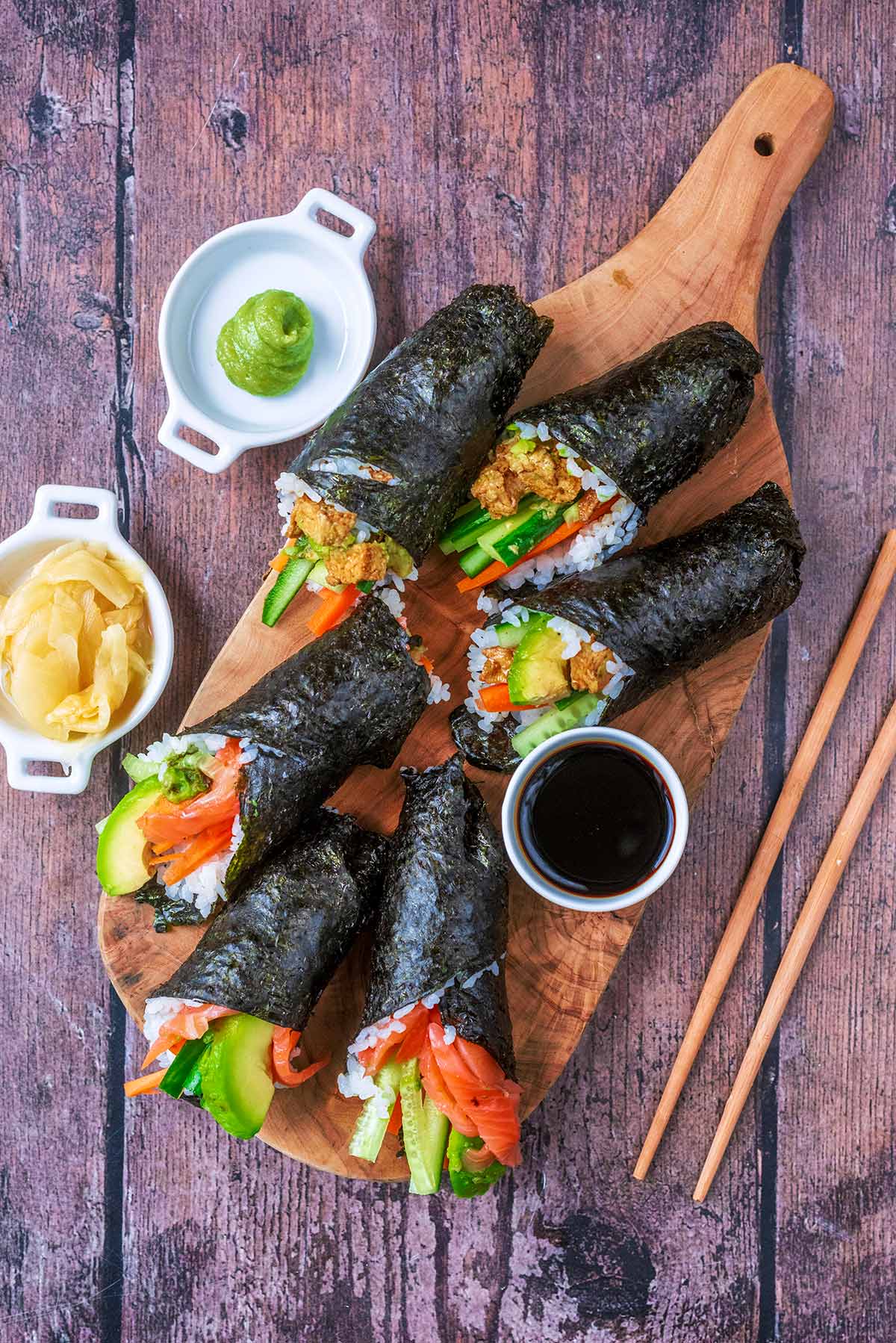 Hand Roll Sushi (Temaki)
Temaki, also known as Hand Roll Sushi, is the easiest sushi to make because you don't need a rolling mat or any rolling skills.
Check out this recipe
How to eat sushi
Sushi can be eaten with chopsticks, known as hashi (箸) or with your hands. If you are teaching kids to use chopsticks, or you just need a little help yourself, then we recommend these Training Chopsticks.
When eating sushi, you are meant to put the sushi pieces in your mouth upside down so that the fish touches your tongue. If you are dipping the sushi in soy sauce, you are meant to just dip the fish in and not the rice, as the rice will absorb too much soy sauce.
What to serve with sushi
Soy sauce - We really love a sweet soy sauce. However dark or light soy sauce will work well.
Dipping Sauce - Our Gyoza Sauce, which is made with soy sauce, sesame oil and rice vinegar, goes really well with sushi.
Wasabi - Love a kick of heat with your sushi? Then serve it with wasabi (Japanese horseradish). The way wasabi should be added is by dabbing a small bit of wasabi on one side of your sushi, then flipping it over and dipping the other side into your soy sauce.
Pickled ginger - Pickled ginger is eaten between sushi servings to cleanse and refresh the palate.
Seaweed salad - A simple and refreshing side dish to accompany your sushi. Check out Japan Centre's recipe for seaweed salad.
Edamame - These are young soybeans that can be boiled or steamed.
Storage
Homemade sushi is best eaten straight away. However, if you have any leftover then it will keep in the fridge for 24 hours. Keep it in an air tight container which will reduce moisture and bacterial growth.
We wouldn't recommend freezing sushi, as it totally changes the texture.
It is important that leftovers are not kept at room temperature for more than 1 hour.
So there you go - easy sushi recipes that anyone can make. Just a little preparation and practice and you will be rivalling a sushi itamae in no time.
If you've tried any of these easy sushi recipes, let us know how you got on in the comments below.
Tag us in your creations on Instagram @hungryhealthyhappy - Use the hashtag #hungryhealthyhappy too.