This Cauliflower and Potato Curry (also known as Aloo Gobi) is a delicious and filling vegan curry. Comforting chunks of potato and cauliflower make the base of this budget friendly curry, all brought together in an easy and flavour packed creamy sauce. It's rich and hearty and freezes well, making it perfect for batch cooking.
The smell when this is cooking is amazing. A really rich and fragrant dish that smells, and tastes, like something you would get from your favourite Indian restaurant. We have added our "secret" curry ingredient to it for a little sweetness and an extra punch of flavour.
A delicious meal when you are trying to save some money, but you don't want to sacrifice on flavour. If you are looking for some more budget friendly curries, why not try our 10 Minute Chickpea and Spinach Curry?
Jump to:
What is Aloo Gobi?
Aloo Gobi literally translates to potato cauliflower. It is often a vegetarian side dish in Indian restaurants, and tends to be more dry than what we are sharing here. We added more of a rich gravy sauce to make it nice and saucy. It is still usually served in a tomato sauce with onions and spices.
Why you will love it
A delicious vegan curry - Vegan curries can still be deliciously creamy and filling and this one certainly ticks those boxes. Hearty from the potato and cauliflower and then creamy from the coconut milk with the perfect blend of spices.
Budget friendly - If money is tight before payday, then this is the perfect meal to make. It is filling, nutritious and cheap to make. Potatoes and cauliflower are inexpensive ingredients and the tomatoes, herbs and spices you probably already have in your cupboard.
Takes just over 30 minutes to make - This is aloo gobi is such a quick and easy meal to make and most of the cooking time is hands off, as it is just letting the sauce bubble away and the potatoes cook through.
Easy to adapt - Use this recipe as a base and then adapt it to suit your own tastes. Make it as spicy or as mild as you like and add different vegetables to use up what you have and reduce food waste.
Ingredients needed
Oil - This is what the curry is cooked in. We used olive oil, but you could use sunflower or vegetable oil. You could also use coconut oil or ghee if you prefer.
Potatoes - This is what the bulk of the curry is made up of. To keep this potato and cauliflower curry budget friendly you can use any potatoes you like, however waxy potatoes will keep their shape better when cooking due to the low starch and high water content. Waxy potatoes include Charlotte, Maris Peer, and Jersey Royals.
Shallots - This is the base of the curry and we find that shallots add a nice sweetness. You could swap them for a small brown onion though.
Cauliflower - Along with the potatoes, this is the star ingredient. You could use a mixture of cauliflower and broccoli if cauliflower by itself isn't your favourite.
Garlic and ginger - A must in a curry in our option. You can save time by using a jar of chopped garlic and ginger, or even use frozen.
Curry powder - To save time, we have used a good quality curry powder blend rather than mixing the herbs and spices ourself. You could use a curry paste instead if you wanted a more intense flavour. You could use different curry pastes like masala or madras, to change it up a bit and change the spice level.
Chilli powder - We don't find curry powder by itself very spicy, and we like our curries to have a nice kick of heat, so we add some extra chilli powder. However, you could leave it out if you don't like spicy curries. Equally, add extra if you like really spicy.
Tomatoes - This is the base of the sauce and helps make it thick and rice. Try to use the best quality tinned tomatoes you can, as you really will be able to taste the difference. Cheap tinned tomatoes tend to be really watery and you will end up with a thin sauce.
Coconut milk - We love a creamy curry. You could just leave it tomato based, but we find the coconut milk just takes this potato and cauliflower curry to the next level. You can use full fat or light, but full fat will have the most flavour. Make sure you give the can a good shake before opening it up.
Mango chutney - This is my secret ingredients for all curries. Seriously, give it a try. It adds a lovely touch of sweetness, and loads of flavour. Why not try our homemade mango chutney?
Stock - This is to loosen up the sauce. Try to use the best quality stock you can find.
Coriander - We finish the curry off with a sprinkling of fresh chopped coriander to lighten it all up.
A full ingredients list with measurements is in the recipe card below.
Step by step
One: Heat the oil in a large pan. Add the shallots, garlic and ginger. Cook on a very low heat for 5 minutes or until softened.
Two: Add the curry powder and chilli powder. Stir and cook for a further minute.
Three: Add the tomatoes, potatoes and cauliflower. Mix well.
Four: Add the stock. Mix well and cover with a lid. Cook on a low heat for 25 minutes.
Five: Stir in the coconut milk and mango chutney. Cook for a further 3 minutes.
Health Benefits
As far as curries go, this cauliflower and potato curry really is a healthy one. Full of vibrant spices, and a tomato based sauce. However, there are lots of health benefits from the cauliflower and potato too.
Cauliflower is low in calories, and also a good source of vitamins C, K and B6. It is also a good source of fibre, and there are 3 grams of fibre in one cup of cauliflower, which is important for digestive health and may reduce the risk of several chronic diseases. Cauliflower is also a good source of antioxidants, which protect your cells from harmful free radicals and inflammation.
Cauliflower is also high in choline, which is an essential nutrient that many people are deficient in. Choline is also involved in brain development and the production of neurotransmitters that are necessary for a healthy nervous system.
White potatoes have so many nutrients in them, they really shouldn't get a bad reputation. They are low in fat, sodium and cholesterol, they have nearly half of your daily vitamin C and they are a great source of potassium - even more than a banana. They are full of fibre and magnesium, and they are filling too. On top of this, they are also suitable for almost any diet, from vegan to gluten free. I am not sure what more you could want?
Variations
This is a really simple curry, so you don't want to over complicate it too much. However, you can add some different vegetables if you want to bulk it out a little, and add more nutrients. We like adding some mushrooms to it, although that is far from traditional. Give the curry a green boost by stirring in some spinach or kale.
If you want to add some protein to this vegan curry, then some canned chickpeas or butterbeans is an easy way to do that. You could add lentils too.
What to serve it with
This is a really filling curry on its own, as it has potato in it. However, if you did want to serve it with something, then I would recommend Turmeric Rice, Easy Homemade Flatbread and Raita. Lots of pickles and chutneys with some poppadoms go well with it too.
We also think our Peshwari Naan would be a great addition.
Storage
Store: It will also keep in the fridge for a couple of days, but because of the cauliflower it might start to make your fridge smell unless it is in a really tight container.
Freeze: Wait until it is fully cooled and then put it in freezable containers and then it will keep in the freezer for up to 3 months.
Defrost: Defrost overnight in the fridge.
Reheat: Make sure it is fully defrosted and then you can either reheat it in the microwave, or heat it through on the hob. Make sure it is pipping hot all the way through before serving.
FAQs
Can you add meat to cauliflower and potato curry?
You could add meat to this curry, but it really isn't missing it. But, if you want a vegan base, and then an option to add some meat for everyone else at the dinner table, then you could stir through some (shredded) leftovers from our Slow Cooker Whole Chicken.
Can you make a cauliflower and potato curry in the slow cooker?
Yes, this curry can be made in the slow cooker. I would recommend softening the potato and cauliflower a little first, by simmering it on the hob for 5 minutes. Then add it to the slow cooker with the rest of the ingredients and cook for 4 hours on high.
More curry recipes
If you've tried this recipe, let us know how you got on in the comments below.
Tag us in your creations on Instagram @hungryhealthyhappy - Use the hashtag #hungryhealthyhappy too.
Recipe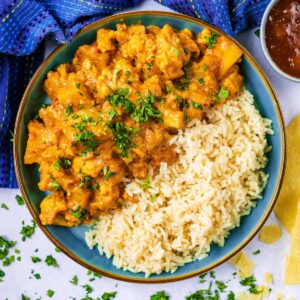 Cauliflower and Potato Curry
This Cauliflower and Potato Curry (also known as Aloo Gobi) is a delicious and filling budget friendly vegan curry.

Gluten Free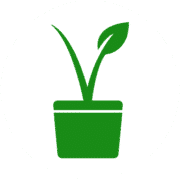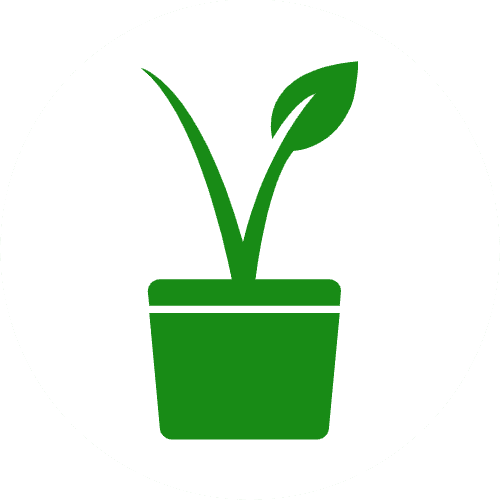 Vegan
Pin
Print
Save recipe
Recipe saved!
Ingredients
1

tablespoon

Olive oil

3

Shallots

-

peeled and diced

2

Garlic clove

-

crushed

600

g

(

1.33

lb

)

Cauliflower

-

cut into florets

350

g

(

12.5

oz

)

Potato

-

peeled and cut into 2cm chunks

45

g

(

1.5

oz

)

Fresh ginger

-

grated

3

tablespoon

Curry powder

1

teaspoon

Chilli powder

400

g

(

14

oz

)

Chopped tomatoes

-

canned

1

Vegetable stock pot

250

ml

(

1

cups

)

Boiling water

200

ml

(

0.85

cups

)

Coconut milk

100

g

(

0.33

cups

) Mango chutney

Fresh coriander (cilantro)

-

to serve
Instructions
Heat

1 tablespoon Olive oil

in a large pan. Add

3 Shallots

,

2 Garlic clove

and

45 g Fresh ginger

. Cook on a very low heat for 5 minutes or until softened.

Add

3 tablespoon Curry powder

and

1 teaspoon Chilli powder

. Stir and cook for a further minute.

Add

400 g Chopped tomatoes

,

350 g Potato

,

600 g Cauliflower

250 ml Boiling water

and

1 Vegetable stock pot

. Mix well and cover with a lid. Cook on a low heat for 25 minutes.

Stir in

200 ml Coconut milk

and

100 g Mango chutney

. Cook for a further 3 minutes.

Serve topped with

Fresh coriander (cilantro)

.
Recipe tips
Make sure not to overcook the cauliflower, so that it doesn't go too soggy.
You can adjust the spice levels to suit your own tastes. Making it spicier or more mild.
You could swap the individual spices for curry powder, or you could use some curry paste instead.
Try to use the best quality canned tomatoes that you can get, as you will really taste the difference. Cheap ones tend to be really watery.
Add a little bit of creaminess to this cauliflower and potato curry with a splash of coconut milk.
If you want to speed up the cooking time of this curry, then you could par-boil the potato. The softening of the potato in the tomato sauce is where most of the cooking time comes from. You could even use a can of new potatoes.
Nutritional Information
Serving:
1
portion
|
Calories:
662
kcal
|
Carbohydrates:
98
g
|
Protein:
16
g
|
Fat:
29
g
|
Saturated Fat:
21
g
|
Polyunsaturated Fat:
2
g
|
Monounsaturated Fat:
7
g
|
Sodium:
866
mg
|
Potassium:
2660
mg
|
Fiber:
18
g
|
Sugar:
40
g
|
Vitamin A:
630
IU
|
Vitamin C:
209
mg
|
Calcium:
251
mg
|
Iron:
12
mg
The nutritional information provided is approximate and is calculated using online tools. Information can vary depending on various factors, but we have endeavoured to be as accurate as possible.