This is a Healthy Chicken Curry recipe that you need in your life and it's cooked in just 30 minutes. If you are looking for a new way to eat lean chicken breast, but you don't like spicy food, then give this Tomato Chicken Curry recipe a try. It's a rich and creamy curry with just a tiny bit of spice, which could easily be left out to make a lovely mild tomato based curry. This is a great kid friendly curry, that freezes well too.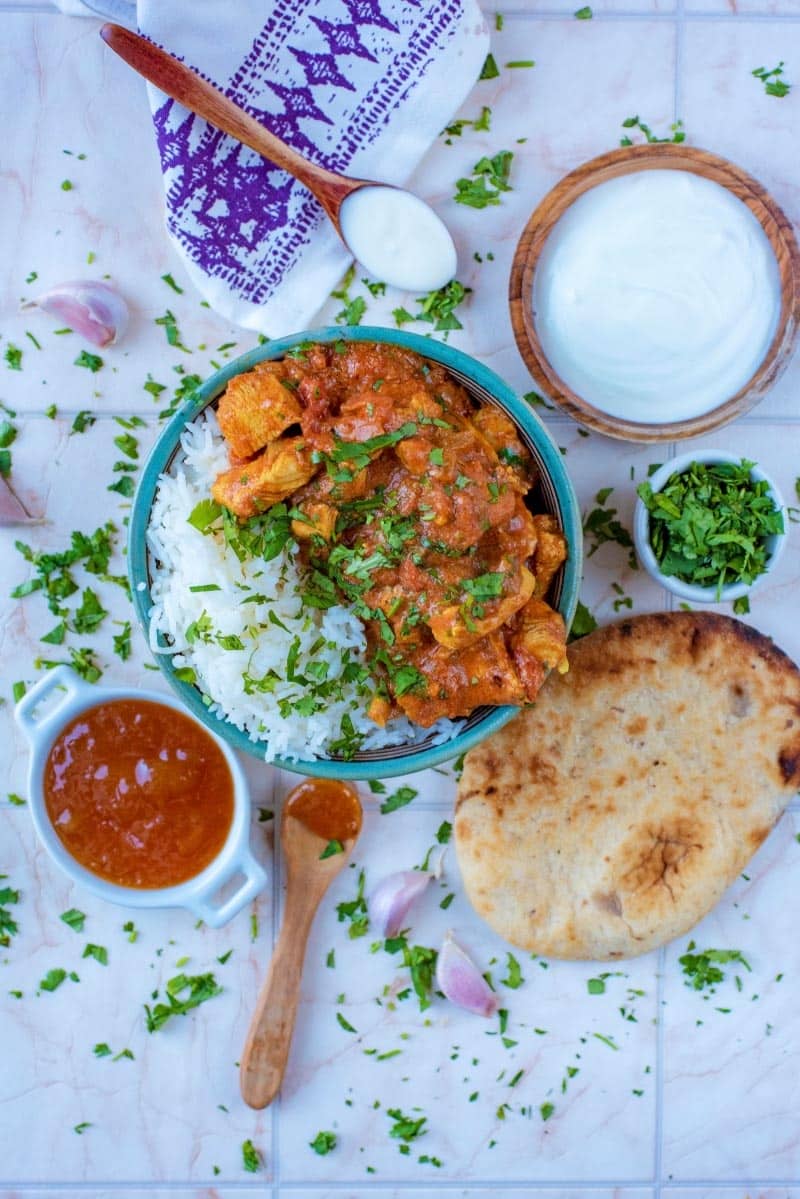 One of our aims for this year was to order less takeaways and cook more alternatives at home. This healthy chicken curry is our go-to on a Friday night rather than ordering from the local Indian restaurant! It has all of the flavour of a takeaway tomato based chicken curry, but much less calories.
If you are looking for some other takeaway alternatives to make at home, then why not try our Soy Sauce Noodles, Turkey Kebabs, Healthy KFC or Chicago Deep Dish Pizza?
Jump to:
Why you will love it
A mild chicken curry - This is a tomato based chicken curry and the focus is on the tomato sauce, rather than spice. You can easily leave the chillies out to make it really mild.
Quick and easy - This healthy chicken curry takes just 30 minutes to cook, which is less time than it would take to get it delivered.
Kids love it - If you are looking to introduce more flavours in to your kid's meals, then this is a good way to do it because of how mild it is.
Freezer friendly - This is great for batch cooking because it freezes so well.
Low in calories - There are under 400 calories a portion and it is protein packed too. The average Indian takeaway curry has 800 calories, so our healthy chicken curry is a much lighter option.
Ingredients needed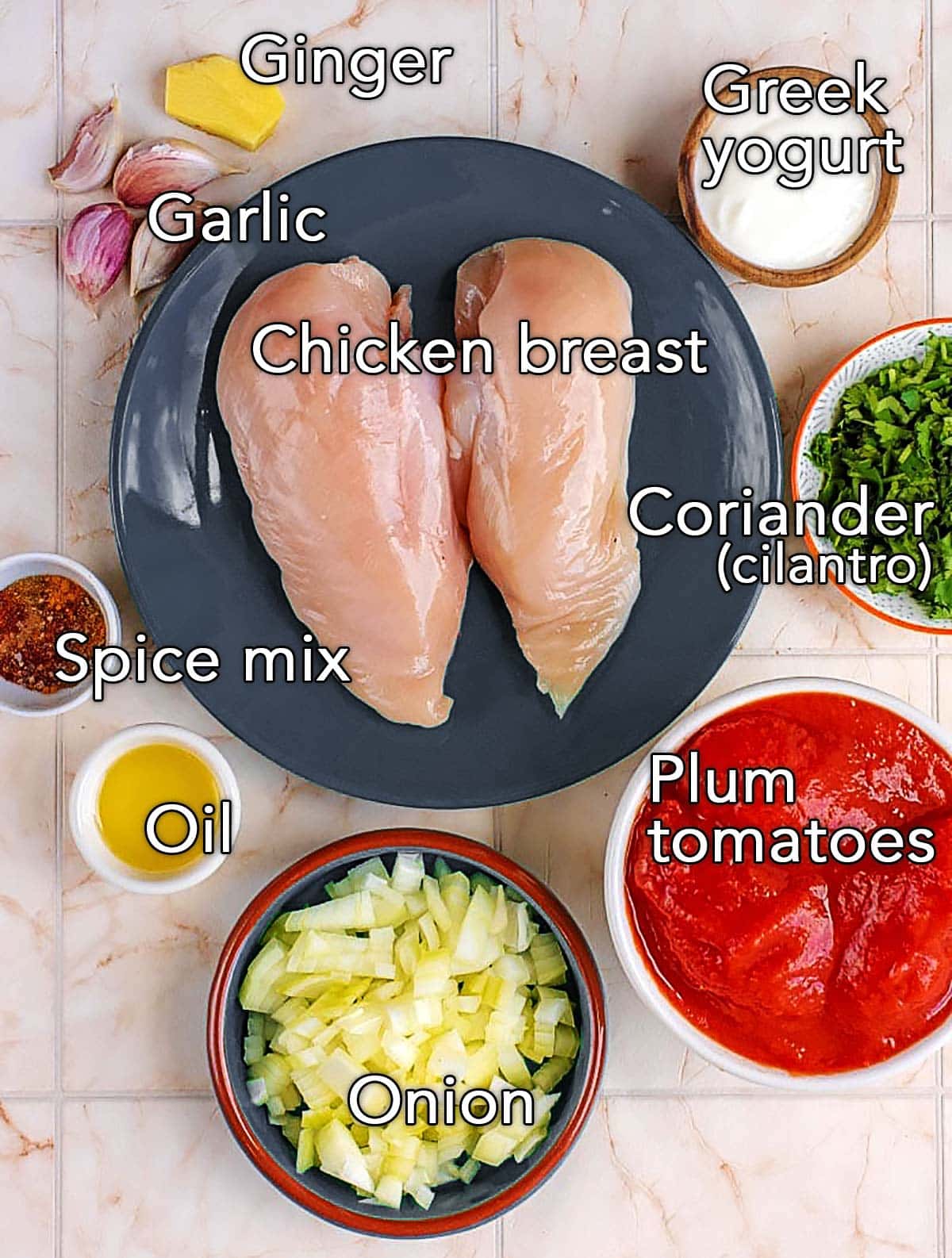 Chicken - We used chicken breast to keep this curry nice and lean, however, you can use chicken thighs instead, which are juicier but they do have a higher fat content.
Garlic - This is a fairly garlic heavy curry, so feel free to reduce the quantity to your own taste. You can save time and use crushed garlic in a jar, but freshly crushed is always best. Crush it so it is almost a paste, so it has an even distribution in the curry sauce.
Ginger - Along with garlic, ginger is the base of most curries. You can save time and use frozen ginger. Did you know that you can use a teaspoon to easily peel the skin off fresh ginger.
Greek yogurt - This adds a nice creaminess as well as cooling the curry down a bit. You can use coconut milk too, which would give a nice added flavour.
Plum tomatoes - Good quality plum tomatoes are always preferable as cheaper ones can be a bit watery and you really will taste the difference. We use plum over chopped as they have less of a metallic taste.
Onion - You could use shallots for a sweeter taste and you can also use frozen onion to save time.
Spice mix - We made our own spice mix consisting of cumin, turmeric, chilli, cinnamon and coriander. You can use your own spice blend or even some garam masala or a good quality store bought curry blend.
Coriander (cilantro) - Fresh coriander to finish the dish off.
A full ingredients list with measurements is in the recipe card below.
Step by step
One: Heat oil in a large pan and then add the onion, garlic and ginger and cook on a medium heat for 3 minutes until softened.
Two: Add the chicken and cook for a further 3 minutes until browned.
Three: Once the chicken is browned, add the red chilli flakes, cumin, turmeric, cinnamon and coriander to the pan and mix well and cook for a further 1 minute.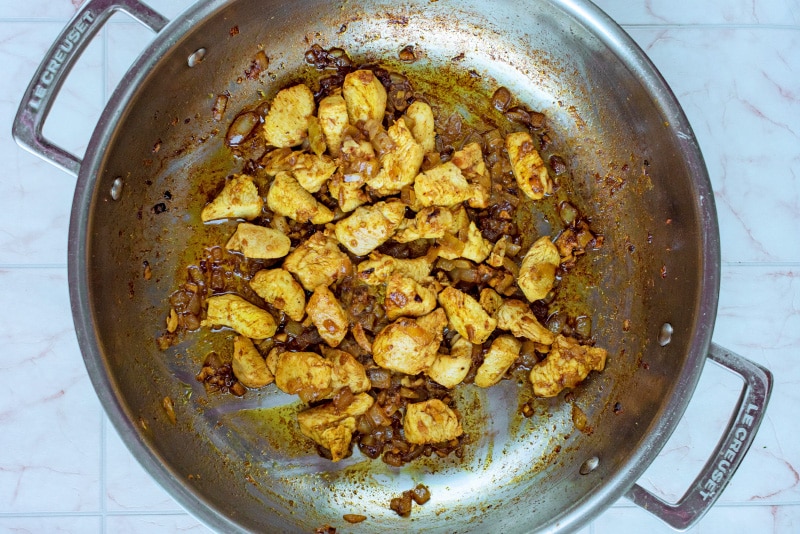 Four: Add the chopped tomatoes and tomato puree to the pan and gently simmer for 10 minutes until the chicken is cooked through.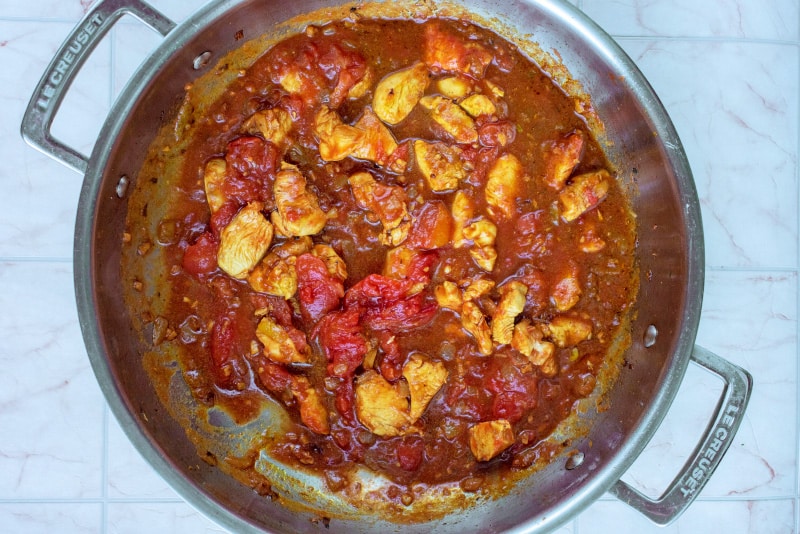 Five: Stir in the Greek yoghurt and coriander and season with salt and pepper before serving.
Variations
As with all our recipes, this tomato chicken curry is easy to adapt. We have had this as a vegetable curry when we needed to do a fridge clear out, we have had it with tofu and we have done a seafood version too that was really good. We've also used chicken thigh instead of breast, which makes it cheaper, but higher in fat.
We often add in some mushrooms, peppers, courgettes, cauliflower, broccoli or peas and even cut down the amount of chicken and add in some chickpeas or lentils for a protein boost. To give this curry and green vegetable boost, you can stir in some spinach just before serving too.
Storage
Store: If you do have leftovers then they can be stored in an air tight container in the fridge for 2 days.
Freeze: Yes, this curry freezes really well. Just let it cool fully and then store in plastic containers and it will keep in the freezer for up to 3 months.
Reheat: Once it has defrosted you can either microwave it or heat it up in a pan until piping hot.
What to serve with a healthy chicken curry
Curry goes perfectly with rice, which soaks up all that incredible creamy sauce. You could just go with plain basmati rice, or why not try our Turmeric Rice for something a little different? You could swap rice for quinoa for a protein boost.
Soft and fluffy bread is always a good option with curry too, so why not try making our Homemade Flatbreads - they are so simple. And then dip them in some of our homemade cucumber raita or mango chutney. If you want lots of flavour, then try our Peshwari Naan.
If you want a little more colour, then our Cucumber Tomato Salad or Carrot and Coriander Salad go well with a curry.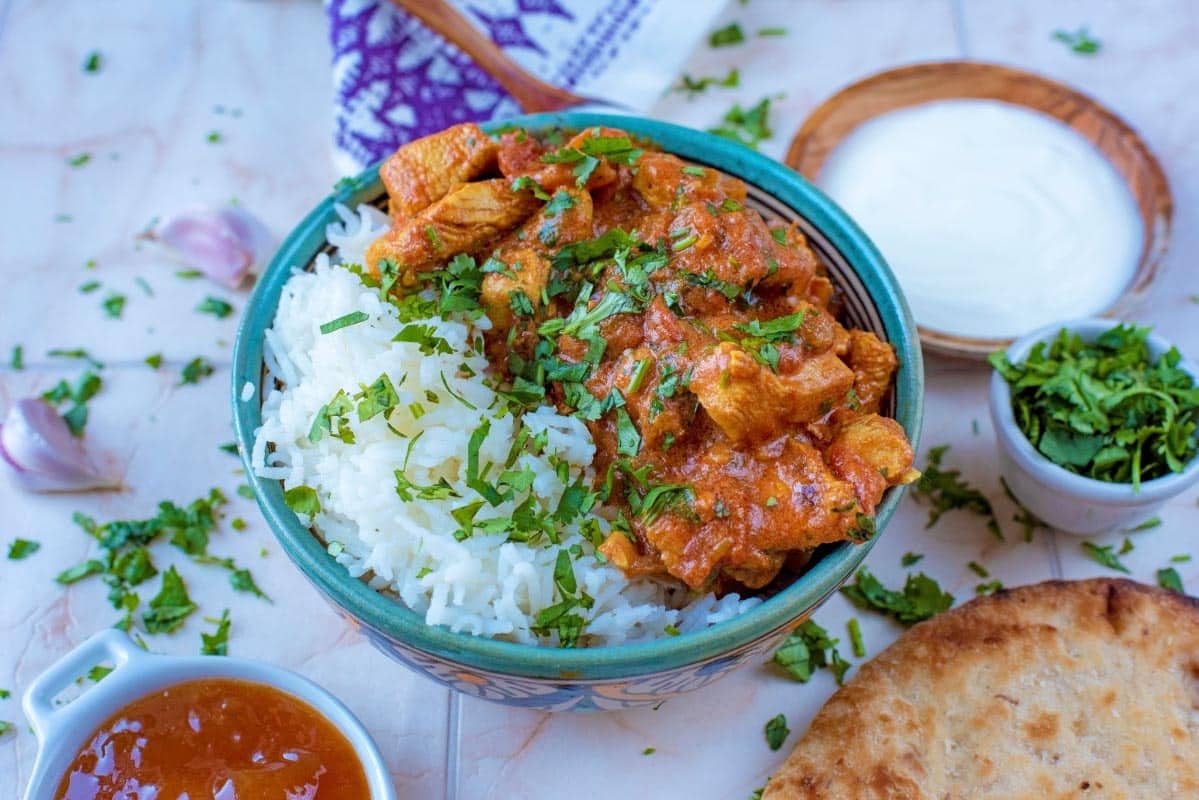 FAQs
Is chicken curry healthy?
We all like a big indulgent takeaway curry every now and then, but that was becoming a bit too much of a habit for us, so we started making more healthy chicken curry at home. It doesn't get much healthier than this, and it's pretty low in calories too at just 386 calories a bowl (without rice).
Curries usually come with ghee or cream stirred through it, but we added some Greek yogurt to give it that delicious creamy flavour without all the calories. You could use coconut milk, but that would increase the calories. Then there are all the healthy benefits from all the garlic in this!
How spicy is this healthy chicken curry?
This easy chicken curry has plenty of flavour going on, but we kept it mild as I know not everyone wants to be blown away by a curry. It's really all about the spices, rather than the heat. There is cumin, coriander, cinnamon and of course lots of garlic, but just a sprinkle of chilli flakes which could easily be left out.
How do you know when the chicken is cooked?
It will be cooked when the juices run clear, but that is a bit hard to tell with the curry sauce. The best way to ensure that it is cooked through is to use a meat thermometer. Chicken is cooked when it has an internal temperature of 75°C/167°F.
Is this healthy chicken curry gluten free?
Yes, as long as you use your own spice blend and make sure that there is no cross contamination, then this can be gluten free.
Can I use curry paste instead?
Yes, you can swap the garlic, ginger and spiced for curry paste instead. That way you can use a different curry paste each time to change the flavour. We like making a Thai version of this with Thai red curry paste.
Why is my curry too thick/thin?
If you have problems with the consistency of the curry, then we have some tips for you. If it is too thick, then you can thin it out with some coconut milk or stock. This has probably happened because it was cooked at too high a heat. If the sauce is too thin, then simmer it for a bit longer before or add tomato puree or more yoghurt to thicken it.
More curry recipes
If you've tried this Healthy Chicken Curry, let us know how you got on in the comments below.
Tag us in your creations on Instagram @hungryhealthyhappy - Use the hashtag #hungryhealthyhappy too.
Recipe
Tomato and Garlic Chicken Curry
If you are looking for a new way to eat lean chicken breast, but you don't like spicy food, then give this Tomato and Garlic Chicken Curry a try.

Gluten Free
Pin
Print
Save recipe
Recipe saved!
Ingredients
1

tablespoon

Olive oil

400

g

(

14

oz

)

Chicken breast

-

cut into chunks

1

Onion

-

diced

30

g

(

1

oz

)

Fresh ginger

-

grated

4

Garlic clove

-

crushed

0.5

teaspoon

Ground cumin

0.5

teaspoon

Ground turmeric

0.5

teaspoon

Red chilli flakes

0.5

teaspoon

Ground cinnamon

0.5

teaspoon

Ground coriander

2

tablespoon

Tomato puree

400

g

(

14

oz

)

Chopped tomatoes

-

canned

4

tablespoon

Greek yogurt

30

g

(

2

cups

)

Fresh coriander (cilantro)

-

finely chopped
Instructions
Add

1 tablespoon Olive oil

to a large pan and add

1 Onion

,

4 Garlic clove

and

30 g Fresh ginger

and cook for 3 minutes until softened.

Add

400 g Chicken breast

and cook for a further 3 minutes until browned.

Once the chicken is browned, add

0.5 teaspoon Red chilli flakes

,

0.5 teaspoon Ground cumin

,

0.5 teaspoon Ground turmeric

,

0.5 teaspoon Ground cinnamon

and

0.5 teaspoon Ground coriander

to the pan and mix well and cook for 1 minute.

Add

400 g Chopped tomatoes

and

2 tablespoon Tomato puree

and gently simmer for 20 minutes until the chicken it cooked through.

Stir through

4 tablespoon Greek yogurt

and

30 g Fresh coriander (cilantro)

before serving.
Recipe tips
If you like your curries spicier, add an extra sprinkle of chilli flakes before serving.
Don't have all the different spices? Just use 2 tablespoon of curry powder or curry paste instead. Or if you have Garam Masala, you can use that.
Make the curry a little more indulgent by stirring some cream through just before serving.
Make sure you only cook the chicken until it is just cooked, so it stays nice and juicy. If it is cooked for too long then it will become rubbery and dry.
Add a portion of vegetables to this easy chicken curry by throwing in some chopped spinach a few minutes before the curry is finished.
Don't like chicken? You could use any vegetables instead, or use tofu or king prawns.
Try leftovers in a wrap with some grilled halloumi or on top of a baked potato.
Why not halve the amount of chicken and add some chickpeas instead.
Try stirring in some spinach a few minutes before serving for an iron boost.
Add a little crunch to this curry by serving with some cashew nuts on top.
You can give this an extra protein boost by adding some quick cook lentils at the same time as the tinned tomatoes.
If you want a smooth sauce, then you could swap the tinned tomatoes for passata.
Nutritional Information
Serving:
1
portion
|
Calories:
386
kcal
|
Carbohydrates:
38
g
|
Protein:
23
g
|
Fat:
16
g
|
Saturated Fat:
1
g
|
Polyunsaturated Fat:
1
g
|
Monounsaturated Fat:
5
g
|
Cholesterol:
1
mg
|
Sodium:
26
mg
|
Potassium:
321
mg
|
Fiber:
8
g
|
Sugar:
14
g
|
Vitamin A:
700
IU
|
Vitamin C:
14
mg
|
Calcium:
100
mg
|
Iron:
2.9
mg
The nutritional information provided is approximate and is calculated using online tools. Information can vary depending on various factors, but we have endeavoured to be as accurate as possible.