* This is a sponsored post for Murcia Tourism *
A Spanish Tapas Platter is packed full of meat, cheese, bread and vegetables and is the perfect throw together meal for entertaining guests this summer. Easy to adapt with your favourite ingredients, we have lots of suggestions on how to build the perfect tapas platter and where you can buy authentic ingredients.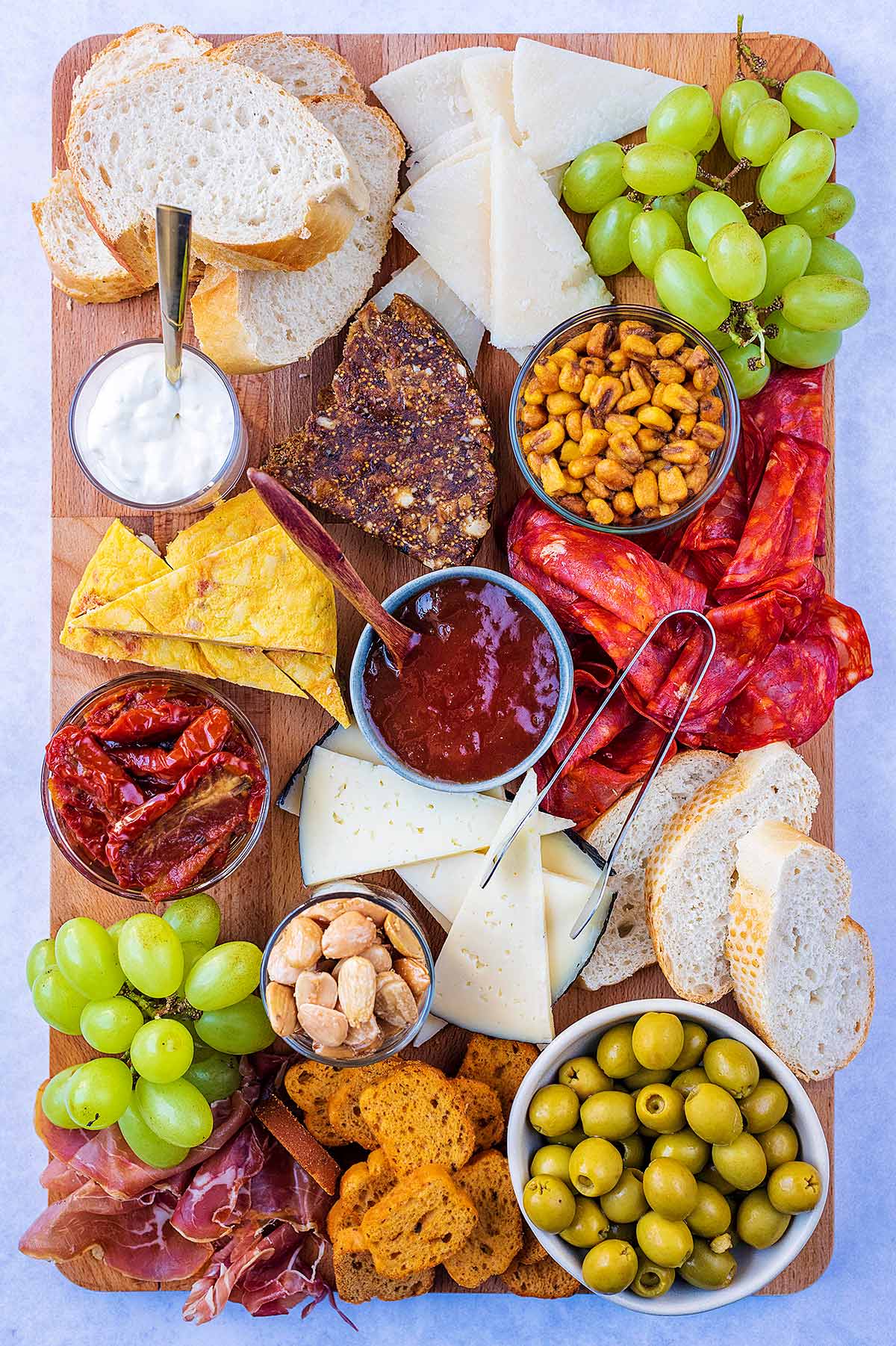 If you want to serve up something to your guests that is seriously impressive, but with minimal effort, then a Tapas Platter is the perfect solution. Just take a wooden board, place a dip or sauce in the middle and then arrange all the other ingredients round it. Serve it with a nice bottle of red wine and let everyone help themselves. It's the best food for entertaining and hardly any washing up too!
Jump to:
Why should you try it?
What is tapas?
In Spanish, you can have one 'tapa' and two or more 'tapas'. It is basically a small plate of Spanish cuisine and translates to 'top' or 'lid'.
It is said that when people drank Sherry, they often covered their wine glasses with a slice of bread or meat to keep the flies from doing a nose-dive into the wine, and that is how tapas began and where it got its name. Tapas is classic Spanish cuisine.
Nowadays it is a popular cuisine all over the world and has moved on from a slice of ham covering a wine glass. There are many types of Tapas Bars and recipes can vary regionally, but popular tapas choices include chicken skewers, meatballs, cod croquettes, garlic prawns and crispy smokey potatoes, along with breads, meat and cheese.
The benefit of tapas is you can enjoy 4-5 smaller plates, and even share, so you get to have a hearty meal without being stuffed and you get to try a few different things. Instead of serving it all on different plates, we have served it up on a big platter, making it perfect for sharing.
What goes on a Tapas Platter
The great thing about a tapas platter is that it's so easy to adapt. Your favourite meats, cheeses and vegetables all work with some dips and breads. We have included the recipe for how we have made ours in the picture and in the recipe card below. But here are some extra options if you feel like adapting it.
Where to buy authentic Spanish ingredients
Now you know how to build your tapas platter, you need to know where to buy all the ingredients. Whilst you may be able to pick up some of the more everyday items from your local supermarket, to get authentic products sourced from Spain we recommend Products of Murcia.
When you think of Spanish food, your mind might not automatically go to the region of Murcia, but it has such incredible gastronomy (it was voted the Spanish Capital of Gastronomy 2020) as well as fantastic cultural and historical heritage. Murcia is a lively, dynamic and enterprising city with an enviable climate all year round and our tapas platter was inspired by it.
In Murcia you can enjoy a rich and varied gastronomy based on the products of the land such as vegetables, fish, rice or meats. Murcian products are known for their quality all over Europe and are the protagonists of traditional cuisine.
Murcia's gastronomy is one of its great attractions. The people of Murcia know how to make the most of their rich and varied larder, preserving the healthy virtues of the Mediterranean diet and adding imagination and creativity. It is such a beautiful part of Spain, which incredible food. So, until you can visit there yourself, why not try ordering some products from Products of Murcia to great your own Spanish feast. These are the websites we got our cheese, meat, tomato jam, olives and incredible salted almonds from.
What wine to serve it with
When it comes to a tapas platter, a really good red wine is a must. When you think of Spanish red wine you might think of a Rioja, but the region of Murcia has some incredible wines too.
We served this platter with a bottle of Marrionette which is produced by EgoBodegas. Both the Syrah and Monastrell grapes create a smooth on the palate wine with mature and delicious tannins. Marionette's harvest is done both by hand and mechanical and it is aged in American oak barrels for almost 3 months. Best paired with grilled meats and white and blue fish.
Tips for making the perfect tapas platter
To make your tapas platter look as appealing as possible, try to use different shape and sized bowls. Things like ramekins and little jars work well.
Have little spoons, forks, toothpicks and tongs in different parts of the platter to make it easier to pick everything up.
Although big wedges of cheese or a log of meat look great on a platter, they aren't the most convenient for everyone to help themselves. Slice everything up and it makes it easier for guests to take off a little at a time.
More Spanish recipes
Do you want to be kept up to date on more delicious posts like this? Please subscribe to the blog mailing list (it takes 30 seconds).
Click here to sign up.
If you've tried this or any other recipe on the blog then let us know how you got on in the comments below, we love hearing from you!
Tag us in your creations on Instagram @hungryhealthyhappy - we love sharing photos when people make our recipes. You can use the hashtag #hungryhealthyhappy too.
DON'T FORGET TO RATE THE RECIPE ↓
Recipe