A Spanish Tapas Platter is packed full of meat, cheese, bread and vegetables and is the perfect throw together meal for entertaining guests this summer. Easy to adapt with your favourite ingredients and tapas recipes, we have lots of suggestions on how to build the perfect tapas platter and some of our favourite tapas dishes.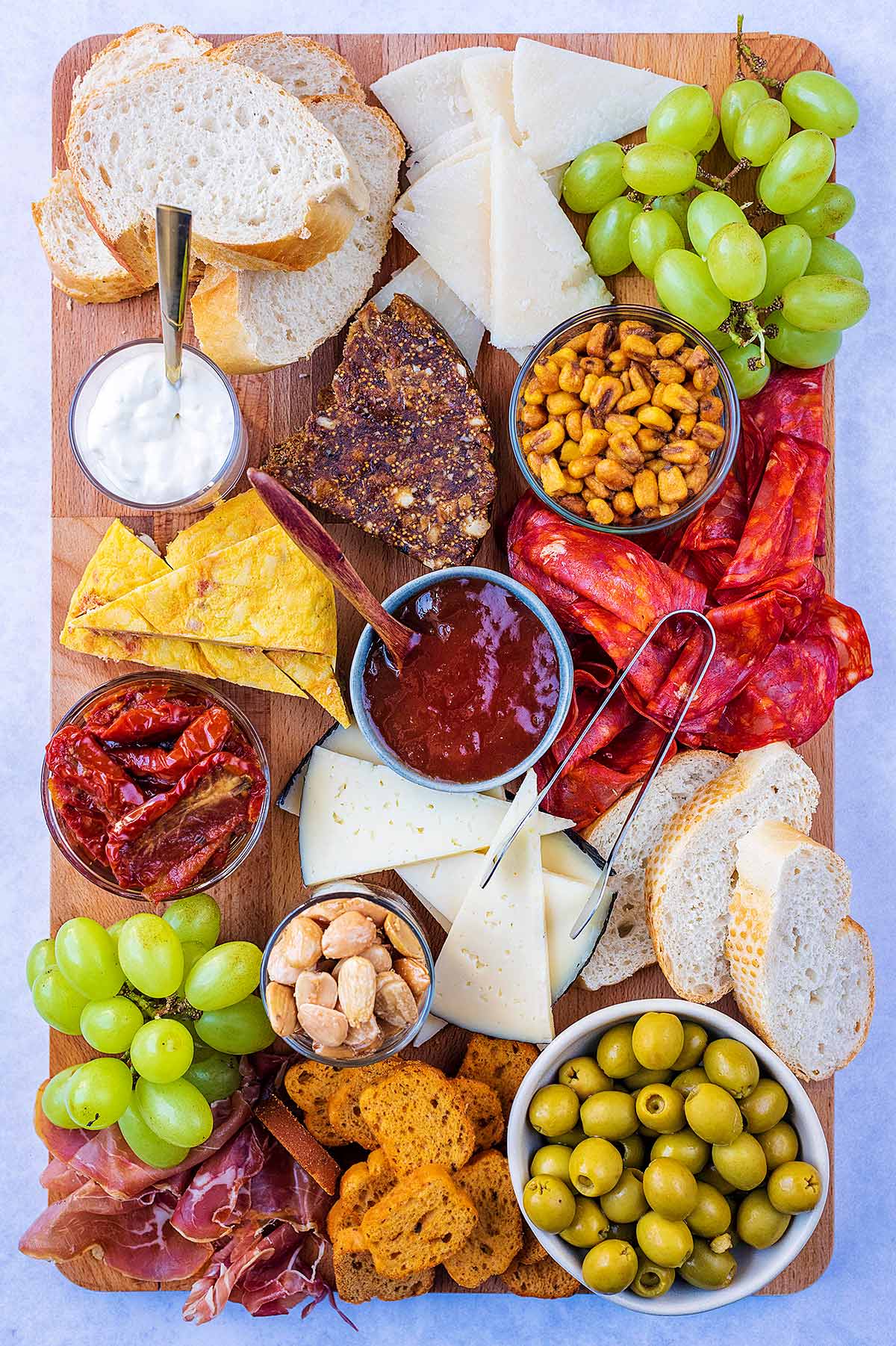 If you want to serve up something to your guests that is seriously impressive, but with minimal effort, then a Tapas Platter is the perfect solution. It's the only tapas recipe you need! Just take a wooden board, place a dip or sauce in the middle and then arrange all the other tapas dishes round it.
Serve it with a nice bottle of red wine and let everyone help themselves. It's the best food for entertaining and hardly any washing up too! We have lots of tapas ideas for you.
If you are looking for some other Spanish recipes to try, then why not try our Spanish Bean Stew, Spanish Meatballs (Albondigas) or Canarian Potatoes.
Jump to:
Why you will love it
A delicious way to try Spanish cuisine - If you have never tried Spanish food before, then this tapas recipe is a great place to start.
Easy to adapt - We have given you lots of different ways to adapt it with different meat, cheese and dips.
Perfect for entertaining - Picky food is the best for entertaining. It can be enjoyed over the evening, with everyone picking at the platter as and when they feel hungry.
Minimal effort - This looks far more impressive than it actually is. Just throw everything on the board and it looks amazing.
What goes on a Tapas Platter?
The great thing about a tapas platter is that it's so easy to adapt. Your favourite meats, cheeses and vegetables all work with some dips and breads - we have lots of tapas ideas to get you started. We have included the recipe for how we have made ours in the picture and in the recipe card below. But here are some extra options if you feel like adapting it.
Bread - We used a crusty loaf and then some crisp breads which are great for dipping. Bread products are great for filling out the platter amongst the more expensive items. You could also add a few different flavoured crackers and breadsticks too.
Dip - We have added an incredible tomato marmalade, which goes so well with the meat and cheese. We sometimes swap that for a fig jam or an onion chutney. However, you could add an aoli if you wanted something a bit more indulgent or a garlic and red pepper sauce.
Olives - It's not a sharing platter without olives in our opinion. The great thing about olives is that there are so many options. Green, black, garlic and herb olives, stuffed olives (chilli or garlic are our favourites).
Meat - This is a big part of the tapas platter. To keep it traditionally Spanish, we went with chorizo and Serrano ham, however any of your favourite slices of meat will work well.
Roasted/grilled vegetables - The meat can be quite heavy and salty, so we like to balance it out by adding as many vegetables as we can to add nutrients and colour. We like roasted red peppers, tomatoes, courgette and asparagus. Sun-dried tomatoes and artichokes are good addition too.
Cheese - Another big part of the platter is cheese. Keeping with the Spanish theme we used Iberico and a Spanish goats cheese.
Potatoes - Keeping with the Spanish theme, we serve our Canarian Potatoes with this, which helps to bulk it out a little.
Nuts - These add some lovely crunch and texture to the platter. The saltiness goes well with the cheese as well. We used almonds, however any nuts will work.
Fruit - Grapes and cheese are the perfect match and they help to add a pop of colour to the platter too.
Tortilla - A nice way to give the platter a bit of a protein boost is some slices of Spanish Tortilla which is an egg and potato dish. It's nice and filling, so it helps to bulk it out a little.
What is tapas?
In Spanish, you can have one 'tapa' and two or more 'tapas'. It is basically a small plate of Spanish cuisine and translates to 'top' or 'lid'.
It is said that when people drank Sherry, they often covered their wine glasses with a slice of bread or meat to keep the flies from doing a nose-dive into the wine, and that is how tapas began and where it got its name. Tapas is classic Spanish cuisine.
Nowadays it is a popular cuisine all over the world and has moved on from a slice of ham covering a wine glass. There are many types of Tapas Bars and recipes can vary regionally, but popular tapas recipes include chicken skewers, meatballs, cod croquettes, garlic prawns and crispy smokey potatoes, along with breads, meat and cheese.
The benefit of tapas is you can enjoy 4-5 smaller plates, and even share, so you get to have a hearty meal without being stuffed and you get to try a few different things. Instead of serving it all on different plates, we have served it up on a big platter, making it perfect for sharing.
More Spanish recipes
If you've tried this, or any other recipe on the blog, then let us know how you got on in the comments below, we love hearing from you!
Tag us in your creations on Instagram @hungryhealthyhappy - we love sharing photos when people make our recipes. You can use the hashtag #hungryhealthyhappy too.
Recipe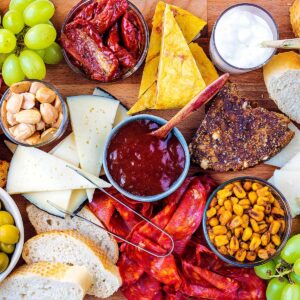 Easy Tapas Platter
A Spanish Tapas Platter is packed full of meat, cheese, bread and vegetables and is the perfect throw together meal for entertaining guests this summer.
Pin
Print
Save recipe
Recipe saved!
Ingredients
Selection of Spanish meat

Selection of Spanish cheeses

Olives

Bread

Dips

Grilled/roasted vegetables

Nuts

Fruit
Instructions
Add all the ingredients to a serving board or individual bowls.
Notes
To make your tapas platter look as appealing as possible, try to use different shape and sized bowls. Things like ramekins and little jars work well.
Have little spoons, forks, toothpicks and tongs in different parts of the platter to make it easier to pick everything up.
Although big wedges of cheese or a log of meat look great on a platter, they aren't the most convenient for everyone to help themselves. Slice everything up and it makes it easier for guests to take off a little at a time.
Nutritional Information
Serving:
1
portion
|
Calories:
400
kcal
Disclaimer
The nutritional information provided is approximate and is calculated using online tools. Information can vary depending on various factors, but we have endeavoured to be as accurate as possible.