Packed full of oats, nuts, seeds, and fruit, this delicious and easy homemade muesli recipe is a perfect way to start your day. Easy to adapt and use whatever fruit and nuts you have, this is a great healthier alternative to boxed cereal and easy to make in bulk.
We love crunchy muesli, with all the different flavours and textures. Whilst there are some great store bought options out there, you can't beat homemade muesli, because you can make it exactly how you like it and it contains less sugar. With your favourite nuts and fruit, make a big batch of this to serve with yogurt or milk for an easy breakfast the whole family will love.
If you are looking for some other breakfast recipes to try, then why not try our Croissant French Toast Bake, Microwave Porridge, Breakfast Burrito or Banana Porridge.
Jump to:
Ingredients needed
Oats - Regular rolled porridge oats is what you want here and it's the bulk of our muesli recipe. We like jumbo oats too, as they have lots of texture. But any oats will work as you are not cooking them.
Bran - We add some bran flakes, not only just for nutrition, but also for some added crunch.
Nuts - These add lots of health fats to the muesli and you can use whatever nuts you like. We added almonds, cashews, walnuts and pecans. But feel free to mix it up with whatever you have.
Dried fruit - Just like the nuts, you can adapt the dried fruit with what you have. We added dried cherries, raisins, apricots and cranberries. We have given more options for variations below.
How to make muesli - Step by step
One: Mix everything together and store in a jar.
Why should you try it?
An easy batch making breakfast - You can make a big batch of this muesli recipe once a week and then keep it stored for quick and easy breakfasts throughout the week.
Easy to adapt - Use this recipe as a guide and then adapt it with your favourite ingredients, or whatever you have that needs using up.
Kids love it - Kids will love putting together their own mixtures and it's a great way to introduce them to new nuts and fruits.
Health benefits
This is a homemade muesli is a nutritious and filling breakfast and there are lots of health benefits from the oats and nuts. Oats are a gluten-free whole grain and they are a great source of vitamins, minerals and fibre. They are a good source of manganese, copper, iron, phosphorus, zinc and magnesium.
They also contain an important antioxidant called avenanthramides, which may help lower blood pressure levels by increasing the production of nitric oxide. Oats contain large amounts of beta-glucan, a type of soluble fibre which can reduced LDL and total cholesterol levels and help you to feel fuller for longer.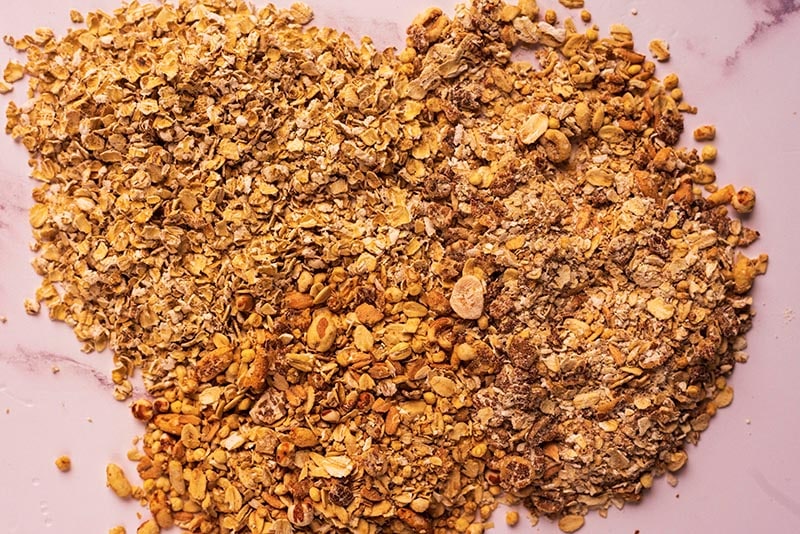 Nuts are a delicious and versatile healthy fat and this muesli recipe is packed with them. Nuts contain antioxidants which can protect your cells and "bad" LDL cholesterol from damage caused by free radicals. They are a great source of fibre, which can lower your risk of heart disease and diabetes. Increasing fibre in your diet can also help to regulate your digestive function.
Variations
The base is where all the chewiness is, so you want to get it right. But, you can't really get it wrong - it's totally down to preference. A oat heavy base is what you want, but there are other things you can add to. To oats, we added bran flakes, but you could use puffed rice too. You can use a selection of rolled grains, like whole rye, barley and quinoa flakes.
The nuts are what give muesli that crunch everyone loves, and there are so many options when it comes to what nuts to use. We like a real mix, so we used walnut halves, whole and flaked almonds, pecans and cashews.
If you only like one or two types of nuts, then you could use use those. Chopped peanuts, hazelnuts and pistachios work well too.
Although homemade muesli has less sugar than store bought, you still want to make sure it is sweet enough with the dried fruit. Again, like the nuts, there is so much choice when it comes to what to use. We chopped up some dried apricots and mixed them with dried cranberries, dried cherries and raisins. You could use chopped dates, prunes, apple chips or sultanas too though.
The great this about homemade muesli is that it really is easy to adapt. If you are trying to raid your cupboard to come up with something, then this is a good breakfast to make. You could add coconut flakes, any kind of seeds (linseeds, chia seeds, sunflower seeds) and other fruit like banana chips. If you wanted to make this a little more indulgent, then some dark chocolate chips are a really good addition.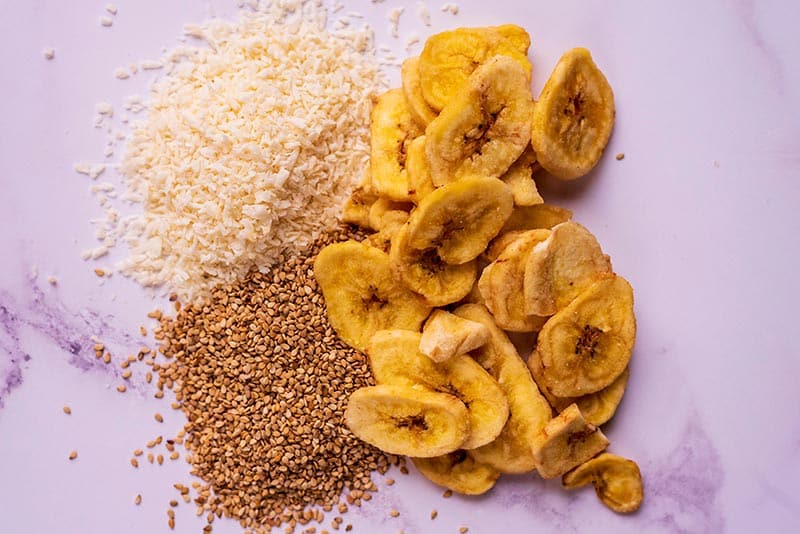 What to serve with homemade muesli
If you want to keep it traditional, then soak the mixture in milk to make a Bircher muesli. This is how it originated in Switzerland by a physician named Maximilian Bircher-Benner. His version was soaked in water and condensed milk and had grated apple in it too.
You don't have to soak it in milk overnight, you could just serve it with milk like you would cereal. You could also serve it with your favourite yogurt. A nice thick Greek yogurt works well.
If you like your breakfast really sweet, then you could serve it will a drizzle of honey or maple syrup. We like to add some fresh fruit for some extra sweetness though. Muesli also makes a really nice pancake topping for some added crunch.
Storage
Store this in an air tight container (we use a jar) and it will keep for quite a few months. We just take out a scoop at a time and store the rest away ready for another delicious breakfast.
Frequently Asked Questions
How much is one serving of muesli?
This recipe makes 18 servings. There are about 60g-70g per portion.
Is this muesli recipe gluten free?
We have used bran flakes, so this recipe is not gluten free. However, you can leave that out and as long as you use gluten free certified oats and make sure that there is no cross contamination, then this can be gluten free.
Is homemade muesli vegan?
Yes, this recipe is vegan. Just make sure that whatever you are serving it with is vegan too.
How do I make granola from muesli?
To turn this in to muesli, you just need something to bind it together and then bake it. We add some honey and coconut oil, mix it all together and then spread it on a baking tray and bake for 20 minutes, turning it half way.
More breakfast recipes
If you've tried this homemade muesli recipe, let us know how you got on in the comments below.
Tag us in your creations on Instagram @hungryhealthyhappy - Use the hashtag #hungryhealthyhappy too.
Recipe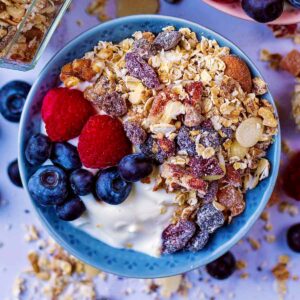 Homemade Muesli
Full of oats, nuts, seeds, fruit and berries, this delicious homemade muesli is a perfect way to start your day off well.

Gluten Free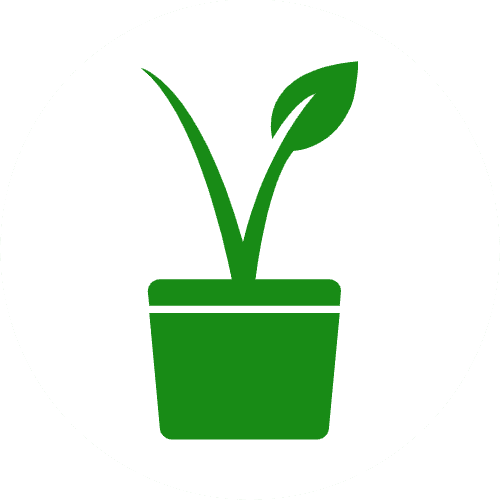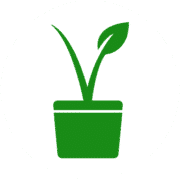 Vegan
Pin
Print
Save recipe
Recipe saved!
Ingredients
250

g

(

3

cups

)

Rolled oats

150

g

(

2.5

cups

)

Bran

35

g

(

0.25

cups

)

Almonds

35

g

(

0.25

cups

)

Cashews

35

g

(

0.25

cups

)

Walnuts

35

g

(

0.33

cups

)

Pecans

45

g

(

0.33

cups

)

raisins

45

g

(

0.33

cups

)

Dried cherries

45

g

(

0.33

cups

)

dried apricots

-

chopped

45

g

(

0.33

cups

)

Dried cranberries
Instructions
Mix everything together in a large bowl.

Store in an airtight container.
Recipe tips
You can soak this overnight in milk, serve it with milk like cereal or eat it with yogurt.
If you like your breakfast really sweet, then you could serve this with a drizzle of honey or maple syrup.
We like to add some fresh fruit for some extra sweetness though.
You can use any mixture of your favourite nuts, seeds and dried fruit.
Nutritional Information
Serving:
40
g
|
Calories:
133
kcal
|
Carbohydrates:
24
g
|
Protein:
5
g
|
Fat:
6
g
|
Saturated Fat:
1
g
|
Sodium:
3
mg
|
Potassium:
242
mg
|
Fiber:
6
g
|
Sugar:
5
g
|
Vitamin A:
179
IU
|
Vitamin C:
1
mg
|
Calcium:
27
mg
|
Iron:
2
mg
The nutritional information provided is approximate and is calculated using online tools. Information can vary depending on various factors, but we have endeavoured to be as accurate as possible.