If you don't have a lot of time for breakfast in the morning, then this delicious 5 minute Microwave Porridge is going to change your eating habits. A warming, comforting and nutritious breakfast that the whole family loves, ready in minutes. No need for expensive packets of "instant porridge", as you can prepare and cook it yourself in just 5 minutes, with simple ingredients.
Mornings are crazy in our house since our eldest started school. It's a buzz of hungry kids, un-caffeinated zombie parents, empty school bags and lost shoes. A hearty and filling breakfast is a must in our house and whilst we do love making porridge the traditional way when we have a little more time, this 5 minute microwave porridge has been a life saver for us.
I think microwave porridge has a bad reputation from those expensive instant packets that you can buy, which don't have much flavour and have the consistency of wall paper paste a lot of the time. Our recipe results in smooth and creamy porridge that will warm your belly. We have included all of our favourite porridge toppings too.
If you are looking for more ways to eat oats, then why not try our Healthy Flapjacks, Overnight Oats, Easy Baked Oats, Pumpkin Oats or Banana Oat Muffins.
Jump to:
Why you will love it
Quick and easy breakfast - This is so simple! Just mix everything together in a bowl, cover and put in the microwave for 5 minutes.
Delicious creamy porridge - Don't be put off if you have had microwave instant porridge in a packet before, as this is nothing like that. This is thick (but not stodgy) and creamy and just a big hug in a bowl.
Adaptable - Not only can you adapt it with the different toppings, but you can add a few different things in to the porridge itself. More on that below.
Can be prepared in advance - If you really want to get ahead the night before, then you can weigh out everyone's individual portions of porridge and put them in their own microwaveable containers, and then you just add the milk in the morning. You can also have all the toppings prepared in little bowls and then let everyone top their own.
Ingredients needed
Oats - Rolled oats is what you need for this recipe. If you use steel cut oats, it will change the cooking time and it will have a different texture too.
Milk - I know, controversial. Some people make porridge with milk, and others with water. Our preference is whole milk, because we think it makes it nice and thick and creamy, and it's also good for the protein and calcium for the kids. We have given options for milk variations below.
Honey - You don't have to add this, and you could add it as a topping, but we like a little bit of honey cooked in to it. Honey could be swapped for maple syrup if you wanted to keep it vegan.
Cinnamon - Like the honey, this is an optional ingredient, but we love the warmth it adds to the microwaveable porridge.
A full ingredients list with measurements is in the recipe card below.
How to microwave porridge - Step by step
One: Add all the ingredients to a microwave safe bowl and mix well.
Two: Cover with cling film and put a small hole in the middle. Put in the microwave and cook on high for 5 minutes, stirring halfway through.
Three: Once cooked, stir again. Add toppings and serve.
Health benefits of porridge
When we want a healthy and filling breakfast, porridge is always our go to. Porridge is a great way to start the day because oats are a complex carbohydrate, which provide slow-releasing energy throughout the morning and keep you going until lunch.
Porridge made with milk is a good mix of carbohydrates, protein and fibre. If you are making it with water, then this will lower the fat and sugar, but also lower the protein.
Oats contain a type of soluble fibre called beta-glucan, which studies have shown can help to lower your cholesterol. They also contain iron, zinc, magnesium and B vitamins. If you are making this porridge with milk like we have, then the vitamin and mineral content increases, as does the calcium content.
The key to keeping porridge as a healthy breakfast option, is being mindful of what you mix in to it and what you top it with. Try to stick to fruit, nuts and seeds as things like chocolate spread can really bump up the calories and sugar.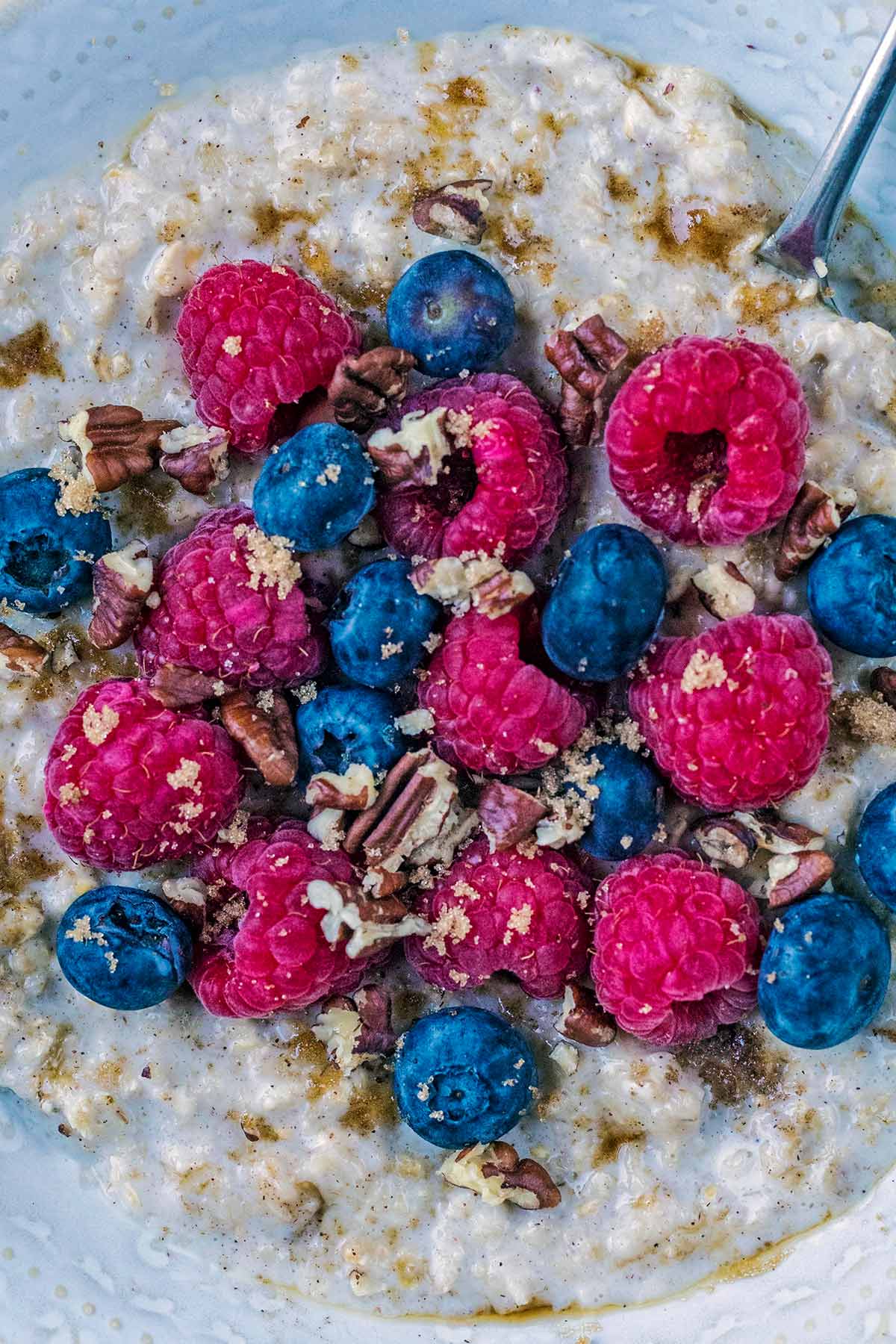 Variations
This is a very simple recipe, which is what we love about it, so there is not too much that you can adapt. You could use water instead of milk, but that really is a preference thing. Honey could also be swapped for maple syrup.
If you wanted to make this vegan, then you could swap whole milk for a plant based milk like soy, cashew, oat milk or almond milk. We find these tend to cook differently, so you might need to add a little more or less milk, depending on the consistency you want it.
You could also add ground almonds to thicken it and give it a nutrition boost, or even some chia or flax seeds.
Want to make a chocolate version of this that kids will love? Mix a tablespoon of cocoa powder in with the oats and then add some chocolate chip in too.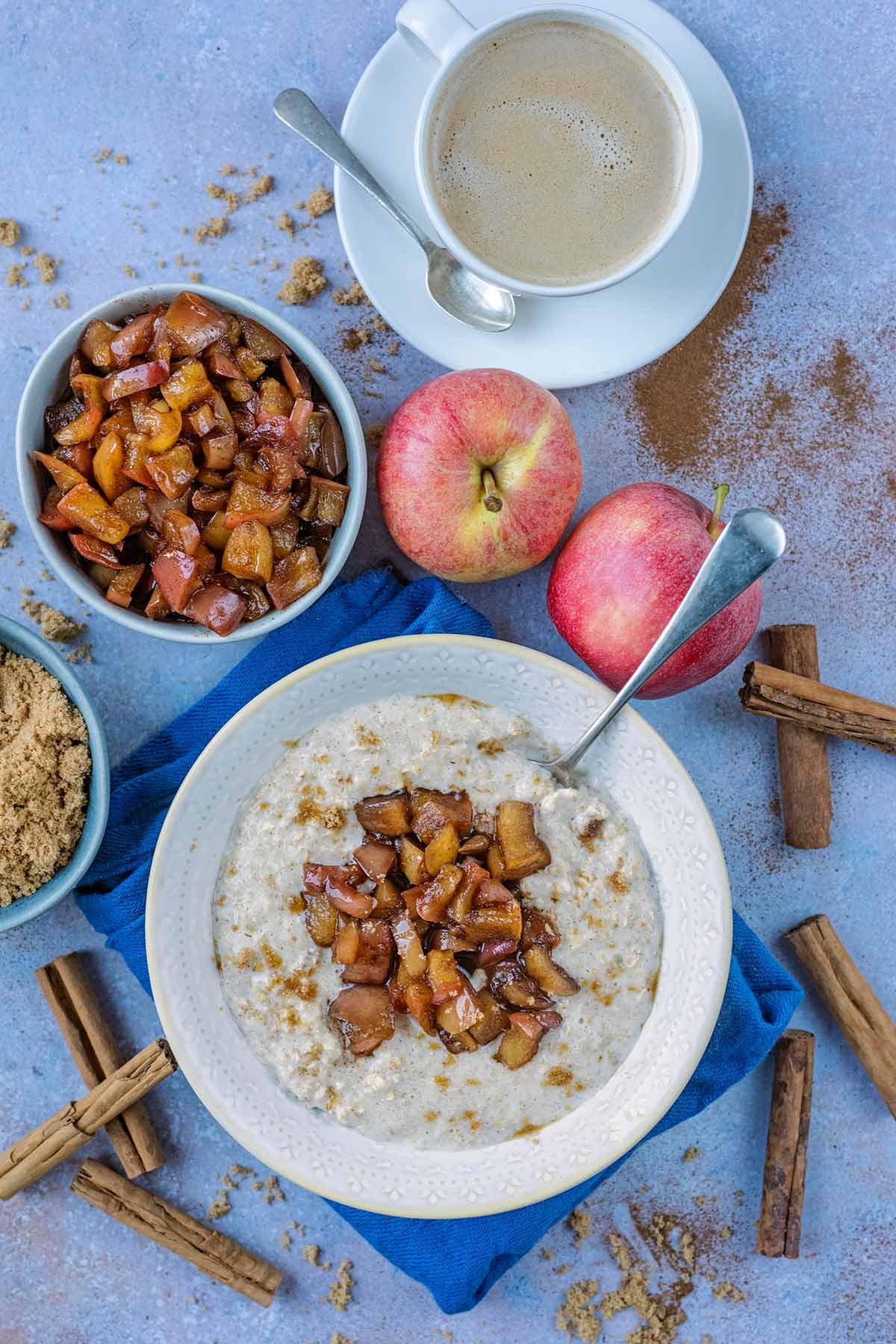 Porridge toppings
Once you have the creamy base for the porridge, it really is all about the toppings. We like some extra fruit and then some crunch which is why we went with some stewed apples, pecans and a sprinkling of cinnamon for flavour.
But there are so many options when it comes to porridge toppings. Here are some of our favourites:
Banana slices
Pecans or almonds
Berries
Chia seeds
Grated apples
Dried fruit
Chocolate chips
Frequently Asked Questions
Are porridge and oatmeal the same thing?
Well, yes and no. When it comes to this recipe, yes it is the same thing. Oatmeal is a type of porridge, but porridge isn't always made of oats. It can be made of a variety of grains or legumes.
Is porridge better with milk or water?
This really is a personal preference. Technically, traditional porridge is made with just water and it is still creamy. But, we like ours super creamy and that's why we use milk.
How to make vegan microwave porridge
To make a vegan version of this, swap the milk for a plant based milk like almond or cashew (or coconut milk to make it extra creamy) and swap the honey for maple syrup.
Is microwave porridge gluten free?
If you use certified gluten free oats, and you make sure that there is no cross contamination, then these can be gluten free.
What can you do with leftover microwave porridge?
If you follow this recipe, then you should have enough for 2 portions. However, if you do find yourself with leftover porridge then did you know that you can use it to make pancakes? If you had 80g of porridge, you can add 80g of self raising flour to it, along with an egg, 1 teaspoon baking powder and 50ml of milk and whisk it up to make pancake mixture.
Do you have to add salt to microwave porridge?
No, you don't have to. But, adding some at the beginning of cooking can help add a nice nutty flavour. Don't add it at the end, otherwise it will just taste salty. You only need a tiny pinch.
Why is my porridge so thick?
Every microwave cooks differently, so your porridge might be a little thicker or thiner than what ours looks like. You can cook it for a minute longer if it's too thin or if it is too thick then you can stir in some milk before servings. This will cool it down ready to eat too. Porridge will thicken as it cools anyway.
Why has my porridge boiled over?
If your porridge looks like it has exploded in your microwave, then that's because your bowl was probably too small. Porridge rises as it cooks, so if you have too much mixture for the size of your bowl, it will boil over.
More breakfast recipes
Now you know how to make porridge in the microwave, let us know how you got on in the comments below.
Tag us in your creations on Instagram @hungryhealthyhappy - Use the hashtag #hungryhealthyhappy too.
Recipe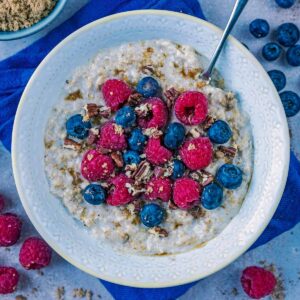 Microwave Porridge
If you don't have a lot of time for breakfast in the morning, then this delicious 5 minute Microwave Porridge is going to change your eating habits.

Gluten Free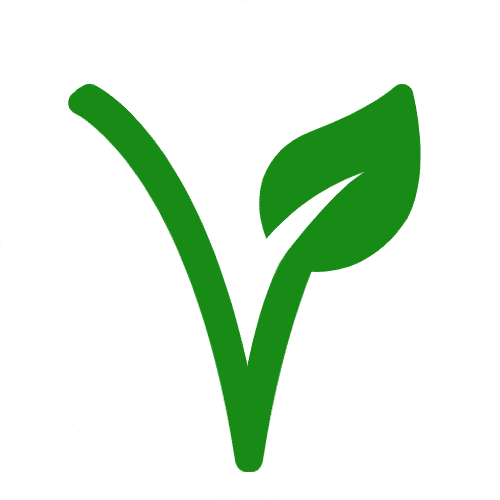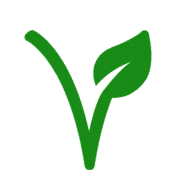 Vegetarian
Pin
Print
Save recipe
Recipe saved!
Ingredients
100

g

(

1.25

cups

)

Oats

600

ml

(

2.5

cups

)

Whole milk

1

tablespoon

Honey

1

teaspoon

Ground cinnamon
Instructions
Add all the ingredients to a microwave safe bowl and mix well.

Cover with cling film and put a small hole in the middle.

Put in the microwave and cook on high for 5 minutes, stirring halfway through.

Once cooked, stir again. Add toppings and serve.
Recipe tips
For extra flavour, add a drop of vanilla extract. It adds a lovely warmth to the microwave porridge.
Make sure you use a big enough bowl so the porridge doesn't make a mess of your microwave.
Make sure it is a microwave safe bowl too.
You can use water instead of milk, but it will change the flavour.
Nutritional Information
Serving:
1
portion
|
Calories:
407
kcal
|
Carbohydrates:
58
g
|
Protein:
16
g
|
Fat:
13
g
|
Saturated Fat:
6
g
|
Polyunsaturated Fat:
2
g
|
Monounsaturated Fat:
3
g
|
Cholesterol:
30
mg
|
Sodium:
133
mg
|
Potassium:
587
mg
|
Fiber:
6
g
|
Sugar:
24
g
|
Vitamin A:
489
IU
|
Vitamin C:
1
mg
|
Calcium:
376
mg
|
Iron:
2
mg
The nutritional information provided is approximate and is calculated using online tools. Information can vary depending on various factors, but we have endeavoured to be as accurate as possible.