These Easy Baked Oats are a simple, but delicious healthy one bowl breakfast that the whole family will love. We have added banana and blueberries to ours, but you can adapt it to add any of your favourite ingredients. You can make it ahead of time, and no stirring whilst cooking is needed - you just pour it all in a dish and pop it in the oven. A warming and comforting breakfast.
When we want something easy, healthy and comforting, we turn to baked oats. It's as simple as stirring everything together in a bowl and then putting it in the oven. If you haven't had baked porridge before, then you are seriously missing out. It is about to become your new favourite breakfast, and will keep you full all morning.
Looking for some other oaty recipes? Why not try our Chocolate and Peanut Butter Oat Bars, Cranberry Oatmeal Cookies, Banana Oat Muffins or Oaty Apple Crumble?
Jump to:
Why you will love it
Easy to make - This is such a simple breakfast to make, and it can just be put in the oven and forgotten about whilst it cooks.
Soft and chewy - The texture of these bakes oats makes a nice alternative to regular porridge.
A simple way to get kids involved in the kitchen - Getting kids involved in the kitchen is a good way to get them to try new food. This is a simple meal for little hands to make, as there is no chopping involved. Just dump, stir and pour.
Can be made ahead of time - We love a make in advance breakfast. These baked oats can be made and cooked and then stored in the fridge and warmed through for breakfast.
Easy to adapt and use your favourite ingredients - We added banana and blueberries to ours, but there are lots of different ingredient combinations and we have given our favourite below.
Egg free - This recipe is for baked oats without eggs, so it's perfect for anyone with an egg intolerance.
Ingredients needed
Oats - This is the main ingredient of the recipe, and it's important to use the right oats. We used rolled oats, as they have the best texture when cooked like this. Using steel cut oats will result in hard and chewy oats still, and if you used instant oats then it would be too mushy.
Banana - Not only does this help with the texture of the baked oats, but it adds some natural sweetness too. Make sure the banana is nice and ripe. Don't worry if you aren't a huge fan of banana, as you can't really taste it, it just adds sweetness.
Maple syrup - We added some extra sweetness with some pure maple syrup, but you could leave it out too. You could also swap it for honey, however it wouldn't be vegan then.
Baking powder - This helps to baked oats to rise.
Ground ginger and cinnamon - These are optional, but they add a nice warmth of flavour.
Vanilla extract - This is added to enhance all the other flavours. A bit like salt is used in savoury dishes. Make sure you use extract, rather than essence, for a natural flavour.
Milk - We used whole milk, but skimmed would work too. For vegan baked oats, you can swap it to oat, almond, cashew or soya milk.
Blueberries - These add sweetness and lots of colour. Any berries will work well though.
A full ingredients list with measurements is in the recipe card below.
How to make baked oats - Step by step
One: Put the oats in a bowl with the mashed bananas, baking powder, ginger and cinnamon and mix.
Two: Add the vanilla and maple syrup and mix well.
Three: Add the milk and stir.
Four: Stir in the blueberries.
Five: Pour in to a greased ovenproof dish.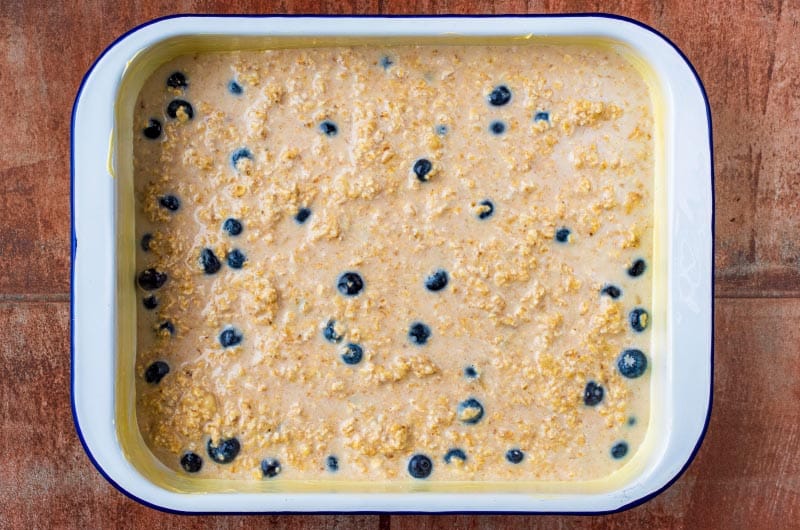 Six: Bake in a preheated oven at 200°C/400°F/Gas 7 for 25 minutes.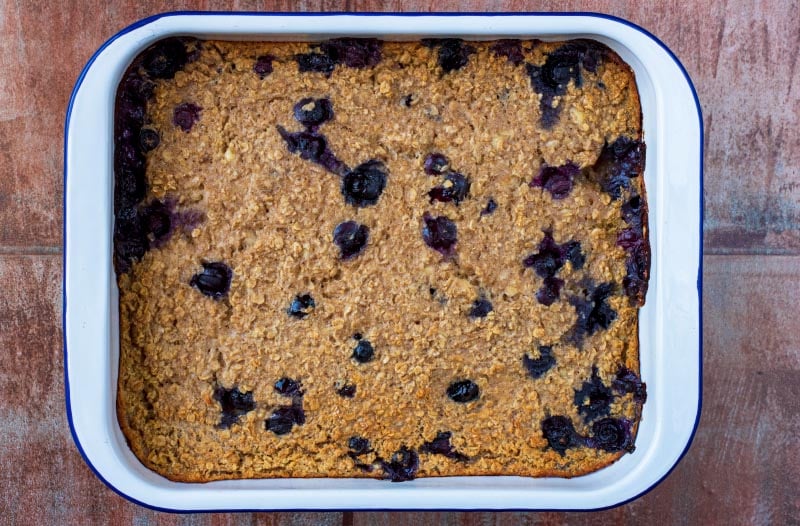 Seven: Serve with yogurt, seeds, berries and a drizzle of maple syrup (all optional).
What are baked oats?
Well, it's exactly what it sounds like - oats that are baked. Think of comforting porridge (oatmeal), but baked in the oven with other tasty ingredients, rather than cooked on the hob. Whereas porridge cooked on the hob has a creamy, runnier consistency, baked oats is soft, but chewy, and can be cut in to square.
It's a warm breakfast casserole make up of oats, milk, banana, maple syrup, blueberries and then some warming spices for extra flavour (although these are optional).
The great thing about baked oats is that you can adapt this recipe to use your favourite sweet breakfast ingredients. You never have to make these the same way.
Health benefits of oats
When we want a healthy and filling breakfast, oats are always our go to. They are a great way to start the day because oats are a complex carbohydrate, which provide slow-releasing energy throughout the morning and keep you going until lunch.
Baked oats made with milk are a good mix of carbohydrates, protein and fibre.
Oats contain a type of soluble fibre called beta-glucan, which studies have shown can help to lower your cholesterol. They also contain iron, zinc, magnesium and B vitamins. If you are making this porridge with milk like we have, then the vitamin and mineral content increases, as does the calcium content.
The key to keeping baked oats as a healthy breakfast option, is being mindful of what you mix in to it and what you top it with. Try to stick to fruit, nuts and seeds as things like chocolate spread can really bump up the calories and sugar.
Variations
This is where you can get creative and add any of your favourite ingredients. Here are some of our favourites that we have tried:
Chopped apples
Chocolate chips
Pecans
Walnuts
Raisins
Dried cranberries
Chopped pear
Raspberries
Strawberries
Chia seeds
Cocoa powder
Serving suggestions
You can cook them a little longer (like 2-3 minutes) and then slice them in to bars and eat them like granola bars (although they are softer). Or, you can scoop the baked oats out of the dish in to a bowl and serve with yoghurt, more maple syrup and berries.
You also can't beat a nice hot drink served alongside. Why not try our Cinnamon Mocha, Slow Cooker Hot Chocolate or Chai Tea Latte.
Storage
Store: I like to make up a big batch of these on a Sunday night and then keep them in the fridge over the next few days for easy breakfasts and snacks. Store them in an air tight container and they will stay fresh for up to 4 days.
Freeze: These freeze really well. Slice them up and individually wrap them and store them in a freezer bag. Defrost in the fridge over night, or at room temperature for a couple of hours.
Reheat: You can warm these up in the microwave for about 1 minute.
FAQs
Can baked oats be made in advance?
Yes, this is such a great recipe for making ahead of time and then reheating, meaning that it's a really quick and easy breakfast for a busy morning.
Once it is cooked and fully cooled, portion it out and wrap individually and then keep in the fridge. When you want to reheat it, you can put it in the microwave for 30 seconds to a minute.
Can baked oats be frozen?
You can also freeze baked oats for up to 3 months. Just make sure that it has fully defrosted before reheating.
You must bake it if you are going to make it ahead of time. You can't mix everything together and then leave it, as the oats will soak up all the milk.
Are baked oats gluten free?
If you use certified gluten free oats, and you make sure that there is no cross contamination, then these can be gluten free.
Can I make individual portions?
Yes, if you didn't want to make a big dish of this, then you could use individual ramekins and make each one differently depending on which fillings everyone wanted.
Can you make baked oats in the microwave?
Yes, these can be made in the microwave, but they won't have the same texture. Grease a microwavable cup or bowl and add the ingredients and cook on high for 3-4 minutes.
More breakfast recipes
If you've tried these baked oats, let us know how you got on in the comments below.
Tag us in your creations on Instagram @hungryhealthyhappy - Use the hashtag #hungryhealthyhappy too.
Recipe
Easy Baked Oats
These Easy Baked Oats are a simple, but delicious healthy one bowl breakfast recipe that the whole family will love.

Gluten Free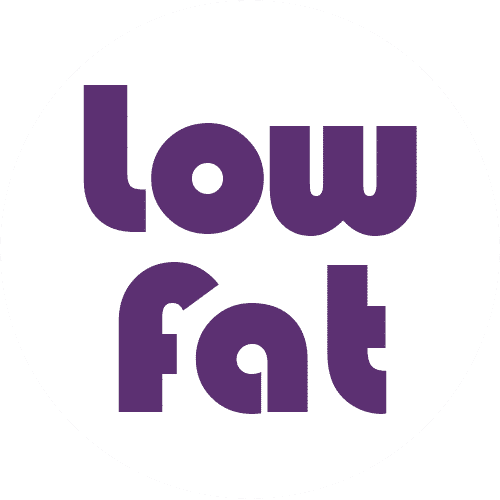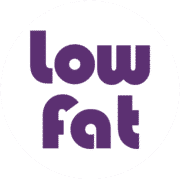 Low Fat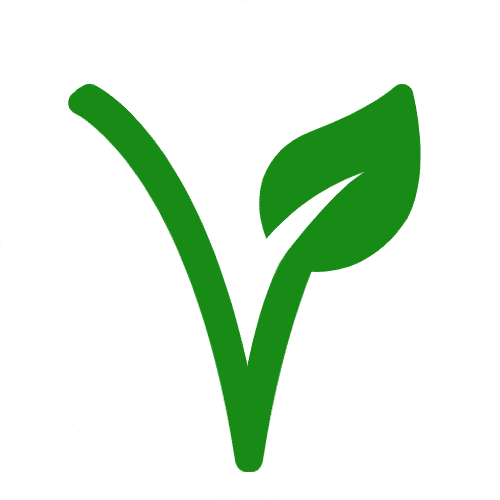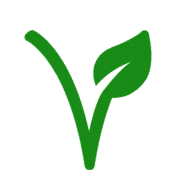 Vegetarian
Pin
Print
Save recipe
Recipe saved!
Ingredients
180

g

Rolled oats

2

Banana

-

mashed

4

tablespoon

Maple syrup

2

teaspoon

Baking powder

0.5

teaspoon

Fresh ginger

0.5

teaspoon

Cinnamon

1

teaspoon

Vanilla extract

500

ml

Whole milk

200

g

Blueberries
Instructions
Put the oats in a bowl with the mashed bananas, baking powder, ginger and cinnamon and mix.

2 Banana,

2 teaspoon Baking powder,

0.5 teaspoon Fresh ginger,

0.5 teaspoon Cinnamon,

180 g Rolled oats

Add the vanilla and maple syrup and mix well.

1 teaspoon Vanilla extract,

4 tablespoon Maple syrup

Add the milk and stir.

Stir in the blueberries.

Pour in to a greased oven proof dish.

Bake in a preheated oven at 200°C/400°F/Gas 7 for 25 minutes.

Serve with yoghurt, seeds, berries and a drizzle of maple syrup.
Notes
Don't forget to grease the dish so the baked oats don't stick to it.
Keep and eye on the oats when cooking, to make sure they don't overcook and become too dry. They should still be nice and moist.
If you want to make this recipe vegan, then use your favourite milk alternative.
If you don't have maple syrup, you can use honey or another liquid sweetener. You could leave it out all together if you don't like sweet breakfasts, as the banana and blueberry do add some sweetness.
You can use frozen blueberries instead of fresh if you like.
If you wanted to make this more cakey in texture, then you can swap our half the milk for an egg. If you were doing this, then I would recommend blending everything together, so the oats were more like a flour.
Nutritional Information
Serving:
1
portion
|
Calories:
216
kcal
|
Carbohydrates:
48
g
|
Protein:
7
g
|
Fat:
2
g
|
Saturated Fat:
1
g
|
Cholesterol:
2
mg
|
Sodium:
40
mg
|
Potassium:
570
mg
|
Fiber:
5
g
|
Sugar:
21
g
|
Vitamin A:
213
IU
|
Vitamin C:
7
mg
|
Calcium:
194
mg
|
Iron:
2
mg
Disclaimer
The nutritional information provided is approximate and is calculated using online tools. Information can vary depending on various factors, but we have endeavoured to be as accurate as possible.