Comfort food doesn't have to be complicated! This Salmon Gnocchi is ready in just 10 minutes and is a delicious combination of crispy gnocchi and pan fried salmon in a light and zesty cream cheese lemon sauce and loaded with spinach. Quick, delicious, and bursting with nutrients.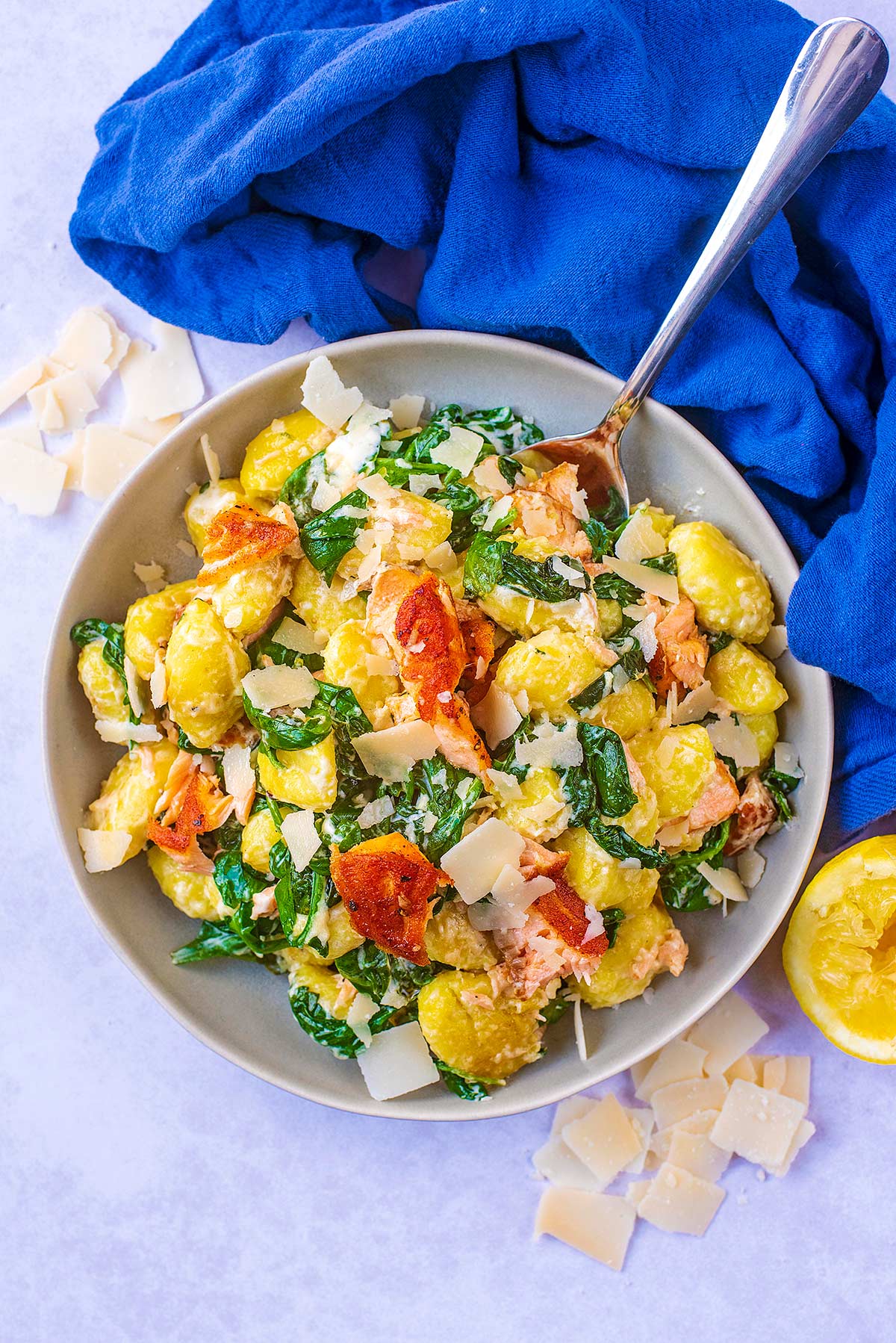 Gnocchi is always our go-to when it comes to quick, easy and filling meals. By pan frying the salmon, we have given it an easy protein boost, with plenty of flavour too. Plenty of leafy greens give this comforting dish a healthy twist and it's easy to adapt with extra vegetables too.
Jump to:
What is gnocchi?
Gnocchi (pronounced NYOW-kee) are a type of Italian pasta, the most common of which is classic potato gnocchi (also known as Gnocchi di patate). They are made using cooked mashed potatoes (a great way to use leftovers), flour and eggs. Some gnocchi recipes add ricotta to the dough, and that does give it a richer flavour.
You can use it in all the same ways that you use other pasta, and it makes a nice change when you are bored of all the same pasta dishes.
Why you will love it
Ready in under 10 minutes
Comfort food with a healthy twist
An easy way to cook with salmon
Easy to adapt
Ingredients needed
Gnocchi - We used a good quality store bought gnocchi to save some time. However if you have a little extra time, then you could make your own. Why not try our Leftover Mashed Potato Gnocchi.
Salmon - Use good quality, fresh, skin-on salmon fillets. For a change, and some extra flavour, you could use smoked salmon slices chopped up.
Spinach - A great way to add a green boost to this dish. You could use chopped up kale instead.
Cream cheese - This is where the sauce for the dish comes from. Use a good quality full fat cream cheese for maximum flavour. You could use reduced fat if you prefer.
Parmesan - If you want to make this dish vegetarian, then use a vegetarian alternative to parmesan.
Lemon - This really lightens up the whole dish. A squeeze of lemon juice in the pan at the same time as the cheese loosens the sauce up too.
A full ingredients list with measurements is in the recipe card below.
Step by step
One: Add the oil to a frying pan and once hot, place the salmon in the oil, skin side down. Cook for 6-7 minutes on a medium heat, turning once, until the salmon has cooked through.
Two: Add the butter to another large frying pan and once melted, add the gnocchi. Cook on a gentle heat for 4-5 minutes, stirring occasionally, until the edges start to get crispy.
Three: Add the spinach and gently cook for 2 minutes, until wilting.
Four: Add the cream cheese, parmesan and lemon juice to the pan with the gnocchi and spinach and stir well until melted.
Five: Flake the cooked salmon and stir in to the gnocchi mixture and serve.
Health benefits
The majority of the nutrients from this salmon gnocchi come from the salmon and spinach. Spinach is a great source of iron, which is a mineral that plays an important role in the function of red blood cells which help transport oxygen around the body.
You have probably heard that you should try to include salmon in your diet twice a week. But, did you know why?
It is one of the best sources of long chain omega-3 fatty acids, which have been proven to reduce inflammation and lower blood pressure. Children who regularly consume foods rich in Omega-3 have been shown in studies to have increased concentration levels and improved learning abilities.
Salmon is an excellent source of high quality protein - a 100g (3.5oz) portion contains 25g of protein.
Contains high amounts of B vitamins. These are good for repairing DNA and reducing the causes that can lead to heart disease. B vitamins also help maintain optimal brain and nervous system functioning.
Scientists are investigating the role fish consumption may have in protecting people from some cancers, Alzheimer's disease, depression, asthma, diabetes, macular degeneration, high blood pressure and multiple sclerosis.
Contains antioxidants.
What salmon to use
To make this recipe in under 10 minutes, we pan fried salmon fillets. We would usually grill or oven bake salmon, but it takes longer to cook and just doesn't get that crispiness.
If you want something with more flavour, and even easier to cook with, then chop up some slices of smoked salmon. You can fry them towards the end of the gnocchi being cooked as it really brings out that smoky flavour.
How to adapt it
This is an easy dish to adapt, and you could swap in any vegetables that you have on hand. We used spinach because it cooks quickly, however you could sauté kale and use that instead.
Try to only use quick cooking veg, rather than root vegetables that would take longer. Bell peppers and courgettes work well in this, or you could fry some broccoli for an extra green boost. Artichokes go really well in it too. If you are making it for kids, then peas and sweetcorn are always a favourite.
To make this a really quick and easy meal, we used store bought gnocchi in a packet. However, you could make your own gnocchi which is far easier to make than you might think, and we have linked to that in the ingredients above.
What to serve it with
Garlic bread of course! Gnocchi and garlic bread are such a delicious match. Either buy some ready made, or make your own easy garlic bread by cutting up some French stick and spreading it with a mix of butter, crushed garlic and dried herbs. Then pop it in the oven for 10 minutes.
You could also keep it simple with a big green salad. The key to an epic green salad is to use a variety of greens, like romaine, spinach, kale and rocket. You want leafy greens, but crunch too. Then you need the perfect dressing. Why not try our Lemon Vinaigrette, Honey and Mustard Dressing or Tomato and Basil Vinaigrette.
Frequently Asked Questions
Do I have to boil the gnocchi first?
No, there is no need to boil the gnocchi in this recipe, as it is fried in a pan to make it deliciously crispy. It's the BEST way to cook gnocchi, but it does add some extra calories from the butter. If you wanted to save some calories, then you could boil it in a saucepan and drain and add to the spinach. But you wouldn't get those crispy edges.
How can you tell that the salmon is cooked?
Salmon should reach 145°/63°C. For a more visual cue, you want to look out for the salmon flesh to be a little opaque and a knife should easily slide through it.
How to store leftover salmon gnocchi?
You can store leftover baked gnocchi in an air tight container in the fridge for around 2 days. You can either reheat it in a microwave or in a frying pan with a splash of stock to loosen it up a little, as the leftovers can be a little dry.
We don't recommend freezing leftovers, as once it is defrosted, it tends to fall apart and become a bit mushy.
How to make salmon gnocchi gluten free
You can easily make this gluten free. Just make sure to use gluten free gnocchi and make sure all the other ingredients that you are using are gluten free too.
More salmon recipes
If you've tried this salmon gnocchi, let us know how you got on in the comments below.
Tag us in your creations on Instagram @hungryhealthyhappy - Use the hashtag #hungryhealthyhappy too.
Recipe
10 Minute Salmon Gnocchi
This Salmon Gnocchi is ready in just 10 minutes and is a delicious combination of crispy gnocchi and pan fried salmon in a light and zesty lemon sauce.
Pin
Print
Save recipe
Recipe saved!
Ingredients
250

g

(

1.5

cups

) Gnocchi

240

g

(

8.5

oz

)

Salmon fillet

-

(about 120g/4.2oz each)

1

tablespoon

Olive oil

2

tablespoon

Butter

20

g

(

0.25

cups

)

Parmesan

-

grated

4

tablespoon

Cream cheese

0.5

Lemon

-

juice only

100

g

(

3.33

cups

)

Spinach
Instructions
Heat

1 tablespoon Olive oil

in a frying pan and once hot, place

240 g Salmon fillet

in the oil, skin side down. Cook for 6-7 minutes on a medium heat, turning once, until the salmon has cooked through.

Heat

2 tablespoon Butter

in another large frying pan and once melted, add

250 g Gnocchi

. Cook on a gentle heat for 4-5 minutes, stirring occasionally, until the edges start to get crispy.

Add

100 g Spinach

and gently cook for 2 minutes, until wilted.

Add

4 tablespoon Cream cheese

,

20 g Parmesan

and juice of

0.5 Lemon

to the pan with the gnocchi and spinach and stir well until melted.

Flake the cooked salmon and stir into the gnocchi mixture and serve.
Notes
If adding other vegetables, make sure they are quick cooking softer vegetables.
Some shallots and garlic make a nice base for this dish.
You can use any cheese that melts well in this recipe.
Top it with some fresh herbs, extra cheese and a sprinkling of pine nuts.
Add some extra flavour to this by using smoked salmon instead of a salmon fillet.
Love a kick of spice with your meals? A sprinkling of red chilli flakes before serving works well.
If you don't want a creamy sauce, then you can swap it for your favourite tomato based sauce instead. Have you tried our Easy Tomato Pasta Sauce?
Nutritional Information
Serving:
1
portion
|
Calories:
702
kcal
|
Carbohydrates:
45
g
|
Protein:
46
g
|
Fat:
40
g
|
Saturated Fat:
18
g
|
Trans Fat:
1
g
|
Cholesterol:
165
mg
|
Sodium:
887
mg
|
Potassium:
1206
mg
|
Fiber:
5
g
|
Sugar:
2
g
|
Vitamin A:
5599
IU
|
Vitamin C:
28
mg
|
Calcium:
245
mg
|
Iron:
8
mg
Disclaimer
The nutritional information provided is approximate and is calculated using online tools. Information can vary depending on various factors, but we have endeavoured to be as accurate as possible.