Love it or hate it, Marmite adds so much flavour to any dish. This Easy Marmite Pasta is a quick budget friendly meal that is made with ingredients you probably already have in your kitchen. The perfect dish for the end of a busy day, when you want quick comfort food.
The phrase is, you either love or hate marmite and we very much love it. There is nothing else that matches the flavour and a little spoonful brings so many dishes to life (just try it in a shepherd's pie). But, one of our favourite ways to use it is in this pasta dish. Simple comfort food at its finest. You have probably heard of this from Nigella, but I have been making this dish since my student years, nearly 20 years ago.
If you think you hate marmite, just give this a try. Even people that hate it, or sit on the fence with it, love this flavour packed pasta dish. There is so much more to marmite than a toast topping.
Jump to:
Why you will love it
Quick - This takes under 15 minutes to make, and even less if you use quick cook pasta. The majority of that time is the pasta simmering.
Cheap - This is probably my favourite budget friendly recipe. When it gets to those last few days before payday, and you won't be going shopping again, you have to make what you can with what you have. We usually have all the ingredients to make this, or at least an adaptable version. Pasta and marmite are inexpensive, and then we just add whatever else we have.
Easy - As far as pasta dishes go, it really doesn't get much more simple than this. Just cook and drain the pasta and then stir everything in and let the hot pasta create the silky and creamy sauce.
Adaptable - You could keep this very very simple, with just marmite and pasta, or make it a little more special with some extra ingredients like we have. We have also given some other options on ways to adapt it.
Ingredients needed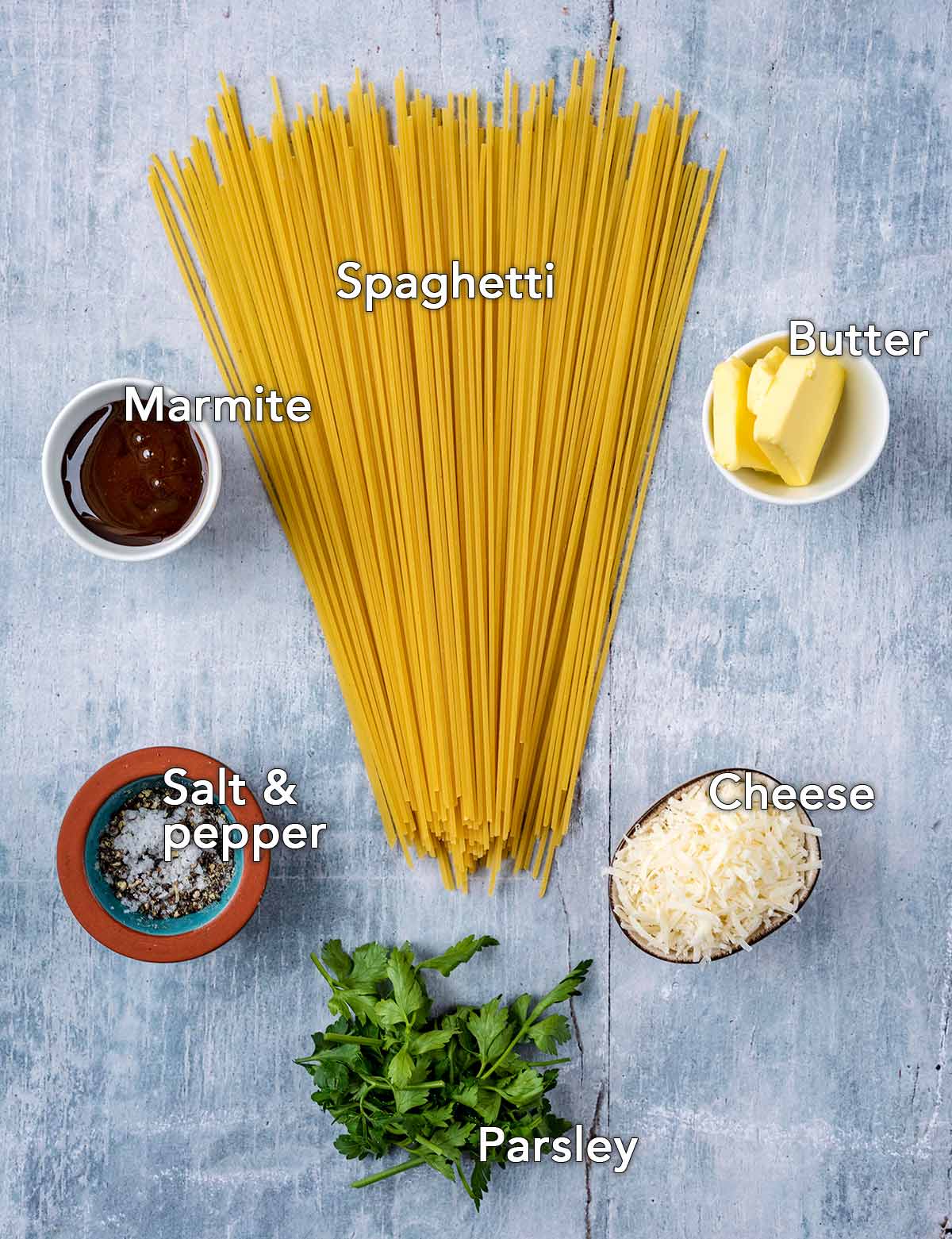 Pasta - You can use any pasta you like for this recipe, as the sauce will cling to anything. But we love using spaghetti. Make this a super budget friendly recipe by using whatever you have.
Marmite - The star of the dish. There are supermarket alternatives to marmite, which you can use if you are on a budget, but it won't have the same flavour. You only need a little in this recipe as a little goes a long way. However, feel free to adjust the amount to suit your own tastes.
Butter - Once melted in to the pasta, this gives it a really smooth and silky sauce, along with the pasta water (more on that below). We use unsalted butter, because the marmite itself is quite salty. Try to use the best quality butter you can.
Cheese - Cheese in pasta is a must, right? We used parmesan, because of the strong flavour and just a little to add some creaminess. You can use any cheese that melts well though, and to keep it vegetarian you could swap parmesan for a mature cheddar.
Parsley - Whilst this marmite pasta is a good cupboard/fridge staple recipe, we like to add a little freshness with some chopped flat leaf parsley. This is totally optional though.
A full ingredients list with measurements is in the recipe card below.
How to make Marmite pasta - Step by step
One: Cook the spaghetti according to the packet instructions - this will be 10-12 minutes.
Two: Drain the pasta (reserving some of the water). Add the Marmite, butter, cheese and salt and pepper. Mix well until the butter has melted and all of the spaghetti is coated.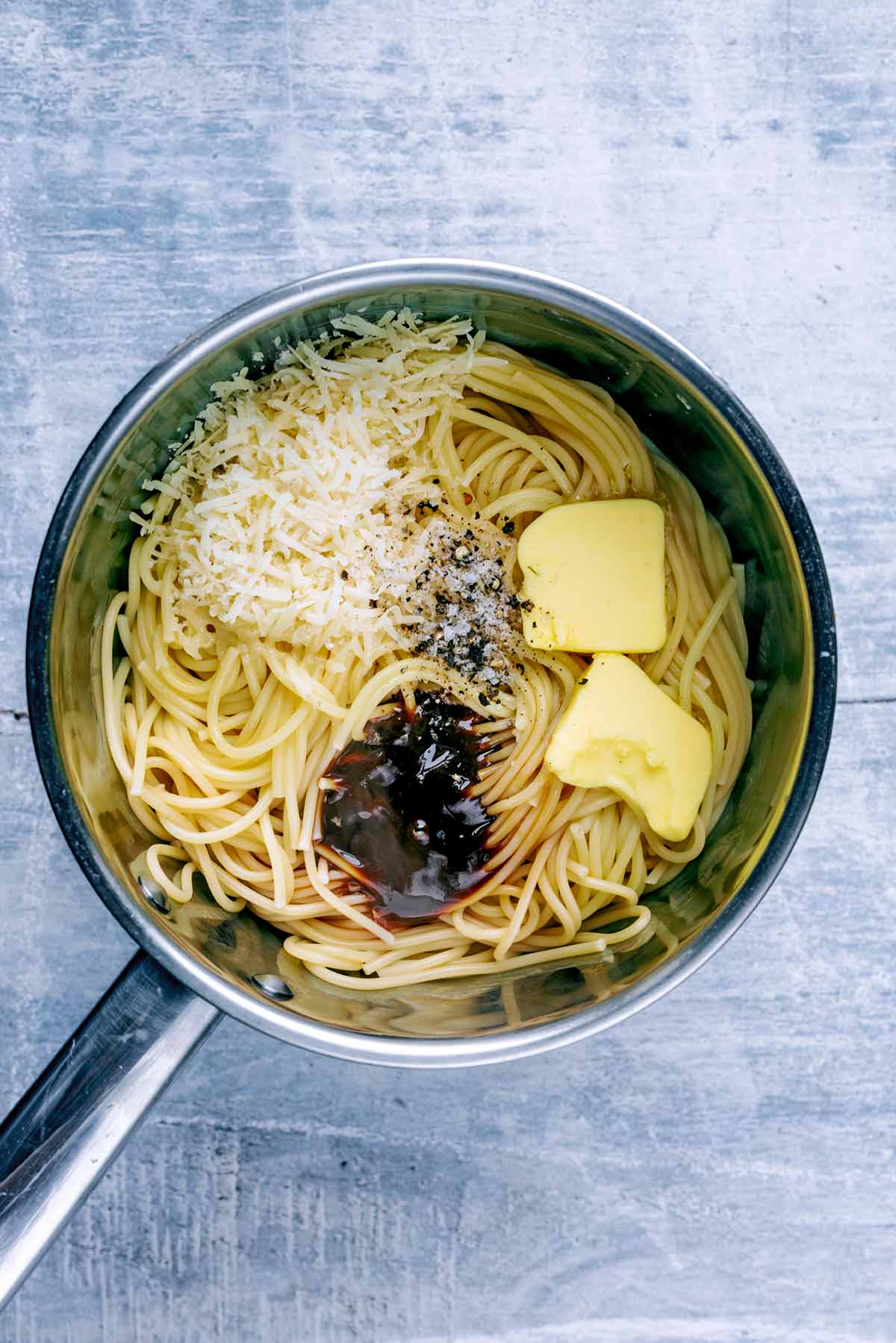 Three: Serve with chopped parsley.
What is marmite?
Marmite is a savoury spread that was invented by a German scientist Justus von Liebig in 1902. It was invented in the UK when he discovered that brewers' leftover yeast could be concentrated, bottled and eaten. Then, in 1912, British troops fighting in World War I were issued jars of Marmite as part of their rations, after it was discovered that it was a great source of vitamin B.
Marmite has lots of health benefits, as well as it being a good source of B vitamins, it is also a source of thiamin, folate, potassium, magnesium and has no added sugar. There are only 22 calories per serving in Marmite, so it is a great low calorie spread option for toast. Marmite is very salty though. A 5 gram serving has 166mg of sodium, which is around 7% of your daily recommended value.
Variations
We have kept this recipe fairly simple, and there aren't too many ways that you can adapt it, but we have a few suggestions for you. The easiest way to change this up is with the cheese that has been used. You can swap the parmesan for a mature cheddar or even gouda for a smoky twist. We also like to crumble some feta on top, but that does make it a little too salty.
Bacon makes everything better, right? Some grilled and chopped bacon adds lots of flavour, and some crunch too. You could also added cooked sausages, or even some chorizo. Add some lean protein with some slices of grilled chicken breast.
Some fresh parsley was added to lighten up the whole dish, but fresh chives would work too. We wouldn't recommend using dried herbs, as they don't have enough time to cook to let the flavours come out.
We are always looking for ways to add vegetables to our meals, and there are some easy ways to give this marmite pasta a nutrient boost. The easiest way is to cook some frozen peas or sweetcorn to the pasta pan - they would only need adding about 4-5 minutes before the pasta is cooked though.
If you had a little more time, then you could roast up some vegetables like peppers, onions and courgettes and they add some lovely chunky texture to the dish. Add a green vegetable boost by wilting some spinach in to the hot pasta at the same time as the butter and cheese. You could also fry up some shallots and shiitake mushrooms to stir through.
What to serve it with
Everyone know that garlic bread and pasta are a match made in heaven. Carby heaven! Either buy some ready made, or make your own easy garlic bread by cutting up some French stick and spreading it with a mix of butter, crushed garlic and dried herbs. Then pop it in the oven for 10 minutes.
You could also keep it simple with a big green salad. The key to an epic green salad is to use a variety of greens, like romaine, spinach, kale and rocket. You want leafy greens, but crunch too. Then you need the perfect dressing. Why not try our Lemon Vinaigrette, Honey and Mustard Dressing or Tomato and Basil Vinaigrette. You could also try our Grilled Little Gem Salad.
Storage
Store: This dish is best served freshly cooked, so we would only recommend cooking as much as you need. However, if you do find yourself with leftovers, then you can store them in an air tight container in the fridge until the next day.
Freeze: We wouldn't recommend freezing this as the texture of the pasta changes once defrosted.
Reheat: To reheat it, just add it to a pan with a splash of water to loosen it all up and then heat it through.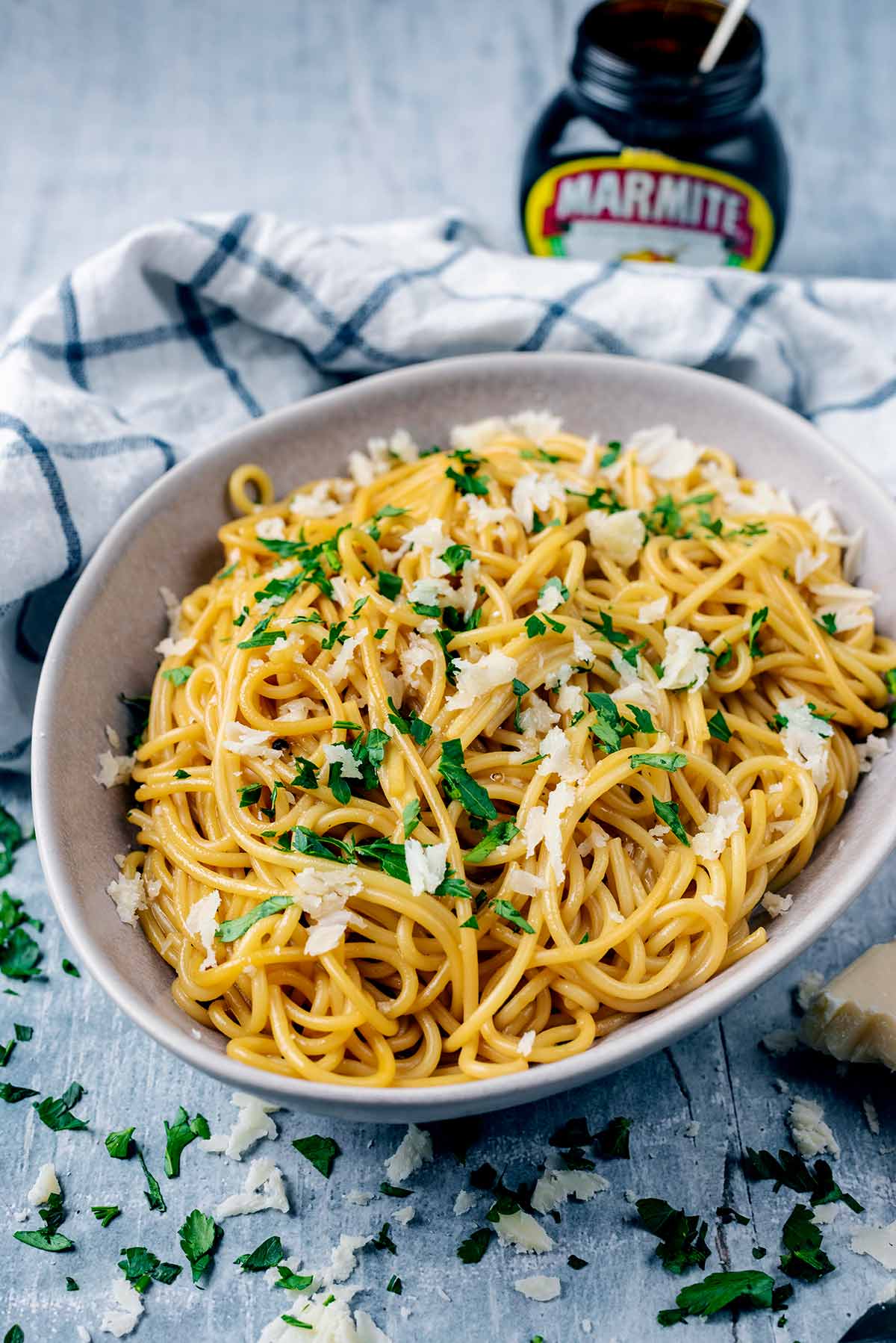 Frequently Asked Questions
Does the sauce need to be cooked first?
No, nothing needs to be cooked apart from the pasta. Once it is drained, you can just add all the other ingredients to the hot drained pasta in the pan, and it will all melt and create a delicious sauce.
How else can you use marmite?
If you are bored of just spreading marmite on toast, we have plenty of suggestions of other ways that you can use it. Try stirring it through baked beans and putting them on top of a jacket potato or mixing some in to spaghetti bolognese or shepherd's pie. It also adds lots of flavour to a beef casserole.
Where should marmite be stored?
This is something that often causes debate, but we always store ours in the cupboard. Putting it in the fridge makes it very hard, which isn't so much of an issue for this dish because it melts in to the pasta, but it makes it quite hard to spread on toast.
Is marmite pasta gluten free?
No, this recipe is not suitable if you are gluten free. Although marmite used to be gluten free, since 2016 it has no longer been suitable for a gluten free diet.
Is marmite pasta vegan?
Marmite itself is vegan, however the butter and Parmesan aren't. You can easily find plant based alternatives to make this a vegan dish.
Can I use Vegemite instead?
Yes, if you are in Australia, then you can use Vegemite instead of Marmite.
Can I double this recipe?
You can easily double this recipe and it doesn't change the cooking time. Just make sure that you have a big enough saucepan to hold double the ingredients.
More pasta recipes
If you've tried this Marmite pasta recipe, et us know how you got on in the comments below.
Tag us in your creations on Instagram @hungryhealthyhappy - Use the hashtag #hungryhealthyhappy too.
Recipe
Easy Marmite Pasta
This Easy Marmite Pasta is a quick budget friendly meal that is made with ingredients you probably already have in your kitchen.
Pin
Print
Save recipe
Recipe saved!
Ingredients
140

g

(

5

oz

)

Spaghetti

1

tablespoon

Marmite

2

tablespoon

Butter

75

ml

(

0.33

cups

)

Pasta water

30

g

(

0.33

cups

)

Parmesan

-

grated

3

g

(

0.75

tablespoon

)

Fresh parsley

-

chopped

1

pinch

Sea salt and black pepper
Instructions
Cook

140 g Spaghetti

according to the packet instructions - this will be 10-12 minutes.

Drain the pasta (reserving

75 ml Pasta water

). Return to the pan with the pasta water,

1 tablespoon Marmite

,

2 tablespoon Butter

,

30 g Parmesan

and

1 pinch Sea salt and black pepper

. Mix well until the butter has melted and all of the spaghetti is coated.

Serve with

3 g Fresh parsley

.
Recipe tips
To loosen the sauce up a little, we reserved a little pasta water and stirred it in to the marmite pasta mix. This is optional, but you really shouldn't skip this step. This starchy water it was helps to make the sauce nice and silky and much more of a sauce texture.
You can add an extra kick of flavour by sprinkling some dried red chilli flakes on top before serving.
Add some protein by adding some cooked bacon, grilled chicken breasts or chickpeas.
Nutritional Information
Serving:
1
portion
|
Calories:
392
kcal
|
Carbohydrates:
49
g
|
Protein:
16
g
|
Fat:
15
g
|
Saturated Fat:
10
g
|
Polyunsaturated Fat:
1
g
|
Monounsaturated Fat:
4
g
|
Trans Fat:
1
g
|
Cholesterol:
41
mg
|
Sodium:
571
mg
|
Potassium:
339
mg
|
Fiber:
3
g
|
Sugar:
2
g
|
Vitamin A:
598
IU
|
Vitamin C:
2
mg
|
Calcium:
204
mg
|
Iron:
1
mg
The nutritional information provided is approximate and is calculated using online tools. Information can vary depending on various factors, but we have endeavoured to be as accurate as possible.