Sometimes it's the simplest dishes, with the least ingredients, that are the best and that certainly goes for this 15 Minute Garlic Spaghetti - also known as aglio e olio. Spaghetti mixed with good quality olive oil, lemon juice, fresh herbs and plenty of garlic - it is THAT simple. Quick to make and it's also budget friendly too.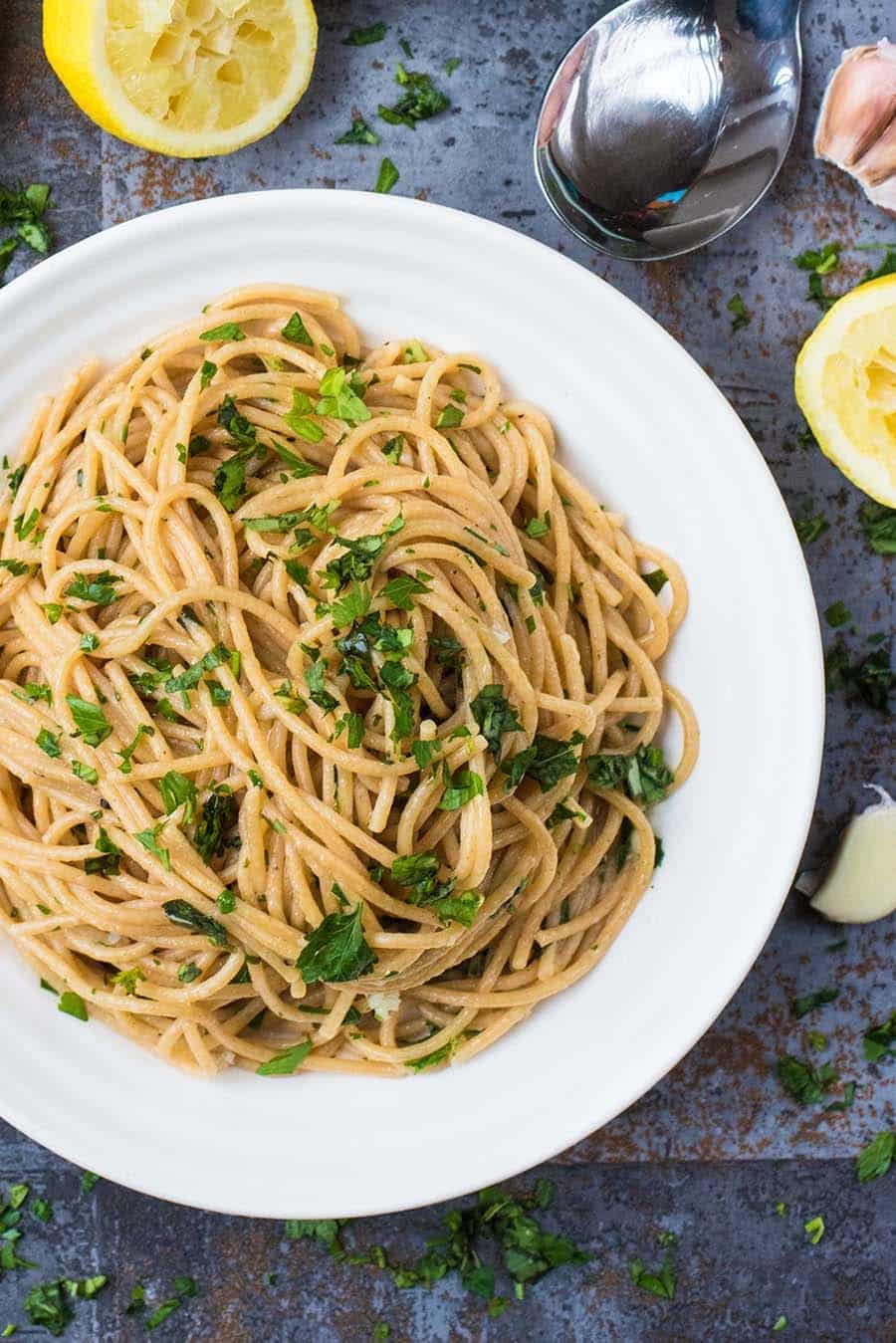 This is definitely one for the garlic lovers, as this has 2 garlic cloves per person. But at least you and the person having the second portion can be garlicky together!
When something has garlic in the title, I expect to be able to taste the garlic and there is no doubt about it with this dish. This is a simple pasta dish, but it has a serious amount of flavour. Light and fresh and a real crowd pleaser too.
This garlic spaghetti, also known as aglio e olio, is made with ingredients that you probably already have in your kitchen and it is easy to adapt to use up some fridge ingredients. It's perfect for the day before pay day, or nights when you don't want to put much thought in to dinner. It's satisfying comfort food, with very little effort.
If you are looking for some more garlic packed recipes, then why not try our Easy Garlic Sauce, Cheesy Garlic Bread, Garlic Spring Greens, Garlic and Rosemary Focaccia or Homemade Garlic Crisps?
Jump to:
Why you will love it
Quick and easy - It takes just 15 minutes to make this garlic spaghetti and it's as easy as cooking the spaghetti, draining it and then mixing all the ingredients together.
Cheap - This is a budget friendly dish as it uses ingredients you probably already have in your kitchen, and it doesn't involve anything fancy. We call it our day before pay day dinner.
Vegan - This spaghetti dish is naturally vegan, but there is the option to add cheese if you prefer.
Adaptable - This basic recipe is pretty simple, but there are loads of options to adapt it and jazz it up a little. More on that below!
Ingredients needed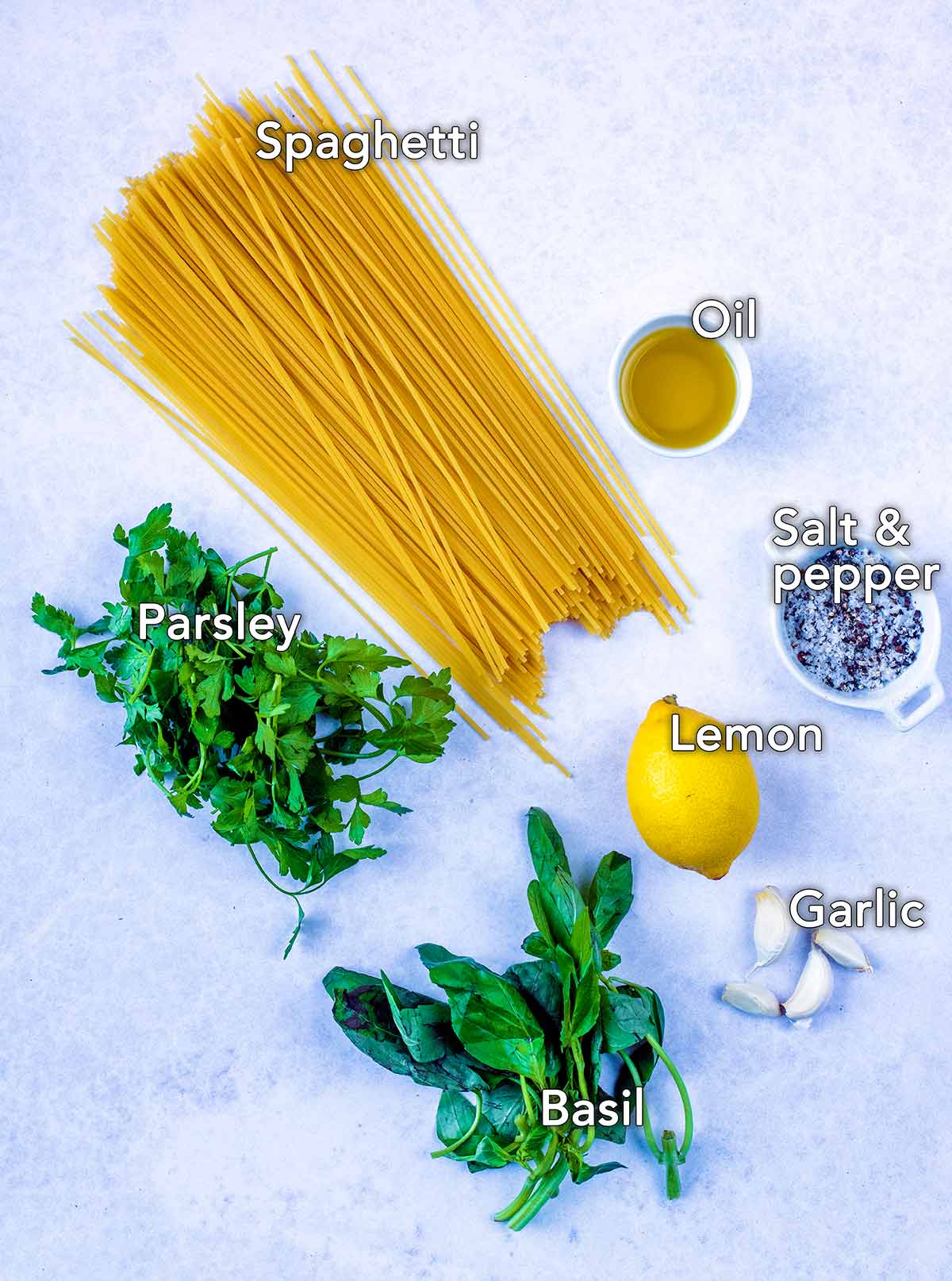 Spaghetti - We used whole wheat spaghetti as we find it is more filling. However, you could use any spaghetti, or even linguine or tagliatelle. We wouldn't recommend using other pasta shapes, as spaghetti holds the olive oil sauce really well.
Olive oil - This is what makes up the majority of the sauce. Try to use the best quality olive oil that you can, as you really will be able to taste the difference. Extra virgin olive oil is what you want ideally. You could even use a garlic infused oil, or a chilli oil, if you wanted to add more flavour.
Garlic - This is the star of the dish. Usually we would suggest saving time by using frozen or ready crushed garlic, but fresh really is best here. Make sure it is really finely crushed, so it is almost a paste, so it ensures an even distribution in the spaghetti.
Lemon - This really lightens up the whole dish and adds some freshness. We used juice and zest to make it really lemony.
Salt and pepper - Season to taste.
Herbs - We used a mixture of basil and parsley, but this is a great way to use up leftover fresh herbs that you have in your fridge.
Pasta water - This is our "secret" ingredient in every pasta dish and something that every Italian uses in their cooking. Adding a little bit of the starchy pasta water makes the sauce really silky smooth and cling to the pasta. It also loosens the sauce up a little, helping it go further.
A full ingredients list with measurements is in the recipe card below.
Step by step
One: Add the spaghetti to a pan of boiling water and simmer for 12 minutes.
Two: Drain the spaghetti (reserving a little of the water) and then put it back in the pan and add the rest of the ingredients and mix well and serve.
Health benefits of garlic
Garlic is a perennial that belongs to the liliaceae family. Other members of this family include leeks, chives, spring onions and shallots, and they all have a very strong flavour. Garlic is one of the oldest cultivated plants in the world, and it has many health benefits and it has been used as medicine for a long time.
Garlic is a good source of vitamin B6 (pyridoxine) and C, as well as manganese and selenium. It is also a good source of minerals, including calcium, phosphorous, potassium, iron and copper.
Many of the health benefits from garlic are thought to come from its active ingredient allicin, which is what gives garlic its distinct taste and smell. Chopping or crushing garlic actually stimulates the production of allicin, however it is thought that cooking actually prevents some of the medical properties.
Variations
Pasta - This recipe works well with spaghetti because the sauce is made up of olive oil and lemon juice, so it clings well to thin pasta link spaghetti. However, if you wanted to keep this budget friendly and just use what you have, then any pasta shapes will work.
Herbs - This is a great way to use whatever herbs you have. We think basil and parsley work best with the lemon and garlic. But, we have also used coriander, mint and chives before too.
Cheese - This is vegan as it is, however if you wanted to add some cheese, then you could stir some grated Parmesan in to it. Crumbled creamy goats cheese or feta are delicious too.
Protein - We don't think that this garlic spaghetti is lacking without meat, however if you wanted to give it a protein boost then you could add some leftover roast chicken. It's also really nice with leftovers from our honey and garlic salmon. If you wanted to add some vegetarian protein, then some chickpeas or butter beans work well.
Vegetables - If you want to give a green vegetable boost to this garlic spaghetti, then you could stir some spinach in to the hot drained pasta and let that heat wilt it.
Extra - There really is so much that you can add to this pasta dish. We also like to add chopped olives, sundried tomatoes, anchovy fillets or cooked chopped bacon. Maybe not all of it though, as it might be a bit overwhelming.
What to serve with garlic spaghetti
Everyone knows that garlic bread and pasta are a match made in heaven. Carby heaven! Either buy some ready made, or make your own easy garlic bread by cutting up some French stick and spreading it with a mix of butter, crushed garlic and dried herbs. Then pop it in the oven for 10 minutes. Why not try our Cheesy Garlic Bread!
You could also keep it simple with a big green salad. The key to an epic green salad is to use a variety of greens, like romaine, spinach, kale and rocket. You want leafy greens, but crunch too. Then you need the perfect dressing. Why not try our Lemon Vinaigrette, Honey and Mustard Dressing or Tomato and Basil Vinaigrette. You could also try our Grilled Little Gem Salad.
If you want to add a big side of vegetables, then we recommend our Roasted Tenderstem Broccoli, Butted Leeks, Garlic Spring Greens or Roasted Lemon Asparagus.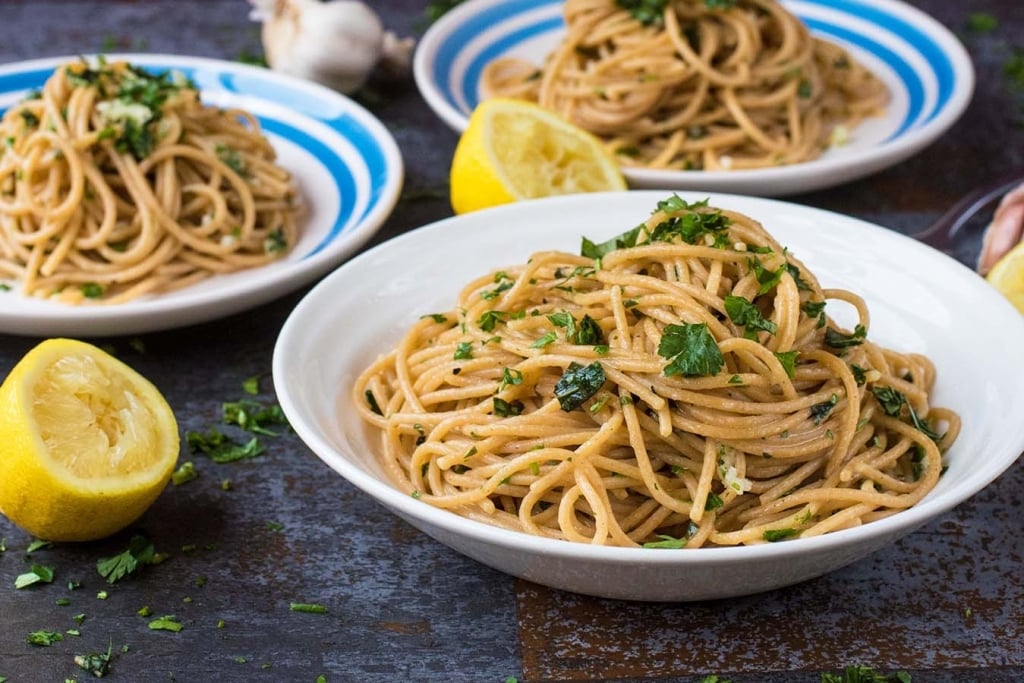 Frequently Asked Questions
Do I have to reserve pasta water?
Adding starchy pasta water (just 100ml is enough) to a fat like olive oil will create an emulsion and this gives a really silky smooth sauce and helps it cling to the pasta. Make sure you scoop out the water just before draining, as this ensures that it is nice and starchy.
How to store garlic spaghetti.
If you have leftovers, then you can store it in an air tight container in the fridge until the next day.
Can I freeze garlic spaghetti?
No, we wouldn't recommend freezing this because it has a strange texture once defrosted.
How to reheat garlic spaghetti.
You can reheat this in a frying pan on a low heat. Add a splash of water to the pan to loosen it up.
Is garlic spaghetti gluten free?
If you use your favourite gluten free pasta and make sure that there is no cross contamination, then this is a delicious gluten free meal.
What other pasta can you use?
We have used spaghetti, however this recipe can be used with any pasta and we have used penne, fusilli and macaroni (which kids love).
More pasta recipes
If you've tried this spaghetti with garlic and oil, let us know how you got on in the comments below.
Tag us in your creations on Instagram @hungryhealthyhappy - Use the hashtag #hungryhealthyhappy too.
Recipe
15 Minute Garlic and Herb Spaghetti
Sometimes it's the simplest dishes, with the least ingredients, that are the favourites and that certainly goes for this 15 Minute Garlic and Herb Spaghetti.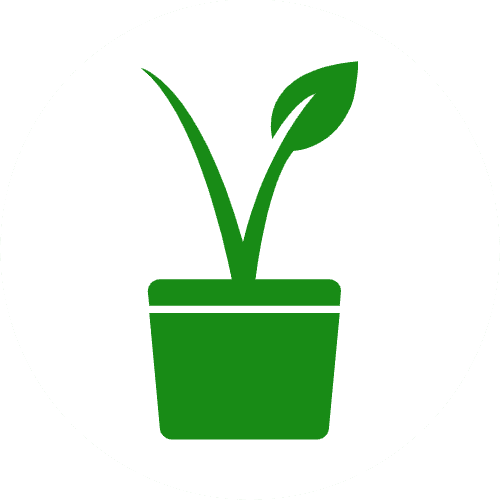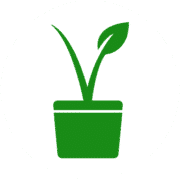 Vegan
Pin
Print
Save recipe
Recipe saved!
Ingredients
140

g

(

5

oz

)

Spaghetti

2

tablespoon

Olive oil

1

Lemon

-

(juice only)

1

pinch

Sea salt and black pepper

4

Garlic clove

-

crushed

40

g

(

1.66

cups

)

Fresh basil

-

finely chopped

40

g

(

0.66

cups

)

Fresh parsley

-

finely chopped

50

ml

(

0.25

cups

)

Pasta water
Instructions
Add the spaghetti to a pan of boiling water and simmer for 12 minutes.

Drain the spaghetti (reserving a little of the water) and then put it back in the pan and add the rest of the ingredients. Mix well and serve.
Recipe tips
Don't forget to take some water out of the spaghetti pan before you drain it as this will make such a difference to your sauce. If you do forget, just boil some water in the kettle and add that.
If you like your food spicy, then add a sprinkle of red chilli flakes on top before serving.
Serve with extra Parmesan, fresh parsley and cracked black pepper if you like.
Cook your spaghetti until al dente, as you don't want it to get too mushy.
Make this a little more indulgent by melting some butter in to the spaghetti.
Nutritional Information
Serving:
1
portion
|
Calories:
374
kcal
|
Carbohydrates:
63
g
|
Protein:
13
g
|
Fat:
16
g
|
Saturated Fat:
2
g
|
Sodium:
61
mg
|
Potassium:
581
mg
|
Fiber:
4
g
|
Sugar:
2
g
|
Vitamin A:
5054
IU
|
Vitamin C:
110
mg
|
Calcium:
136
mg
|
Iron:
7
mg
The nutritional information provided is approximate and is calculated using online tools. Information can vary depending on various factors, but we have endeavoured to be as accurate as possible.