Roasted Tenderstem Broccoli is a delicious and easy side dish that goes with pretty much everything. A little lemon for some fresh flavour, the tenderstem broccoli goes nice and crispy in the oven and is a tasty way to get some extra greens in your diet.
We love broccoli, but we love tenderstem broccoli even more. Not only does it just look a little bit fancier (sorry regular broccoli, no disrespect), but the texture is so much better. It's more, well, tender. Whilst we do love adding it to stir fries or pasta dishes, we love the crispiness you get from roasting it.
Roasted Tenderstem Broccoli is our new favourite side dish. It adds some vibrant green to any dish and can take a plain grilled chicken or salmon dinner up a level. You know what, we would happily just snack on this too. The crispiness would make it a delicious healthier alternative to crisps.
Looking for some other delicious ways to use broccoli? Why not try our Crispy Roasted Broccoli, Broccoli Pasta Bake, Air Fryer Broccoli, Microwave Broccoli, Broccoli Cheese or Quick Broccoli Pasta.
Jump to:
Why you will love it
A delicious side dish - We can never have too many side dish recipes and this is one of our favourites. It's so simple, with its light and fresh flavours, that is goes with almost everything.
A new way to eat broccoli - We love broccoli, but we can get a little bored with having it the same way all the time. This is a good way to mix things up.
Easy - This is such a simple side dish to make, as there is minimal prep involved. You just mix everything together and put it in the oven to get nice and crispy.
Kids love it - If you struggle to get your kids to eat vegetables, then give this roasted tenderstem broccoli a try. The fact that you can hold it to eat it is part of the appeal, and I find that roasted vegetables always go down well with kids.
Ingredients needed
Tenderstem broccoli - The star of the dish. We usually find it in packets near the green beans in our supermarket, but it might be near the regular broccoli in your shop. It is sometimes called broccolini.
Lemon - We thinks this adds a lovely freshness to the broccoli.
Oil - We used a really good quality olive oil.
Salt and pepper - This roasted tenderstem broccoli needs to be really well seasoned.
A full ingredients list with measurements is in the recipe card below.
Step by step
One: Put the tenderstem broccoli on the baking tray and drizzle with oil, lemon juice and salt and pepper and mix well.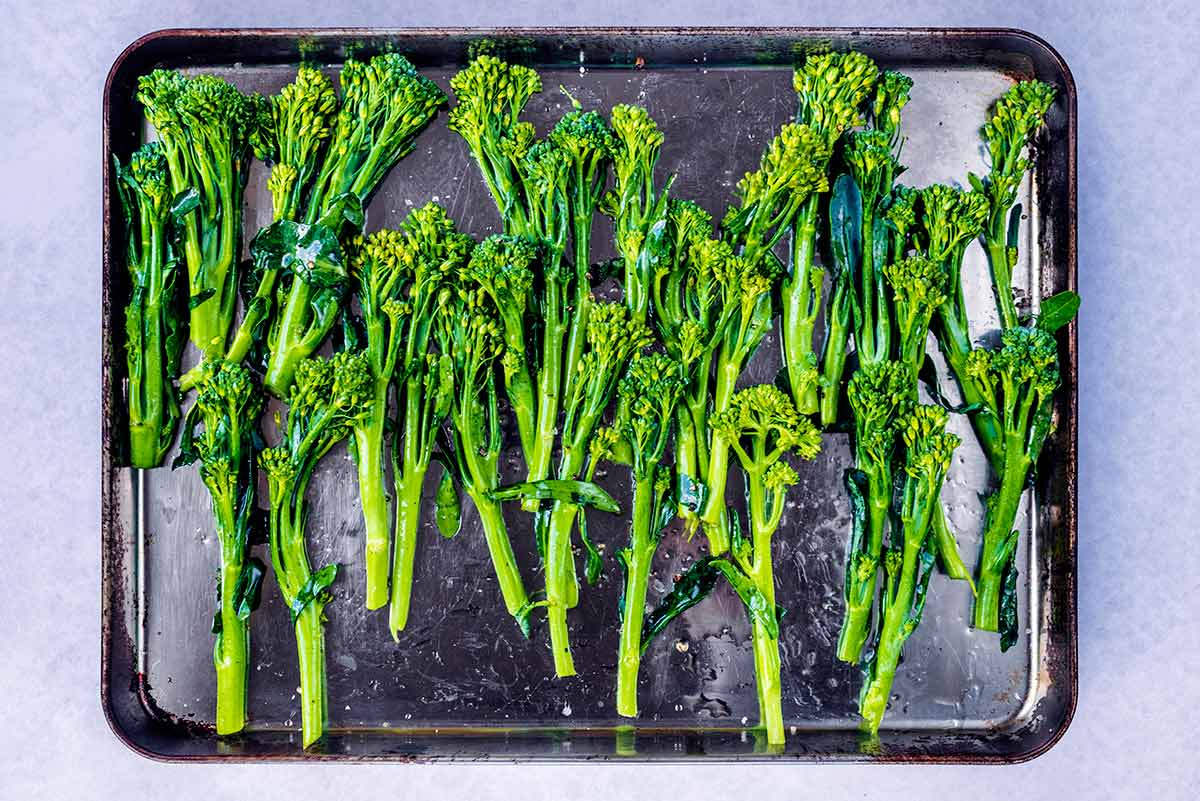 Two: Put in a preheated oven at 200°C/400°F/Gas 6 for 12 minutes, or until tender.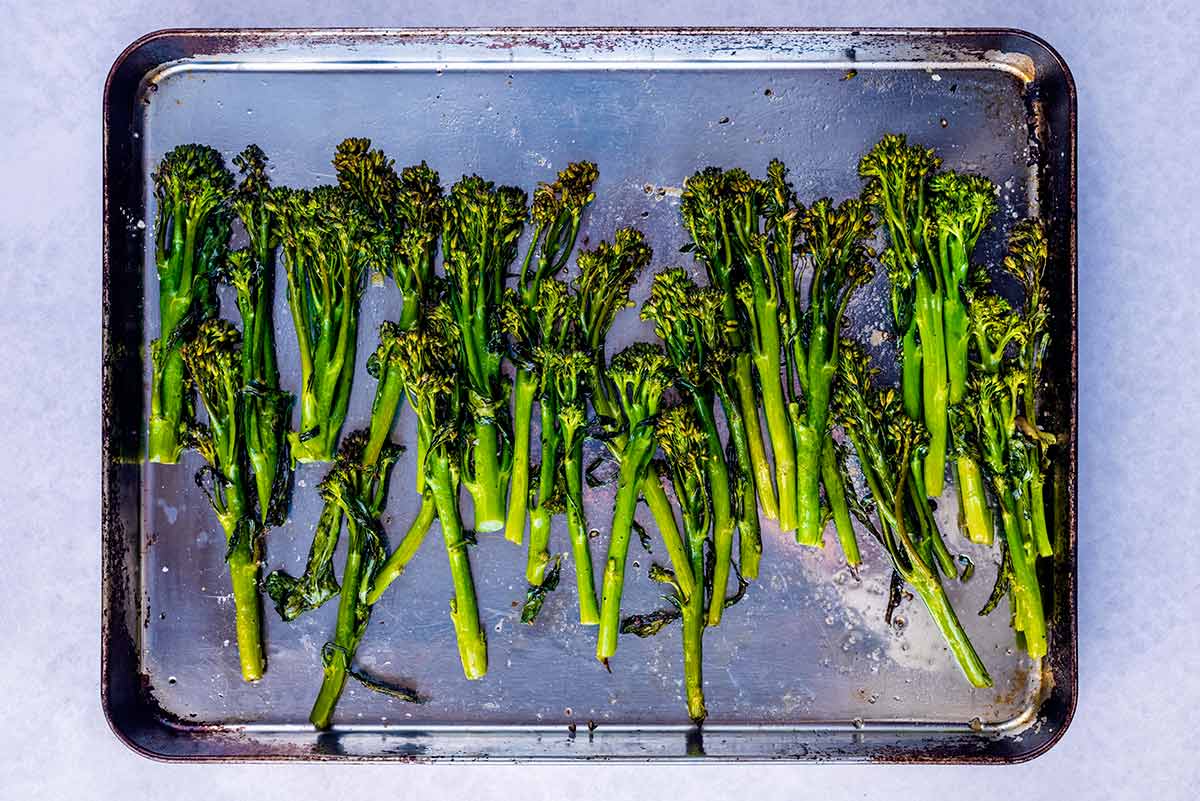 Health benefits of broccoli
Superfood is a bit of a buzz food that is thrown around, but there is no denying that broccoli is nutrient dense. It's a great source of vitamins A, B1, B2, B3, B6 and K, as well as iron, zinc and fibre, which can support digestive health.
Did you know that broccoli is also a good source of protein, although an incomplete one?
Variations
You can use this recipe as a base and then get creative with your favourite flavours. We love adding garlic to this and we would recommend using garlic powder rather than fresh garlic, as that can burn in the oven.
Cheese makes everything better, right? A few minutes before it is finished cooking, grate some parmesan over the top and then put it back in the oven to crisp up. If you are planning on making these just for snacking, then we would definitely recommend this step.
What a bit of a spicy twist? We love a mixture of cayenne and smoked paprika to give it a kick. You could also add a sprinkling of red chilli flakes before serving.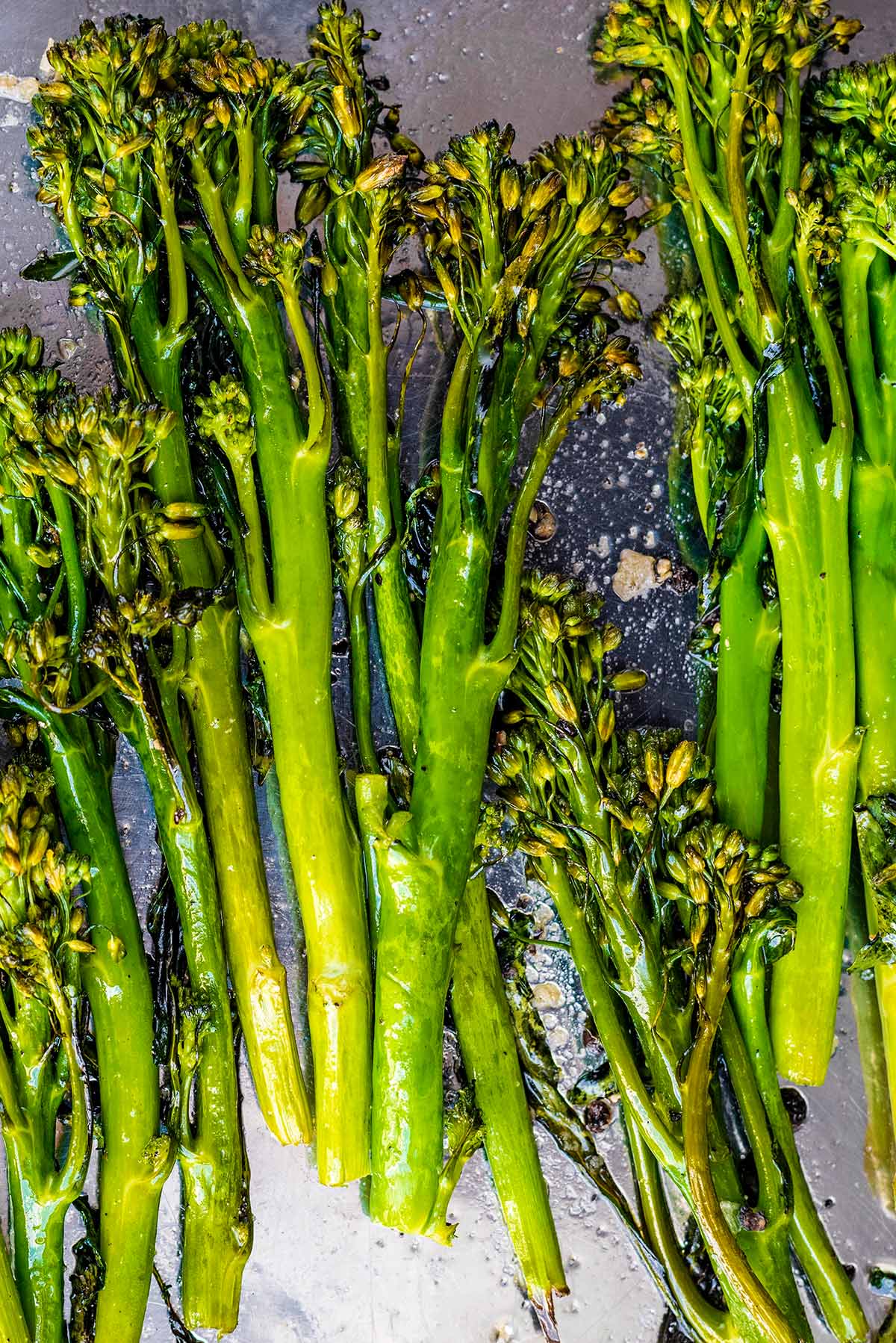 What to serve with Roasted Tenderstem Broccoli
This is such a versatile side dish. Whether you are serving it with meat, fish, or just extra vegetables - it goes with almost everything. We love it as a roast dinner side, but here are some of our other favourite meal dishes to serve it with:
Frequently Asked Questions
What is tenderstem broccoli?
You have probably seen it in the supermarket, but always wondered what it is and how it differs from regular broccoli. Tenderstem broccoli is a hybrid of Chinese kale and broccoli which was first introduced in Japan in 1993. So, if you love kale and broccoli, then chances are this is for you! Although the majority of tenderstem broccoli was grown abroad, a large percentage is grown in the UK and it is in season from June to November.
Is roasted tenderstem broccoli healthy?
Yes, this is a delicious and healthy side dish. We have listed the health benefits of broccoli above and this is a wonderful way to bulk our a meal with plenty of nutrients.
Can I use regular broccoli?
Yes, if you can't find tenderstem broccoli, then you can use a regular head of broccoli will work. Just make sure to leave as much of the stem on as possible and cut them thin lengthways so they still get tender in the oven.
How to store leftover roasted tenderstem broccoli.
We suggest always making this fresh and luckily it is so quick and easy to do. However, if you do have leftovers then they can be stored in an air tight container in the fridge for up to 3 days.
How to reheat roasted tenderstem broccoli.
You can either reheat them in the microwave (covered) for a minute, or put them in the oven for 5-10 minutes to heat through.
Can you make roasted tenderstem broccoli in advance?
Yes, you can mix everything together and then keep it in the fridge until you are ready to cook it in the oven. You may need to add a few minutes to the cooking time if it is coming straight out of the fridge.
More side dish recipes
If you've tried this roasted tenderstem broccoli recipe, let us know how you got on in the comments below.
Tag us in your creations on Instagram @hungryhealthyhappy - Use the hashtag #hungryhealthyhappy too.
Recipe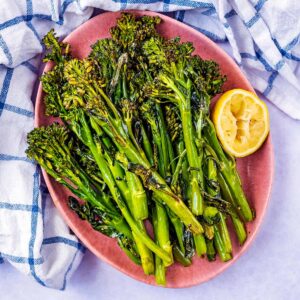 Roasted Tenderstem Broccoli
Roasted Tenderstem Broccoli is a delicious and easy side dish that goes with pretty much everything. A tasty way to get some extra greens in your diet.

Gluten Free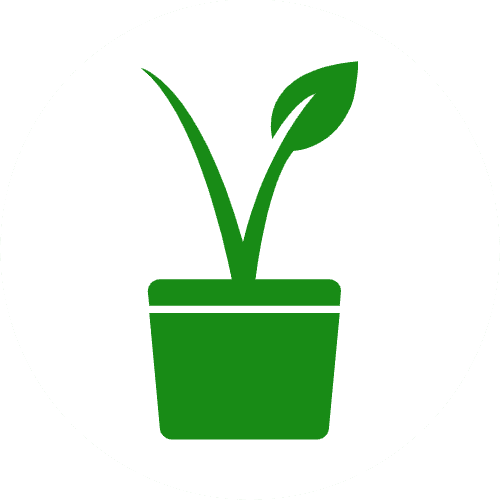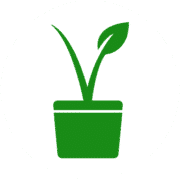 Vegan
Pin
Print
Save recipe
Recipe saved!
Ingredients
320

g

(

11

oz

)

Tenderstem broccoli

1

Lemon

2

tablespoon

Olive oil

1

pinch

Sea salt and black pepper
Instructions
Preheat your oven to 200°C/180°C(fan)/400°F/Gas 6

Put the tenderstem broccoli on the baking tray and drizzle with oil, lemon juice and salt and pepper and mix well.

Put into the oven for 12 minutes, or until tender.
Recipe tips
If you have some really thick stems of broccoli in the packet, we would recommend slicing them in half lengthways to ensure that they really are tender when roasted. Otherwise they might be a bit hard to bite through.
If you want to make these look a little fancier when serving, then add a sprinkling of pine nuts for some added crunch.
Add a kick of heat by finishing the dish off with a sprinkling or red chilli flakes.
Nutritional Information
Serving:
1
portion
|
Calories:
177
kcal
|
Carbohydrates:
15
g
|
Protein:
5
g
|
Fat:
14
g
|
Saturated Fat:
2
g
|
Polyunsaturated Fat:
2
g
|
Monounsaturated Fat:
10
g
|
Sodium:
54
mg
|
Potassium:
580
mg
|
Fiber:
6
g
|
Sugar:
4
g
|
Vitamin A:
1009
IU
|
Vitamin C:
171
mg
|
Calcium:
89
mg
|
Iron:
2
mg
The nutritional information provided is approximate and is calculated using online tools. Information can vary depending on various factors, but we have endeavoured to be as accurate as possible.