Crispy Roasted Broccoli is an easy and delicious side dish that will go with all of your favourite main meals. Our favourite way to get more greens in our diet and lots of different ways to flavour it. Roasting broccoli in a little oil and seasoning totally changes the flavour and it's a great way to get kids to try vegetables in a different way. Less than 5 minutes prep time too.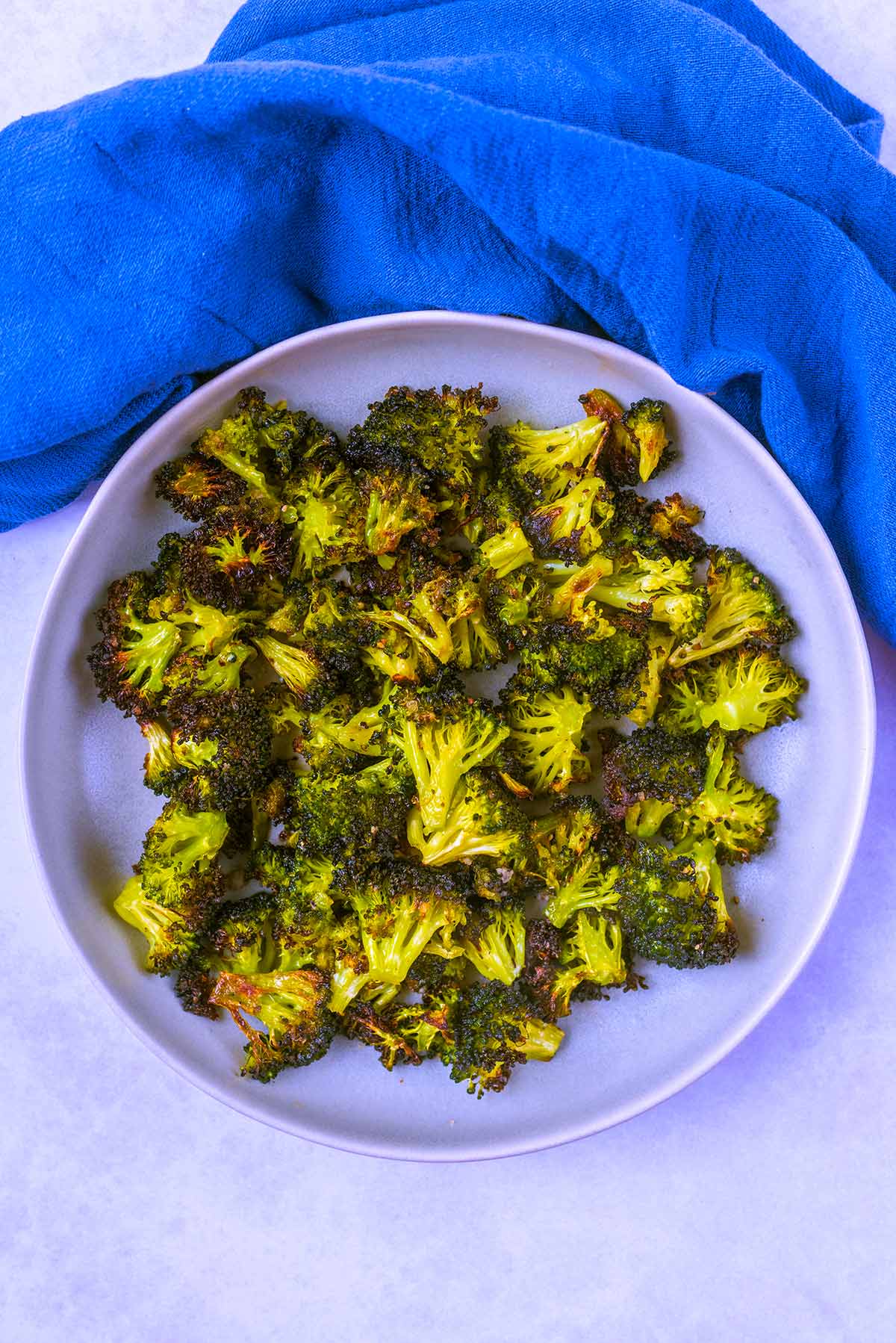 We will happily eat broccoli whatever way it comes. Boiled, roasted, fried - we love it. But, roasting it just gives it a totally different flavour and texture. Roasting broccoli in a little olive oil and salt and pepper makes it nice and crispy and it's a great addition to stir fries or pasta dishes, or just on the side of chicken or salmon. We also love just snacking on it.
If you are looking for some other broccoli recipes to try, then why not try our super simple Microwave Broccoli, Broccoli Slaw, Broccoli and Stilton Soup or Cheesy Broccoli Pasta Bake.
Jump to:
Why you will love it
A delicious side dish - We can never have too many vegetable side dish recipes and this is one of our favourites. It's so simple, with just 3 ingredients, and it goes with almost everything.
A new way to eat broccoli - We love broccoli, but we can get a little bored with having it the same way all the time. This is a good way to mix things up and a good way to use up a lot of it.
Easy - This is such a simple side dish to make, as there is minimal prep involved. You just mix everything together and put it in the oven to get nice and crispy.
Kids love it - If you struggle to get your kids to eat vegetables, then give them this roasted broccoli to try. The fact that you can hold it to eat it is part of the appeal, and I find that roasted vegetables always go down well with kids.
Ingredients needed
Broccoli - We used a standard head of broccoli, which makes this a really cheap side dish to make. However, if you would like to use tenderstem, then why not try our Roasted Tenderstem Broccoli Recipe?
Olive oil - Try to use the best quality olive oil you can here, as you will be able to taste the difference.
Salt and pepper - Generously season. We have suggestions of other way to add flavour below.
A full ingredients list with measurements is in the recipe card below.
How to make roasted broccoli - Step by step
One: Preheat your oven to 200°C/400°F/Gas 6. Toss the broccoli florets with the oil, salt and pepper.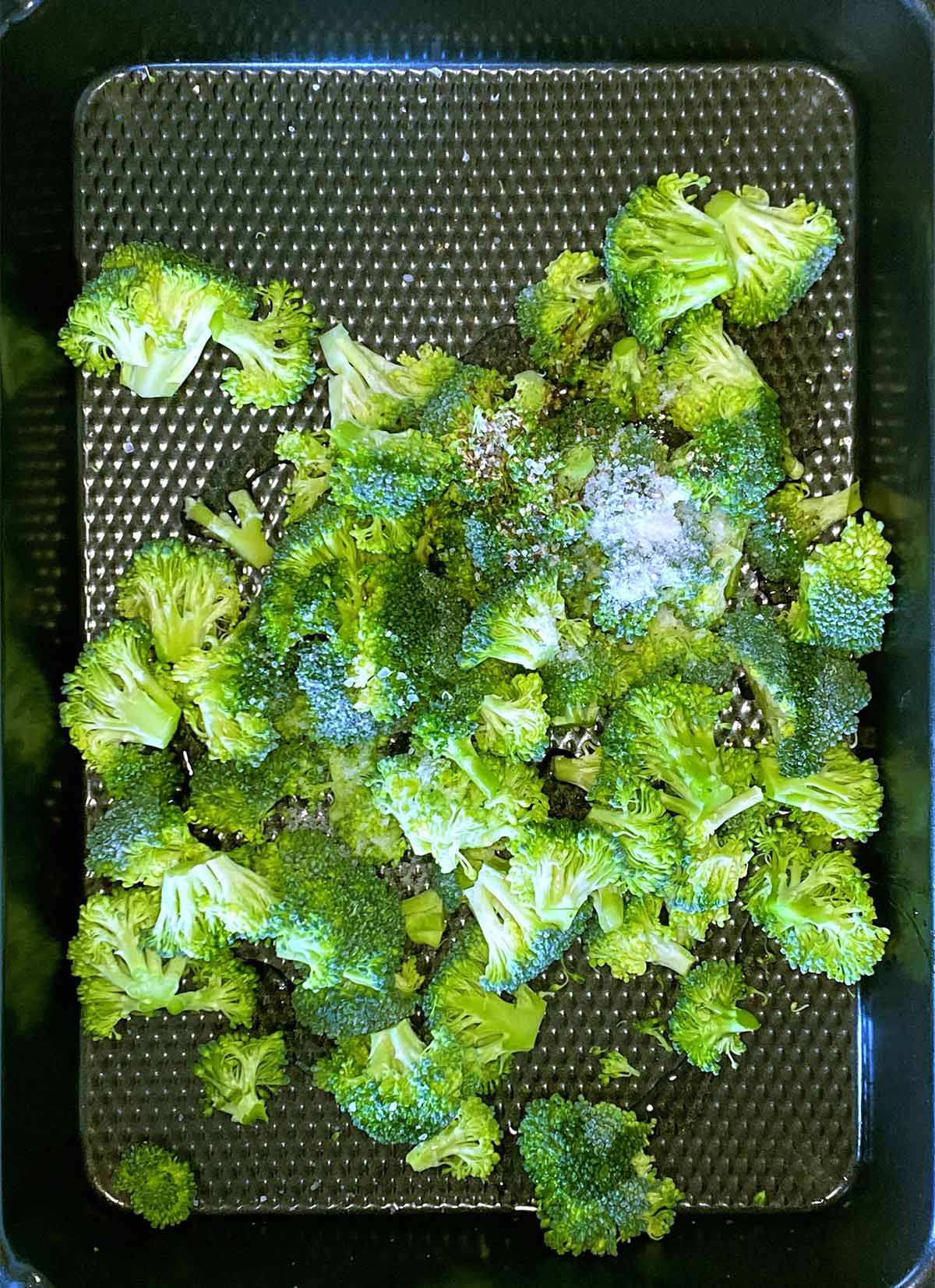 Two: Spread the coated broccoli over the baking tray in a single layer.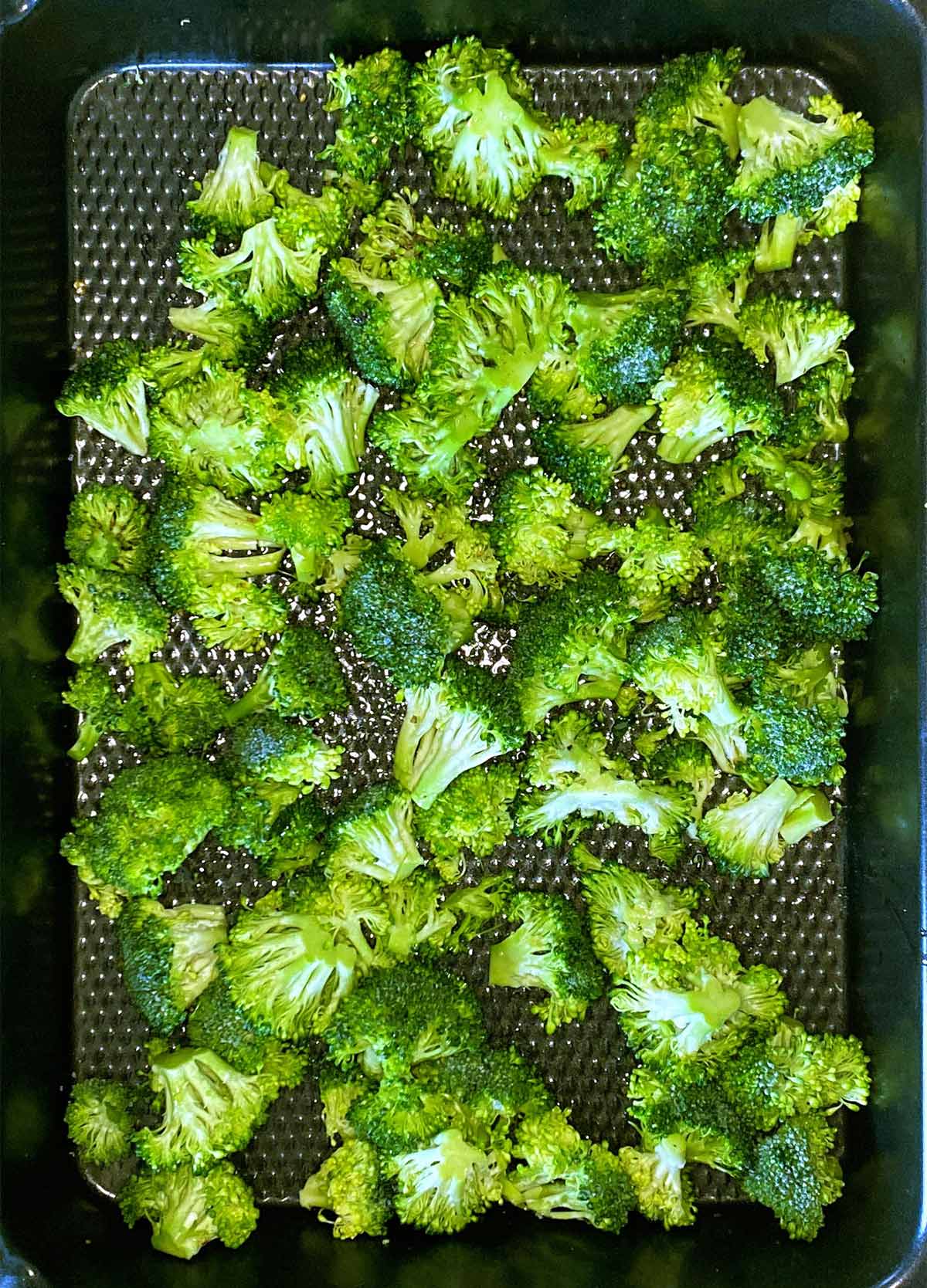 Three: Roast for 20 minutes.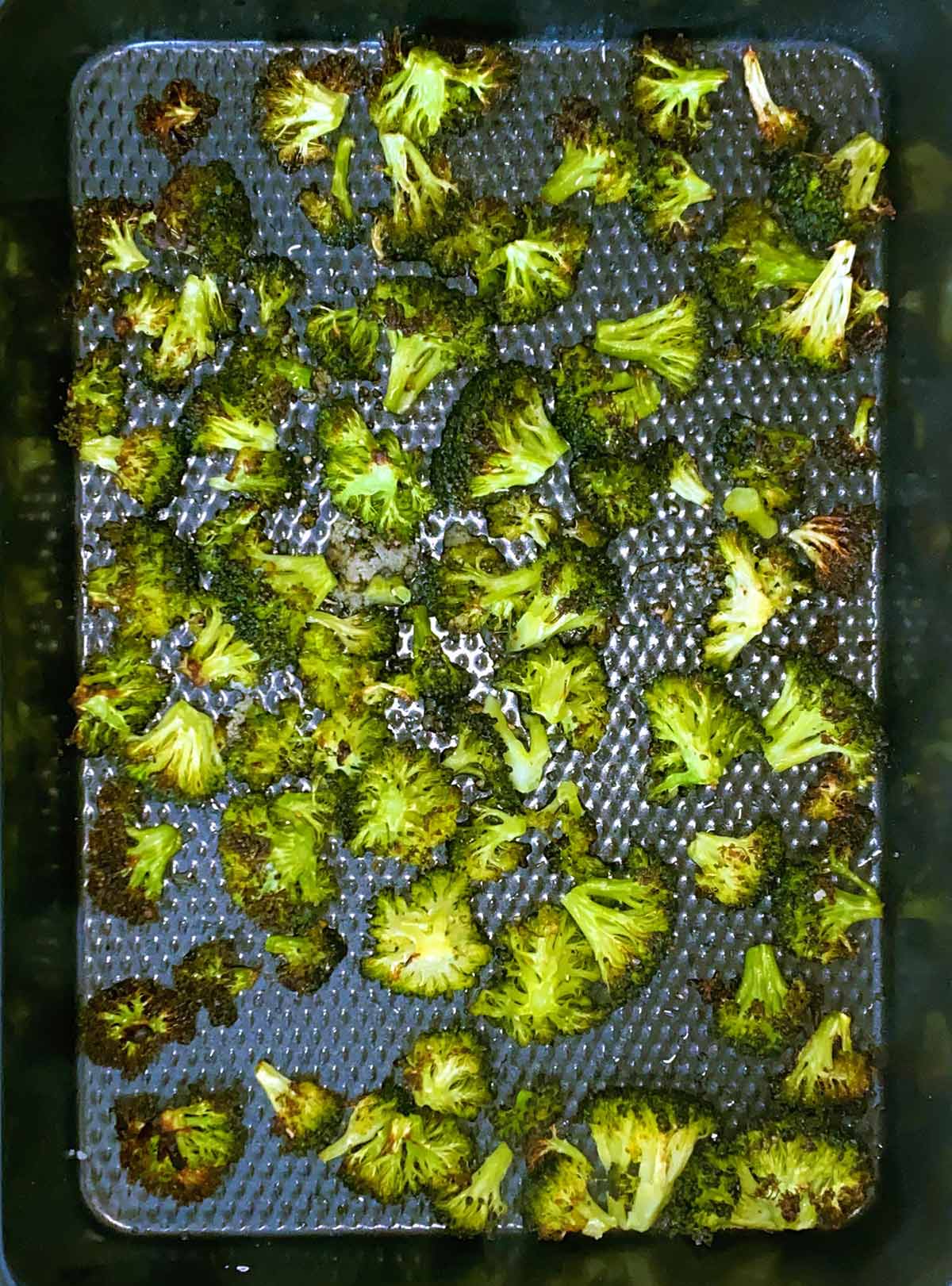 Health benefits of broccoli
Superfood is a bit of a buzz food that is thrown around, but there is no denying that broccoli is nutrient dense. It's a great source of vitamins A, B1, B2, B3, B6 and K, as well as iron, zinc and fibre, which can support digestive health.
Did you know that broccoli is also a good source of protein, although an incomplete one?
Variations
You can use this recipe as a base and then get creative with your favourite flavours. We love adding garlic to this and we would recommend using garlic powder rather than fresh garlic, as that can burn in the oven. A little squeeze of lemon juice also adds some lovely fresh flavour.
Cheese makes everything better, right? A few minutes before it is finished cooking, grate some Parmesan over the top and then put it back in the oven to crisp up. If you are planning on making these just for snacking, then we would definitely recommend this step.
What a bit of a spicy twist? We love a mixture of cayenne and smoked paprika to give it a kick. You could also add a sprinkling of red chilli flakes before serving.
For an incredible umami (savoury) flavour, add a little soy sauce at the same time as the olive oil (or you could use sesame oil) and then sprinkle with sesame seeds before serving.
What to serve with roasted broccoli
This is such a versatile side dish. Whether you are serving it with meat, fish, or just extra vegetables - it goes with almost everything. We love it as a roast dinner side, but here are some of our other favourite meal dishes to serve it with:
This roasted broccoli is also delicious added to our Roasted Vegetable Winter Salad recipe.
Storage
Store: We suggest always making this fresh and luckily it is so quick and easy to do. However, if you do have leftovers then they can be stored in an air tight container in the fridge for up to 3 days.
Freeze: We don't recommend freezing roasted broccoli, as it goes soggy after defrosting.
Reheat: You can either reheat them in the microwave (covered) for a minute, or put them in the oven for 5-10 minutes to heat through. What we love to do with any leftovers is add it to a frittata or omelette. It also goes really well in Mac and Cheese.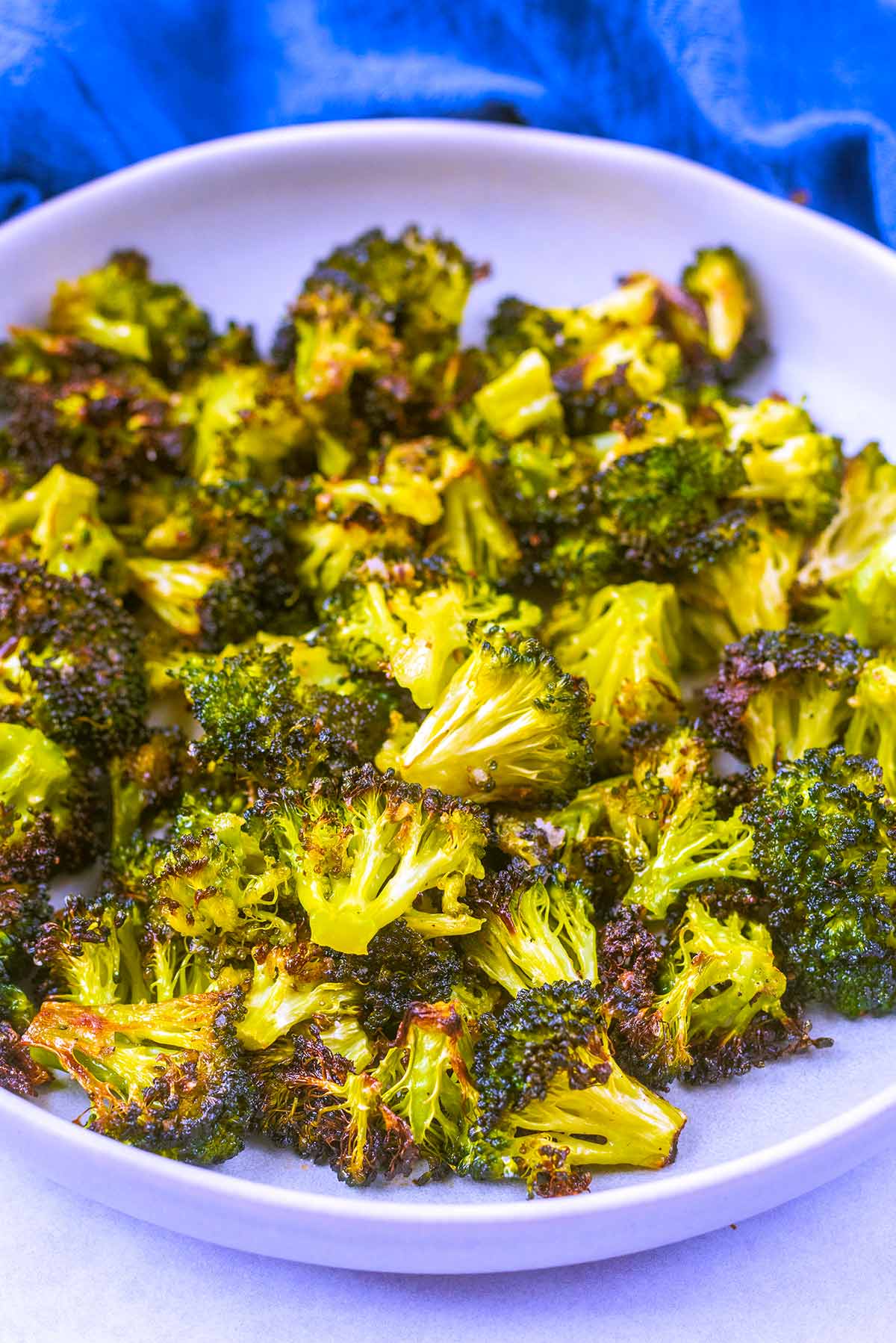 Frequently Asked Questions
Is roasted broccoli still healthy?
Yes, this is a delicious and healthy side dish. We have listed the health benefits of broccoli above and this is a wonderful way to bulk our a meal with plenty of nutrients. Roasting it does add some calories from the oil, but it's healthy fats.
Can you make roasted broccoli in advance?
Yes, you can mix everything together and then keep it in the fridge until you are ready to cook it in the oven. You may need to add a few minutes to the cooking time if it is coming straight out of the fridge.
Do I need to blanch the broccoli before roasting?
No, there is no need to unless you want your broccoli really tender. We still like ours to have a little bite to it and find that roasting it for the whole cooking time is best.
How long to roast broccoli for?
Every oven cooks differently, however this took 20 minutes in our oven. Check them after 15 minutes and cook longer if needed. The key to getting roasted broccoli nice and crispy is cooking it at a high temperature. You don't want to cook it so high that the olive oil burns though.
Can I make roasted broccoli in an air fryer?
If you want to cook broccoli in the air fryer, why not try our Air Fryer Broccoli Recipe.
More side dishes
If you've tried this oven roasted broccoli, then let us know how you got on in the comments below.
Tag us in your creations on Instagram @hungryhealthyhappy - You can use the hashtag #hungryhealthyhappy too.
Recipe
Roasted Broccoli
Crispy Roasted Broccoli is an easy and delicious side dish that will go with all of your favourite main meals. Less than 5 minutes prep time too.

Gluten Free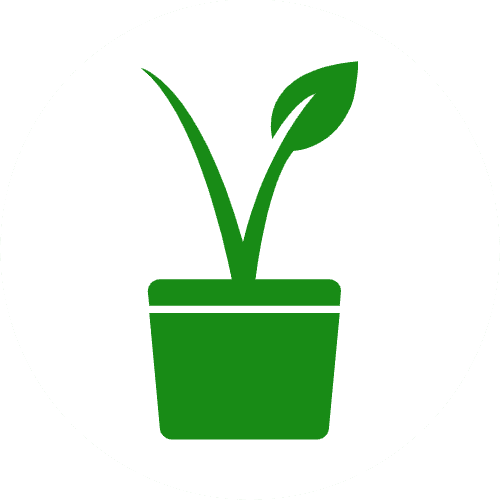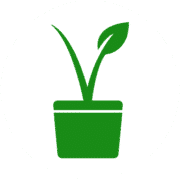 Vegan
Pin
Print
Save recipe
Recipe saved!
Ingredients
1

head

Broccoli

-

cut into small florets

2

tablespoon

Olive oil

Sea salt and black pepper
Instructions
Preheat your oven to 200°C/180°C(fan)/400°F/Gas 6.

Toss the broccoli florets with the oil, salt and pepper.

Line a large baking tray with baking paper and spread the coated broccoli over the tray in a single layer.
Recipe tips
Make sure your broccoli is really dry after washing. If it has too much moisture on it, then it won't crisp up in the oven.
Make sure that all the broccoli florets are cut to the same size, so that they all cook evenly. Make sure you are using mainly the broccoli heads and not the stalks, as they don't taste as good. Don't throw the stalk though - it can be grated for broccoli slaw.
If you want to make these look a little fancier when serving, then add a sprinkling of pine nuts for some added crunch.
Add a kick of heat by finishing the dish off with a sprinkling or red chilli flakes.
Make sure you don't overcrowd your baking tray. If the broccoli is too close together, then it will steam rather than roast and it won't get as crispy.
Flip the broccoli half way through to ensure it all gets nice and crispy.
For extra flavour, top it with everything bagel seasoning before serving.
Nutritional Information
Serving:
1
portion
|
Calories:
114
kcal
|
Carbohydrates:
10
g
|
Protein:
4
g
|
Fat:
8
g
|
Saturated Fat:
1
g
|
Polyunsaturated Fat:
1
g
|
Monounsaturated Fat:
5
g
|
Sodium:
50
mg
|
Potassium:
480
mg
|
Fiber:
4
g
|
Sugar:
3
g
|
Vitamin A:
947
IU
|
Vitamin C:
136
mg
|
Calcium:
72
mg
|
Iron:
1
mg
The nutritional information provided is approximate and is calculated using online tools. Information can vary depending on various factors, but we have endeavoured to be as accurate as possible.