Coleslaw is a must at every BBQ, but why not give it a green veggie boost by adding some broccoli to it? This Broccoli Slaw has a nice crunch to it and all the creaminess that you know and love in a coleslaw, but with a healthier twist. An easy side dish that goes great with chicken and fish.
I am making it my mission this summer to find as many different ways to make coleslaw as I possibly can. Mexican Coleslaw might just be my favourite, but make sure you try our Best Ever Coleslaw, Crunchy Asian Slaw too! You can never have too much coleslaw at a BBQ, right?
If you haven't tried broccoli slaw before, then you are missing out! This is one of our favourite ways to make sure that a BBQ or picnic has plenty of colour in it, and it balances out all those burgers and sausages. It's crunchy, with a lovely tangy dressing. Delicious! Not need to buy a bag of coleslaw mix, as this is really easy.
If you are looking for more broccoli recipes to try, then why not try our Broccoli and Stilton Soup, Crispy Roasted Broccoli, Cheesy Broccoli Pasta Bake, Air Fryer Bacon, Quick Broccoli Pasta or super simple Microwave Broccoli.
Jump to:
Why you will love it
Quick - This broccoli slaw is ready in just 5 minutes and it can be even quicker if you use a grater attachment on a food processor.
A delicious way to use broccoli - If you want to get some more broccoli in your diet, then this is a delicious and easy way to do it.
A colourful side dish - We love serving this up at a BBQ to go with more beige and bland looking food like sausages and burgers.
Can be made in advance - You can make this the night before and keep it in the fridge until you are ready to serve. Make sure to give it a good stir before serving.
Ingredients needed
Broccoli - The star of this dish. To make this the best it possible can be, then try to choose the perfect broccoli. Choose a broccoli head with tight, green florets and firm stalks. Your broccoli should feel heavy for its size. Avoid broccoli with dried out or browning stem ends or yellowing florets.
Shallots and spring onions (scallions) - These add some extra crunch to the slaw.
Red cabbage - We used red cabbage in this recipe for a pop of colour, but there is no reason why you couldn't use white cabbage, or use a mixture of the two.
Carrots - We used standard orange carrots, which makes this a budget friendly side dish. However, you could use purple or yellow carrots to mix things up a little.
Yogurt - We used fat free Greek yogurt. You could use full fat if you wanted something a bit creamier.
Mayo - As well as the yoghurt to make it creamy, we added a little bit of mayo for extra creaminess and to make it feel a little more indulgent. You could just use yoghurt though if you wanted to keep it lighter.
Vinegar - We used apple cider vinegar, but you could use a red wine vinegar instead. We love coleslaw that has a vinegar bite to it. If you don't you can always leave it out.
Lemon - Some lemon juice really lightens it all up and adds lots of freshness to the broccoli slaw.
Mustard - A tablespoon of Dijon mustard gives it a nice punch of flavour. You can leave this out if you prefer, or even swap it to Dijon mustard.
Honey - This adds a touch of sweetness and helps to balance out the tartness from the Greek yogurt.
A full ingredients list with measurements is in the recipe card below.
Step by step
One: Cut the broccoli florets off of the stalk and cut into small pieces. Using a peeler of sharp knife, remove the outer part of the stalk and discard. Use a coarse box grater to grate the stalk.
Two: Mix together the ingredients for the dressing.
Three: Add all the vegetables to a large bowl and drizzle over the dressing.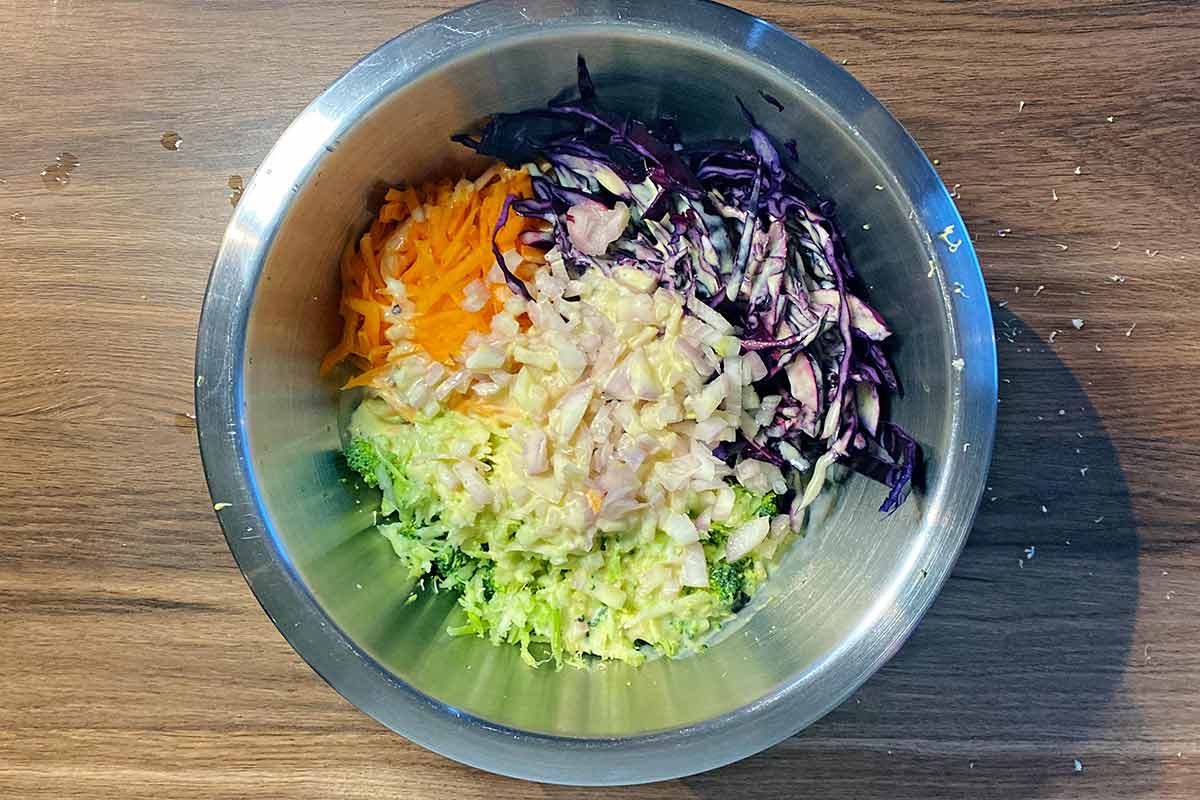 Four: Mix well.
What is broccoli slaw?
In the US, you can buy broccoli coleslaw in ready-made bags, like you can buy coleslaw mix in bags here in the UK. But, it is so quick and simple to make yourself, especially if you have a food processor with a grater attachment, and it works out much cheaper. This is a pretty budget friendly healthy BBQ side and really easy to make for a crowd.
It has everything you love about coleslaw, but with some extra crunch and colour from the broccoli. If you want to make it a little more indulgent, and I mean why wouldn't you, then add some chopped up bacon to it. So good! Why not try our Microwave Bacon Recipe.
Usually it is made from just shredded broccoli stalk, however we have used bite sized chunks of broccoli too for some extra goodness.
Health benefits of broccoli
Superfood is a bit of a buzz food that is thrown around, but there is no denying that broccoli is nutrient dense. It's a great source of vitamins A, B1, B2, B3, B6 and K, as well as iron, zinc and fibre, which can support digestive health. Did you know that broccoli is also a good source of protein, although an incomplete one.
This coleslaw is also carrot heavy. Carrots are a good source of beta carotene, which is a compound your body changes into vitamin A, which helps keep your eyes healthy. Beta-carotene helps protect your eyes from the sun and lowers your chances of cataracts and other eye problems.
They are also a good source of fibre, which will help to keep you fuller for longer, as well as vitamin K1, potassium, and antioxidants
Coleslaw dressing
A salad is all about the dressing, right? This creamy dressing is made with Greek yogurt and mayo mix to keep it lighter (although you could swap that for just mayo or sour cream if you want something a little more indulgent), and some apple cider vinegar, lemon, mustard and honey. You could swap the honey for maple syrup and use a plant based yogurt if you wanted to make this vegan.
Variations
These kinds of salads are really easy to adapt, so feel free to use it as a fridge raid salad add a few different veggies. You could add bell peppers, or shredded courgette for some extra greens. We also like to mix shredded apple in too.
Add some extra crunch with some flaked almonds just before serving, and dried cranberries add a nice sweetness to it too.
What to serve with Broccoli Slaw
This is such a great BBQ side, so it goes with all your BBQ favourites. Here are some things that is goes really well with:
FAQs
Can you make vegan broccoli slaw?
You can easily make this vegan by using a plant based yogurt alternative, or leaving it out completely and adding a little more vinegar. You will need to swap the honey for maple syrup, or leave it out completely.
How to cut broccoli.
It depends on the size of the head of your broccoli. Ours was fairly large, so we cut florets off and then quartered each of them. If you were using a smaller head of broccoli, then you might just need to halve them. It depends on how chunky you want your broccoli in this slaw.
What can you swap the yogurt for?
We have used yogurt to keep this broccoli slaw nice and light and save on the calories and fat. However, if you want more of an indulgent broccoli slaw, then you could swap the yoghurt for mayo or even sour cream.
What protein can you add to broccoli slaw?
This is a delicious vegetable packed side dish. However, if you wanted to turn it in to more of a filling main meal, then you could add some chicken or salmon to it. Why not try leftovers from out Best Ever Roast Chicken or add our Lemon and Rosemary Salmon to it.
Can you make broccoli slaw in advance?
Yes, this is a great salad to make in advance, and it will save you some time if you are prepping it for a BBQ. It will keep in the fridge for up to 2 days.
How to store broccoli slaw.
Store it in the fridge in an air tight container or a covered bowl for maximum freshness. If you are adding bacon, then do that just before serving.
Is broccoli slaw gluten free?
Yes, as long as the ingredients like the mustard are certified gluten free, and you make sure that there is no cross contamination, then this can be gluten free.
More salad recipes
If you've tried this Broccoli Slaw recipe, let us know how you got on in the comments below.
Tag us in your creations on Instagram @hungryhealthyhappy - Use the hashtag #hungryhealthyhappy too.
Recipe
Broccoli Slaw
This Broccoli Slaw has a nice crunch to it and all the creaminess that you know and love in a coleslaw, but with a healthier twist.

Gluten Free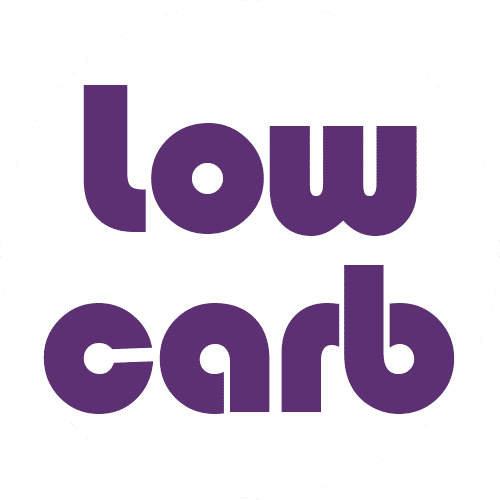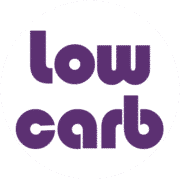 Low Carb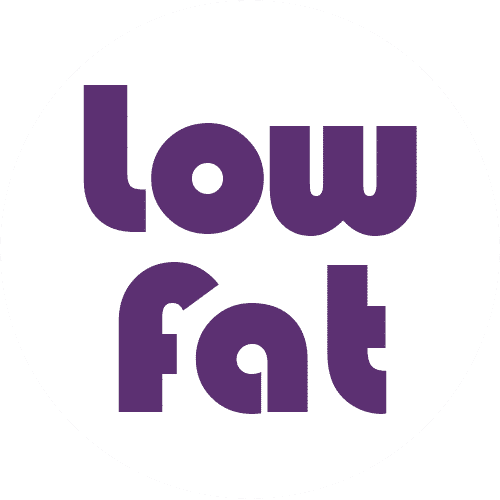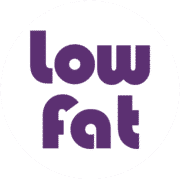 Low Fat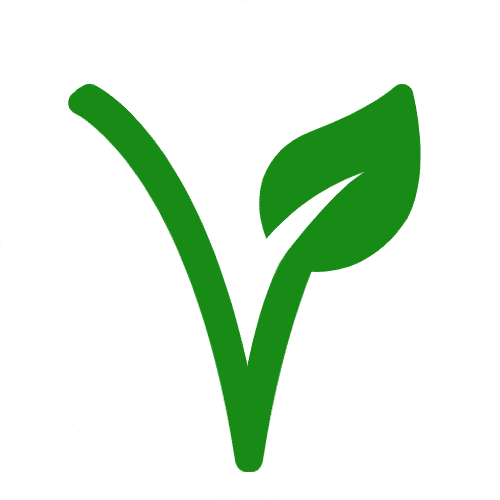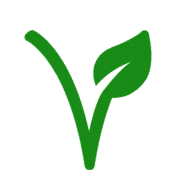 Vegetarian
Pin
Print
Save recipe
Recipe saved!
Ingredients
For the slaw:
1

head

Broccoli

-

small

2

Shallots

0.25

Red cabbage

2

Carrot

-

small
For the dressing:
2

tablespoon

0% Greek yogurt

2

tablespoon

Mayonnaise

2

tablespoon

Apple cider vinegar

0.5

Lemon

-

(juice only)

1

tablespoon

Dijon mustard

1

tablespoon

Honey

1

pinch

Sea salt and black pepper
To serve (optional):
2

Spring onion (Scallion)

-

thinly sliced

Pine nuts
Instructions
Cut

1 head Broccoli

into small pieces. Using a peeler of sharp knife, remove the outer part of the stalk and discard. Use a coarse box grater to grate the stalk.

Mix together

2 tablespoon 0% Greek yogurt

,

2 tablespoon Mayonnaise

,

2 tablespoon Apple cider vinegar

, juice of

0.5 Lemon

,

1 tablespoon Dijon mustard

,

1 tablespoon Honey

and

1 pinch Sea salt and black pepper

.

Add

2 Shallots

,

0.25 Red cabbage

,

2 Spring onion (Scallion)

and

2 Carrot

to a large bowl and drizzle over the dressing.

Mix well and top with

Pine nuts

(optional).
Recipe tips
Make sure you finely dice the shallots so that they are not too overpowering.
You can swap the Greek yogurt for sour cream or mayo if you want a more indulgent salad.
Try adding some shredded apple for extra sweetness.
You can make this salad vegan by swapping honey for maple syrup and using a plant based yogurt.
Pecans and sunflower seeds sprinkled on top before serving add a lovely crunch.
Give this slaw a protein boost by adding some cooked quinoa.
Nutritional Information
Serving:
1
portion
|
Calories:
57
kcal
|
Carbohydrates:
11
g
|
Protein:
4
g
|
Fat:
1
g
|
Saturated Fat:
1
g
|
Polyunsaturated Fat:
1
g
|
Monounsaturated Fat:
1
g
|
Cholesterol:
1
mg
|
Sodium:
69
mg
|
Potassium:
397
mg
|
Fiber:
3
g
|
Sugar:
6
g
|
Vitamin A:
3316
IU
|
Vitamin C:
84
mg
|
Calcium:
68
mg
|
Iron:
1
mg
The nutritional information provided is approximate and is calculated using online tools. Information can vary depending on various factors, but we have endeavoured to be as accurate as possible.