Chicken smothered in butter and stuffed with lemon and thyme and baked to crispy perfection, this Perfect Roast Chicken is the only recipe you need for an epic roast dinner that makes delicious leftovers that have so many uses.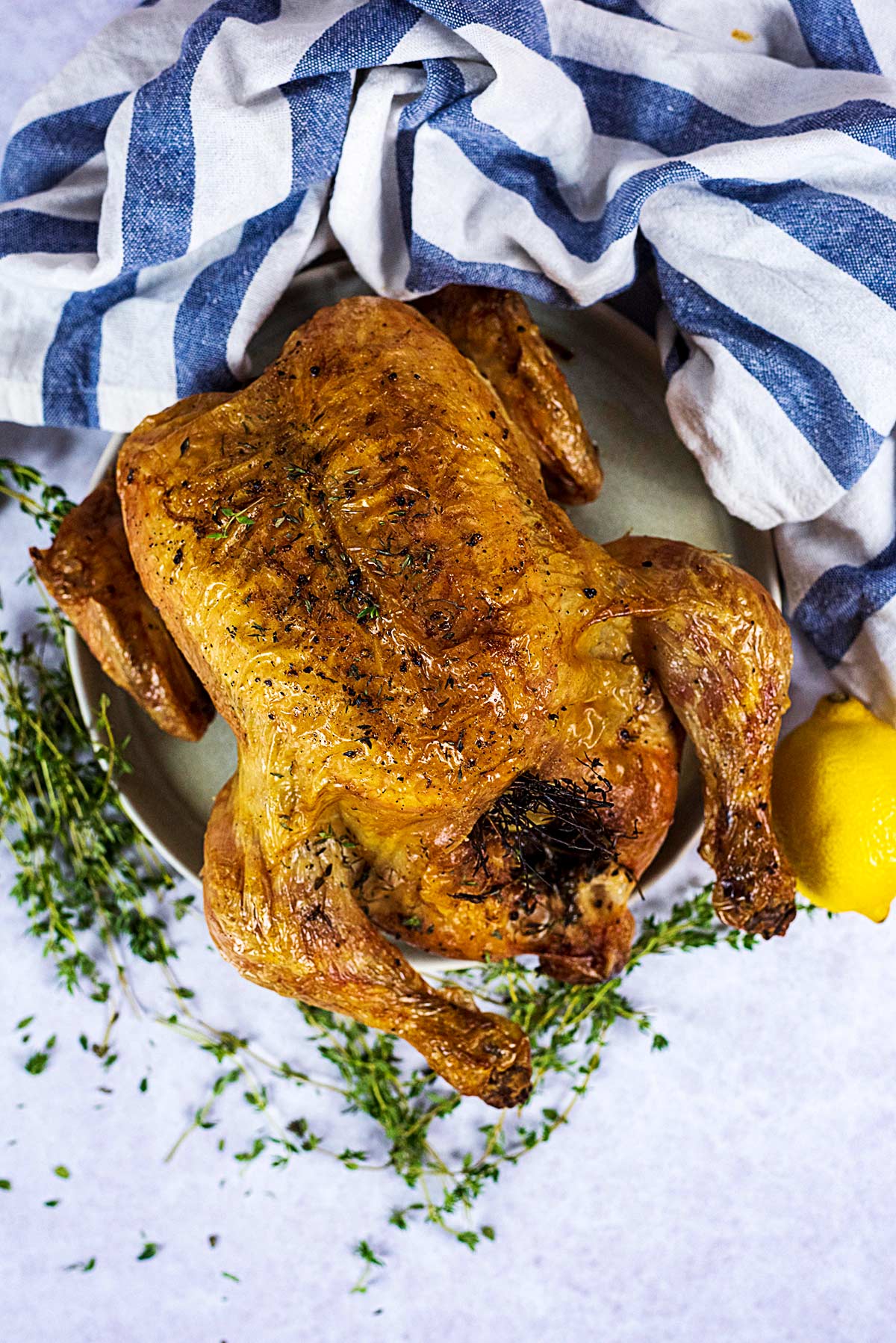 Juicy and melt in your mouth chicken, with crispy skin, is exactly how roast chicken should be. Roasting your own chicken isn't complicated and our easy recipe has just 5 ingredients and less than a minute preparation time. It also leaves you with the most amazing juices in the pan, which make the perfect gravy. This beats a rotisserie chicken from the supermarket. Follow all our tips for the perfect roast chicken dinner.
If you are looking for some other roast meat recipes to try, then why not try our Roast Turkey Breast, Slow Cooker Roast Beef, Christmas Chicken or Honey Roast Duck.
Jump to:
Why you will love it
The perfect roast chicken recipe - Seriously, you don't need any other recipe. This is THE BEST!
So easy to make and just 5 ingredients - No fancy seasonings needed, just some lemon and herbs and it gives the roast chicken the most incredible flavour.
Lots of ways to use leftovers - You will probably have a fair bit left of roasted chicken leftover. But, we have loads of ideas of how you can use it below.
Makes the best gravy - The juices that come out of the roast chicken when cooking make an amazing gravy, so make sure you don't throw them.
Ingredients needed
Whole chicken - Try to get the best quality chicken that you can, as you really can taste the difference. A free range organic chicken is the best option, however a high welfare chicken is a good affordable option.
Lemon - This adds some freshness to the chicken and really lightens it up. It also makes the juices really fragrant.
Thyme - The perfect herb to go with chicken in our opinion. You can swap it for rosemary though if you prefer.
Butter - This is what makes the skin really nice and crispy.
A full ingredients list with measurements is in the recipe card below.
Step by step
One: Preheat the oven to 200°C/400°F/Gas 6. Melt the butter and pour over the chicken, making sure the whole chicken is covered. Sprinkle with sea salt and black pepper and then stuff the lemon and thyme inside the chicken.
Two: Put the chicken in the oven for 1 hour and 20 minutes, basting twice.
Three: Once the chicken is cooked, take the tray out of the oven and transfer the chicken to a board to rest for about 15 minutes. Cover the chicken with some tin foil and a tea towel and then get on with finishing the rest of the roast dinner.
Roast chicken cooking time
The time your chicken takes to roast will depend on the size of your chicken. We used a 1.5kg chicken, which took 1 hour and 15 minutes at gas mark 6.
You will know that your chicken is cooked when it has an internal temperature is 75°C/165°F (get yourself a good Meat Thermometer as they are a kitchen essential) or until juices run clear. As a general rule, if cooking at gas mark 5, you cook a chicken for for 20 minutes per lb (450g) plus 10-20 minutes extra.
How to carve a chicken
To carve a chicken, take off the wings and set aside (you can add them to gravy for extra flavour which is a tip that I picked up from Jamie Oliver). Using a sharp knife, carefully cut down between the leg and the breast of the chicken. Cut through the joint and pull the leg off.
Do the same on the other side of the chicken, and then cut each leg between the thigh and the drumstick. You will end up with four portions of dark meat and this can be moved on to the plate you will be serving all the chicken on.
You now need to carve the rest of your chicken. Angle the knife along the breastbone and carve one side off, and then repeat with the other breast.
Whatever you are left with, use your fingers to pull all the meat off as it will be easier than using a knife. Don't throw the carcass away, as this can be used to make homemade chicken stock.
Chicken gravy
See all those amazing juices in the pan that the chicken has been cooking in? Don't you dare throw them away. They are liquid gold and make the most amazing, rich, full of flavour gravy.
For a simple, quick and easy gravy we use really good quality store bought gravy granules. We then add the juices from the chicken pan to them and then top it up with the water from the boiled vegetables that we serve with the chicken, until it gets to your desired consistency (we love thick gravy).
You could also add some butter and flour to the juices in the pan and make your own homemade gravy from scratch.
Serving suggestions
This epic roast chicken is a must when it comes to a Sunday roast dinner. But, what is a Sunday roast without all the sides? And do we have some side dishes for you! Take a look of some of these that go perfectly with a roast chicken:
Leftover roast chicken
We love having leftovers of this chicken in the fridge as it has SO many uses. Sometimes we just roast a chicken to carve it up and keep in the fridge for meals. You can shred it up and add to sandwiches/wraps and salads or throw it in to pasta dishes like our Leftover Chicken Pasta.
Why not use leftovers to make a chicken version of our Leftover Turkey Curry? You can also put it in our BBQ Chicken Salad, Chicken and Leek Pie, BBQ Chicken Pizza or Chicken Pasta Salad.
Storage
Store: You can store leftovers in an air tight container and it will keep well for up to 3 days.
Freeze: You can also shred the chicken and put it in a freezable container and it will keep in the freezer for up to 3 months.
Defrost: You can defrost in the fridge overnight.
Reheat: Heat a little oil in a pan and heat through. You can also stir it in to something like a pasta sauce and it will heat through in that.
FAQs
Is roast chicken healthy?
Chicken is a lean protein source and whilst roasting it in butter isn't the healthiest option, you can always remove the skin and just eat the breast of the roast chicken.
Can you add garlic?
We love any recipe that you can add garlic to, but adding garlic to the butter and putting it on the skin of the chicken tends to result in burnt garlic. If you really need a burst of garlic flavour, then you can put it inside the chicken with the lemon and thyme. You could also put it on a bed of onion and garlic. Not only would this add some extra flavour to the juices, but it elevates the chicken off the bottom of the pan which allows it to cook more evenly.
Is roast chicken gluten free?
Yes, as long as you make sure that there is no cross contamination, then this is gluten free.
More chicken recipes
If you've tried this roast chicken recipe, let us know how you got on in the comments below.
Tag us in your creations on Instagram @hungryhealthyhappy - Use the hashtag #hungryhealthyhappy too.
Recipe
Perfect Roast Chicken
Chicken smothered in butter and stuffed with lemon and thyme and baked to crispy perfection.

Gluten Free
Pin
Print
Save recipe
Recipe saved!
Ingredients
1.5

kg

(

3.33

lb

)

Whole chicken

50

g

(

0.25

cups

)

Butter

10

g

(

0.25

cups

)

Thyme

1

Lemon

-

halved and pierced all over

1

Pinch

Sea salt and black pepper
Instructions
Preheat the oven to 200°C/180°C(fan)/400°F/Gas 6.

Melt

50 g Butter

and pour over

1.5 kg Whole chicken

, making sure the whole chicken is covered. Sprinkle with

1 Pinch Sea salt and black pepper

and then stuff

1 Lemon

and

10 g Thyme

inside the chicken.

Put the chicken in the oven for 1 hour and 20 minutes, basting twice.
Recipe tips
Remover the chicken from the fridge 30 minutes before you are going to start prepping it, to allow it to come to room temperature.
Don't skip the piercing of the lemon, as this will really bring out all the lemon flavour.
Fresh herbs are best, however you can swap them for dried if that is all you have.
You can lift the skin from the meat with your hands and rub extra salt, pepper and butter underneath if you'd like for some extra flavour.
For some extra flavour, add a splash of white wine to the bottom of the baking tray before it goes in the oven.
Use a meat thermometer to make sure that the chicken is cooked at the way through. It should have an internal temperature is 75°C/165°F.
Nutritional Information
Serving:
1
portion
|
Calories:
219
kcal
|
Carbohydrates:
2
g
|
Protein:
17
g
|
Fat:
17
g
|
Saturated Fat:
7
g
|
Cholesterol:
81
mg
|
Sodium:
113
mg
|
Potassium:
196
mg
|
Fiber:
1
g
|
Sugar:
1
g
|
Vitamin A:
342
IU
|
Vitamin C:
11
mg
|
Calcium:
20
mg
|
Iron:
1
mg
The nutritional information provided is approximate and is calculated using online tools. Information can vary depending on various factors, but we have endeavoured to be as accurate as possible.