This Roast Turkey Breast is perfect for when you are feeding a smaller number over the festive season, and you don't need to roast a whole turkey. Deliciously moist turkey breast smothered in a garlic and rosemary butter and roasted until golden. A quick and easy addition to your Christmas dinner.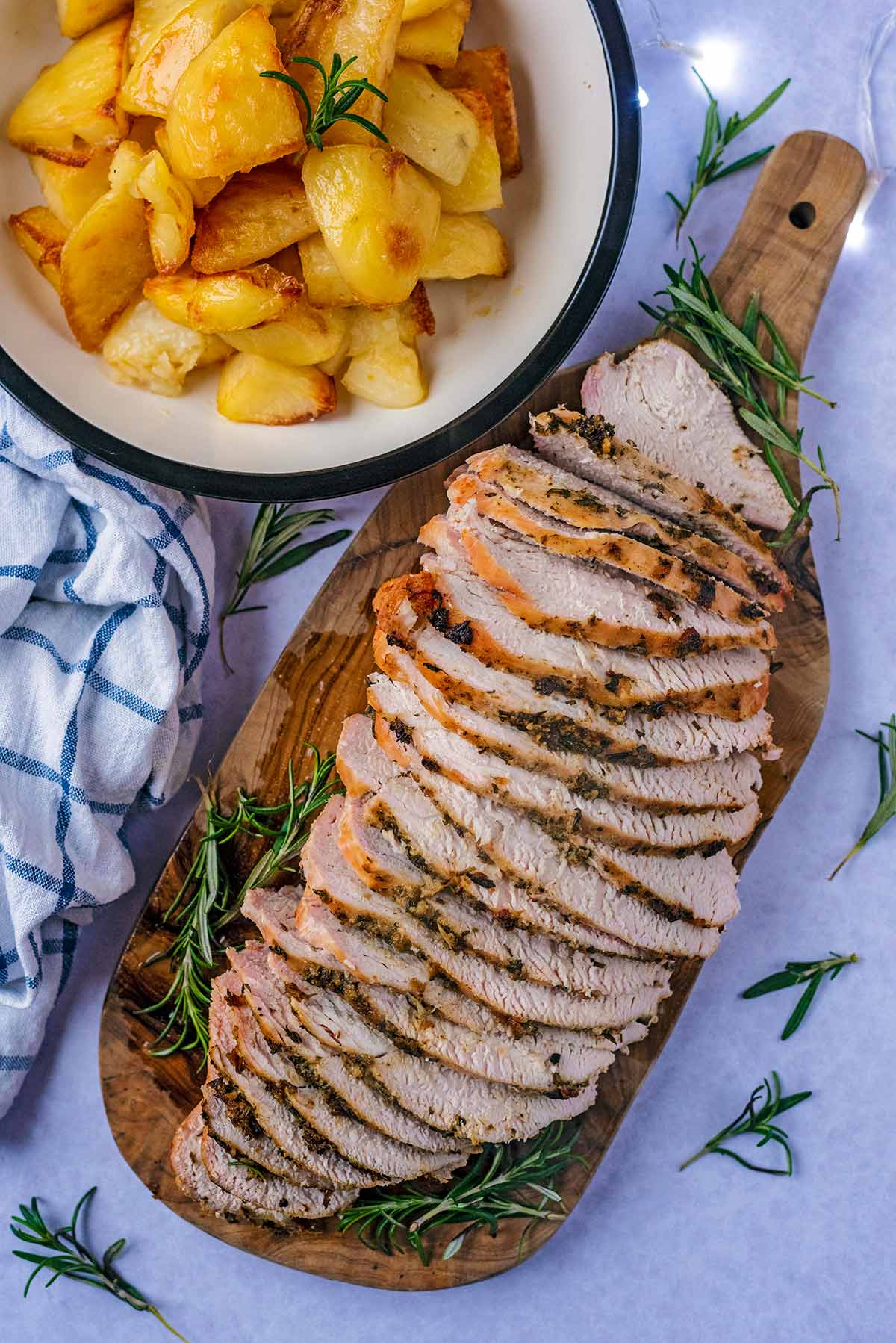 This is the best roast turkey we have every had. It's tender and juicy, and it's SO easy to make. If we are having a large crowd for Christmas, or we want leftovers for days, then we go all out and roast a whole turkey.
But when it's a smaller Christmas gathering, we do this roast turkey breast as it's got all of the flavour, but with minimal effort. Forget the tradition of cooking a whole turkey - just make as much as you need and you have more time to enjoy the big day! Make sure to follow all our tips for how to roast a turkey breast to get the perfect results.
If you are looking for other roast meats to serve up at Christmas, or just any roast dinner, then why not try our Slow Cooker Lamb Shoulder, Perfect Roast Chicken, Slow Cooker Roast Beef or Honey Roast Duck?
Jump to:
Why you will love it
Hassle free - There is no need to spend ages carving up a huge turkey and making a mess. This slices really easily and it's the easiest roast turkey you will ever make.
Perfectly moist - Turkey can sometimes end up a little dry, but if you follow all our top tips then you will have perfectly moist and tender turkey every time.
Make only way you need - We have given you lots of different ways to use up turkey leftovers, but it can get boring after a while. Depending on how many people you are serving, this leaves hardly any leftovers. Perfect if you don't have much space in your fridge.
Quick - This is much quicker than roasting a whole turkey. Which is perfect, because who wants to spend all day in the kitchen cooking on Christmas Day when everyone else gets to have fun.
Ingredients needed
Onions and carrots - Chunks of carrot and onion are added to the pan to flavour the stock. There is no right or wrong way to cut them up - just chop them in the large chunks and throw them in.
Butter - This is the base of the turkey rub. We used unsalted butter, as the seasoning has salt in it. If you use salted butter, then you should reduce the amount of seasoning otherwise it might be a bit too salty.
Garlic - Freshly crushed is always best. Make sure you crush it really well, almost in to a paste, so there is an even distribution of garlic in the rub.
Rosemary - The perfect herb for a roast turkey. You could swap it for fresh thyme if you prefer.
Chicken seasoning - This adds lots of flavour to the rub. We use a good quality chicken seasoning which is bursting with garlic, onion, oregano, rosemary and thyme.
Turkey breast - We used a 1.2kg turkey breast that has had the bone removed, which is enough to give 6 generous portions.
Stock - Some good quality vegetable stock added to the pan is what makes up the gravy, with all the juices. It also helps to keep the turkey moist. You could also add a splash of white wine for extra flavour.
A full ingredients list with measurements is in the recipe card below.
How to make Oven Roasted Turkey Breast - Step by step
One: Preheat your oven to 190°C/375°F/Gas 5. In a bowl, combine the butter, garlic, chopped rosemary and chicken seasoning.
Two: Smother the turkey breast in the butter mixture.
Three: In a deep baking tray, add the carrots, onions and sprigs of rosemary. Place the turkey breast on top of the vegetables. Pour in the stock, being careful to pour only over the vegetables, not the turkey.
Four: Cover with foil and put the oven for 50 minutes.
Five: Remove form the oven, baste with the juices and return to the oven, uncovered, for 20-30 minutes.
Health benefits of turkey
Turkey isn't just an alternative to red meat, it is really delicious in its own right. It has lots of flavour, but the added bonus of being high in protein and low in fat. Turkey is also a rich source of niacin, vitamin B6 and the amino acid tryptothan and it also contains zinc and vitamin B1.
Variations
If you want to add a little freshness to the turkey rub, then mix some lemon juice and zest in to it. You can also add a little Dijon mustard for a stronger flavour.
Not a huge fan of rosemary? You can swap it for thyme instead. This turkey rub lends itself better to woody herbs like rosemary and thyme, however you could use fresh parsley instead if you prefer.
You don't have to season roast turkey breast it with garlic and herbs. You could rub it with Mexican or Cajun spices instead. You could even mix some honey and butter together and add that for a sweet twist.
Gravy
Do not waste all the juices in the pan from the turkey, onion, carrot and stock. This is the base of the most incredible gravy. Once the turkey has been removed to rest, you can get on with the gravy. Take the carrot and onion out too and set aside. This can be served as a side dish with the meat.
Firstly, get a wooden spoon and scrap all the bits off the base of the tray. Then, you need to add a thickening agent and you can use plain flour or corn flour. We used 40g of flour, which we mixed with 75ml of cold water to create a slurry. Then, we took 500ml of the juices from the roasting tin, and added it to a saucepan and brought it to the boil. Then, on a low heat, whisk in the slurry, a little at a time, until the desired consistency. You might not need to use it all. Stir in some fresh herbs like chopped rosemary and thyme and season to taste.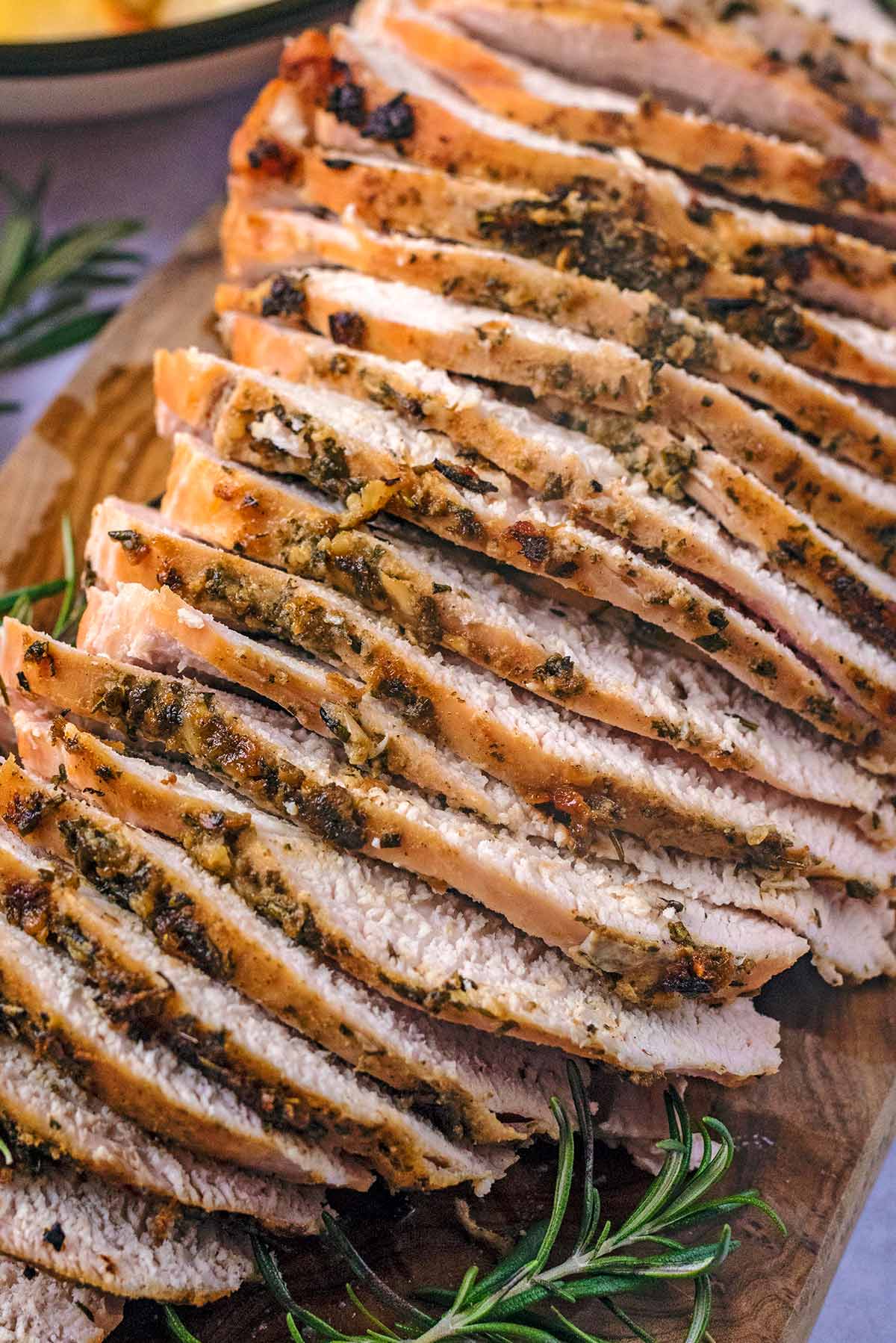 What to serve with Roast Turkey Breast
Roast turkey breast means a full roast dinner with all the trimmings, right?! We go all out when it comes to the side dishes, because although the turkey is the star of the show, the sides can really make or break the meal.
The first side to decide on is potatoes. Why not try our Slow Cooker Mashed Potatoes, Perfect Roast Potatoes, Vegetable Mash, Garlic and Rosemary Roast Potatoes or Hasselback Potatoes?
We like to add as many vegetables to our plate as possible, and luckily we have got your covered there too. Try our Slow Cooker Red Cabbage, Buttered Leeks, Easy Cauliflower Cheese, Broccoli Cheese, Slow Cooker Brussels Sprouts, Roasted Swede, Mustard and Honey Roasted Parsnips.
If you have never tried making your own stuffing before, then you have to try our Sage and Onion Stuffing Balls. It takes just 5 minute prep time and it is so much better than store bought.
Leftover turkey
Although this is only a turkey breast, rather than a whole turkey, it does make a generous amount of servings. I mean, turkeys are HUGE, so just one breast is pretty big. This recipe gives 6 large portions, so if that is more than you are going to need, then we have lots of delicious ways to make sure that none of those leftovers go to waste.
Storage
Store: You can wrap up slices of turkey and keep them in the fridge for up to 4 days. Make sure you don't leave the turkey out at room temperature for more then 2 hours.
Freeze: Slices of roast turkey breast actually freezes really well and it's a good way to make something in advance for Christmas. Wrap slices of turkey and put them in a freezer bag and they will keep for 2 months.
Defrost: To defrost the turkey, put the slices on a plate in the fridge overnight until fully defrosted. We reheat them just by adding hot gravy to them.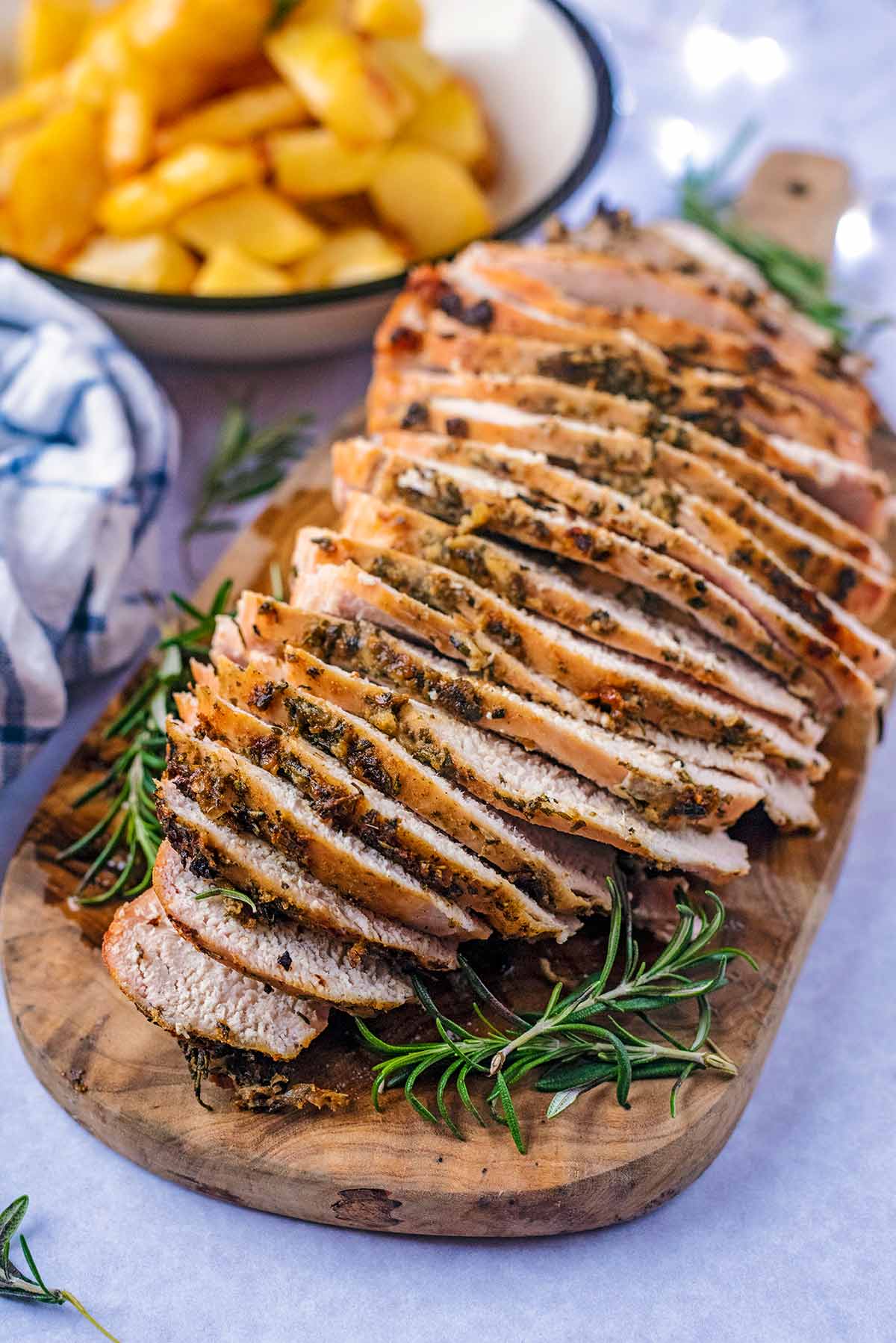 Frequently Asked Questions
Can I use a frozen turkey breast?
Yes, you can use frozen turkey for this recipe. You will need to defrost it overnight in the fridge and make sure it is fully defrosted before following this recipe.
How much turkey do you need per person?
You will need about 0.5lb/200g of turkey per person. So, this 1.2kg turkey breast serves about 6 people, depending on your portions.
How long do you cook oven roasted turkey breast for?
Turkey breast needs to be cooked for 40 minutes per kg and then an extra 20-30 minutes. If you are using a bone-in turkey breast, then you will need to add about 15 minutes on to the cooking time.
How can you tell when roast turkey breast is cooked?
The best way to check that turkey is cooked is to use a meat thermometer. The safe internal temperature for cooked turkey is 74°C/165°F. It should be inserted into the thickest part of the meat.
Can you cook turkey breast in the slow cooker?
Yes, you can cook this boneless turkey breast roast in the slow cooker. Follow the recipe and put it all in the slow cooker on low for 6 hours.
Is roast turkey breast gluten free?
As long as you make sure the stock and the seasoning it gluten free, and there is no cross contamination, then this can be gluten free.
More turkey recipes
If you've tried this oven roasted turkey breast recipe, then let us know how you got on in the comments below.
Tag us in your creations on Instagram @hungryhealthyhappy - Use the hashtag #hungryhealthyhappy too.
Recipe
Easy Roast Turkey Breast
This Roast Turkey Breast is perfect for when you are feeding a smaller number over the festive season, and you don't need to roast a whole turkey.

Gluten Free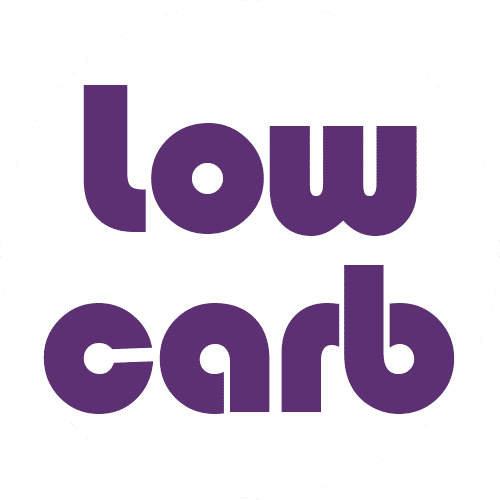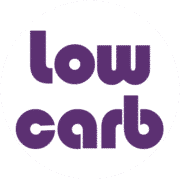 Low Carb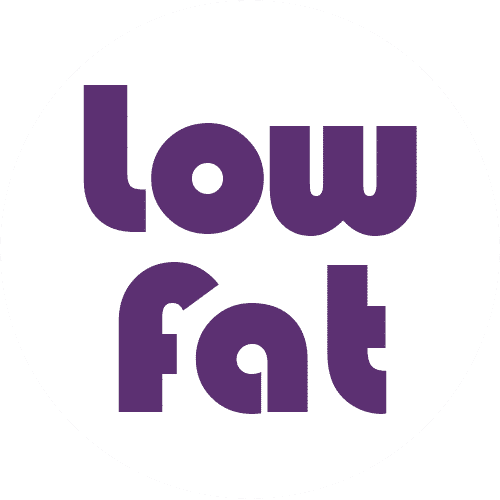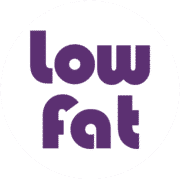 Low Fat
Pin
Print
Save recipe
Recipe saved!
Ingredients
1.2

kg

(

2.66

lb

)

Turkey breast

1

Onion

-

cut into chunks

2

Carrots

-

quartered

20

g

(

0.75

oz

)

Butter

-

melted

1

Garlic clove

-

crushed

1

tablespoon

Chicken seasoning

5

g

(

0.25

cups

)

Fresh rosemary

-

finely chopped

3

sprig

Fresh rosemary

-

left whole

125

ml

(

0.5

cups

)

Vegetable stock
Instructions
Preheat your oven to 190°C/170°C(fan)/375°F/Gas 5.

In a bowl, combine

20 g Butter

,

1 Garlic clove

,

5 g Fresh rosemary

and

1 tablespoon Chicken seasoning

.

Smother

1.2 kg Turkey breast

in the butter mixture.

In a deep baking tray, add

2 Carrots

,

1 Onion

and

3 sprig Fresh rosemary

. Place the turkey breast on top of the vegetables. Pour in

125 ml Vegetable stock

, being careful to pour only over the vegetables, not the turkey.

Cover with foil and put the oven for 50 minutes.

Remove form the oven, baste with the juices and return to the oven, uncovered, for 20-30 minutes.
Recipe tips
To make this more indulgent, you can wrap the turkey breast with bacon when the foil comes off and put it back in the oven to crisp up.
Don't forget to baste to meat, as it keeps meat moist by cooling the surface and slowing down the rate at which the meat cooks. The more gently the meat cooks, the juicier it will remain. Basting does mean opening the oven and losing some heat, but we do it at the same time as removing the foil. There is no need to baste the turkey more than once.
If you are using turkey breast with the bone in, then you will need to cook it for a little longer.
If you prefer, then oil can be used instead of butter.
Always check the turkey before the cooking time is up. Turkey is a lean meat, so it is easy to over cook it. They type of pan (and the size and shape of it) can affect the cooking time, so it's best to check it with a meat thermometer.
Always rest the meat for 10-15 minutes before serving, as this helps to lock the juices in before carving.
Nutritional Information
Serving:
1
portion
|
Calories:
204
kcal
|
Carbohydrates:
1
g
|
Protein:
43
g
|
Fat:
5
g
|
Saturated Fat:
2
g
|
Polyunsaturated Fat:
1
g
|
Monounsaturated Fat:
2
g
|
Trans Fat:
1
g
|
Cholesterol:
115
mg
|
Sodium:
520
mg
|
Potassium:
497
mg
|
Fiber:
1
g
|
Sugar:
1
g
|
Vitamin A:
210
IU
|
Vitamin C:
1
mg
|
Calcium:
39
mg
|
Iron:
1
mg
The nutritional information provided is approximate and is calculated using online tools. Information can vary depending on various factors, but we have endeavoured to be as accurate as possible.