Follow our easy guide for how to steam broccoli in a microwave. A quick and easy side dish, this microwave broccoli goes with almost anything. Perfect broccoli every time, in just 5 minutes.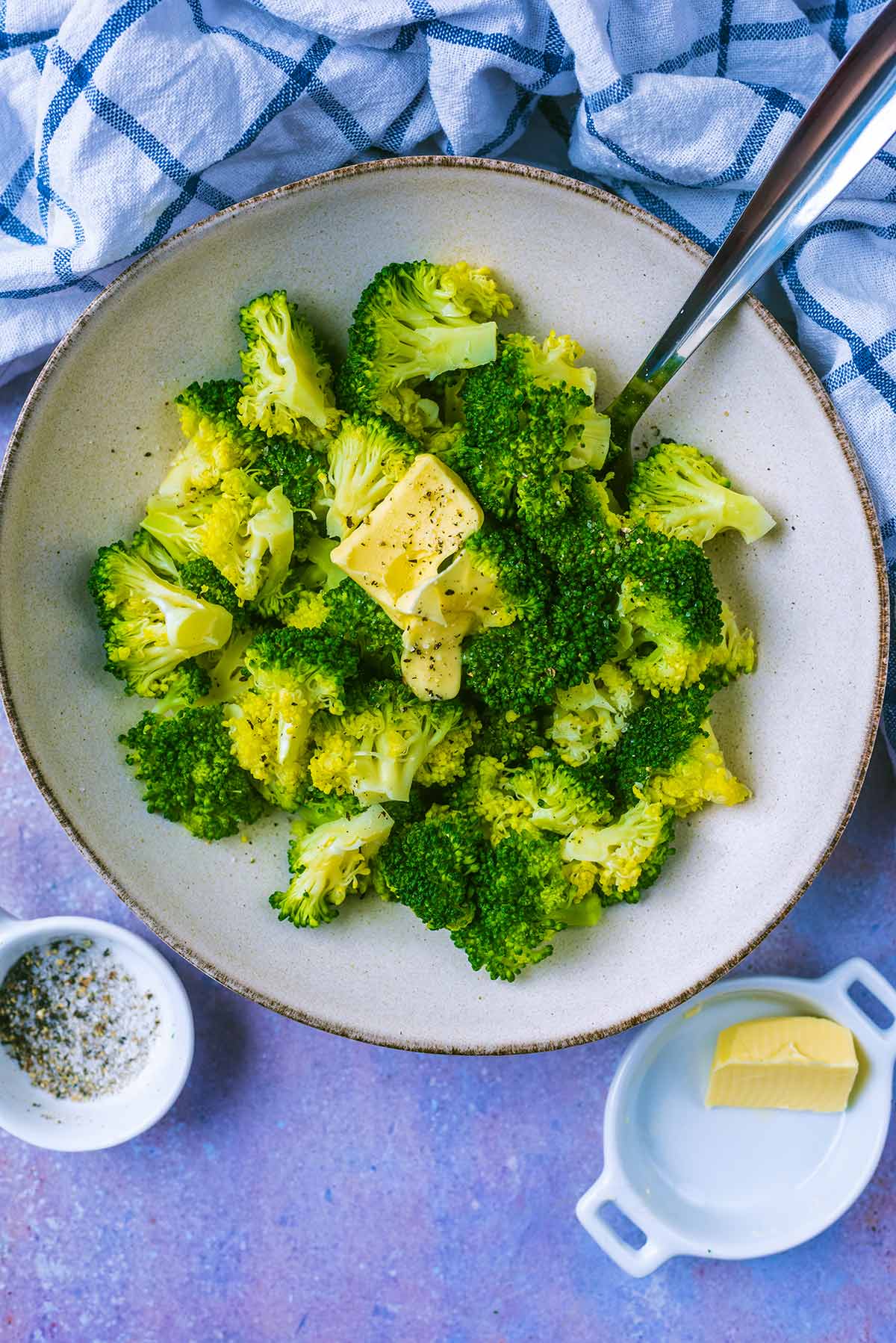 Did you know that you can cook broccoli in the microwave, and it's actually quicker than doing it on the hob? You still get perfectly cooked broccoli, but quicker and easier.
If you are looking for other broccoli recipes, then why not try our Broccoli Pasta Bake, Broccoli and Stilton Soup, Broccoli Salad, Quick Broccoli Pasta?
Jump to:
Why you will love it
Quick - Cooking broccoli in a microwave is quicker than cooking it on a hob, so we think this is the best way to cook broccoli. It takes just 5 minutes.
Easy - No need to keep an eye on this and no stirring needed. Just put it in the microwave and leave. You can then serve it in the bowl it was cooked in too.
Cheaper - Using a microwave is cheaper than a gas hob, especially if you are just cooking small portions.
Good for smaller portions - This is a great recipe if you are just cooking for one.
Healthy - Cooking broccoli in the microwave is actually healthier, because boiling it removes a lot of the nutrients. Steaming broccoli in the microwave helps to hold on to the nutrients.
Ingredients and substitutions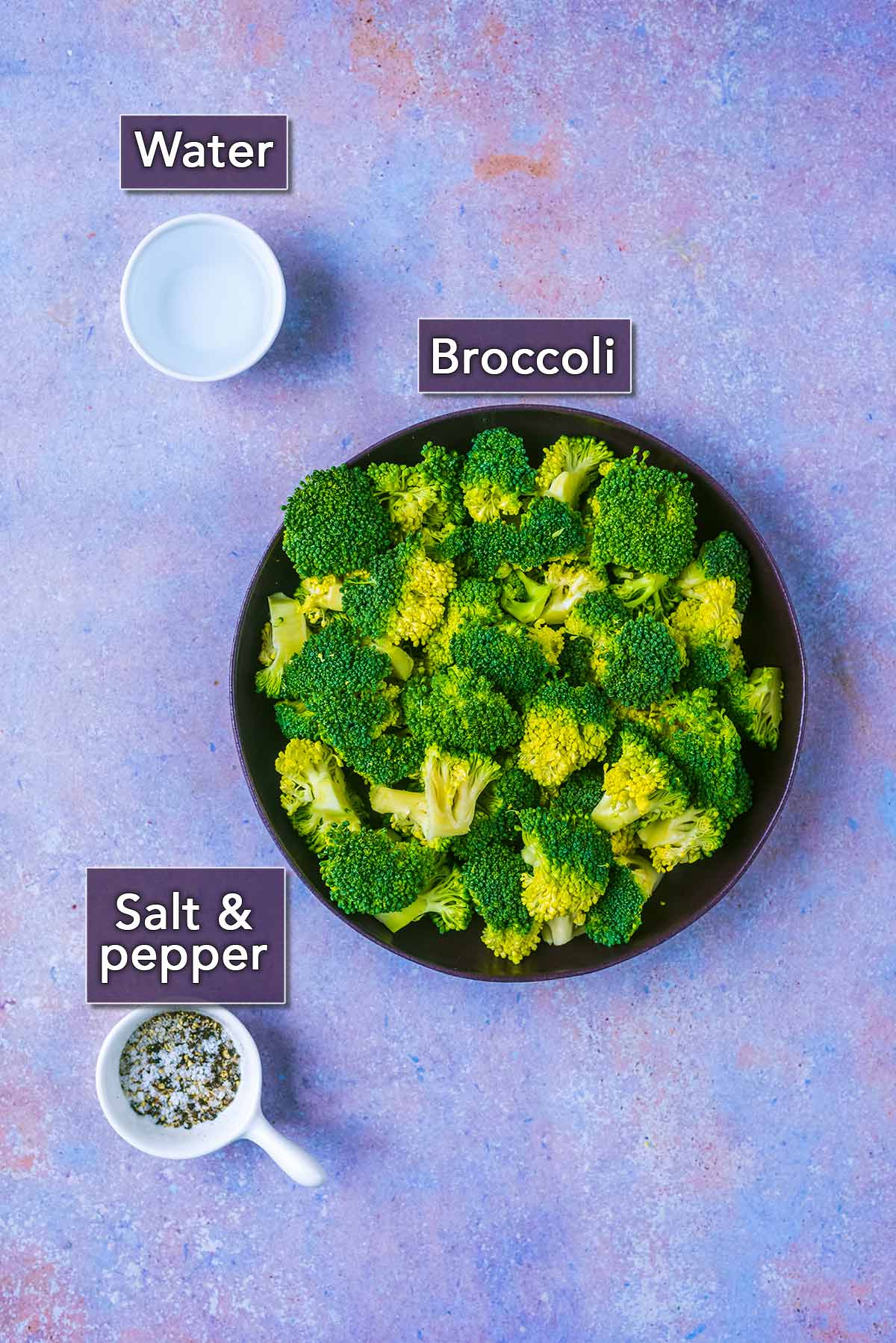 Broccoli - The star of this dish. To make this the best it possible can be, then try to choose the perfect broccoli. Choose a broccoli head with tight, green florets and firm stalks. Your broccoli should feel heavy for its size. Avoid broccoli with dried out or browning stem ends or yellowing florets.
Water - This is what the broccoli steams in the microwave.
Salt and pepper - Generously season.
A full ingredients list with measurements is in the recipe card below.
How to make microwave broccoli - Step by step
One: Put the broccoli into a microwave safe bowl. Pour the water over the broccoli.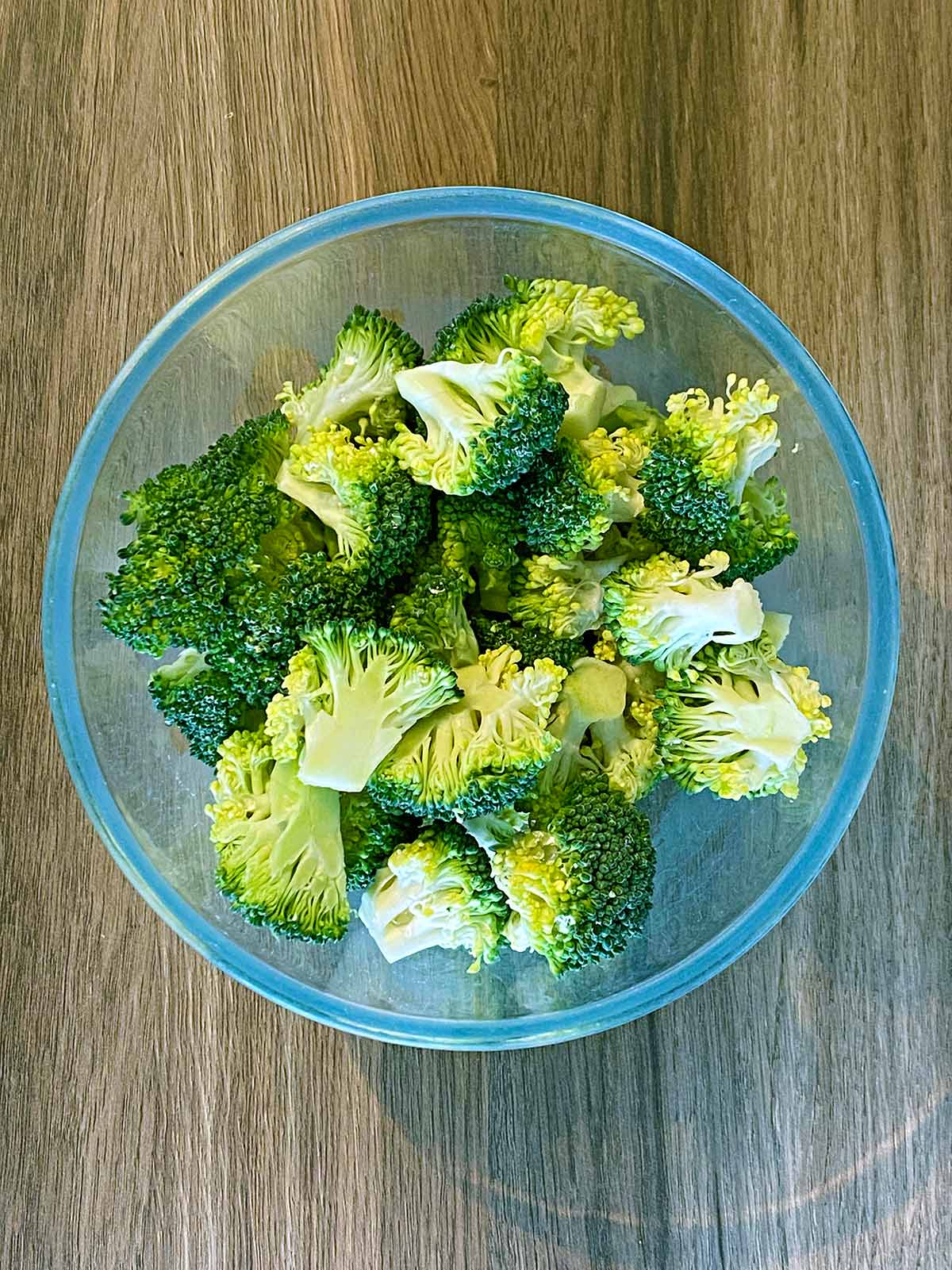 Two: Cover with a plate and microwave on high power for 5 minutes.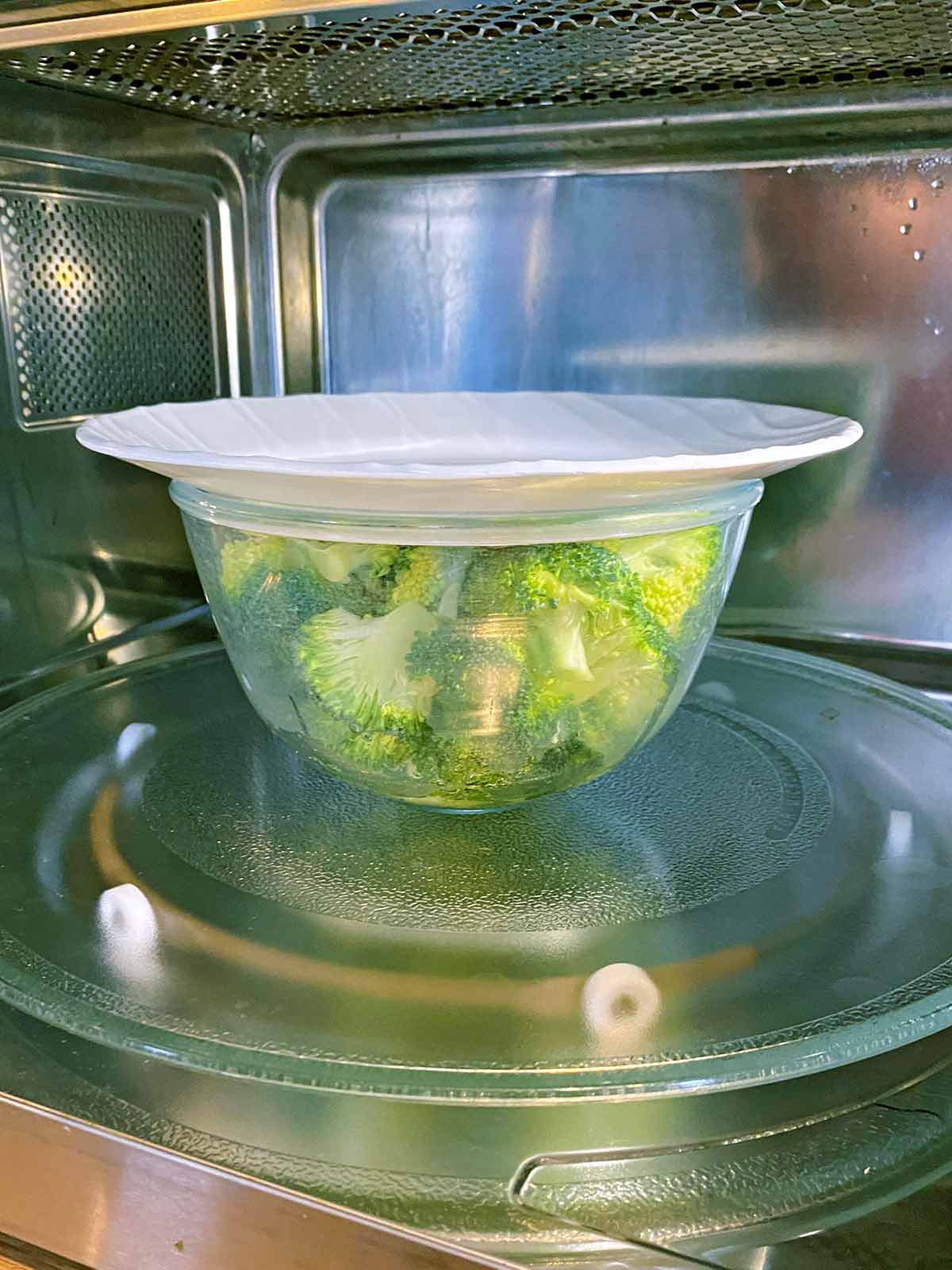 Why use a microwave to cook broccoli
Microwaves have received a bad reputation over the years. They have been called lazy and they have been called dangerous. But, if you are looking at these recipes then I am guessing that you don't believe either of those, and neither do we. Let's dispel those myths.
Firstly, there is no real evidence that shows that microwaves are dangerous to your health. You will find a lot of information on the internet to say they are, but nothing scientifically proven. Studies have shown that using a microwave might be better at preserving nutrients than other cooking methods.
Microwaves are for lazy people? Nope! That is such an ableist thing to say. There are many reasons why people might use a microwave as a convenient method of cooking, such as not being able to stand at the cooker for any length of time.
Also, microwaves tend to cook things much quicker, which is perfect for those with less time in the kitchen and you also don't usually need to do any stirring, which is perfect if you need something you can just put in and leave.
Sometimes the microwave can be a bit of a life saver. If your oven breaks, or you are having your kitchen renovated, you need to be able to make meals with just a microwave. Maybe you are living in accommodation with no/limited cooking facilities like a hotel/studio/student halls. We want to show just what you can do with a microwave. We also love them for smaller portions.
We have a full section of microwave recipes for you to try.
Variations
We served our microwave broccoli with some butter and a generous amount of salt and pepper. However you could also add some Parmesan and red chilli flakes.
A big splash of soy sauce is a nice way to flavour it, and that is delicious on top of some noodles.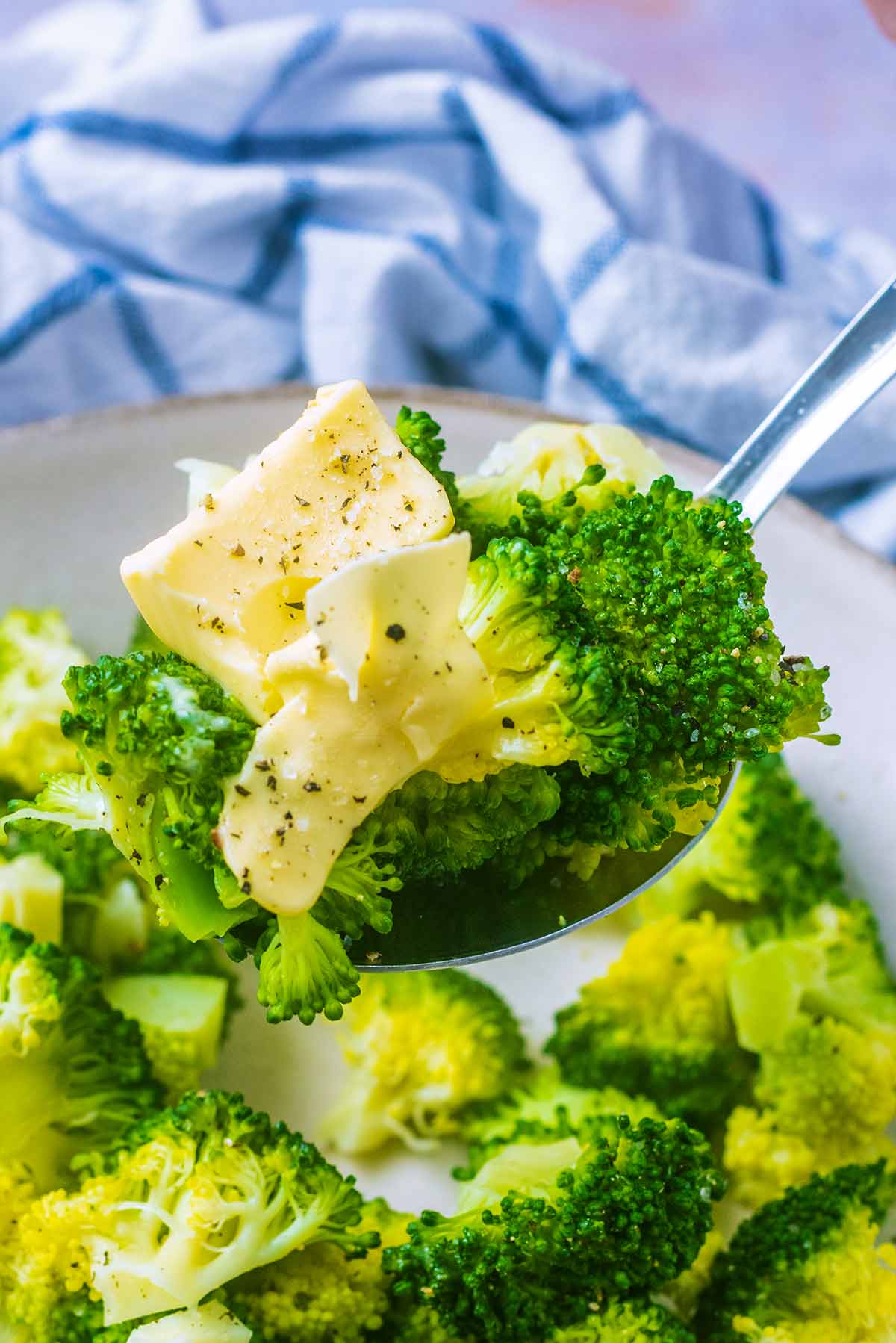 What to serve with Microwave Broccoli
This is a really quick and easy side dish that is perfect alongside so many of our favourite recipes. Here are some for you to get started with:
You could also just enjoy these as a delicious snack dipped into our Healthy Ranch Dressing. When it comes to what to put on top of them, we like a sprinkling of red chilli flakes or butter, however you could also add some Parmesan and some pine nuts. Why not add a sprinkling of fresh chopped parsley to lighten it up a little?
Storage
Store: You can store leftover microwave broccoli in an air tight container in the fridge for up to a day. It wouldn't be very fresh any longer than that.
Freeze: We wouldn't recommend freezing this.
Reheat: To reheat, put it back in the microwave for about a minute until heated through.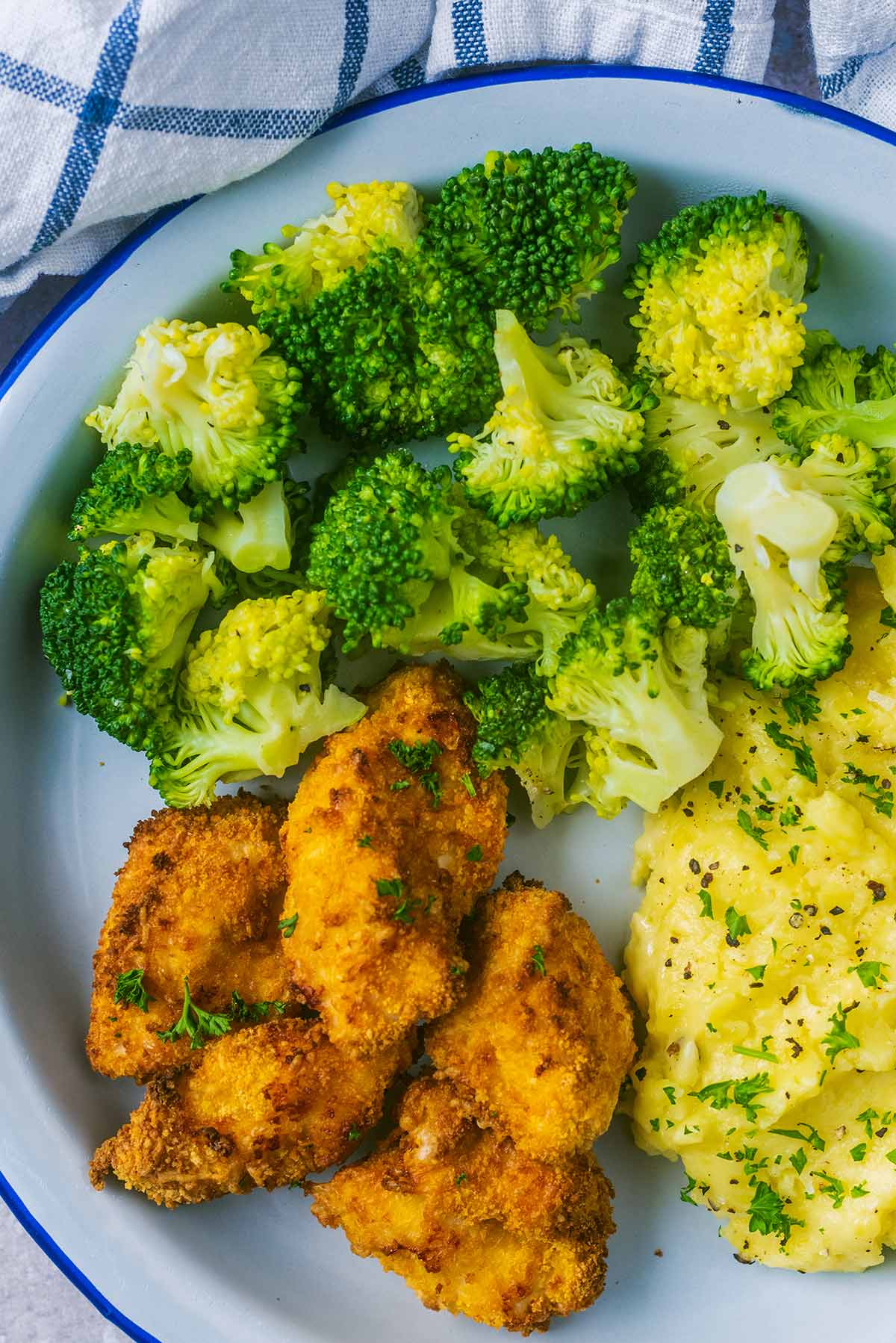 Frequently Asked Questions
Is broccoli healthy?
It's a great source of vitamins A, B1, B2, B3, B6 and K, as well as iron, zinc and fibre, which can support digestive health.
Did you know that broccoli is also a good source of protein, although an incomplete one.
How to cut broccoli
It depends on the size of the head of your broccoli. Ours was fairly large, so we cut florets off and then quartered each of them. If you were using a smaller head of broccoli, then you might just need to halve them.
Can you microwave frozen broccoli?
Yes, you can, but the texture won't be great. You will need to use less water, and cook it for longer.
How long does it take to microwave broccoli?
Cooking time will depend on how soft you like your broccoli and how powerful your microwave is. This took 5 minutes, as we still like a little bite left in ours.
More microwave recipes
If you've tried this microwave broccoli recipe, let us know how you got on in the comments below.
Tag us in your creations on Instagram @hungryhealthyhappy - Use the hashtag #hungryhealthyhappy too.
Recipe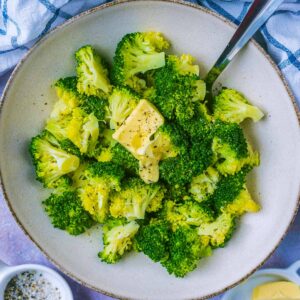 Microwave Broccoli
A quick and easy side dish, this microwave broccoli goes with almost anything. Perfect broccoli every time, in just 5 minutes.

Gluten Free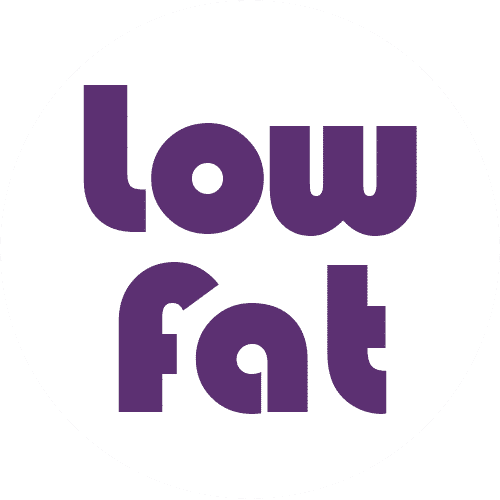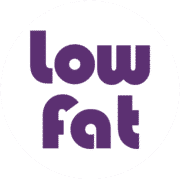 Low Fat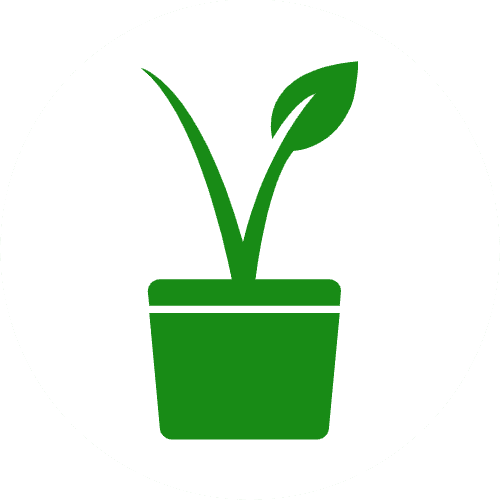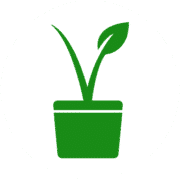 Vegan
Pin
Print
Save recipe
Recipe saved!
Ingredients
300

g

(

10.5

oz

)

Broccoli

-

cut into florets

3

tablespoon

Water

1

pinch

Sea salt and black pepper
Instructions
Put the broccoli into a microwave safe bowl. Pour the water over the broccoli.

Cover with a plate and microwave on high power for 5 minutes.
Recipe tips
We used fresh broccoli for this recipe. If you are using frozen then you will need to use less water and cook for longer.
You don't want overcooked and mushy broccoli. Every microwave varies, so cook it for 4 minutes and then cook for 30 seconds at a time more until the desired doneness.
When placing the plate over the bowl, make sure it is the right way up. This will prevent moisture from escaping.
Serve with butter or olive oil on top.
Nutritional Information
Serving:
1
portion
|
Calories:
51
kcal
|
Carbohydrates:
10
g
|
Protein:
4
g
|
Fat:
1
g
|
Saturated Fat:
0.2
g
|
Polyunsaturated Fat:
0.2
g
|
Monounsaturated Fat:
0.04
g
|
Sodium:
51
mg
|
Potassium:
474
mg
|
Fiber:
4
g
|
Sugar:
3
g
|
Vitamin A:
935
IU
|
Vitamin C:
134
mg
|
Calcium:
71
mg
|
Iron:
1
mg
The nutritional information provided is approximate and is calculated using online tools. Information can vary depending on various factors, but we have endeavoured to be as accurate as possible.