Creamy broccoli and Stilton soup is such a classic soup and is delicious for lunch or as a starter to the main meal. It is deliciously indulgent and nutritious at the same time. Broccoli and stilton are such an incredible flavour combination and this soup is a great way to use up leftovers cheese from a cheese board.
Broccoli and stilton are such different flavours, but they pair beautifully in a soup. Earthy broccoli and creamy stilton all blended together for an incredible and warming soup and it is ready in under 30 minutes too.
This is such a classic soup recipe and one that we usually have as a starter on Christmas Day (as we always have stilton around) because it's fairly light or we make it in the days after Christmas to use up the leftover broccoli and cheese.
This Broccoli and Stilton Soup is a delicious winter warmer and although it is fairly indulgent with the Stilton and cream, it's a great way to give your diet a green boost and to eat more broccoli.
If you are looking for other ways to eat broccoli, why not try our super easy Microwave Broccoli, Roasted Tenderstem Broccoli, Cheesy Broccoli Pasta Bake, Broccoli Cheese, Quick Broccoli Pasta, or Broccoli Salad?
Jump to:
Why you will love it
A hearty and warming soup - On a cold winter day, there is nothing that warms you up quite like soup. Served with some crusty bread, it's like a hug in a bowl. This broccoli and Stilton soup just feels extra comforting too.
A good way to use up stilton - If you have leftovers from a cheese board (I always buy too much for Christmas), then this is a good way to use up the Stilton, so nothing goes to waste. You could also use leftovers in our Mushroom Tartlets too.
A delicious way to eat more green vegetables - I think we could all do with some extra greens in our diet and whilst broccoli is pretty easy to cook and eat, this soup makes it delicious.
Quick and easy - As far as soups go, this is a quick and easy one and as simple as putting it all in one pot and letting it all cook away until it needs to be blended.
Ingredients needed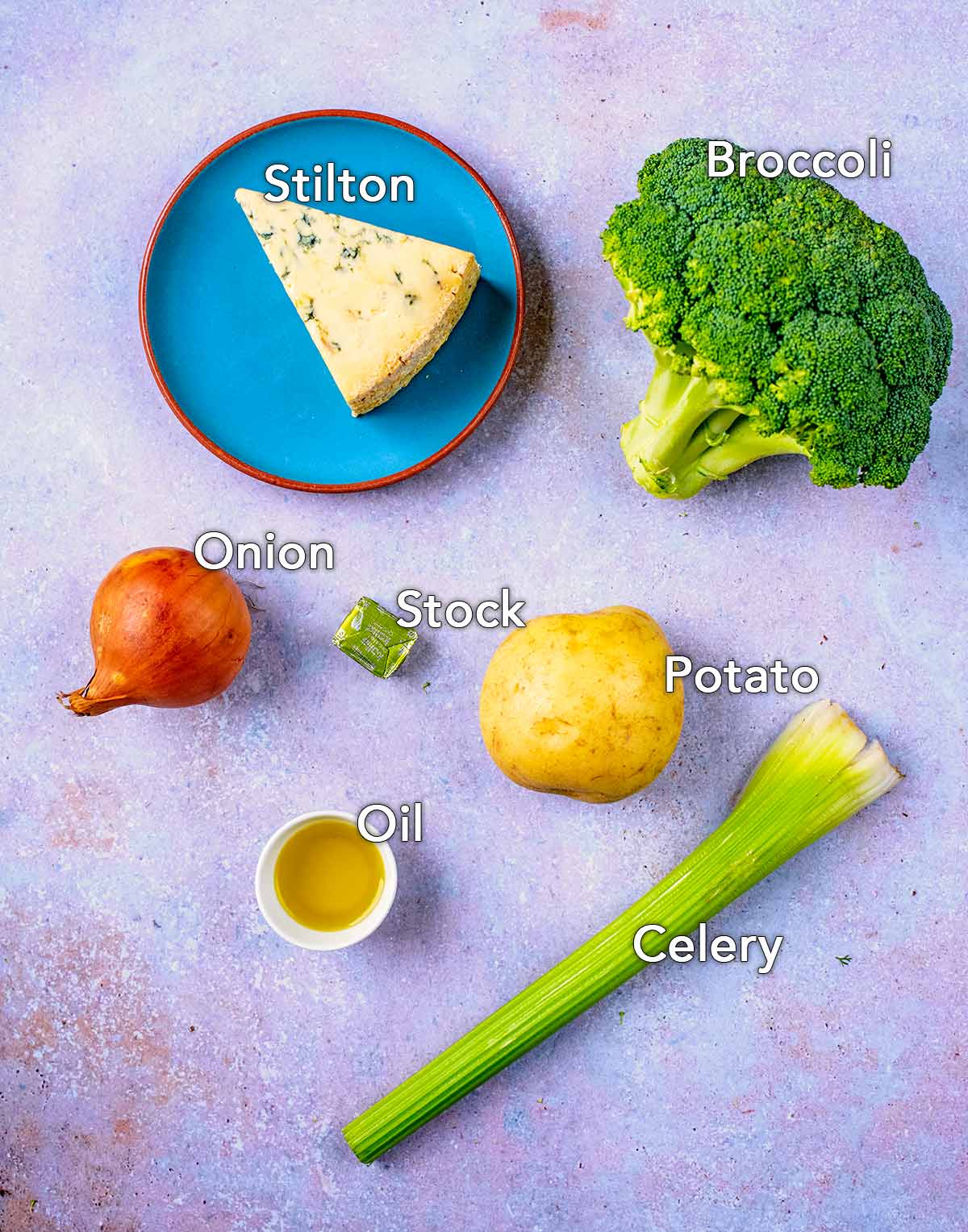 Broccoli - To make this the best it possible can be, then try to choose the perfect broccoli. Choose a broccoli head with tight, green florets and firm stalks. Your broccoli should feel heavy for its size. Avoid broccoli with dried out or browning stem ends or yellowing florets.
Stilton - This is what gives the soup such a unique flavour and you can find it in any supermarket. Whilst we used Stilton, other blue cheese would work well in this recipe too. You could swap Stilton for Danish blue cheese, dolcelatte, Roquefort, cambozola or Gorgonzola.
Onion - You could swap this for shallots if you prefer, and this would give the soup a slightly sweeter taste.
Potato - This helps to really thicken the soup up. You could leave it out if you prefer a more brothy soup.
Celery - We find this adds a nice depth of flavour to the soup, and some extra saltiness too.
Oil - We used olive oil to cook the potato, celery and onions in.
Stock - Try to use the best quality stock you can buy. If you are making this for young children, then use a low salt stock.
A full ingredients list with measurements is in the recipe card below.
Step by step
One: Heat the oil in a large pan and add the onion. Cook on low for 3 minutes. Add the celery and potato and continue cooking for 4 minutes.
Two: Add the broccoli and the stock.
Three: Simmer for 15 minutes. Add the crumbled Stilton.
Four: Blend until smooth.
What is Stilton?
If you haven't tried Stilton before, or you aren't really sure what it is, then read on! Stilton is a strong blue cheese made in the UK since the 18th Century. It's a crumbly, almost soft, cheese, that has a marble effect of blue veins running through it.
Although the village of Stilton is in Cambridgeshire, a cheese can only be called Stilton if it has been made in one of the three permitted counties of Leicestershire, Derbyshire or Nottinghamshire. There is a blue cheese made in the village of Stilton, but they have to call it Bells Blue because of EU regulations.
Stilton has such a strong smell and flavour, which puts a lot of people off, but we think that is part of the appeal. When it comes to cheese, it's the smellier the better for us! Because Stilton has such a strong flavour, you don't need to use a lot of it because it will overpower the dish. A little goes a long way in this dish.
Health benefits of broccoli
Although this soup isn't low in calories or fat due to the cream and Stilton, it is packed full of nutrients due to the broccoli which makes up a big part of the soup. Superfood is a bit of a buzz food that is thrown around, but there is no denying that broccoli is nutrient dense. It's a great source of vitamins A, B1, B2, B3, B6 and K, as well as iron, zinc and fibre, which can support digestive health.
Did you know that broccoli is also a good source of protein, although an incomplete one. You could add even more veggies by throwing some spinach or kale in there too. It would give it even more of a vibrant green colour too, not to mention a vitamin boost.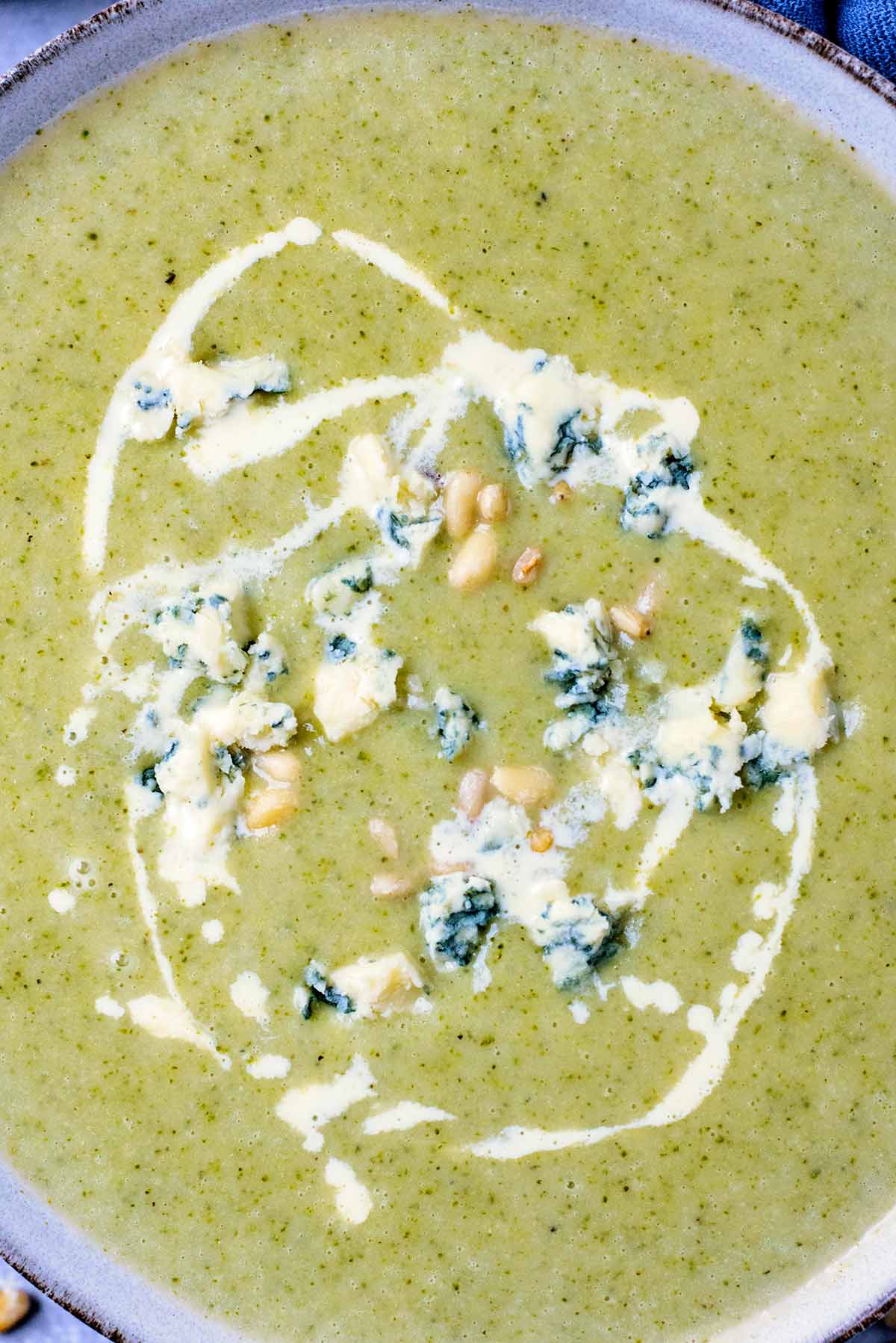 What to serve with Broccoli and Stilton Soup
To give our broccoli and Stilton soup a bit of texture, we added some chunks of Stilton on top with a drizzle of cream. It makes it extra indulgent. We also love serving it with some crunchy croutons on top. We make our own easy croutons by chopping up some bread in to squares and drizzling over a little olive oil and a sprinkle of garlic granules and dried herbs. Put them in the oven for about 5 minutes to crisp up. Perfect for adding to soups and salads. Have you tried our Sourdough Croutons?
We also love soup with our Easy Bagels, Slices of Homemade White Bread, Cheesy Garlic Bread or Garlic and Rosemary Focaccia, which are all really easy and delicious homemade breads.
This soup is always made at Christmas time and it's usually our starter on Christmas Day. I don't know why, but we have to have a starter - it gets everyone at the table whilst I am finishing up the main meal. It's fairly light if you don't serve it with bread, but still feels indulgent enough for during the festive season.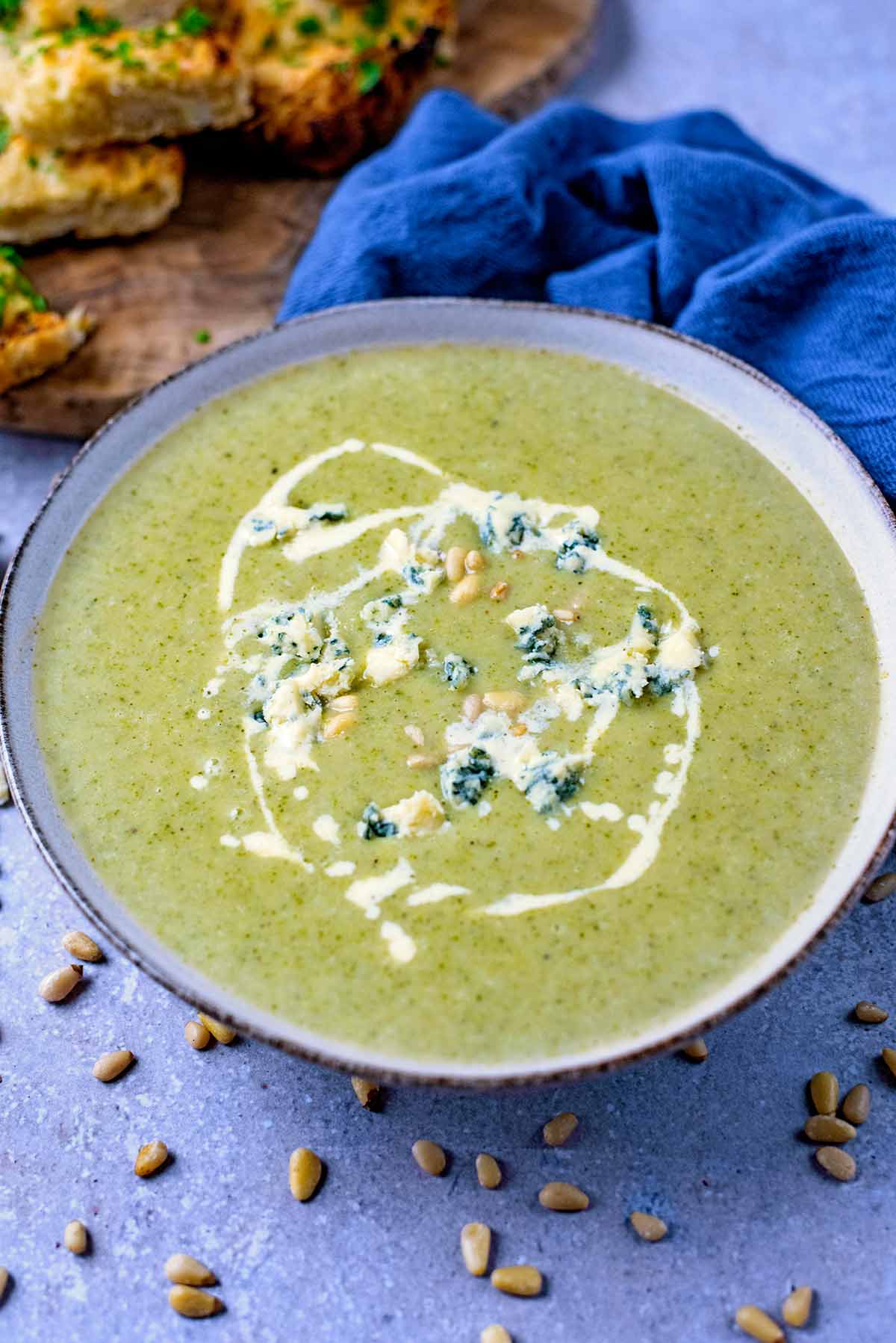 Frequently Asked Questions
Is broccoli and stilton soup child friendly?
You wouldn't think that this soup was child friendly, but it really is. In our house anyway! Add a ladle to a bowl and then top with cooked pasta to make it more filling. It's more of a pasta soup stew combo, which makes it easier for little kids to feed themselves.
How to store broccoli and stilton soup.
This soup is always best eaten fresh, however if you do have leftovers then you can keep it in the fridge for up to 3 days. Let it cool down and then store in an air tight container in the fridge.
Can you freeze broccoli and stilton soup?
Yes, this freezes really well. The texture may be a bit different, but it will be fine once heated through. Allow it to completely cool first and then portion it out in to air tight containers or freezer bags (these are great for space saving as you can lay them flat) and then it will keep in the fridge for up to 3 months. Let it defrost and then you can reheat it in the microwave or heat it through on the hob.
How to cut broccoli.
It depends on the size of the head of your broccoli. Ours was fairly large, so we cut florets off and then quartered each of them. If you were using a smaller head of broccoli, then you might just need to halve them.
Is broccoli and stilton soup gluten free?
Yes, this can be gluten free if you use a gluten free stock and make sure that there is no cross contamination.
Why is my soup too thick/thin?
If your soup is too thick, then you may have cooked it at too high a temperature. Simply add a little more stock until it is the desired consistency. Equally, if it is too thin that you might not have had the heat high enough. Let it simmer a little longer to thicken up.
How to thicken broccoli and stilton soup.
To thicken the soup, you will need to make a cornflour slurry. Simply mix together equal parts cornflour and water and then whisk that mixture in to the soup. Usually 2 tablespoons of cornflour and 2 tablespoons of water mixed together does the job. You can use this tip for thin stews too.
Can you make broccoli and stilton soup in advance?
Yes, you can make this in advance and then leave it to cool in the pan, cover and refrigerate the whole pan. Then, when you want to serve it you can put the whole pan (uncovered) on the hob and heat it through.
More soup recipes
If you've tried this broccoli and stilton soup recipe, let us know how you got on in the comments below.
Tag us in your creations on Instagram @hungryhealthyhappy - Use the hashtag #hungryhealthyhappy too.
Recipe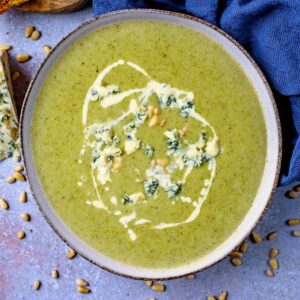 Broccoli and Stilton Soup
Indulgent yet nutritious Broccoli and Stilton Soup in under 30 minutes! Enjoy this soup with its incredible flavour combination as a starter or light lunch.

Gluten Free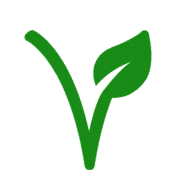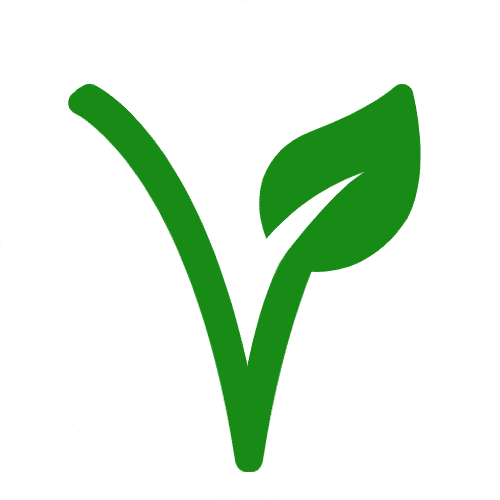 Vegetarian
Pin
Print
Save recipe
Recipe saved!
Ingredients
2

tablespoon

Olive oil

1

Onion

-

diced

1

rib

Celery

-

diced

270

g

(

9.5

oz

)

Potato

-

diced

1

head

Broccoli

1

litre

(

4

cups

)

Vegetable stock

100

g

(

3.5

oz

)

Stilton

-

crumbled
Instructions
Heat

2 tablespoon Olive oil

in a large pan and add

1 Onion

. Cook on low for 3 minutes.

Add

1 rib Celery

and

270 g Potato

and continue cooking for 4 minutes.

Add

1 head Broccoli

and

1 litre Vegetable stock

and simmer for 15 minutes.
Recipe tips
You may need to add a little bit more stock to the soup after blending, depending on the consistency that you want. If you have cooked the soup on too high a heat, then it will need more stock otherwise it will be very thick. But, you might like it that way.
Make this soup even more indulgent by adding some chopped chopped bacon on top at the same time as the cream and extra Stilton.
You could add some cauliflower too to use a mixture of vegetables.
Top with some toasted seeds to add some crunch.
Use a stick blender to blend this soup. If you are going to use a jug blender, make sure it cools down first, as putting hot soup in can cause it to explode.
If you are making this soup for young children, then use a low salt stock.
Nutritional Information
Serving:
1
portion
|
Calories:
194
kcal
|
Carbohydrates:
13
g
|
Protein:
10
g
|
Fat:
14
g
|
Saturated Fat:
6
g
|
Polyunsaturated Fat:
1
g
|
Monounsaturated Fat:
7
g
|
Cholesterol:
19
mg
|
Sodium:
409
mg
|
Potassium:
611
mg
|
Fiber:
5
g
|
Sugar:
4
g
|
Vitamin A:
1184
IU
|
Vitamin C:
138
mg
|
Calcium:
214
mg
|
Iron:
1
mg
The nutritional information provided is approximate and is calculated using online tools. Information can vary depending on various factors, but we have endeavoured to be as accurate as possible.