A delicious, vibrant and healthy soup, just 7 ingredients go in to this Kale Soup. Less than 20 minutes to cook, this is a great way to have an iron boost and get more kale in your diet. Think you don't like kale? This soup will change your mind! Gluten free and vegetarian, it is just 300 calories for a huge filling portion.
We could all do with some more greens in our diet, right? This kale soup is not only super nutritious (hello iron packed kale), but it is smooth, creamy and delicious. Even family members that apparently "don't like kale", loved this soup.
This low in fat soup is really hearty and filling, as the kale is blended with potatoes to bulk it out. It's definitely the kind of soup you need on a cold winter day, when you need a vegetable boost. Even better, is it is quick and easy to make too. Homemade soup doesn't have to be complicated!
Looking for more ways to get some kale in your diet? Why not try our Kale Smoothie, Kale Crisps (such a delicious salty snack) or Kale, Watermelon and Feta Salad?
Jump to:
Why you will love it
Quick and easy - This kale soup is so simple to make. Just dump it all in the pan and let it cook away before blending. It only takes 20 minutes too.
A delicious way to eat kale - Not sure what to do with kale? This is a great place to start, as it's all blended up so it's nice and creamy. Probably the tastiest way to eat kale.
Healthy - This is super nutritious, but also low in calories and fat.
Filling - When you hear nutritious and low in calories you probably think it won't be filling. But this really is, as it's packed with potatoes too.
Ingredients needed
Oil - We used olive oil to cook everything in.
Onion and celery - This is the base of the soup and gives it a really lovely flavour. Save yourself some time and use frozen onion instead.
Potato - This is what makes the soup really filling. You can use any type of white potato, which makes it a budget friendly soup.
Garlic - Just a little bit adds a lot of flavour. Fresh is always best, however you could use frozen garlic of crushed garlic in a tube if you prefer.
Kale - The star of the soup. We used curly green kale.
Stock - Try to use the best quality stock you can, as you really will be able to taste the difference. We used vegetable stock to keep this vegetarian, but you could use chicken stock which you have a richer flavour.
Milk - This makes the soup lovely and creamy. You could leave it out though if you prefer.
Salt and Pepper
A full ingredients list with measurements is in the recipe card below.
Step by step
One: Heat the oil in a large pan and add the potato, onion, garlic and celery. Sauté until softened - about 4 minutes.
Two: Add the kale and stock. Simmer for 15 minutes.
Three: Blend until smooth. Add the milk and salt and pepper and stir in.
Health benefits of kale
Kale might just be one of the most nutrient dense foods on the planet, which is why it is often referred to as a "superfood". A member of the cabbage family, kale is a cruciferous vegetable like cabbage, broccoli, cauliflower, collard greens and Brussels sprouts.
There are many different types of kale. The leaves can be green or purple, and have either a smooth or curly shape - we used green curly kale in this recipe, which is what gives it the vibrant green colour. If you used a mixture of purple and green, you might get more of a brown colour.
Kale is a great source of vitamins A, B6, C and K (one of the best sources there is), as well as manganese, iron and calcium. Not only is it nutrient dense, but it is low in calories and fat too. Kale, like other leafy greens such as spinach, is very high in antioxidants. Antioxidants are substances that help counteract oxidative damage by free radicals in the body. Oxidative damage is believed to be among the leading drivers of ageing and many diseases, including cancer.
Variations
This soup is pretty simple, and that's how we like it. There isn't a whole lot of room to change things around, as there are minimal ingredients. However, you could swap half the kale for spinach.
You could also serve some grated parmesan on top, which would add some extra creaminess when stirred in. You can swap the white potatoes for sweet potatoes, but that would really change the colour.
What to serve with kale soup
To give the kale soup a bit of texture, you could serve it with some crunchy croutons on top. We make our own easy croutons by chopping up some bread in to squares and drizzling over a little olive oil and a sprinkle of garlic granules and dried herbs. Put them in the oven for about 5 minutes to crisp up. Perfect for adding to soups and salads.
You could keep it simple and serve the soup with some French bread fresh from the oven. Garlic bread is also great to dip in it, and that is a favourite with our kids.
You can't beat homemade bread, so why not serve this kale soup with our Garlic and Rosemary Focaccia, Easy Bagels or Easy White Bread.
Frequently Asked Questions
Why is my kale soup not very green?
The colour of the soup will depend on using the right amount of kale, and also how fresh it is. The fresher the kale, the more vibrant the colour will be.
How to make vegan kale soup
To make this soup vegan, just swap the milk for a dairy free version like almond milk. Coconut milk would work too, but it would give it a coconut flavour.
Is kale soup gluten free?
As long as you make sure that the stock is gluten free and there is no cross contamination, then this is a delicious gluten free soup.
Can you make kale soup in advance?
Yes, you can make this in advance and then leave it to cool in the pan, cover and refrigerate the whole pan. Then, when you want to serve it you can put the whole pan (uncovered) on the hob and heat it through.
How to store kale soup
If you have leftovers of this soup, it will store in an air tight container in the fridge for up to 2 days.
Can you freeze kale soup?
Yes, this soup freezes really well. We usually make a double portion and either save some for the kids or we wait until it has cooled, put in freezer bags and then lay it flat in the freezer. To defrost, simple take out of the freezer and leave to defrost thoroughly. You can then heat it through in a pan.
Why is my soup too thick/thin?
If your soup is too thick, then you may have cooked it at too high a temperature. Simply add a little more stock until it is the desired consistency. Equally, if it is too thin that you might not have had the heat high enough. Let it simmer a little longer to thicken up. Adding the milk should help to thicken it up too.
More vegetarian soup recipes
If you've tried this kale soup recipe, let us know how you got on in the comments below.
Tag us in your creations on Instagram @hungryhealthyhappy - Use the hashtag #hungryhealthyhappy too.
Recipe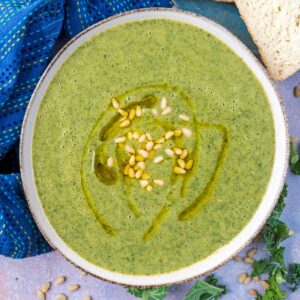 Kale Soup
Just 7 ingredients go in to this Kale Soup. Less than 20 minutes to cook, gluten free, vegetarian and just 300 calories. What are you waiting for?

Gluten Free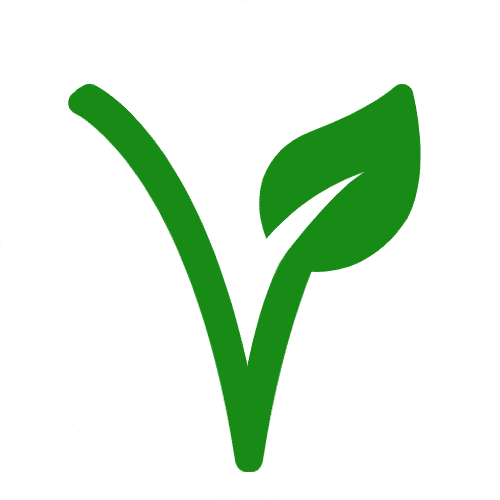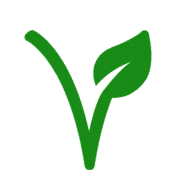 Vegetarian
Pin
Print
Save recipe
Recipe saved!
Ingredients
1

tablespoon

Olive oil

1

Onion

-

diced

1

rib

Celery

-

diced

350

g

Potato

-

diced

2

Garlic clove

-

crushed

200

g

kale

750

ml

Vegetable stock

125

ml

Whole milk

1

pinch

Sea salt and black pepper

Pine nuts

-

(optional; to serve)
Instructions
Heat the oil in a large pan and add the potato, onion, garlic and celery. Sauté until softened - about 4 minutes.

1 tablespoon Olive oil,

1 Onion,

1 rib Celery,

350 g Potato,

2 Garlic clove

Add the kale and stock. Simmer for 15 minutes.

200 g kale,

750 ml Vegetable stock

Blend until smooth. Add the milk and salt and pepper and stir in.

125 ml Whole milk,

1 pinch Sea salt and black pepper
Notes
We have used vegetarian stock to keep this soup vegetarian, however you could swap it for a really good quality chicken stock to give it a richer flavour.
If you are making this for your children, then use a low salt stock and don't season the whole soup, just do individual bowls if wanted
If you want to make this look more presentable, then you can reserve some of the sautéed kale and then serve them on top of the soup with herbs.
You don't have to add the milk, as the potatoes as really creamy. However we feel it gives it something a little bit special.
If you are using a jug blender to blend this soup, then wait until it has cooled first as you could crack the jug if it is too hot.
Make this soup more indulgent by sprinkling some cooked chopped bacon on top.
Nutritional Information
Serving:
1
portion
|
Calories:
300
kcal
|
Carbohydrates:
49
g
|
Protein:
11
g
|
Fat:
9
g
|
Saturated Fat:
2
g
|
Polyunsaturated Fat:
1
g
|
Monounsaturated Fat:
6
g
|
Cholesterol:
6
mg
|
Sodium:
1594
mg
|
Potassium:
1455
mg
|
Fiber:
5
g
|
Sugar:
10
g
|
Vitamin A:
10985
IU
|
Vitamin C:
160
mg
|
Calcium:
268
mg
|
Iron:
3
mg
Disclaimer
The nutritional information provided is approximate and is calculated using online tools. Information can vary depending on various factors, but we have endeavoured to be as accurate as possible.