A quick and easy yogurt based garlic sauce that goes perfectly with homemade kebabs. Just like the kind of garlic sauce you get in your favourite kebab shop, this is made with just 6 ingredients and ready in under 5 minutes. It's creamy and tangy, and delicious with grilled meats and vegetables or as a dip.
We love a homemade "fakeaway" and there are little ways to make it feel more authentic. Making your own sauces, like the kind you would find in your local takeaway, will make your homemade takeaway feel that little more indulgent. When we are trying to save some money, we cut back on takeaways and make our own. This easy garlic sauce makes us feel like we are eating the real thing.
It is really creamy, but thin enough to drizzle and it has a real kick from the garlic. We used a lot! We used a mixture of mayonnaise and yogurt, so it feels indulgent, but lightened up a little. Looking for other ways to use garlic? Why not try our Easy Cheesy Garlic Bread, Garlic Spring Greens, Garlic and Rosemary Focaccia or Garlic Prawn Spaghetti?
Jump to:
Why you will love it
Quick and easy - This is such a quick and simple sauce to make and it is put together in less than 5 minutes.
Everyday ingredients - There are no fancy ingredients that go in to making this. Just everyday ingredients, many of which you probably already have in your kitchen.
Adaptable - You can adjust the garlic levels, and the seasoning and there is even options for adding fresh herbs. More on that below.
Versatile - There is so much that you can do with this. We have listed about 20 ways to use it below, so none of it has to go to waste and you can use it a different way every time.
Ingredients needed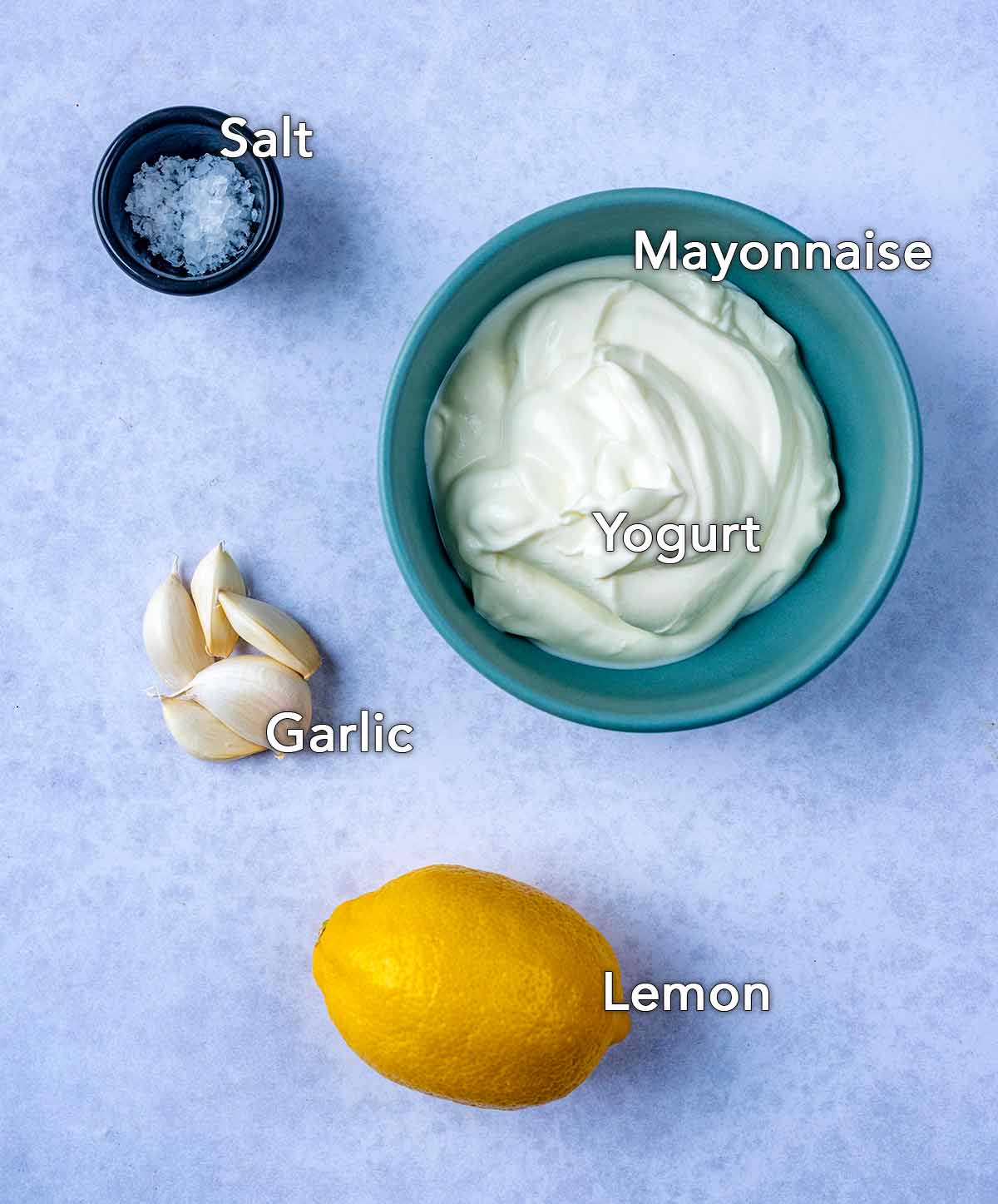 Mayonnaise and yogurt - We used both to make this garlic sauce, as they both add a little something. The mayonnaise makes it really thick, creamy and indulgent and that's what you would get from a takeaway garlic sauce. However, the yogurt lightens it up a little, and also adds a nice tang. You can adjust the balance, and you could even make it with just yogurt if you wanted to make it lower in calories. We used full fat mayonnaise, but you could use reduced fat. Use plain yogurt, not Greek yogurt, as it is too thick.
Garlic - The star of the sauce. We used 5 fat garlic cloves, as we like our garlic sauce really garlicky. But you can make it milder if you would like. More on that in the extra tips below. Because the garlic is the most important part of the sauce, you make to make sure it is fresh and firm to touch.
Lemon - This adds a nice freshness to the sauce, and garlic and lemon go so well together too.
Salt - Season it to taste. Add a pinch, and mix it together, and then you can always add more after if you would like.
Water - This is to loosen the sauce up. Add a splash and then add more until you get the desired consistency. We like the sauce to be fairly thick, but still able to drizzle.
A full ingredients list with measurements is in the recipe card below.
Step by step
One: Put all the ingredients (except the water) into a bowl.
Two: Mix well until everything is combined. Add water to thin if required.
Health benefits of garlic
Garlic is a perennial that belongs to the liliaceae family. Other members of this family include leeks, chives, spring onions and shallots, and they all have a very strong flavour. Garlic is one of the oldest cultivated plants in the world, and it has many health benefits and it has been used as medicine for a long time.
Garlic is a good source of vitamin B6 (pyridoxine) and C, as well as manganese and selenium. It is also a good source of minerals, including calcium, phosphorous, potassium, iron and copper.
Many of the health benefits from garlic are thought to come from its active ingredient allicin, which is what gives garlic its distinct taste and smell. Chopping or crushing garlic actually stimulates the production of allicin, however it is thought that cooking actually prevents some of the medical properties. So, that's why garlic is great in this sauce, because it is crushed but not cooked.
How to choose and store garlic
The key to this garlic sauce recipe being the best it can be, is using the best garlic and we have a few tips on choosing and storing garlic for you.
When buying garlic, you want to make sure that it is fairly firm and not soft, and doesn't show any signs of decay. You also don't want to choose a bulb that is starting to sprout.
Once you get it home, to prevent it from sprouting you should store it in an uncovered container in a cool and dark place, away from sun exposure. If the garlic is really fresh when you bought it, then it should last being stored this way for up to 2 months.
What to serve with garlic sauce
This is such a versatile sauce. Although it was made as a homemade version of kebab shop yogurt sauce, there is so much more that you can do with it than put it on a kebab. We love it as a dip with carrot and cucumber sticks or even pita bread - basically, anything that you would dip in something like hummus.
If you wanted to serve it with a kebab, then why not try our Lamb Shish Kebab, Vegetable and Halloumi Kebabs, Chicken Tikka Skewers or Greek Chicken Skewers. It also goes really well with out Oven Baked Falafel a pita bread with lots of salad or one some grilled salmon. Seriously, SO many uses.
We also think it makes quite the epic dip for chips. Fancy making your own? Why not try our Air Fryer Chips and make some French Fry Seasoning to go with it too?
You can also use it as a salad dressing. Just loosen it up a little with some water or olive oil and then it is perfect for drizzling over a salad. Why not try our Grilled Little Gem Salad?
Oh, and pizza. How could be forget pizza?! We always order some garlic sauce with pizza to dip the crusts in. So why not serve this with our Aubergine Pizza, BBQ Chicken Pizza or Garlic Mushroom Pizza if you really love garlic.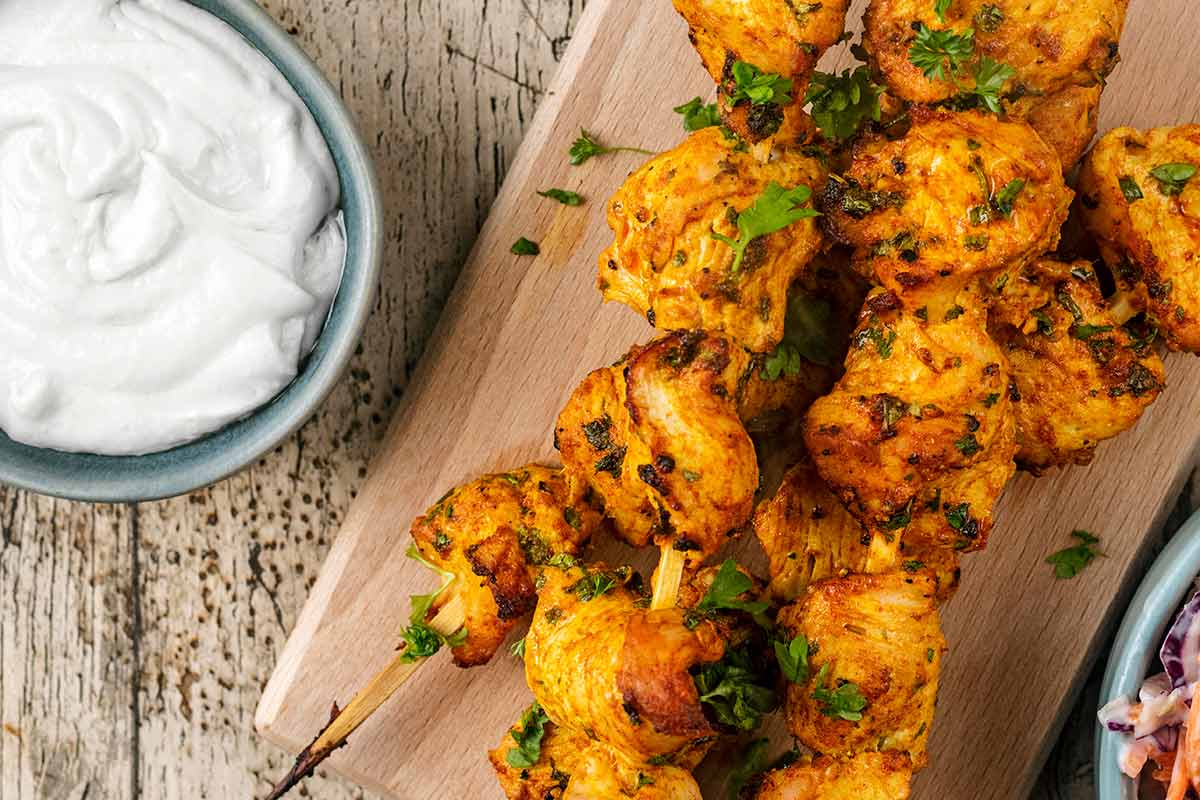 Frequently Asked Questions
How to store garlic sauce
You can store it in an air tight container in the fridge for up to 5 days. Make sure to use a container with a lid, because not only does it keep it fresh, but it stops your fridge from smelling of garlic.
Is garlic sauce gluten free?
Yes, this sauce is gluten free.
Is garlic sauce vegan?
No, because of the mayonnaise and garlic, this sauce it not vegan. You can use vegan alternatives to make a vegan version of this though.
More sauce recipes
If you've tried this creamy garlic sauce recipe, let us know how you got on in the comments below.
Tag us in your creations on Instagram @hungryhealthyhappy - Use the hashtag #hungryhealthyhappy too.
Recipe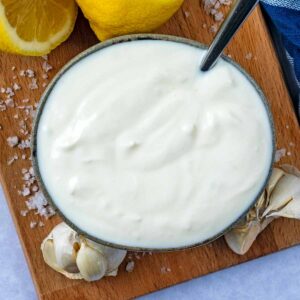 Easy Garlic Sauce
Just like the kind of garlic sauce you find in your favourite kebab shop, this is made with just 6 ingredients and ready in under 5 minutes.

Gluten Free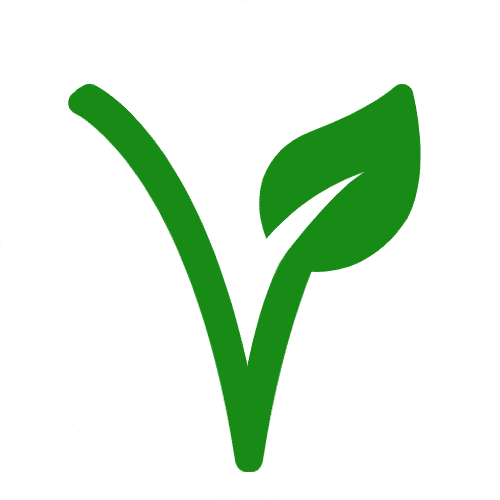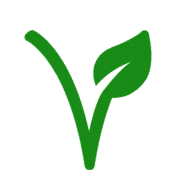 Vegetarian
Pin
Print
Save recipe
Recipe saved!
Ingredients
50

ml

(

0.25

cups

)

Mayonnaise

150

ml

(

0.66

cups

)

Plain yogurt

5

Garlic clove

-

crushed

1

Lemon

-

juice only

1

pinch

Sea salt

Water

-

as required
Instructions
Put all the ingredients (except the water) into a bowl.

Mix well until everything is combined. Add water to thin if required.
Recipe tips
If you want a milder garlic flavour, then you can blanch the cloves before using. Put the peeled garlic cloves in a bowl and cover them with hot water from the kettle (not boiling) and leave for 5 minutes. Drain and then crush. You can also soak them in iced water. Make sure you pat them dry before using.
If you have time, remove the green part from the middle of the garlic if there is some. It is the oldest part of the garlic and you want to be left with the freshest, whitest part. The result in a less bitter sauce.
Don't like your breath after eating raw garlic? Try eating some raw fresh parsley, as it acts as a breath freshener.
Nutritional Information
Serving:
1
portion
|
Calories:
73
kcal
|
Carbohydrates:
4
g
|
Protein:
1
g
|
Fat:
6
g
|
Saturated Fat:
2
g
|
Polyunsaturated Fat:
4
g
|
Monounsaturated Fat:
2
g
|
Trans Fat:
1
g
|
Cholesterol:
7
mg
|
Sodium:
72
mg
|
Potassium:
75
mg
|
Fiber:
1
g
|
Sugar:
2
g
|
Vitamin A:
34
IU
|
Vitamin C:
10
mg
|
Calcium:
40
mg
|
Iron:
1
mg
The nutritional information provided is approximate and is calculated using online tools. Information can vary depending on various factors, but we have endeavoured to be as accurate as possible.