An easy and creamy pasta dish that is ready in just 10 minutes. This Smoked Salmon Pasta is light and fresh, with minimal ingredients and easy to adapt. It's zesty and herby and just the kind of delicious pasta meal you need for an easy summer meal, or something to impress guests with.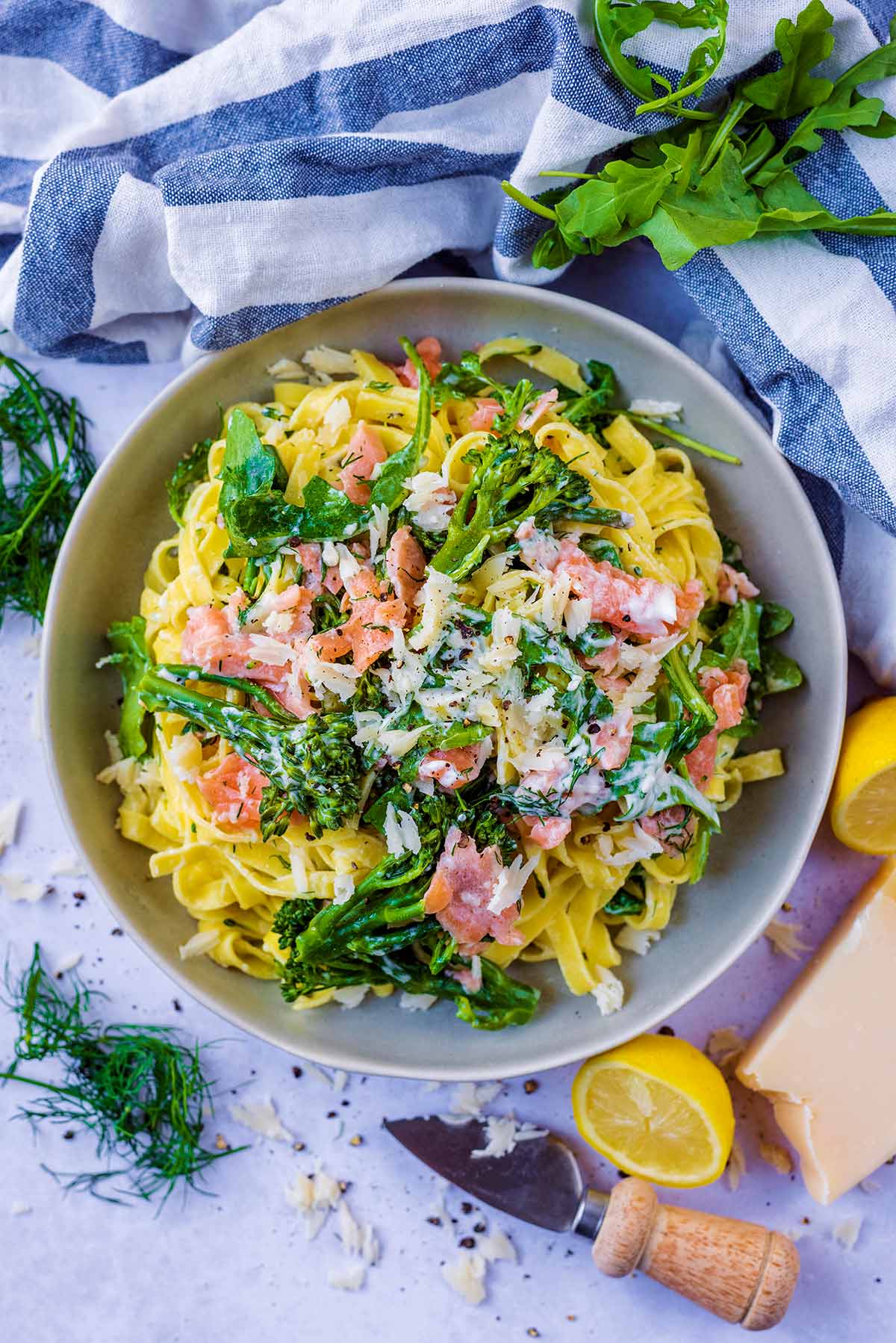 I have been making variations of this meal since I was a student nearly 20 years ago. It is quick, filling and budget friendly, so it ticked all the boxes for a student meal. This version is a bit more "grown up" and is bulked out with some vegetables and added flavours, but still just as easy to make.
Jump to:
Why you will love it
Quick and easy - We used fresh tagliatelle in this recipe, which cooks really quickly so this dish is ready in under 10 minutes. Minimal effort too - just cook the pasta and broccoli and mix everything else together.
A delicious way to eat more fish - If you are wanting to eat more fish, but worried about cooking it then this is the perfect dish as the smoked salmon is already cooked.
Budget friendly - Whilst you might not think of budget friendly when you think of salmon, using smoked salmon is a good way to keep the cost down. It has a really strong flavour, so you can get away with using less of it.
Delicious leftovers - We use leftovers of this for a pasta salad, which is perfect for a picnic or packed lunch.
Ingredients needed
Pasta - We used fresh tagliatelle for this recipe, as it cooks in under 5 minutes which keeps the whole recipes down to under 10 minutes including prep time. However, you could use any pasta you like. You could use spaghetti, or you could use another pasta shape like penne or fusilli.
Broccoli - We love anything that we can add some green vegetables and broccoli always goes well with salmon we think. We used tenderstem, as it cooks quickly and it takes the same amount of time as the tagliatelle, so we put it in at the same time. If you don't have tenderstem then regular would work, you would just need to cut it in to really small pieces so it cooks at the same time as the pasta.
Creme fraiche - Who doesn't love a creamy pasta dish?! Whilst some of the creaminess comes from reserving some of the pasta water (essential in our opinion), we gave it a bit of a creamy boost with a couple of spoons of creme fraiche. We used reduced fat, but you could use full fat. You could also swap this for ricotta or cream cheese instead. When I used to make this in my student days, I used cream cheese as it is much cheaper. So that's an option if you are looking to make this super budget friendly.
Parmesan - Just to add to that creaminess, we added some cheese. Whilst cheese and fish don't traditionally go together in a pasta dish, we think this works well. Just a little bit of parmesan adds a nice sharp flavour. You could swap it for a mature cheddar instead.
Lemon - A squeeze of lemon juice in this smoked salmon pasta, and it lightens the whole thing up. You could even add some lemon zest too if you really love lemon.
Rocket (arugula) - This gives the dish a nice little green veggie boost and a nice peppery flavour. You could swap it for spinach if you prefer.
Smoked salmon - The star of the dish. We used cold smoked salmon (lox), rather than cured salmon, but that would work too. Try to buy the best quality you can, as it really does make a difference. However, if you are on a budget, then smoked salmon trimmings would work too. You could also use a grilled and flaked salmon fillet instead if you prefer. Canned salmon would also work.
Dill - Salmon and dill are the perfect match. Fresh is always best and a little goes a long way. You could swap dill for chives instead.
A full ingredients list with measurements is in the recipe card below.
Step by step
One: Add the pasta and broccoli to a pan of boiling water. Simmer for 4 minutes.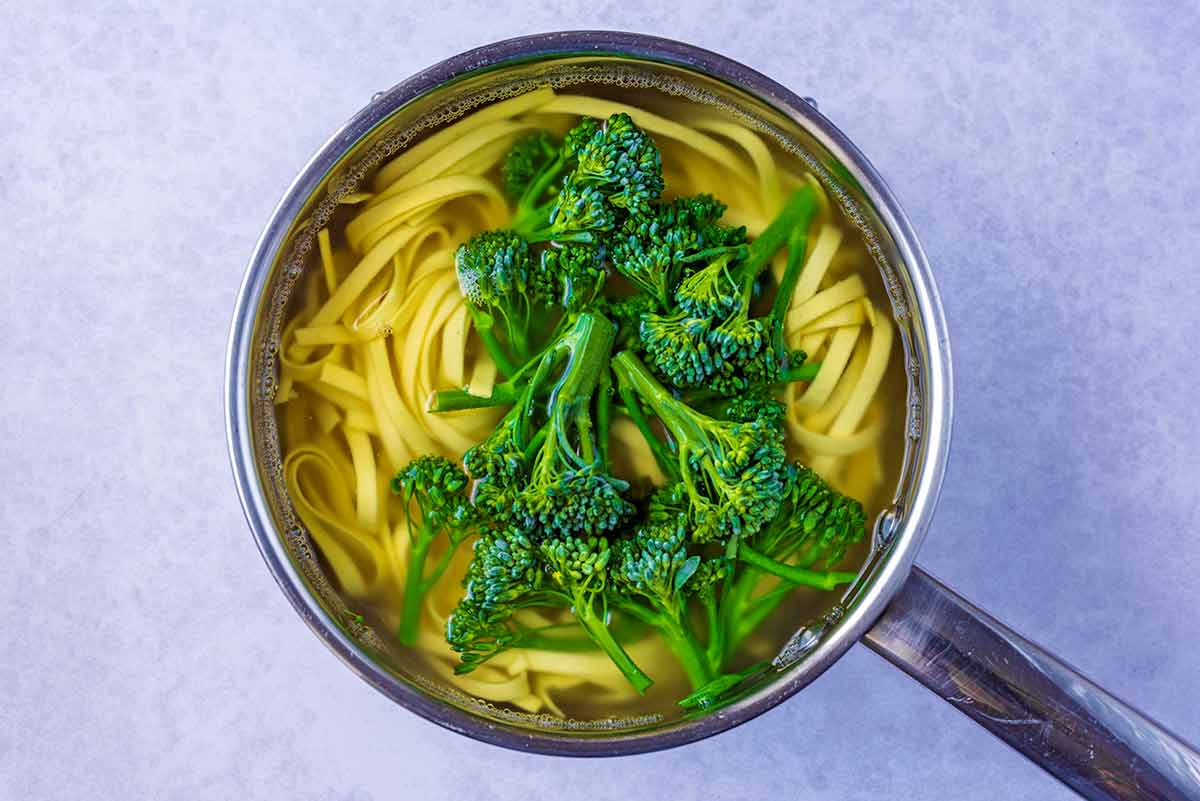 Two: Drain the pasta and broccoli, reserving about 2 tablespoons of pasta water.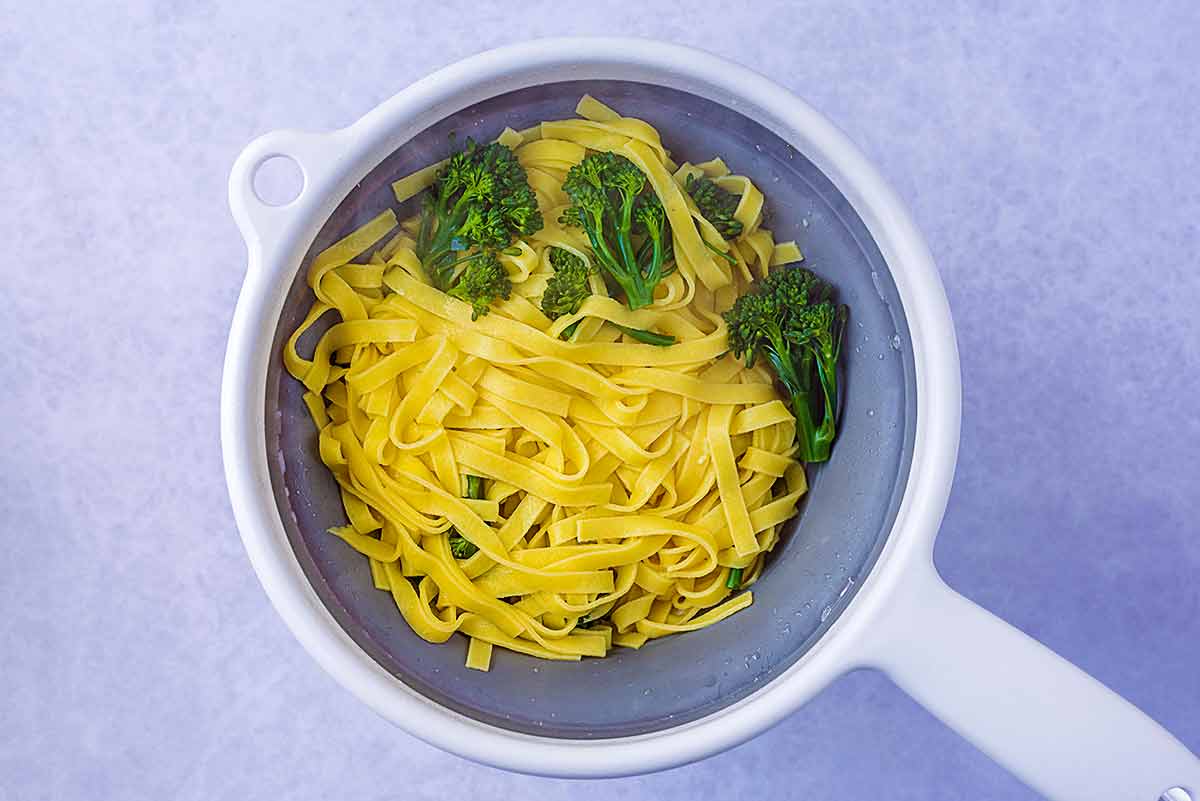 Three: Return the pasta and broccoli to the pan (containing the pasta water) and add all the remaining ingredients. Mix well and serve.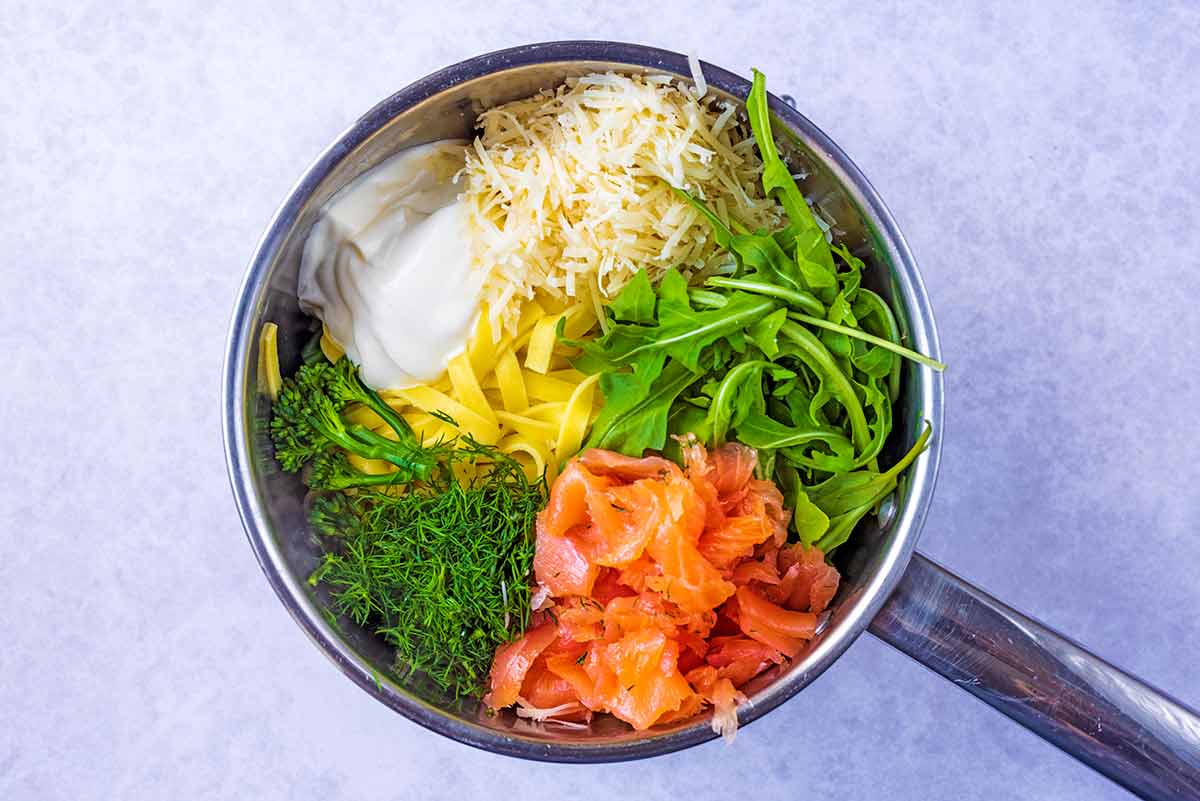 Health benefits of salmon
Salmon is a really healthy fish, with many nutritional benefits. Although we have used smoked salmon, which are more salty than salmon fillets, it still has lots of health benefits. Here are just a few:
It is one of the best sources of omega-3 fatty acids, which have been proven to reduce inflammation and lower blood pressure.
Salmon is rich in protein - a 100g (3.5oz) portion contains 25g of protein.
Contains high amounts of B vitamins. These are good for repairing DNA and reducing the causes that can lead to heart disease. B vitamins also help maintain optimal brain and nervous system functioning.
Contains antioxidants.
Variations
We love a dish that can be adapted, and there are so many different ways you can change this dish. From adding different vegetables, to other ways to make it creamy and even some alternatives to the salmon. Here are our favourite variations.
Vegetables - If there just aren't enough vegetables in this for you, then here are some others that we like adding. Cherry tomatoes, sun-dried tomatoes, artichokes, roasted peppers, capers, asparagus, spinach, peas or olives.
Creamy - Creme fraiche makes this smoked salmon pasta nice and creamy, but still light. However, you could swap it for yoghurt, cream cheese or ricotta
Salmon - Smoked salmon is the star of this dish. However, if that isn't your thing then you could grill and flake a salmon fillet, or even use a can of salmon. Canned tuna would work too. This recipe would also work with grilled chicken breast.
What to serve it with
Everyone know that garlic bread and pasta are a match made in heaven. Carby heaven! Either buy some ready made, or make your own easy garlic bread by cutting up some French stick and spreading it with a mix of butter, crushed garlic and dried herbs. Then pop it in the oven for 10 minutes.
You could also keep it simple with a big green salad. The key to an epic green salad is to use a variety of greens, like romaine, spinach, kale and rocket. You want leafy greens, but crunch too. Then you need the perfect dressing. Why not try our Lemon Vinaigrette, Honey and Mustard Dressing or Tomato and Basil Vinaigrette. You could also try our Grilled Little Gem Salad.
Here are some other side dishes that would compliment this hot smoked salmon pasta well: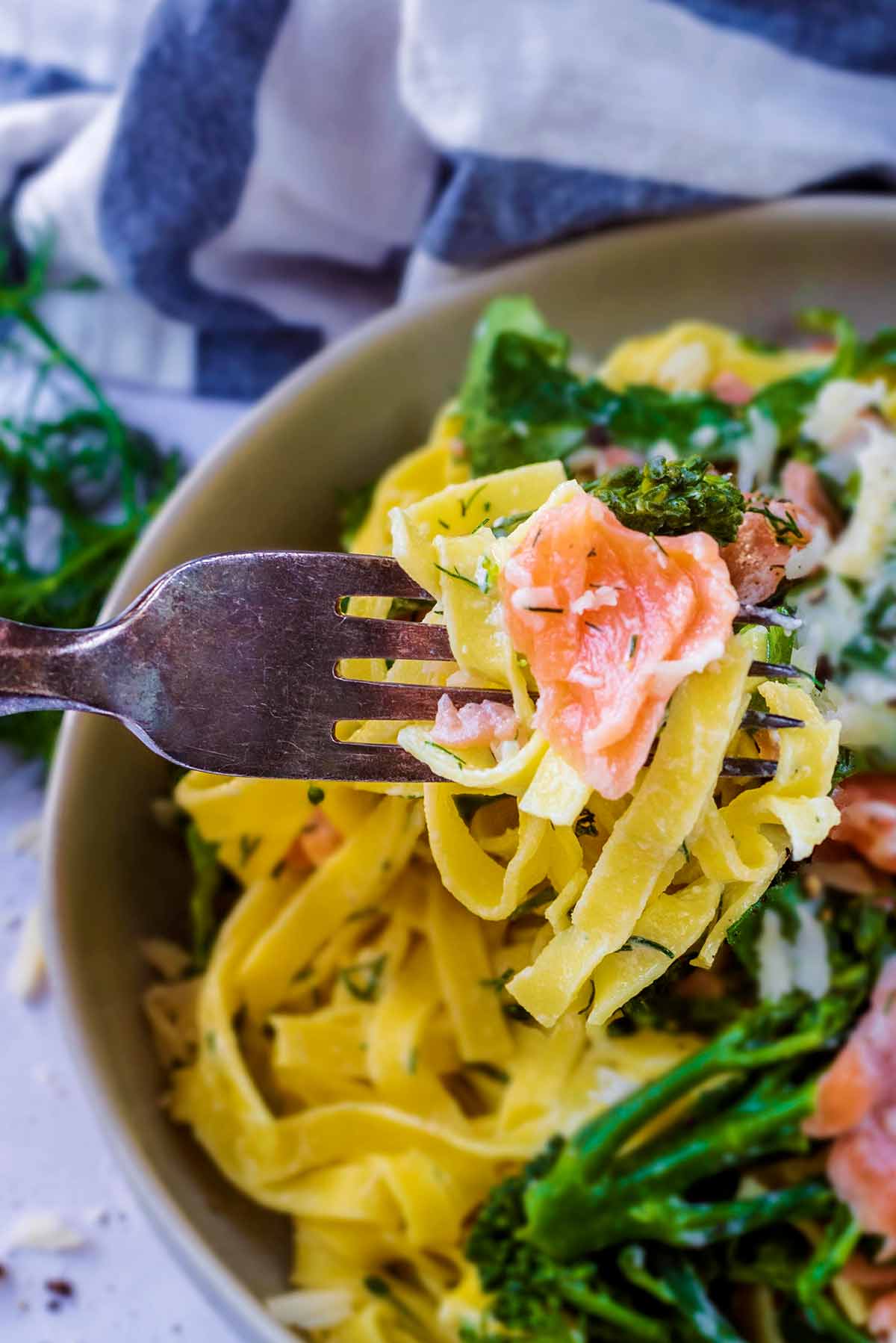 Frequently Asked Questions
Is Smoked Salmon Pasta healthy?
As well as all the health benefits of the salmon listed above, this is a nutritious and balanced meal. It is creamy, but not as indulgent and high in fat as other creamy pasta dishes out there. It is also very easy to adapt, meaning there is lots of opportunity to add vegetables to it for a nutritious boost.
Does the sauce need to be cooked?
No, that is the beauty of this dish, and what makes it so quick. There is no sauce to cook. Once the pasta and broccoli is cooked, just mix the other ingredients in to it and the hot pasta will warm it all up.
How to store Smoked Salmon Pasta
If you have leftovers of this, then you can keep it in an air tight container for 2 days. Leftovers are delicious eating cold as a packed lunch or picnic. If you are planning to have leftovers, then it is probably easier to use another pasta shape, rather than tagliatelle or spaghetti as that will stick together once it goes cold.
Can you freeze Smoked Salmon Pasta?
No, this recipe does not freeze well.
How to reheat Smoked Salmon Pasta
We wouldn't recommend reheating this as it isn't a saucy pasta dish.
Is Smoked Salmon Pasta gluten free?
To make this recipe gluten free, use your favourite brand of gluten free pasta. Also make sure that all the other ingredients used are gluten free and there isn't any cross contamination.
Can you make it in advance?
There isn't anything that you can cook in advance, but you can have all the ingredients chopped and ready and then keep them in the fridge until you are ready to put the pasta on.
Can I double the recipe?
You can easily double this recipe and it doesn't change the cooking time. Just make sure that you have a big enough baking dish to hold double the ingredients.
More pasta recipes
If you've tried this hot smoked salmon pasta, let us know how you got on in the comments below.
Tag us in your creations on Instagram @hungryhealthyhappy - Use the hashtag #hungryhealthyhappy too.
Recipe
Ingredients
250

g

(

9

oz

)

Fresh tagliatelle

100

g

(

3.5

oz

)

Tenderstem broccoli

3

tablespoon

Reduced fat creme fraiche

1

Lemon

-

juice only

Sea salt and black pepper

4

g

(

0.33

cups

)

Fresh dill

15

g

(

3

tablespoon

)

Parmesan

-

grated

30

g

(

1.5

cups

)

Rocket (arugula)

-

arugula

120

g

(

4.25

oz

)

Smoked salmon
Instructions
Add

250 g Fresh tagliatelle

and

100 g Tenderstem broccoli

to a pan of boiling water. Simmer for 4 minutes.

Drain the pasta and broccoli, reserving about 2 tablespoons of pasta water.

Return the pasta and broccoli to the pan (containing the pasta water) and add

3 tablespoon Reduced fat creme fraiche

, juice of

1 Lemon

,

Sea salt and black pepper

,

4 g Fresh dill

,

15 g Parmesan

,

30 g Rocket (arugula)

and

120 g Smoked salmon

.
Recipe tips
If you don't have tenderstem broccoli, then regular would work, you would just need to cut it in to really small pieces so it cooks at the same time as the pasta.
You can swap the creme fraiche for cream cheese or ricotta.
Top with some pine nuts for added crunch.
Add some extra greens by cooking some peas at the same time as the pasta and broccoli.
Nutritional Information
Serving:
1
portion
|
Calories:
589
kcal
|
Carbohydrates:
90
g
|
Protein:
34
g
|
Fat:
13
g
|
Saturated Fat:
6
g
|
Polyunsaturated Fat:
2
g
|
Monounsaturated Fat:
3
g
|
Trans Fat:
1
g
|
Cholesterol:
124
mg
|
Sodium:
662
mg
|
Potassium:
720
mg
|
Fiber:
7
g
|
Sugar:
6
g
|
Vitamin A:
1022
IU
|
Vitamin C:
77
mg
|
Calcium:
205
mg
|
Iron:
4
mg
The nutritional information provided is approximate and is calculated using online tools. Information can vary depending on various factors, but we have endeavoured to be as accurate as possible.