Salad Jars are perfect for a healthy lunch on busy days. Made ahead of time, easy to adapt and SO delicious. You can store these for up to 5 days, making them perfect for meal prep, so you can have a filling meal ready in the fridge.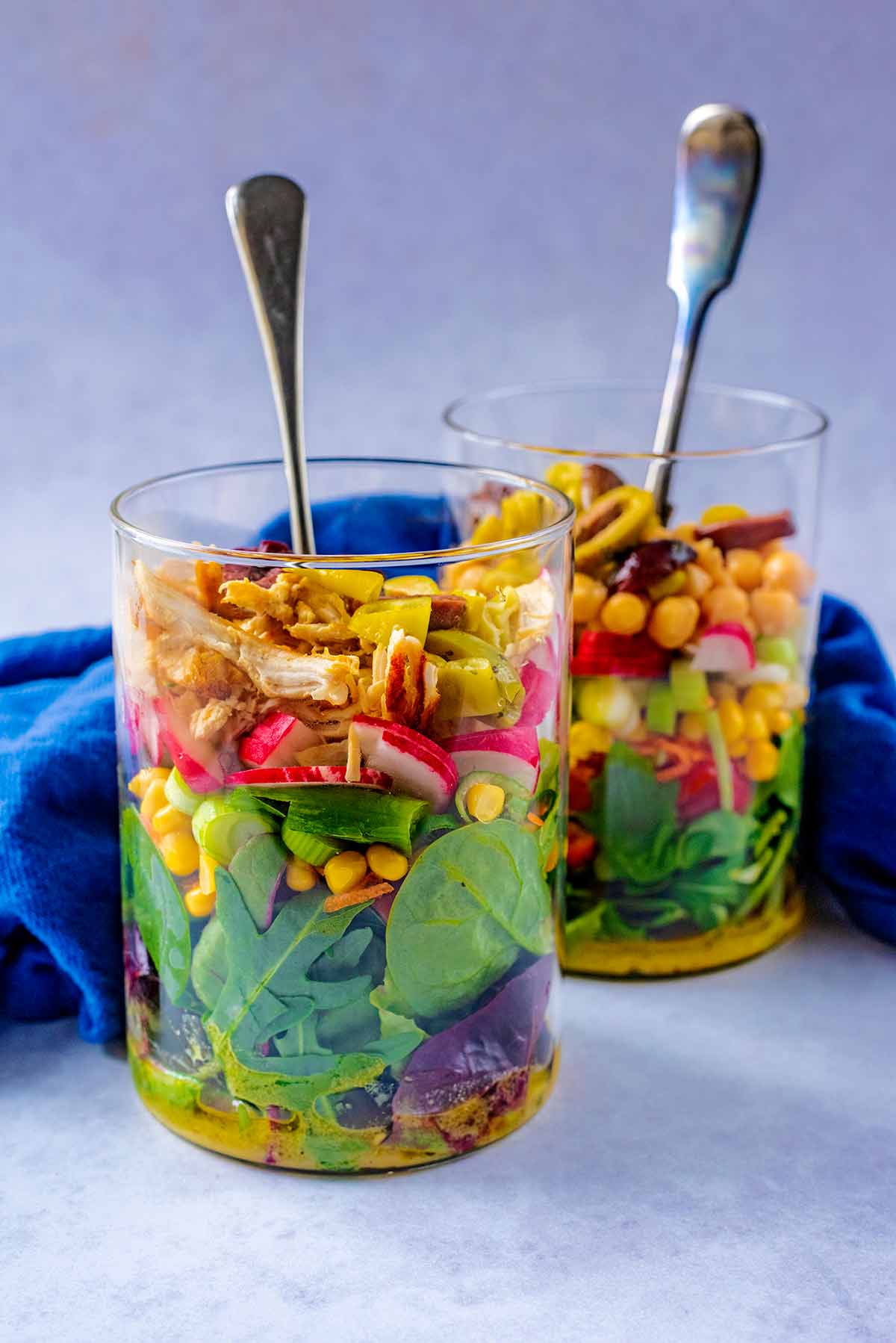 If you struggle to eat enough vegetables or think that salads are boring or too much of a hassle then these salads in a jar (also known as mason jar salads) are for YOU! Make a few at the beginning of the week and then keep them in the fridge to just grab at meal time. Healthy salads can be fast food too! These are such an easy way to add more salads to your diet.
No more soggy salads that you have made and stored in a Tupperware. These stay really fresh and it will taste like you just made it. They make a great lunch to take to work - make once and have lunch all week ready prepared.
If you are looking for some other meals that you can make ahead of time, then why not try our Crispy Chicken Goujons, Slow Cooker Beef Curry or Vegetable Pasta Bake?
Jump to:
Why should you try it?
Make ahead of time - Spend a bit of time prepping these at the beginning of the week and then you have lunch ready for the whole week.
Adaptable - Use this recipe as a guide and then use all our variation suggestions below to build a salad in a jar that is perfect for you.
Store well - These salad jars will last in the fridge for up to 5 days if they are stored properly.
Healthy - Salads can be super nutritious and this one is bursting with goodness. An easy way to get more greens and vegetables in your diet.
Easy clean up - You can eat these straight out of the jar, so there is no need to create extra washing up.
Ingredients needed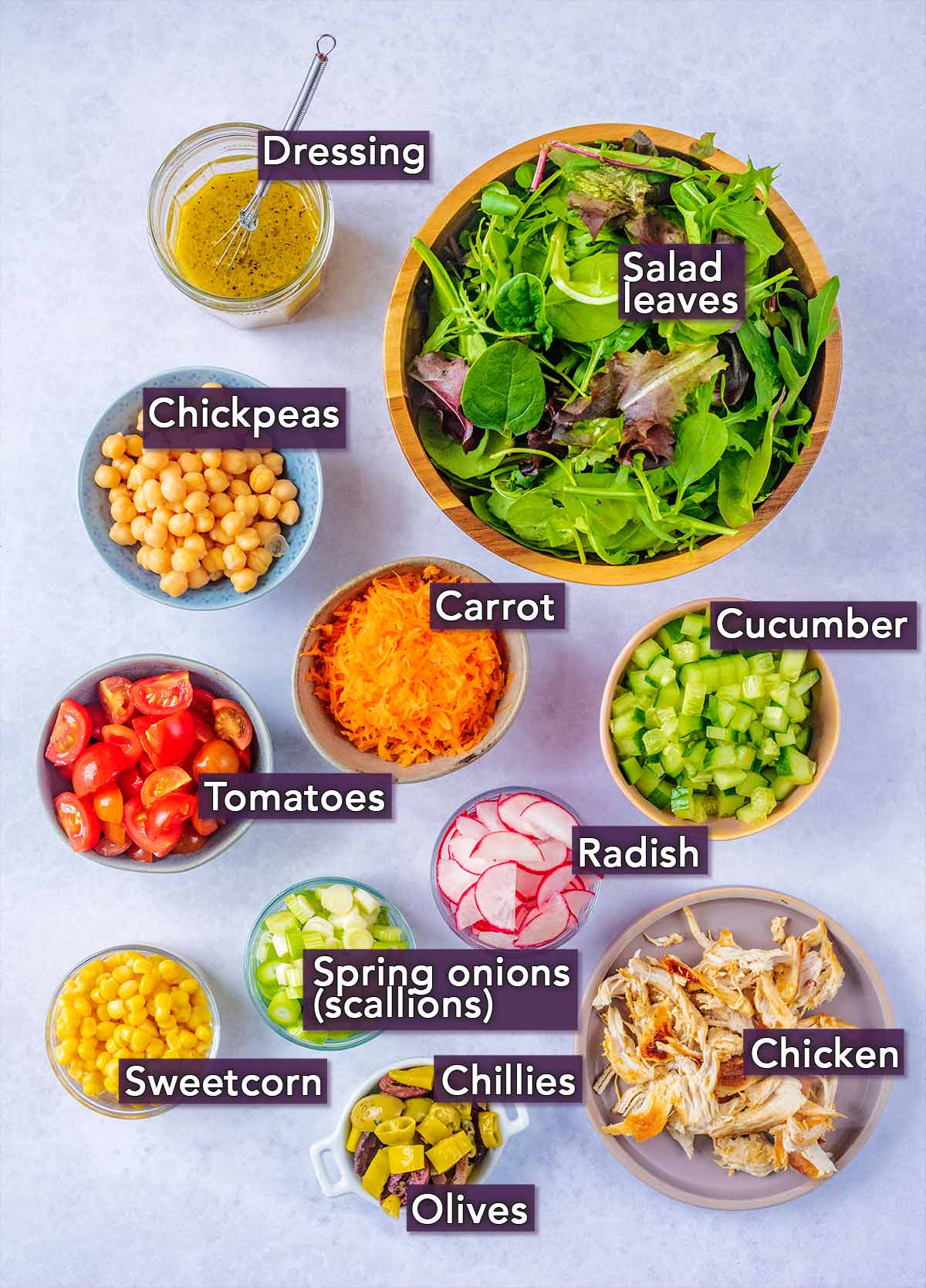 Dressing - We used our homemade Honey and Mustard Dressing, but feel free to use your favourite dressing, or even just some oil and vinegar.
Lettuce - This is the bulk of the salad and anything goes. We used a mixture of lettuce, spinach, watercress and rocket. For more crunch, use romain or little gem.
Cucumber - Just your standard English cucumber works here.
Tomatoes - These add some crunch and juiciness too. Make sure the tomatoes are ripe for extra flavour. If you love an intense flavour, then add some chopped sun-dried tomatoes too.
Carrot - This adds crunch and colour. We grated the carrot, but you could finely dice it too. Roasted carrots work really well in this too.
Sweetcorn - This adds a lovely sweetness that goes well with the dressing.
Radish - An easy way to add a nice peppery flavour, and some crunch too.
Spring onions - If you didn't want to use these, then you could dice some shallots to add to the dressing instead.
Chickpeas - This is how we have added some protein to the salad, but kept it vegetarian. We have also done a version with some shredded chicken that you can see in the video and photos.
Olives - This might divide people, but we think they are essential in a salad. Add some extra flavour by using stuffed olives. We love garlic stuffed olives.
Chillies - Again, these might not be for everyone, but they add a lot of flavour and a kick of heat. Use pickled chillies in a jar and slice them up and add at the same time as the olives.
A full ingredients list with measurements is in the recipe card below.
How to make a salad jar - Step by step
One: Pour the dressing into the bottom of the jars. Add the lettuce leaves and chopped cucumber.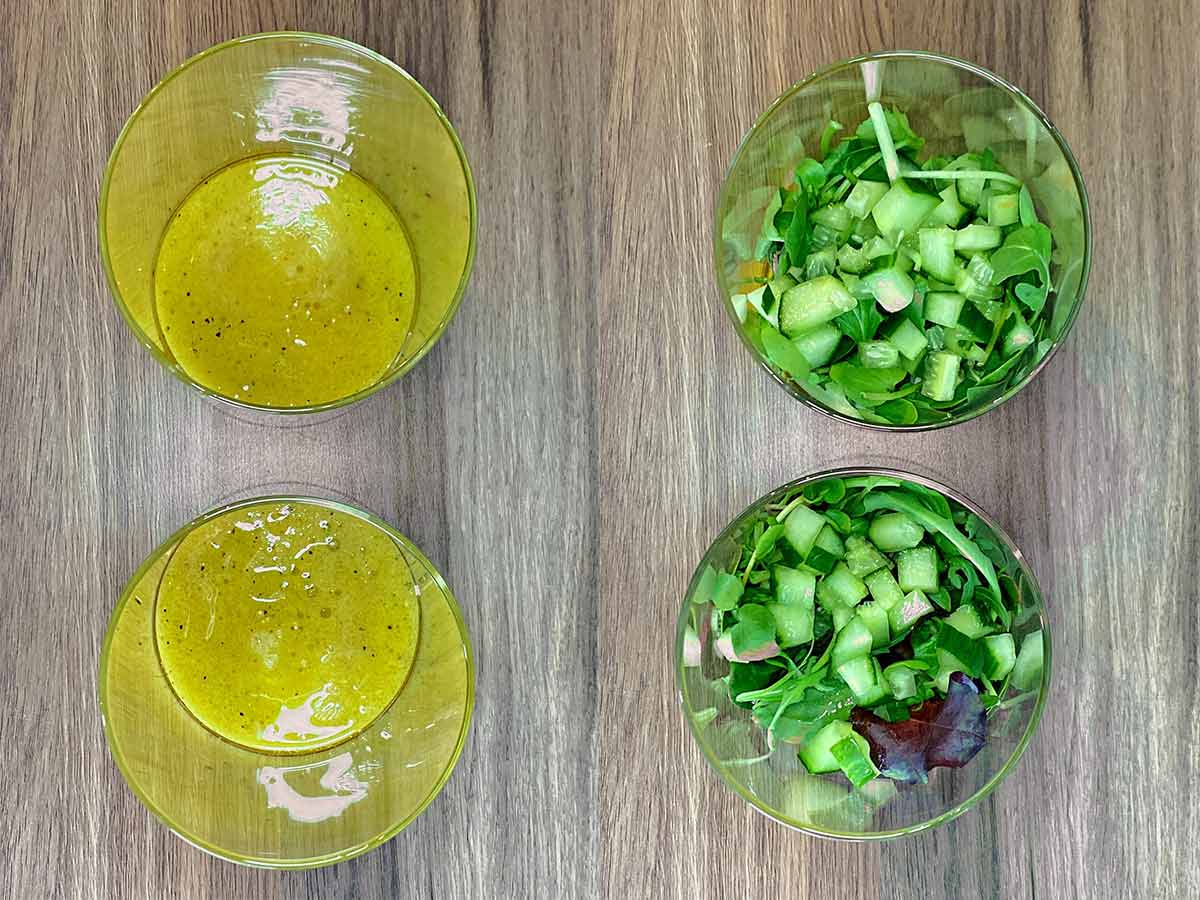 Two: Add the tomatoes, grated carrot and sweetcorn.
Three: Add the spring onions (scallions) chickpeas (or shredded chicken), olives and chilies.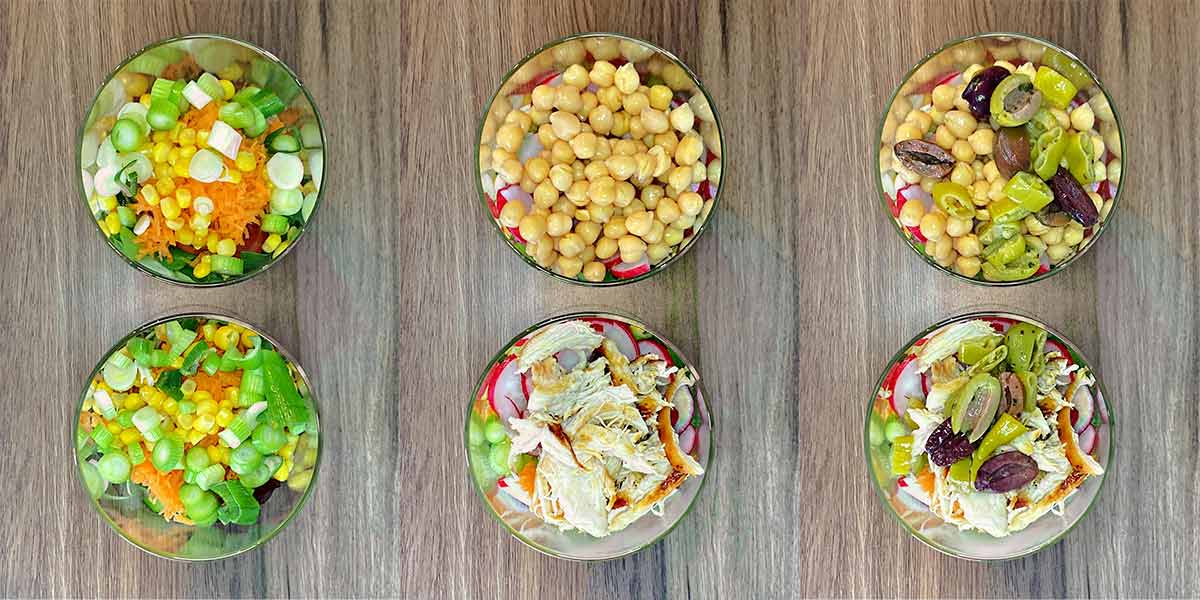 Why in a jar?
You may be wondering why people would store a salad in a jar, when they could put it in some Tupperware or maybe straight on a plate? Well, apart from the fact that they look aesthetically pleasing, because of the way all of the ingredients are layered it actually keeps them fresher for longer.
All of the dressing is at the bottom (the first layer) and it only touches the majority of the ingredients once the jar is shaken up just before serving, meaning that the salad doesn't get soggy, and you don't have to make up the dressing when serving. It is ALL done ahead of time.
These are so simple. You start with the dressing, add your greens, add some crunchy veg and then protein and finish off with any toppings. Add a lid to your jar and store in the fridge.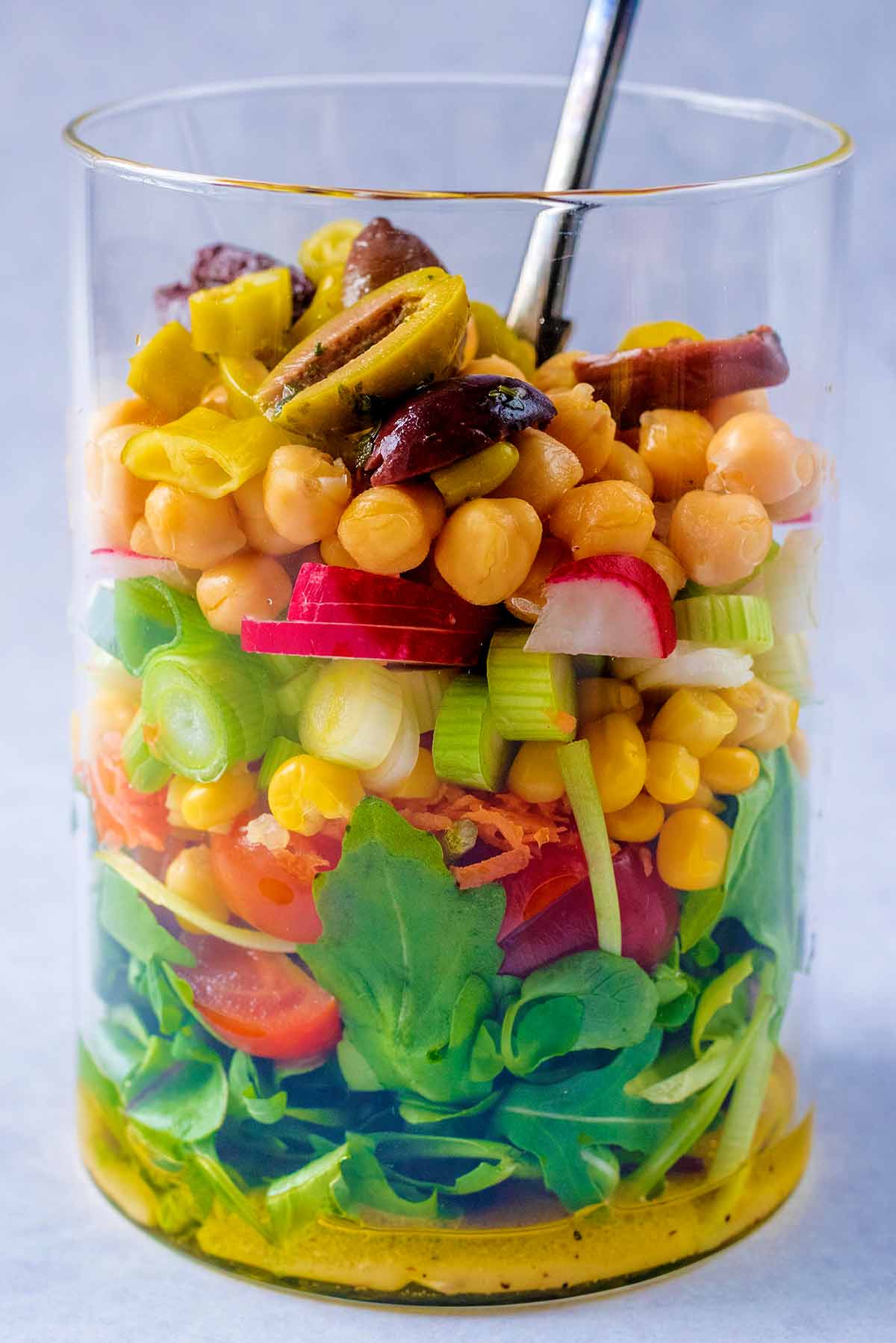 Salad Jar variations
The great thing about these salads is that you can adapt them with pretty much any salad ingredient that you could think of. Just keep in mind that different ingredients would change how long the salad jars can be stored for.
Greens - This is the base of the salad. You could add some kale in for an iron boost.
Vegetables - This is an easy way to bulk out the salad and add lots of nutritions too. Other salad vegetables that work well in this are bell peppers, roasted artichokes, shredded cabbage, broccoli. You could add in some roasted sweet potato or butternut squash too.
Fruit - This might be a controversial one, but I totally think that fruit has a place in salads. You could add berries like strawberries, raspberries or blueberries or add some grilled peach slices. Avocado would be a good addition, but it wouldn't store very long.
Protein - This salad in a jar is not lacking in protein, with either the chickpeas or chicken (or both), however there are some other options too. You could add some grilled flaked salmon, quinoa, chopped ham, egg, prawns, tuna, cooked tofu. We have used chickpeas in the recipe for this, but given the option to add cooked chicken breast. This won't last as long as the chickpeas in the fridge though.
Grains - This is a good way to bulk the salad out and make it more filling. You could use rice, barley, couscous farro or even some cooked pasta.
Cheese - We didn't add any cheese to these salads, but that doesn't mean you can't. Some crumbled feta would be my go-to choice, or some cooked halloumi cubes or flaked parmesan.
Dressing - A dressing can really make or break a salad. We used a simple honey and mustard dressing, but you could swap it for our Tomato Vinaigrette, Healthy Ranch Dressing or Lemon Vinaigrette.
Toppings - Why not finish off your salad with a little bit of a crunch. Crushed/flaked nuts like walnuts, pecans, almonds or cashews are nice, or you could add some seeds. These do a bit soft after a while though.
Serving suggestions
Well, it's kind of all already there, that's the point of it. A meal in a jar! However, if you want to bulk it out a bit and serve it as a side salad to a more filling meal, then we have got some suggestions for that.
Whenever I am trying to bulk out a meal, I always serve it with some bread. Why not try our Easy Bagel Recipe, Homemade Flatbreads or Cheesy Garlic Bread?
Potatoes go with everything, right? Some of our potato salad recipes that would work well are Hasselback Potatoes, Garlic Smashed Potatoes, Herb Roasted Potatoes or The BEST Greek Potatoes.
Storage
Store: These store SO well. Once the jars are all made up and have an air tight lid on them, they will store in the fridge for up to 5 days. They are best eaten after 2-3 days though and depending on what ingredients you use depends on how long it will last. Just shake it up to cover all the ingredients with the delicious dressing and then serve.
Freeze: We wouldn't recommend freezing a salad in a jar, because the texture of most of the ingredients isn't quite right once it is defrosted. These are so easy to make in bulk ahead of time though, that there is no need to freeze them.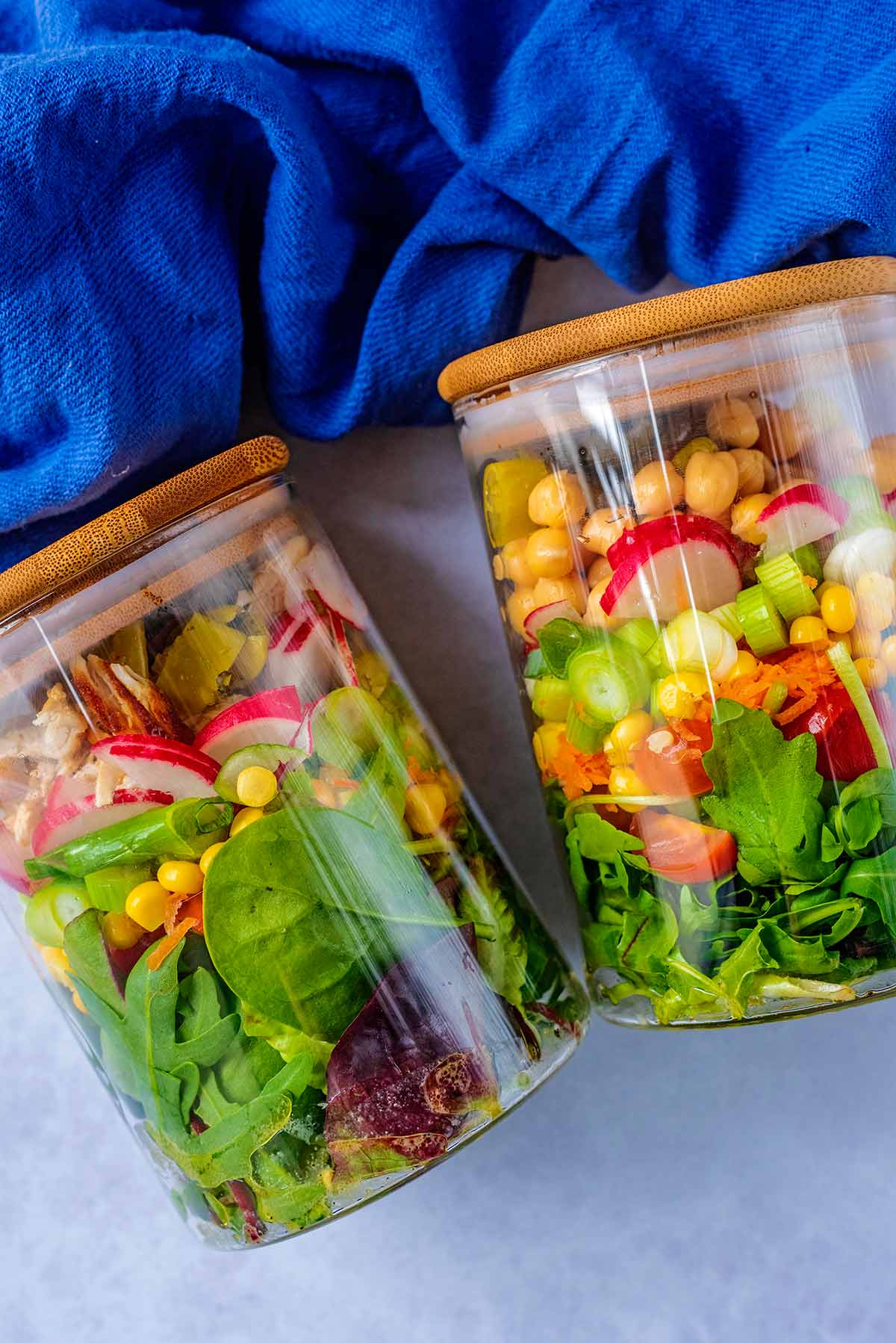 Frequently Asked Questions
How do you eat a salad in a jar?
Do you eat it straight out of the jar? Yes! Well, we do anyway. Why make any more washing up for yourself? Just shake it up, grab a fork and dig in! You can shake it up and then pour it out on to a plate if you prefer though.
Are canned chickpeas cooked?
Yes, chickpeas that come out of a can are already cooked, so they are ready to eat.
Are salad jars gluten free?
This recipe is gluten free, however if you change the ingredients then make sure they are gluten free too. Also, watch out for cross contamination.
How do you keep a salad jar fresh?
The key to these staying fresh and lasting for up to 5 days is using an air tight jar.
What jar to use for salad in a jar?
If you want maximum freshness and to keep them in the fridge for up to 5 days then we recommend these Mason Jars. The size you want will depend on how big you like your salads. The size of ours are 1 litre.
How can I make this salad faster?
These do take a bit of time to make (which is why we do a big batch at the beginning of the week), but pretty much all that time is chopping. If you want to make that part a bit easier, then use a food processor to chop all the vegetables.
How do I stop my lettuce getting soggy?
If you want your lettuce to still be super crisp, then keep it away from the dressing. The dressing always goes in as the bottom layer, so you could put the greens in last so they are away from the dressing.
More salad recipes
If you've tried this salad in a jar, then let us know how you got on in the comments below.
Tag us in your creations on Instagram @hungryhealthyhappy - You can use the hashtag #hungryhealthyhappy too.
Recipe
Easy Salad Jars
Healthy salads can be fast food too! These salad jars are such an easy way to add more salads to your diet.

Gluten Free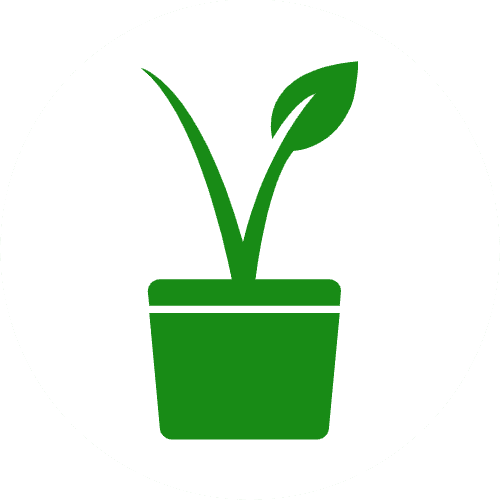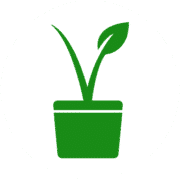 Vegan
Pin
Print
Save recipe
Recipe saved!
Ingredients
150

ml

(

0.66

cups

) Honey mustard dressing

150

g

(

5.25

oz

)

Salad leaves

0.33

Cucumber

-

diced

8

Cherry tomatoes

-

quartered

1

Carrot

-

grated

100

g

(

0.66

cups

)

Sweetcorn

4

Radishes

-

thinly sliced

3

Spring onion (Scallion)

-

sliced

150

g

(

1

cups

)

Chickpeas

-

canned; drained

8

Olives

-

quartered
Instructions
150 ml Honey mustard dressing

into the bottom of the jars. Add

150 g Salad leaves

and

0.33 Cucumber

.

Add

8 Cherry tomatoes

,

1 Carrot

and

100 g Sweetcorn

.

Add

3 Spring onion (Scallion)

,

4 Radishes

,

150 g Chickpeas

and

8 Olives

.
Recipe tips
The nutritional information is for the chickpea salad jar, not the chicken salad jar. We have shown chicken as a filling option.
If you are really worried about the lettuce getting soggy, then make sure that it is a few layers away from the dressing.
To make these salads in a jar even quicker, you can use a food processor to chop up all the vegetables.
We wouldn't recommend adding anything to your salad that oxidises, so avoid apples, pears or avocado as they won't last long.
Pack everything in to the jar tightly. Not only does it mean you get more food in, but it will stop everything from moving around and mixing. These are all about the layers.
Label your jars, then you will be able to keep track of when you made each one and when they are best eaten.
Nutritional Information
Serving:
1
portion
|
Calories:
261
kcal
|
Carbohydrates:
35
g
|
Protein:
8
g
|
Fat:
12
g
|
Saturated Fat:
1
g
|
Polyunsaturated Fat:
1
g
|
Monounsaturated Fat:
2
g
|
Sodium:
540
mg
|
Potassium:
743
mg
|
Fiber:
7
g
|
Sugar:
9
g
|
Vitamin A:
6701
IU
|
Vitamin C:
47
mg
|
Calcium:
87
mg
|
Iron:
3
mg
The nutritional information provided is approximate and is calculated using online tools. Information can vary depending on various factors, but we have endeavoured to be as accurate as possible.