These easy baked Stuffed Mushrooms work well as an appetiser, side dish or part of a main meal - they are a simple weeknight vegetarian dish. Portobello mushrooms filled with a creamy spinach sauce mixed with some panko breadcrumbs for a crunchy top.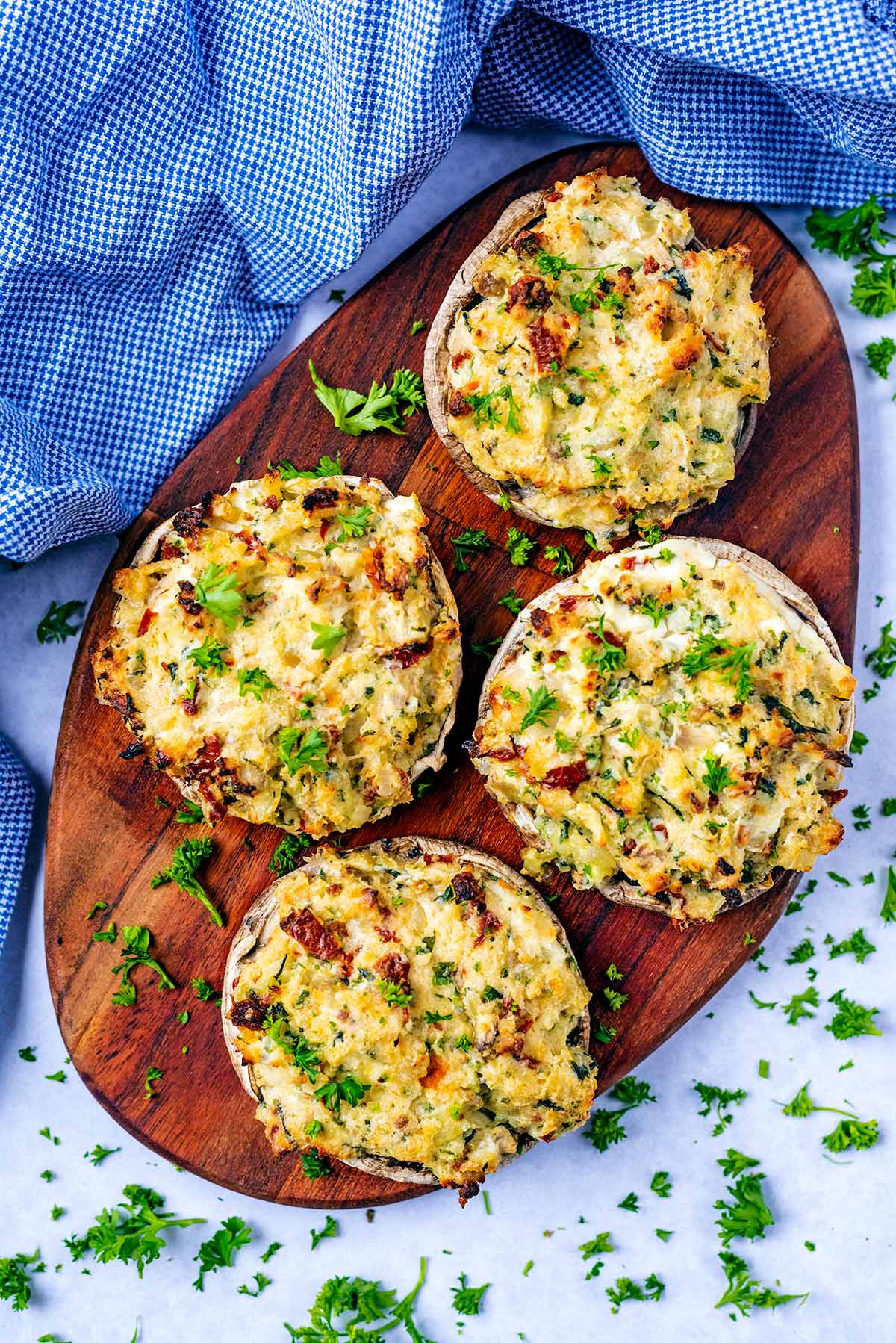 Whether you are a vegetarian, or just looking for some more meat free recipes to try, Stuffed Portobello Mushrooms are for you! Mushrooms, especially big ones like Portobello, have a really meaty texture that will keep meat eaters happy.
So many different ways to stuff them, you can enjoy them a different way every time. Have you tried our Portobello Mushroom Pizzas?
Jump to:
Why you will love them
A delicious meat free meal - If you are looking to include more meat-free meals in your diet, then this is a great place to start. You still have all the meaty texture from the mushrooms, and it is easy to adapt with your favourite fillings.
Easy to adapt - Once you have the mushroom base and the ingredients for the creamy sauce, you can go wild with the other additions. There is not much space to fill the mushrooms, so don't go too crazy, but you could add some chopped bell peppers or courgette for an extra vegetable boost.
Ready in just 30 minutes - Very little prep is needed to make these stuffed mushrooms and then they just take 20 minutes in the oven to get to crispy perfection.
Can be prepared in advance - You can do all the prep in advance though, and then just keep them in the fridge until you are ready to put them in the oven later that day. You might need to add a little extra time in the oven, if they are going in there cold.
Ingredients needed
Mushrooms - You want to use large portobello mushrooms for this recipe. Try to make sure they are all even sizes, as sometimes the packed come with one big one and a couple of smaller ones. If you wanted to make these as party food, then you could use smaller mushrooms like chestnut.
Shallots - This is the base of the filling and we love shallots because of their sweet flavour. You could swap them for a small brown onion.
Garlic - This is a garlic heavy recipe, just the way we like it. If you don't love garlic as much as we do, then you can always reduce the amount used. To make this dish even easier, just diced garlic from a jar.
Cream cheese - This is what makes the creamy filling for the stuffed mushrooms. We used a reduced fat cream cheese to make these a little lighter - you could use full fat though. Try to use the best quality cream cheese you can, as the cheaper ones tend to be a bit tasteless and watery.
Parmesan - To make this extra cheese, we added some parmesan. It is a strong flavour, so you don't need a lot of it. It also helps to add to the crispiness of the topping.
Spinach - We love anything we can give a bit of a green boost to and spinach is a delicious and nutritious addition to these stuffed mushrooms. You could also use kale.
Sundried tomatoes - These give a real burst of flavour to the dish. They could be left of though if you prefer.
Parsley - We added a little freshness with some fresh parley. You could use basil instead if you prefer.
Breadcrumbs - The real crispiness in this filling comes from the breadcrumbs. We used panko breadcrumbs, as they make it extra crispy. You could use regular breadcrumbs though if you prefer.
A full ingredients list with measurements is in the recipe card below.
Step by step
One: Preheat your oven to 200°C/400°F/Gas 6. Gently fry the chopped mushrooms stems, shallots, spinach and garlic until softened - about 2-3 minutes.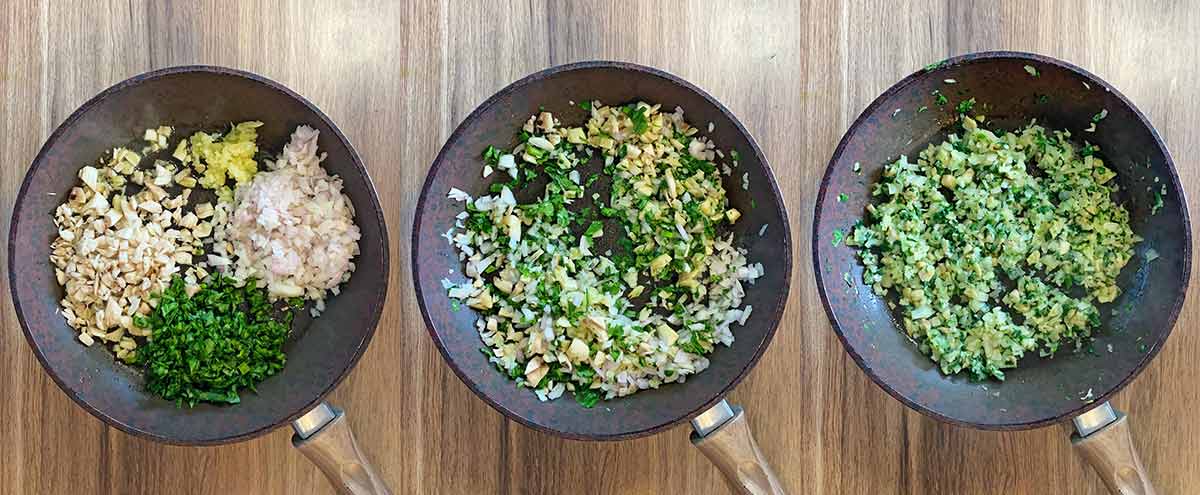 Two: In a bowl, mix together the shallot mixture, cream cheese, breadcrumbs, Parmesan, sun-dried tomatoes, parsley, salt and pepper.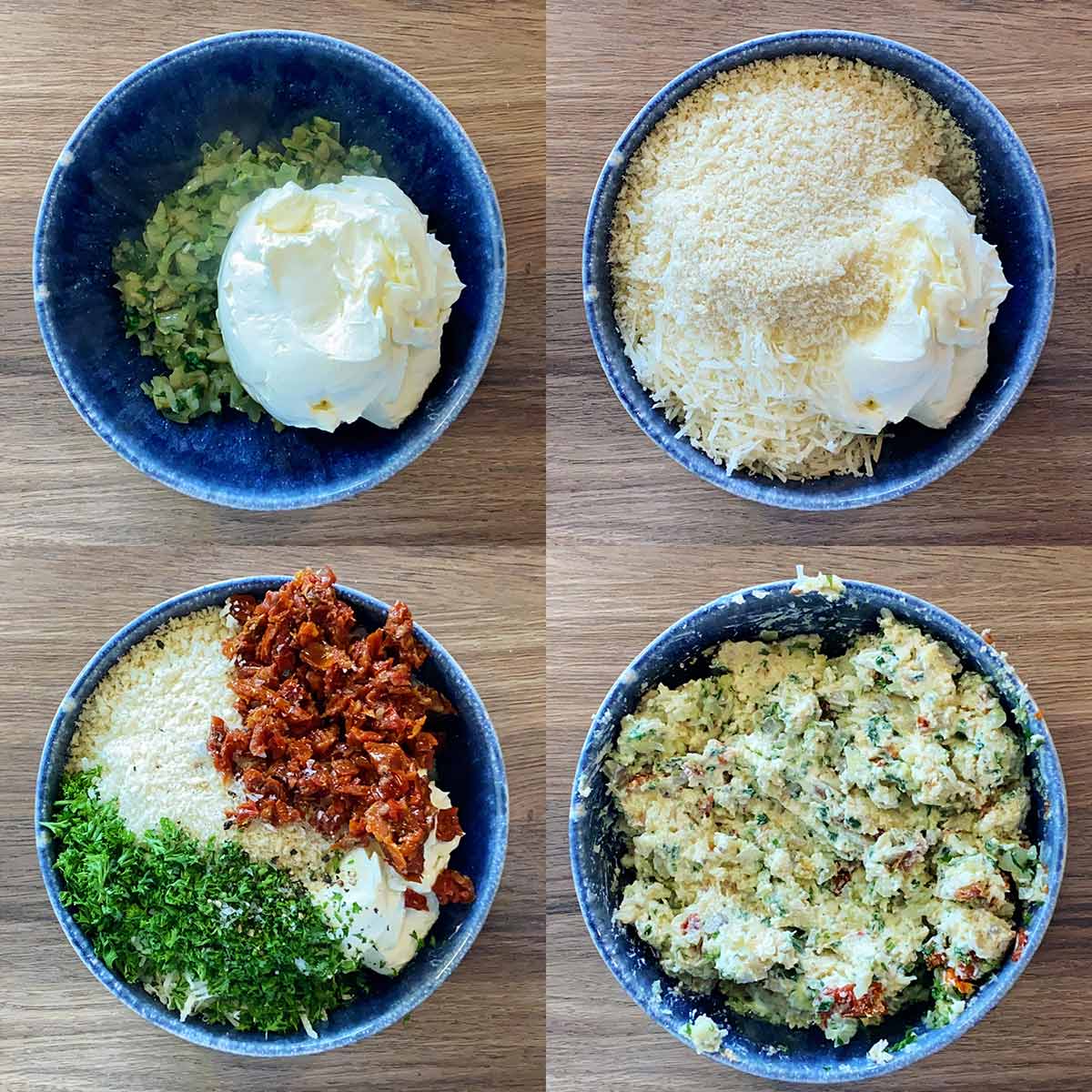 Three: Using a teaspoon, gently scrape out the gills of the mushrooms. Place on a baking tray.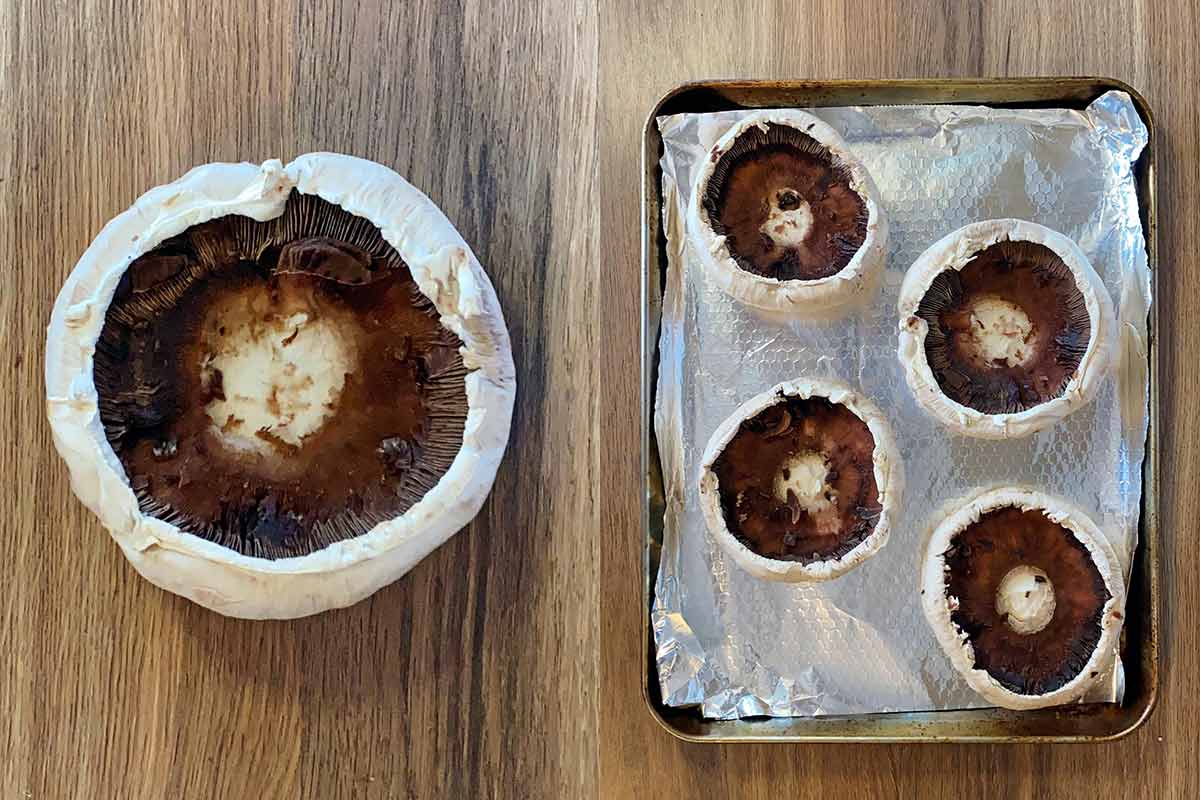 Four: Fill the mushrooms with the cream cheese mixture and bake in the oven for 20 minutes.
Health benefits of mushrooms
Mushrooms are a good source of vitamin D, and are actually one of the only non-animal sources of the vitamin. Whether grown inside or outside, they are exposed to UV light which increases their concentration of vitamin D.
Stuffed mushrooms can be low in calories and carbs and make a nice light meal when served with a big salad. Mushrooms are really nutritious too and a great source of B vitamins and potassium. Just be careful with how much cheese you load on top of them.
Choosing a Portobello mushroom
When choosing the perfect Portobello mushroom, look for ones with firm caps and gills. The skin should be dry and avoid any that have bruises. Shrivelled or moist mushrooms should also be avoided as they are no longer at their best.
For mushrooms that are best for stuffing, select ones that are as large as possible. Ones that are at least 75mm (3 inches) are best.
How to prepare Portobello mushrooms
Portobello mushrooms require a bit of preparation before cooking. Because mushrooms absorb liquids, they should be cleaned with a damp paper towel or a mushroom brush to clean the caps and stems. Sometimes the stem can be quite tough, if it is, then remove and discard; if it isn't, chop it and use it in the filling.
Variations
The great things about these mushrooms is that there are so many different things that you can stuff them with. We have kept it simple with just the spinach, tomatoes and cheese sauce, but you have lots of options.
Why not try adding some of these:
Kale
Chopped bell peppers
Shredded courgette
Diced aubergine
Artichoke
Mozarella
Goats cheese
Cheddar
Feta
Olives
What to serve them with
These stuffed mushrooms are a delicious light main dish, so there are lots of options when it comes to sides. Why not try these:
FAQs
Can you make stuffed mushrooms in advance?
Yes, these can all be made in advance and then kept in the fridge until they are ready to cook. You may need to adjust the cooking time a little to allow for how cold they will be straight out of the fridge.
These make a good little starter for a dinner party or romantic meal, so why not make them advance so you have less prep to do when your guests have arrived.
How long do you cook stuffed mushrooms for?
This will depend on the size of your mushroom. But we found that 20 minutes in the oven was perfect and the mushrooms didn't get too mushy.
How to store stuffed mushrooms
Leftovers can be stored in an airtight container in the refrigerator for up to 3 days. Although, cooked mushrooms can be frozen on their own, for up to 3 months, the combination of all these ingredients won't freeze very well.
Can you make this with small mushrooms?
Yes, you don't have to use portobello mushrooms to make this. In fact, making mini versions of this is perfect for party food, or just a little snack.
Why are my stuffed mushrooms watery?
There will be a little liquid that comes out of the mushrooms when cooking, as mushrooms naturally have a high water content. However, if you wash your mushrooms in water, they will absorb the water and even more water will come out when cooking.
Can you make stuffed mushrooms in the air fryer?
Yes, you can and they are delicious. They will take about 8 minutes, depending on your air fryer.
Can I add meat to stuffed mushrooms?
We love these as a meat-free dish. However, if you wanted to add some meat that chopped up cooked sausage, chorizo or bacon work well.
More mushroom recipes
If you've tried this Stuffed Portobello Mushroom recipe, let us know how you got on in the comments below.
Tag us in your creations on Instagram @hungryhealthyhappy - Use the hashtag #hungryhealthyhappy too.
Recipe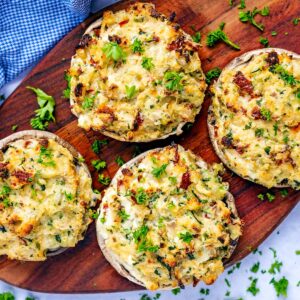 Stuffed Portobello Mushrooms
These easy baked Stuffed Portobello Mushrooms work well as an appetizer, side dish or part of a main meal. A simple weeknight vegetarian dish.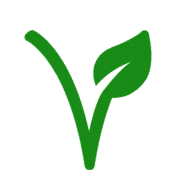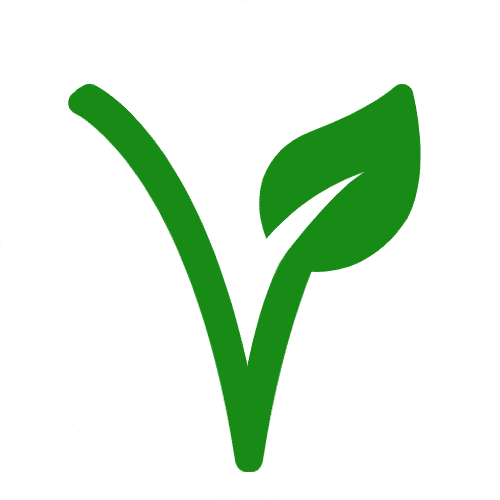 Vegetarian
Pin
Print
Save recipe
Recipe saved!
Ingredients
1

tablespoon

Olive oil

4

Portobello mushrooms

-

stems removed and finely chopped

2

Shallots

-

finely chopped

4

Garlic clove

-

crushed

25

g

(

0.75

cups

)

Spinach

-

finely chopped

200

g

(

0.75

cups

)

Light cream cheese

35

g

(

0.66

cups

)

Panko breadcrumbs

70

g

(

0.66

cups

)

Parmesan

-

finely grated

50

g

(

0.5

cups

)

Sun-dried tomatoes

-

finely chopped

5

g

(

0.25

cups

)

Curly parsley

-

finely chopped

1

pinch

Sea salt and black pepper
Instructions
Preheat your oven to 200°C/180°C(fan)/400°F/Gas 6.

Heat

1 tablespoon Olive oil

in a pan. Gently fry the stems of

4 Portobello mushrooms

,

2 Shallots

,

25 g Spinach

and

4 Garlic clove

until softened - about 2-3 minutes.

In a bowl, mix together the shallot mixture,

200 g Light cream cheese

,

35 g Panko breadcrumbs

,

70 g Parmesan

,

50 g Sun-dried tomatoes

,

5 g Curly parsley

and

1 pinch Sea salt and black pepper

.

Using a teaspoon, gently scrape out the gills of the

4 Portobello mushrooms

. Place on a baking tray.

Fill the mushrooms with the cream cheese mixture and bake in the oven for 20 minutes.
Recipe tips
If you don't like the texture of mushroom gills, remove and discard them before cooking. Simply scrape the gills our with a small spoon, taking care not to break the mushroom.
You can make these in advance so you have less prep to do at meal time.
If you want to add more of the sun-dried tomatoes, then use the oil from the jar instead of olive oil.
Make these mushrooms even more indulgent by adding a round slice of goats cheese on top before putting it in the oven.
Nutritional Information
Serving:
2
mushrooms
|
Calories:
542
kcal
|
Carbohydrates:
44
g
|
Protein:
31
g
|
Fat:
31
g
|
Saturated Fat:
16
g
|
Polyunsaturated Fat:
2
g
|
Monounsaturated Fat:
12
g
|
Trans Fat:
1
g
|
Cholesterol:
78
mg
|
Sodium:
1270
mg
|
Potassium:
1973
mg
|
Fiber:
7
g
|
Sugar:
23
g
|
Vitamin A:
2428
IU
|
Vitamin C:
21
mg
|
Calcium:
663
mg
|
Iron:
5
mg
The nutritional information provided is approximate and is calculated using online tools. Information can vary depending on various factors, but we have endeavoured to be as accurate as possible.