If you are looking for a light and fresh potato salad recipe with plenty of flavour to keep you going all through summer, then this Mustard Potato Salad is it! Deliciously crispy roasted potatoes mixed with a creamy but light mustard dressing with plenty of herbs. Lots of opportunity to add extra ingredients so this easy potato salad is different every time.
There are a lot of potato salad recipes out there and every house has their favourite, but this mustard potato salad really does have it all. We think that mustard is essential when it comes to a potato salad dressing as it adds lots of flavour without adding a lot of extra calories.
You can use wholegrain or dijon mustard but we find that wholegrain adds a nice extra texture to the dish and it looks great when served up on the table too. Mixed with some creme fraiche rather than mayo, lots of herbs and some greens it makes the perfect summer side dish.
If you are looking for some other mustard flavoured recipes to try, then why not try our Slow Cooker Honey and Mustard Chicken, Honey Mustard Salmon, Honey and Mustard Sausage Traybake or Mustard and Honey Roasted Parsnips.
Jump to:
Why you will love it
A nice alternative to regular potato salad - I don't think I have ever met someone that doesn't love potato salad, but it can get a little bit boring having it the same way all the time. The mustard flavour makes a nice change.
Uses roasted potatoes - Instead of just boiling potatoes, we have roasted them to give extra flavour to this mustard potato salad.
Under 150 calories a portion - We have swapped mayo for creme fraiche to make this a lower in calories potato salad recipe.
A delicious BBQ or picnic side - A must at any BBQ.
Ingredients needed
Potatoes - There are hundreds of varieties of potatoes out there, it can be hard to know which ones to use in a potato salad. The main thing to go for is waxy over starchy as they hold their shape well when boiled. We always use new potatoes, like Jersey or Cornish, for this reason. Go for potatoes that are all around the same size as they will cook evenly.
Creme fraiche - We used this instead of mayo to make it lighter. You can use reduced fat creme fraiche if you wanted to lower the calories even more.
Mustard - This is where all the flavour comes from. We used wholegrain, but you could use Dijon which would add a creamier flavour.
Spring onions (scallions) - These add a nice crunch. You could swap them for finely diced shallots instead.
Herbs - Fresh parsley and dill went in to this, but you could use coriander (cilantro) or chives instead.
Lemon - For even more lemon flavour, use zest as well as juice.
Greens - We added some watercress to add a pop of colour and add some nutrients, but you could use spinach or kale instead.
A full ingredients list with measurements is in the recipe card below.
How to make mustard potato salad - Step by step
One: Chop the potatoes in half and par boil for 10 minutes. Preheat your oven to 220°C/425°F/Gas 7.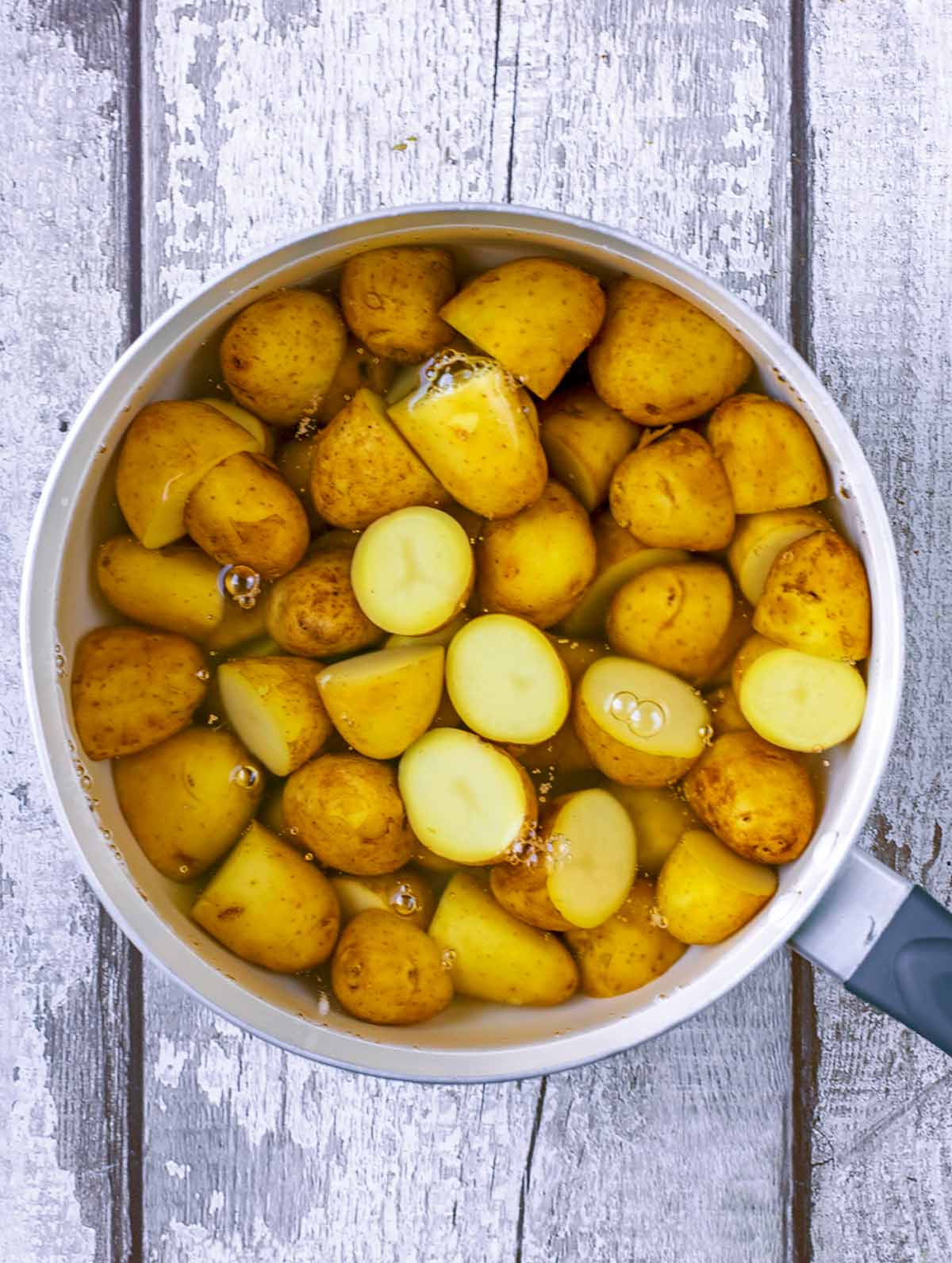 Two: Drain the potatoes and mix with the oil. Put into a baking tin.
Three: Put into the oven and roast for 40 minutes.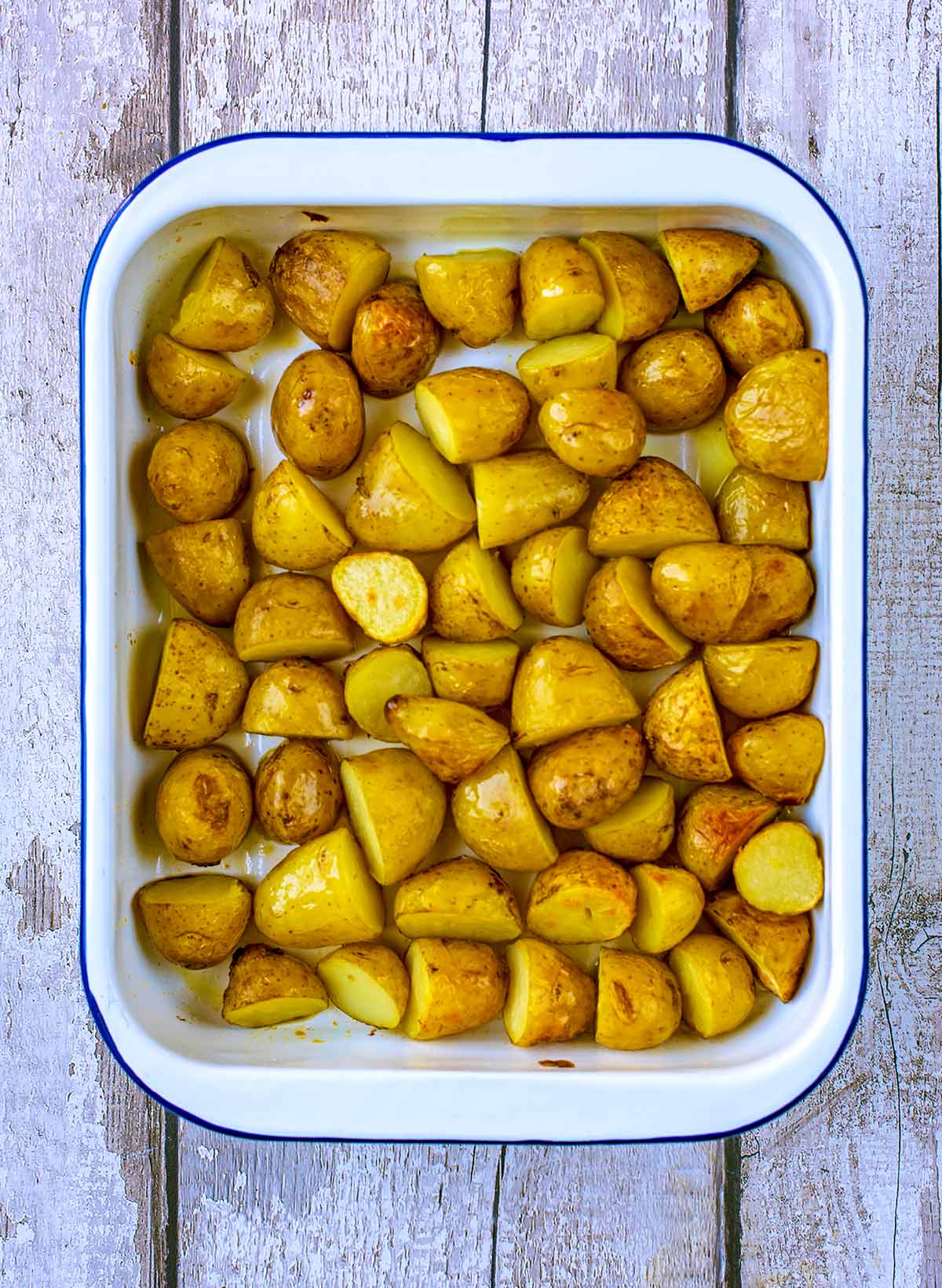 Four: Finely chop the parsley and dill and thinly slice the spring onions.
Five: Put everything into a large bowl.
Six: Mix well and serve.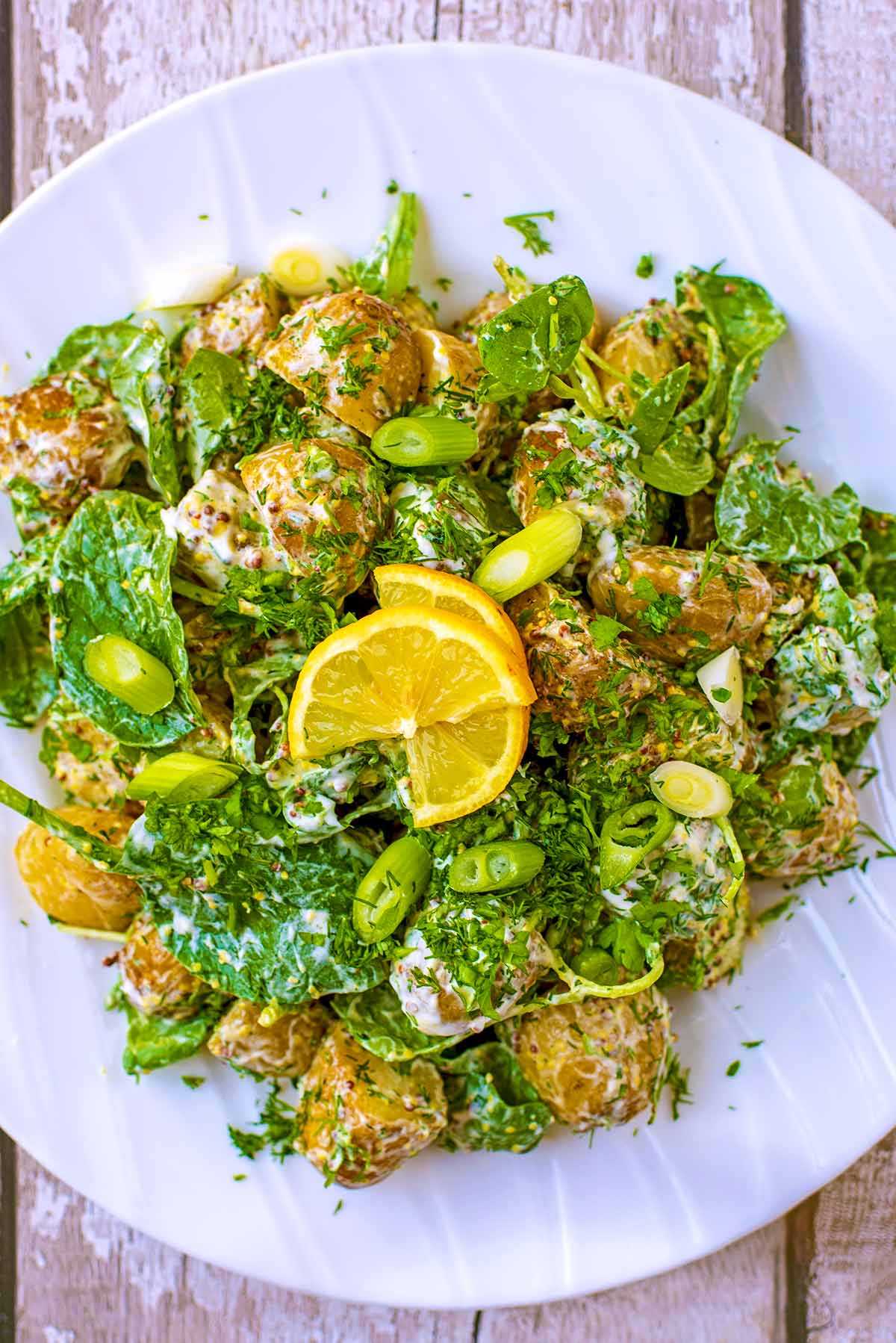 Healthy potato salad
Potato salad isn't traditionally the healthiest side dish (over 400 calories per portion), but there are lots of ways you can make it healthier. As well as using creme fraiche instead of mayo, we have added lots of fresh herbs to give plenty of flavour without all the extra calories.
White potatoes have so many nutrients in them, they really shouldn't get a bad reputation. They are low in fat, sodium and cholesterol, they have nearly half of your daily vitamin C and they are a great source of potassium - even more than a banana.
Variations
We used reduced fat creme fraiche to make the creamy potato salad dressing, but you could use sour cream, mayo or even a fat free Greek yogurt instead (this would reduce the calories by a fair bit). If you didn't want a creamy dressing, then you could stick with just the lemon juice and some olive oil too.
Whilst the mustard adds most of the flavour to this side dish, we didn't want to stop there. We packed it full of herbs with chopped up parsley and dill and then put a little sprinkle of sumac in when seasoning.
We went with a mixture of spinach, rocket and watercress for the greens, but you could just use one of those or even some kale. We sometimes roast up some vegetables like peppers, courgette and onions when roasting the potatoes and mix those in. Other vegetables that go well in this potato salad are green beans, asparagus and peas.
I am also a fan of adding things like chopped up gherkins, olives or capers to give it a little extra crunch and some saltiness too - if you do that then you don't really ned to add any salt when seasoning, just some pepper. Another delicious salty addition is a little bit of grilled chopped bacon. Bacon in a potato salad is a bit of a game changer if you are looking for something more indulgent.
What to serve with Mustard Potato Salad
A delicious creamy potato salad is the ultimate BBQ side dish, so it goes well with all the usually BBQ staples like burgers, sausages and chicken. Why not try one of our BBQ recipes:
Storage
Store: Because we haven't used mayonnaise in this, it tends to last a bit longer than traditional potato salad. This potato salad will keep in an air tight container for a couple of days, so if you make too much of it you can enjoy it with meals for a little longer. It also means that you can make it in advance if you are going to be serving it up at a BBQ or picnic. This healthy potato salad tastes even better the next day. You can freshen it up by adding some fresh herbs.
For food safety reasons, don't let the potato salad sit out at room temperature for longer than 2 hours.
Freeze: We wouldn't recommend freezing potato salad. The potatoes would become mushy once defrosted, and the dressing would separate.
Frequently asked questions
Can mustard potato salad be made in advance?
You can make this potato salad in the morning to have at lunch or in the evening, but we wouldn't recommend making it any further in advance than that. The creamy dressing really needs to be as fresh as possible and the greens are best served within a few hours too. But leftovers will be fine for the next day.
How long do you have to boil potatoes for potato salad?
These potatoes are roasted rather than boiled. However, if you wanted to boil them, then these will need to be boiled for about 10 minutes, until they are just tender. Don't overcook the potatoes, otherwise your healthy potato salad will be mushy.
Is mustard potato salad gluten free?
As long as you make sure the mustard you are using is gluten free and there is no cross contamination, then this can be gluten free.
Why is my potato salad soggy?
To prevent watery potato salad, make sure the potatoes are drained thoroughly before adding the dressing. Once drained, leave in the colander over the pan to steam dry. You won't have that problem if you are following this whole recipe and roasting the potatoes first.
How to make vegan mustard potato salad
All you have to do is swap the creme fraiche for a vegan alternative. You could also use a plant based yoghurt or mayo.
More potato recipes
If you've tried this mustard potato salad recipe, let us know how you got on in the comments below.
Tag us in your creations on Instagram @hungryhealthyhappy - Use the hashtag #hungryhealthyhappy too.
Recipe
Mustard Potato Salad
If you're looking for a light and fresh potato salad with plenty of flavour to keep you going all through summer, then this Mustard Potato Salad is it!

Gluten Free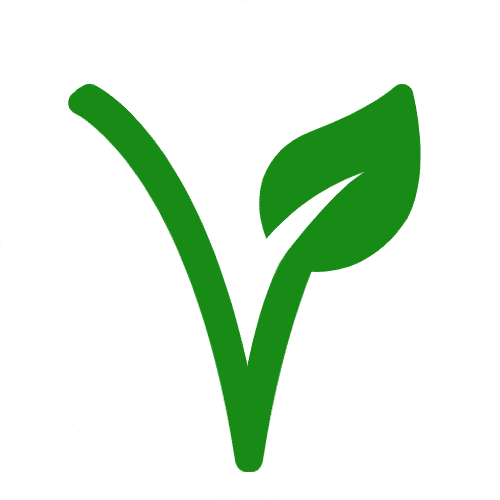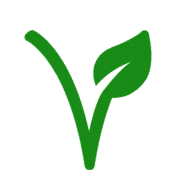 Vegetarian
Pin
Print
Save recipe
Recipe saved!
Ingredients
900

g

(

2

lb

)

New potatoes

150

ml

(

0.66

cups

)

Reduced fat creme fraiche

2

tablespoon

Coarse grain mustard

3

Spring onion (Scallion)

10

g

(

0.33

oz

)

Fresh parsley

5

g

(

0.25

oz

)

Fresh dill

1

Lemon

-

(juice only)

60

g

(

1.75

cups

)

Watercress, rocket and spinach mix

1

tablespoon

Olive oil

1

pinch

Sea salt and black pepper

1

tablespoon

Sumac
Instructions
Chop

900 g New potatoes

in half and par-boil for 10 minutes. Preheat your oven to 220°C/425°F/Gas 7.

Drain the potatoes and mix with

1 tablespoon Olive oil

.

Put onto a baking tray and roast for 40 minutes.

Finely chop

10 g Fresh parsley

and

5 g Fresh dill

and thinly slice

3 Spring onion (Scallion)

.

Put into a bowl with the potatoes,

150 ml Reduced fat creme fraiche

,

2 tablespoon Coarse grain mustard

, juice of

1 Lemon

,

60 g Watercress, rocket and spinach mix

,

1 tablespoon Sumac

and

1 pinch Sea salt and black pepper

.

Mix well and serve.
Recipe tips
This is a great fridge raid recipe, so feel free to add any extra vegetables you have that need using. Roasted peppers, courgettes and onions go well with this.
You can use either wholegrain or dijon mustard for this.
Save some calories by using fat free Greek yogurt instead of creme fraiche for the dressing.
If you still want to use mayo, why not try using half mayo and half creme fraiche instead - it will still save you some calories and fat.
For extra saltiness, try some chopped grilled bacon or chopped gherkins, olives or capers.
Use waxy potatoes rather than starchy ones, as they will hold their shape better. We use Jersey Royals or Cornish new potatoes.
For a quicker version of this, thinly slice the potatoes before cooking. They will cook really quickly and it makes a nice change to chunks of potato.
Nutritional Information
Serving:
1
portion
|
Calories:
148
kcal
|
Carbohydrates:
22
g
|
Protein:
3
g
|
Fat:
6
g
|
Saturated Fat:
2
g
|
Cholesterol:
10
mg
|
Sodium:
69
mg
|
Potassium:
573
mg
|
Fiber:
3
g
|
Sugar:
2
g
|
Vitamin A:
555
IU
|
Vitamin C:
35.7
mg
|
Calcium:
55
mg
|
Iron:
1.2
mg
The nutritional information provided is approximate and is calculated using online tools. Information can vary depending on various factors, but we have endeavoured to be as accurate as possible.