Prawn cocktail is a timeless classic starter option, but we have totally transformed it to make it the ULTIMATE Prawn Cocktail. An 80s classic that is a must at any dinner party, we have given it a little modern makeover, with still the same flavour you know and love.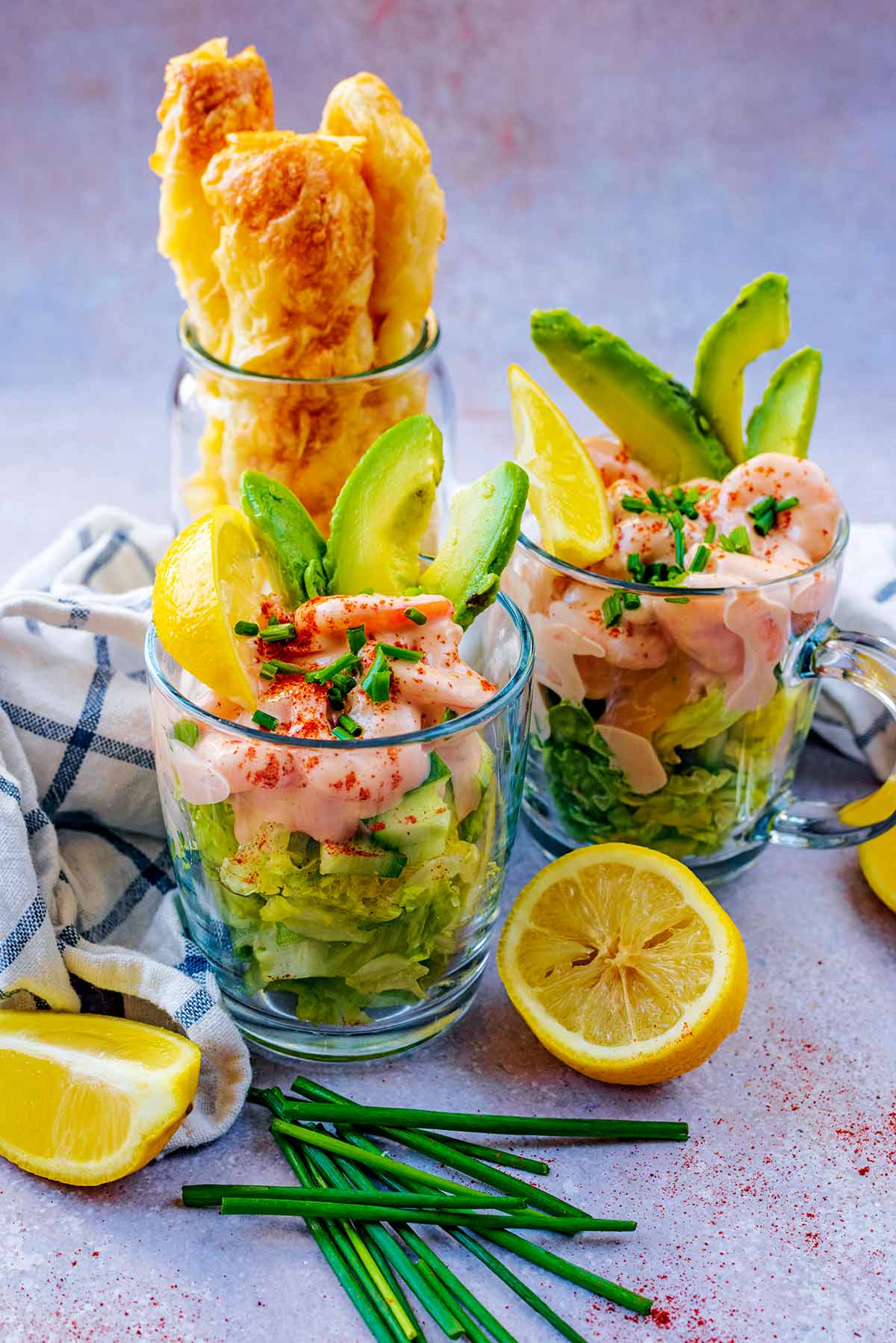 This really is the ultimate prawn cocktail! We have a bottom layer of crispy lettuce, topped with chunks of cucumber, and creamy avocado which gives it a real luxury feel. It is then loaded with king prawns which are slathered in our easy homemade Marie Rose sauce then finished with fresh chives.
If you are looking for other starter recipes, why not try our Spanish Meatballs, Paneer Tikka, Paprika Chicken Skewers, Chorizo in Red Wine or Oven Baked BBQ Chicken Wings.
Jump to:
Why you will love it
Prawn cocktail with a difference - I bet that most of us have had a prawn cocktail or two in our life time, but we have give it a modern twist with the avocado and we think it just makes it a bit more special, and impressive to your diner guests.
Quick and easy - This is so quick and easy to make and looks far more posh than it actually it. Just layer it all up in a fancy glass and you are done.
Adaptable - You can use this as a base recipe and then adapt it to suit your own tastes. We have given a few options below.
Can be made in advance - If we are making these for a dinner party, or for Christmas Day, we always make them in the morning and then keep them in the fridge until we are ready to serve. Don't put the lemon juice on the prawns until just before serving though.
Ingredients needed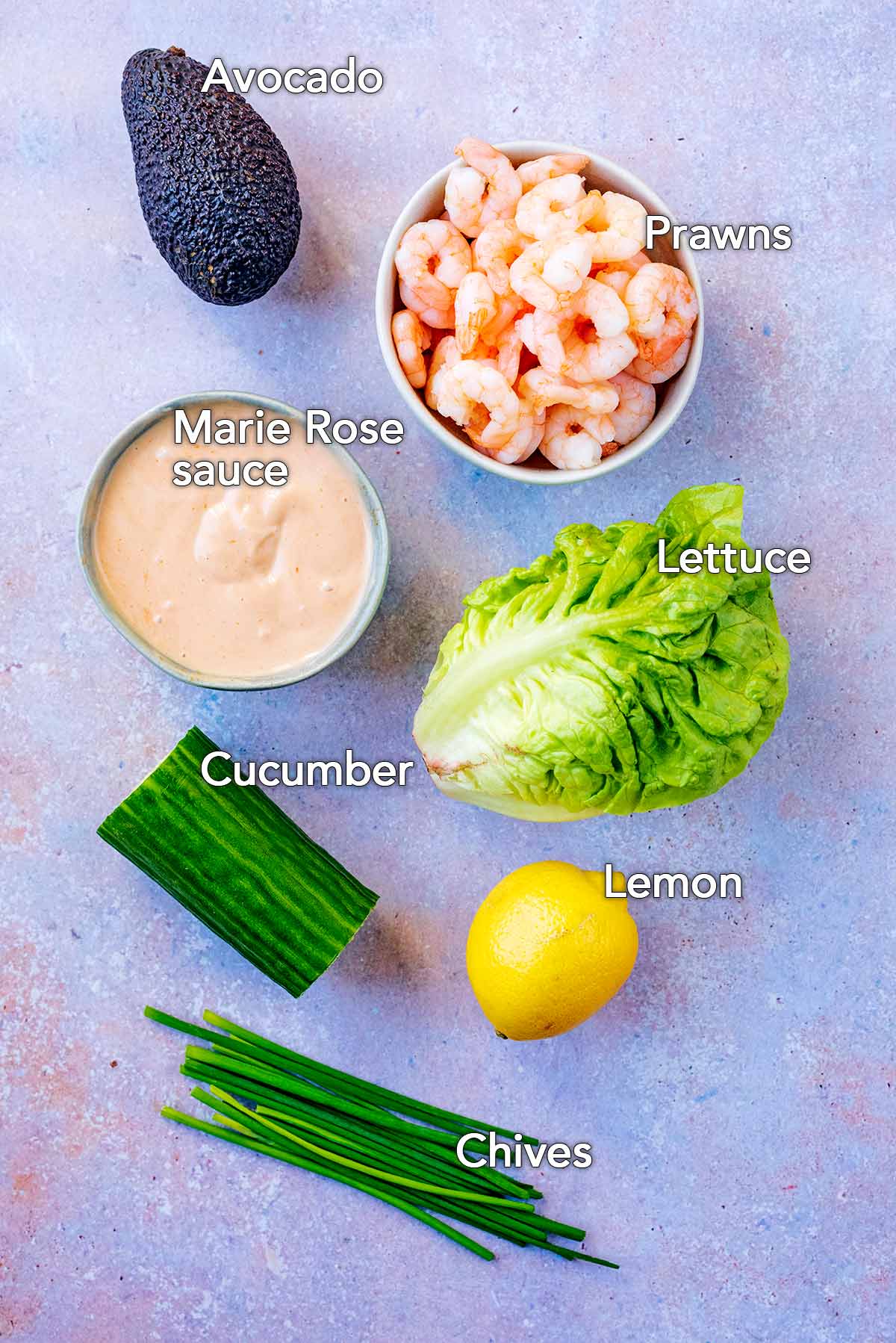 Prawns - You want to use the biggest king prawns you can find, as there is nothing worse than being served a prawn cocktail with a few tiny prawns that you have to sieve through the sauce to find. We use peeled prawns, but you could leave them whole and serve them on top of the sauce if you prefer, but nobody likes having the peel prawns themselves.
Marie Rose sauce - This is really where all the flavour comes from. We made our own sauce as it is so easy to make and it really makes a difference to the finished dish. However, you could use a store bought one, just use the best quality you can.
Lettuce - This adds a nice solid base to the prawn cocktail. We used little gem, as we like the crunch, but romaine and iceberg will add the same crunch too. You could even use rocket lettuce, which would add a more vibrant green colour and also a lovely peppery flavour.
Avocado - This is what gives a more luxurious feel to the prawn cocktail. You can use dice it and add with the cucumber or thinly slice it and serve it as a fan on the side.
Lemon - Instead of a dressing for the lettuce leaves, which just added a squeeze of lemon juice which really lightens the whole thing up and goes so well with the prawns.
Cucumber - This adds a bit of chunky texture and also bulks it out which helps to fill the glass up so it doesn't look empty.
Chives - Fresh herbs add some extra freshness and we love chives with prawns. You could use dill or coriander though.
Paprika - A pinch of paprika just finishes off the whole dish and adds a lovely smoky flavour.
A full ingredients list with measurements is in the recipe card below.
Step by step
One: Put the chopped lettuce and cucumber in the bottom of serving glasses.
Two: Mix the prawns into the Marie Rose sauce so that all the prawns are coated.
Three: Add the prawns on top of the lettuce. Sprinkle with a pinch of paprika.
Four: Add slices of avocado and lemon wedges. Sprinkle chopped chives on top.
Health benefits of prawns
Prawns are a low-in-fat protein source and they are so versatile. You can use them in pasta, salads, sandwiches and so much more. They are a good source of selenium, which is one of the most effective antioxidants at maintaining healthy cells. They also contain high levels of zinc, which is important to develop a healthy immune system.
We use avocado in this prawn sandwich too and they are also abundant in vitamins K, C, B5, B6, E, folate and potassium. They are full of fibre and can also help to reduce cholesterol and help with eye health. Pretty much the ideal superfood!
Variations
We think this prawn cocktail is pretty epic as it is, however there are a few other ingredients that would go well in this. Why not try adding:
Cherry tomatoes
Roasted red peppers
Artichokes
Chopped gherkins
Diced mango
Marie Rose Sauce
What makes this prawn cocktail really special is the homemade Marie Rose sauce. Of course it takes a bit more time than opening up a jar of sauce, but it really is so easy to make and it's worth the little effort.
Marie Rose is simply a mixture of mayonnaise, tomato ketchup, lemon juice, Worcestershire Sauce and then a splash of Tabasco if you want to give it an extra kick. It makes a great dip and it also goes well on our Prawn Sandwich recipe too.
What to serve with prawn cocktails
These make a delicious starter, or mini versions are great for party food. If you want something carby to serve these with, then why not try our Easy Cheese Straws or Garlic and Rosemary Focaccia.
If you are looking for some main meals that would follow on well from this starter, why not try one of these: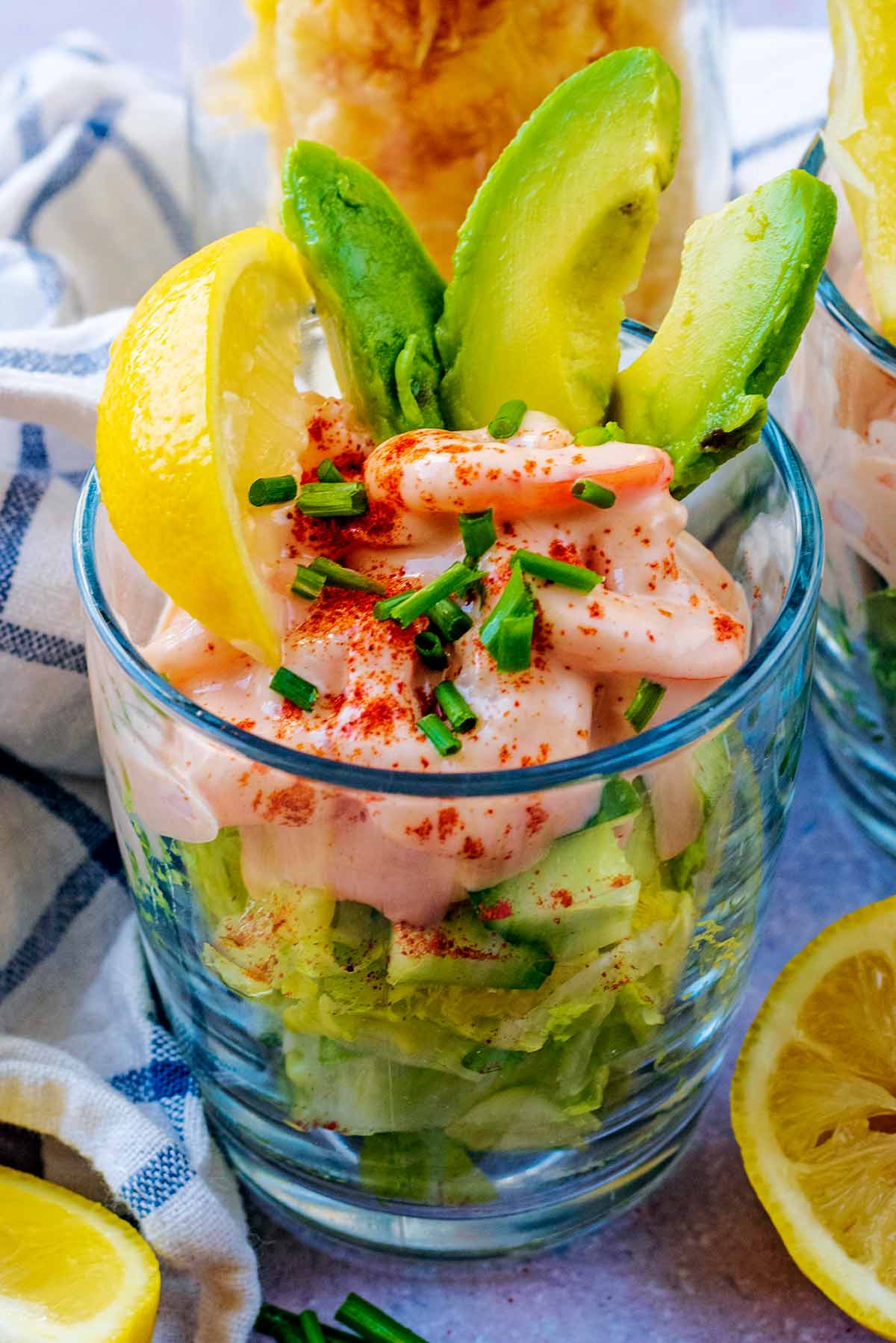 Frequently Asked Questions
Where was the prawn cocktail invented?
Although the prawn cocktail gained popularity in the 70s and 80s in the UK, it is thought to have actually originated in the 19th century in California. It is said that a local miner was bored with plain oysters and he started ordering them with ketchup and horseradish, which became and oyster cocktail and then other seafood cocktails started popping up on menus all over California. The name either comes from the fact that it's usually served in a cocktail glass, or it's a cocktail mix of ingredients.
How to serve prawn cocktail.
Traditionally a prawn cocktail would be served in a cocktail or wine glass. We used little tumblers, but any glass would work. You could also skip the lettuce in this recipe and serve everything in a giant lettuce leaf.
Do you use cooked prawns?
Yes, we have used a packet of cooked prawns in this recipe. If you are using raw prawns, you will need to cook them and then allow them to cool first before using in this recipe.
Can I use frozen prawns?
Yes, you can use frozen prawns in this recipe, just don't forget to defrost them first! Don't worry if you forget to defrost them in time though. Empty the frozen prawns in to a large bowl and cover with cold water and drain. Repeat this step a couple of times, then cover with cold water again and leave for 15 minutes until defrosted.
How to store a prawn cocktail.
This should always be made fresh and will only keep in the fridge for up to 12 hours.
Can I make a prawn cocktail in advance?
Yes, you can make the sauce in advance and chop the lettuce up and then mix everything together just before serving.
More prawn recipes
If you've tried this ultimate prawn cocktail recipe, let us know how you got on in the comments below.
Tag us in your creations on Instagram @hungryhealthyhappy - Use the hashtag #hungryhealthyhappy too.
Recipe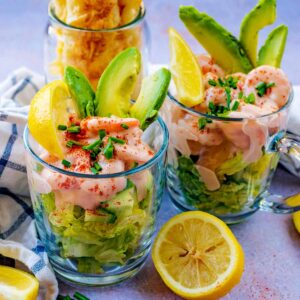 The Ultimate Prawn Cocktail
Prawn cocktail is a timeless classic starter option, but we have totally transformed it to make it the ULTIMATE Prawn Cocktail.

Gluten Free
Pin
Print
Save recipe
Recipe saved!
Ingredients
150

g

(

5.25

oz

)

King prawns

100

ml

(

0.5

cups

) Marie Rose sauce

1

Little gem lettuce

-

chopped

0.25

Cucumber

-

diced

0.5

Avocado

-

sliced

0.5

Lemon

-

cut into wedges

1

pinch

Paprika

-

(optional)

Chives

-

(to serve)
Instructions
Divide

1 Little gem lettuce

and

0.25 Cucumber

in the bottom of serving glasses.

Mix

150 g King prawns

into

100 ml Marie Rose sauce

so that all the prawns are coated.

Add the prawns on top of the lettuce. Sprinkle with

1 pinch Paprika

.

Add slices of

0.5 Avocado

and wedges of

0.5 Lemon

. Sprinkle chopped

Chives

on top.
Recipe tips
If you are going to use store bought Marie Rose sauce, then use the best quality one you can, as you really will taste the difference. Make sure you add the lemon, as it will freshen the sauce up a little.
Add some extra light flavour to this prawn cocktail by adding some diced mango - it will go really well with the prawns and avocado.
Fresh chives can be swapped for dill.
You don't have to serve this in glasses, you can serve it in a giant lettuce leaf if you prefer.
Nutritional Information
Serving:
1
portion
|
Calories:
292
kcal
|
Carbohydrates:
19
g
|
Protein:
19
g
|
Fat:
17
g
|
Saturated Fat:
2
g
|
Polyunsaturated Fat:
1
g
|
Monounsaturated Fat:
5
g
|
Trans Fat:
1
g
|
Cholesterol:
121
mg
|
Sodium:
974
mg
|
Potassium:
531
mg
|
Fiber:
7
g
|
Sugar:
13
g
|
Vitamin A:
131
IU
|
Vitamin C:
21
mg
|
Calcium:
66
mg
|
Iron:
1
mg
The nutritional information provided is approximate and is calculated using online tools. Information can vary depending on various factors, but we have endeavoured to be as accurate as possible.