This delicious Tomato Basil Soup is cooked low and slow and is well worth the wait. You will never go back to canned soup after trying this vegan tomato soup - plus it's healthier. It is fresh and vibrant, bursting with flavour and a great way to make use of homegrown tomatoes. Garlicky and herby, it's also gluten free and a big bowl of comfort on a cold autumn day.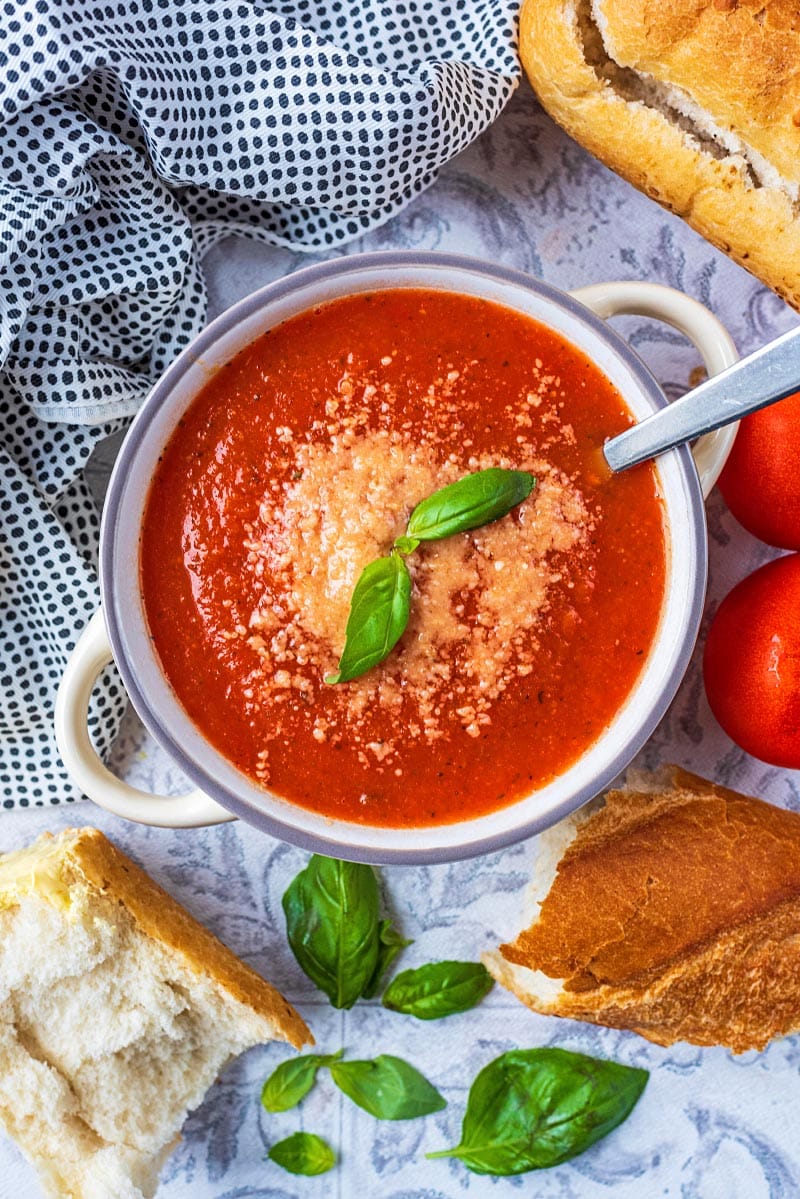 Tomato soup is such a classic, and this version is garden fresh, super easy, with a burst of garlic and herbs too. Make up a big batch on a cold day and serve it with some warm fresh bread or even better, a cheese toastie. This is healthy comfort food at its finest.
This is my favourite soup ever. I have been eating it for years and I'm pretty sure I was bottle fed it as a baby! There is something just so comforting about it and it always makes me feel better.
I remember eating my Grandma's tomato soup from a young age, and then eating my Mum's variation of that soup for years after and now this is my version. This really is a recipe passed down the generations of my family and my daughter makes it with me now too.
Looking for other ways to use fresh tomatoes? Why not try our Cherry Tomato Pasta, Tomato Puff Pastry Tart, Baked Feta with Tomatoes or Tomato Basil Pasta.
Jump to:
Why you will love it
Low calories - Fresh tomatoes make up the bulk of this soup, so it is low in calories with under 200 calories for a big bowl.
Low in fat - Because of all the fresh ingredients, this is a delicious low at soup too.
A great way to use homegrown tomatoes - If you are growing tomatoes, then they are probably taking over your garden at the moment. This is a great way to use up a huge glut of tomatoes.
Warming and comforting - Although this is a fairly light and fresh soup, tomato basil soup is also perfect for winter as it's so warming.
Vegan - If you leave off the parmesan topping then this is a lovely vegan soup.
Ingredients needed
Tomatoes - we used standard fresh plum tomatoes in this soup, but you can really use whatever tomatoes you have (or are growing) and a mixture of a few. It's a good recipe to use up a mixture of tomatoes. The key to this soup tasting its best is using fresh and juicy ripe tomatoes.
Potato - this thickens the soup up a little, without adding any flavour. If you want to save some calories, and have a thiner soup, then you could leave this out.
Carrots - a great way to give the soup a veggie boost and some extra vitamins. It also helps to give the soup the vibrant colour.
Celery - this adds some extra flavour and depth to the soup.
Onion - a base for any soup, and adds plenty of flavour.
Garlic - my grandparents never added garlic to their soup, but I think it is a must and tomato and garlic is a delicious flavour combination.
Stock - we used a homemade vegetable stock in this tomato basil soup, but you can use any stock, just be aware that it will change the flavour.
Fresh basil - so much of the flavour of the soup comes from the fresh basil. You could swap it for fresh parsley, but basil and tomato is such a classic flavour combination. Just make sure you don't add the fresh herbs until the end of cooking.
Tomato puree (paste) - if you haven't been able to find the best tomatoes, and they are a little lacking in flavour, then tomato puree is an easy (and cheap) way to give it a bit of a tomato boost. It also helps to give it the vibrant colour.
A full ingredients list with measurements is in the recipe card below.
Step by step
One: Chop all of the vegetables and put in a large soup pan.
Two: Add the water and basil and season. Bring to boil and simmer for 1 hour.
Three: Pour the soup into a blender (or use a hand blender if you don't have one) and blend until smooth. You may need to do this in batches if you have a small blender. Pour it back into the pan and add the tomato puree. Simmer for 5-10 minutes.
Health benefits tomatoes
Tomato Basil soup is super healthy. Not only is it low in calories and fat, it is really nutritious too. Tomatoes are a good source of the antioxidant lycopene, which has been linked to many health benefits, including reduced risk of heart disease and cancer. Tomatoes are also a good source of vitamin C and K, potassium and folate.
As this Tomato Basil Soup is homemade, there are no additives or preservatives that you would find in a canned soup. You get to control exactly what goes in to this soup, like the salt and sugar levels. If we are making it for the kids then we leave the salt out and then just season our own at the end.
How to choose the best tomatoes
The key to this being the best tomato basil soup, is using fresh, ripe and juicy tomatoes. There is nothing worse (when it comes to tomato soup anyway) then an under ripe, tasteless tomatoes. So, you want to be choosing the best tomatoes possible. Firstly, these should be in season. Towards the end of summer, and in to autumn, is the best time to make this soup as that is when tomatoes are at their best.
Locally grown or homegrown are always the best, but if you are getting them from the supermarket then we have some tips.
You might think that squeezing the tomato is the best way to tell if it's ripe, but it isn't. Instead, hold the tomato in the palm of your hand and it should feel heavy for its size. You should also do a sniff test - ripe tomatoes should smell sweet and earthy and the stronger the tomato smells, the more ripe it is. So, resist squeezing it and ruining it.
Soup toppings
This is a great base soup for you to adapt it however you like. If you like spicy food, then a little paprika for some smokiness and then chilli for heat works really well.
If you want to make this soup feel a little more indulgent, then some grated parmesan just before serving is amazing. It melts in to the soup and it is delicious.
A little drizzle of olive oil on top at the end and a sprinkle of fresh basil really finishes off the dish too.
What to serve Tomato Basil Soup with
This easy tomato soup is really low in calories, so we usually have it as a starter or serve it with a sandwich. A grilled cheese sandwich is perfect with these and total comfort food. Try a simple cheddar grilled cheese with a drizzle of honey. So. Good. You could also serve it with a chicken or turkey sandwich for a bit of a protein boost.
You can also keep things classic and just serve this Easy Tomato Soup with a French baguette that has been warmed up in the oven, or some croutons on top. Or both. You could even go all out and make your own bread. Why not try our Garlic and Rosemary Focaccia?
Speaking of homemade bread, warm bread is the best thing to dip in this soup. Try our Slow Cooker Bread, Easy White Loaf or even some Bagels dipped into it.
Storage
Store: This makes a big batch suitable for 4 servings. If you won't eat it all in one go, then it will keep in the fridge for about 4 days.
Freeze: You can freeze it for up to 6 months. Wait until it is completely cooled and then ladle into freezer bags. Lay the bags flat in the freezer stacked on top of each other.
Defrost: If you have time, defrost in the fridge for 48 hours. If you are in a rush, place the soup in its container in a large bowl of warm water until it is fully defrosted.
Reheat: To reheat it, put it in a pan and gently simmer until heated all the way through.
FAQ
Should you skin the tomatoes?
No, there is no need to skin the tomatoes first, or remove the seeds. If you are using a high powered blender, then this will all be well blended up. But, you can of course remove them if you like, as it really comes down to personal preference.
Is tomato basil soup vegan?
Yes, this soup is naturally vegan, unless you add any cheese on top, but you could use your favourite vegan alternative.
Can you use roasted tomatoes?
Yes, if you wanted a more intense tomato flavour in this soup, then you could roast the tomatoes first. This would add a considerable amount of time on to the cooking time though. But it would definitely be worth the wait. If you are going to do this, then roast the garlic too.
What herbs to add to tomato basil soup?
We added fresh basil to ours, as tomato and basil are such a classic combination and basil has a hint of sweetness to it which pairs beautiful with the sweet ripe tomatoes. However, you could use parsley instead, which is what my mum always used in her version of this soup.
Just a little tip when using basil. Make sure you add it towards the end, as heating basil too long can remove some of the flavour and make it slightly bitter which you don't want.
How to make a smooth tomato basil soup.
To make a really smooth tomato basil soup, firstly I would recommend using a high powdered blender as it makes such a difference. Then pour the soup through a sieve and save what it left in the sieve to add to a pasta sauce or something, as there is lots of flavour in it.
Is tomato basil soup gluten free?
Yes, if you make sure to use a gluten free stock and there is no cross contamination then this is a delicious gluten free soup.
More soup recipes
If you've tried this Vegan Tomato Soup, let us know how you got on in the comments below.
Tag us in your creations on Instagram @hungryhealthyhappy - Use the hashtag #hungryhealthyhappy too.
Recipe
Tomato Basil Soup
This delicious Tomato Basil Soup is cooked low and slow and is worth the wait. It is fresh and vibrant, bursting with flavour and a great way to make use of homegrown tomatoes.

Gluten Free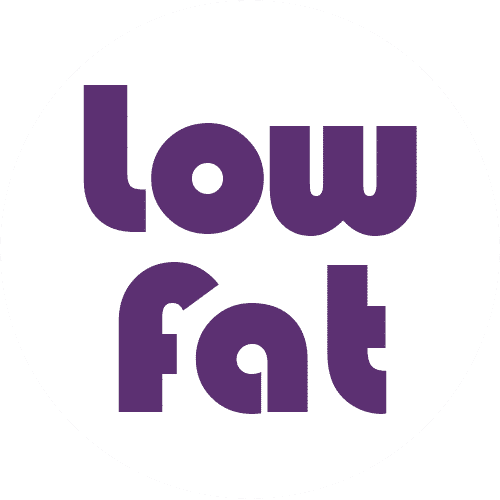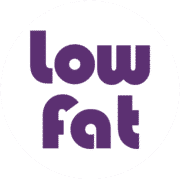 Low Fat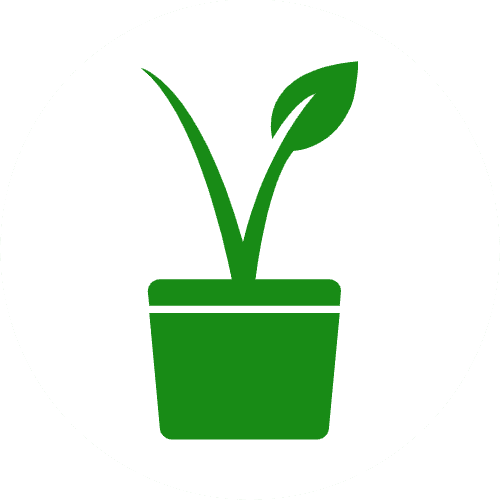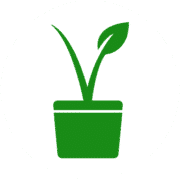 Vegan
Pin
Print
Save recipe
Recipe saved!
Ingredients
10

Tomatoes

-

medium

2

Carrots

1

Potato

-

large

1

Onion

2

rib

Celery

6

Garlic clove

-

(use less if you are not a big garlic fan)

3.5

l

Vegetable stock

10

g

Fresh basil

-

chopped

100

g

Tomato puree
Instructions
Chop all of the vegetables and put in a large soup pan.

Add the water and basil and season.

Bring to boil and simmer for 1 hour.

Pour the soup into a blender (or use a hand blender if you don't have one) and blend until smooth. You may need to do this in batches if you have a small blender. Pour it back into the pan and add the tomato puree. Simmer for 5-10 minutes.
Notes
If you want to add even more flavour to this vegan tomato soup, then you can roast the tomatoes before adding them to the pan. This will increase the cook time considerably though. You could roast the garlic too.
You could swap the onion for shallots and this would add even more of a sweet flavour to the soup.
Try to use a high powered blender, so make the soup really smooth and creamy.
Make sure the soup has cooled before blender, so it doesn't crack your blender.
Add some extra creaminess to it with a splash of coconut milk or some creme fraiche.
If making this for kids, use a low salt stock.
Nutritional Information
Serving:
1
bowl
|
Calories:
192
kcal
|
Carbohydrates:
39
g
|
Protein:
7
g
|
Fat:
1
g
|
Sodium:
94
mg
|
Potassium:
239
mg
|
Fiber:
7
g
|
Sugar:
16
g
|
Vitamin A:
8850
IU
|
Vitamin C:
94.1
mg
|
Calcium:
90
mg
|
Iron:
2.2
mg
Disclaimer
The nutritional information provided is approximate and is calculated using online tools. Information can vary depending on various factors, but we have endeavoured to be as accurate as possible.