* This is a sponsored post for Skinny Booze *
Enjoy all the flavours of Spain with these 10 Easy Tapas Recipes, that when put together make the most delicious tapas dinner party feast. From Spanish Tortilla, to Albondigas (smoky meatballs), Patatas Bravas, garlic prawns and the EASIEST Spanish Rice, and so much more. All delicious when served with reduced calorie wine from Skinny Booze.
If you love eating out at a tapas restaurant, then why not recreate the recipes at home? These 10 Easy Tapas Recipes are a favourite on any Spanish restaurant menu. These little dishes are packed with garlic, paprika, and herbs and are perfect for sharing.
Jump to:
What is Tapas food?
In Spanish, you can have one 'tapa' and two or more 'tapas'. It is basically a small plate of Spanish cuisine and translates to 'top' or 'lid'.
It is said that when people drank Sherry, they often covered their wine glasses with a slice of bread or meat to keep the flies from doing a nose-dive into the wine, and that is how tapas began and where it got its name. Tapas is classic Spanish cuisine.
Nowadays it is a popular cuisine all over the world and has moved on from a slice of ham covering a wine glass. There are many types of Tapas Bars and recipes can vary regionally, but popular tapas choices include chicken skewers, meatballs, cod croquettes, garlic prawns and crispy smoky potatoes - many of the Spanish tapas recipes you will find in this post.
The benefit of tapas is you can enjoy 4-5 smaller plates, and even share, so you get to have a hearty meal without being stuffed and you get to try a few different things.
What wine to serve with tapas
A good selection of wine is a must at any tapas dinner party, as tapas is made to be shared and enjoyed together, just like a good bottle of wine. Tapas food can be quite rich and heavy, which is why we like to keep the booze light.
That's why we have teamed up with Skinny Booze who have an amazing selection of reduced calorie wines (as well spirits and wines and ciders).
Experience all the satisfaction of drinking wine with fewer calories and less sugar with the fantastic selection of wine available on the Skinny Booze website. Selected not just for their calorie savings, but these wines are high in quality and flavour too.
When it comes to calories we don't like to drink too many, which is why we love the choice of reduced calorie wines from Skinny Booze. But quality and taste is important to us too, as it is to them. Many of the wines are vegan-friendly, as well as zero sugar – most notably the hugely popular Slimline Wine collection.
Lower calorie wine
Usually, lower calorie wines are only so because they have a lower ABV%, however the wines at Skinny Booze maintain a comparable ABV%. Full Strength, Full Flavour & Fewer Calories - just how we like it.
SkinnyBooze is the only place on the internet you can find products like that. They have sourced wines from all over the world which have significantly reduced Sugars and Carbs to offer the leanest portfolio of 'better for you' alcoholic alternatives in the market.
We went with one of the mixed cases of wine that are available on the Skinny Booze website, because then you can get a mix of red, white and rose which is ideal for a tapas dinner party where there is a mix of food like with these tapas dishes. You have red that goes really well with the chorizo (and is even used when cooking it), white to pair with the prawns and rose and a good in between wine.
10 Easy Tapas Recipes
Paprika Chicken Skewers
These Paprika Chicken Skewers are smoky, a little bit spicy, and a delicious way to make a chicken dinner a little bit more exciting.
Check out this recipe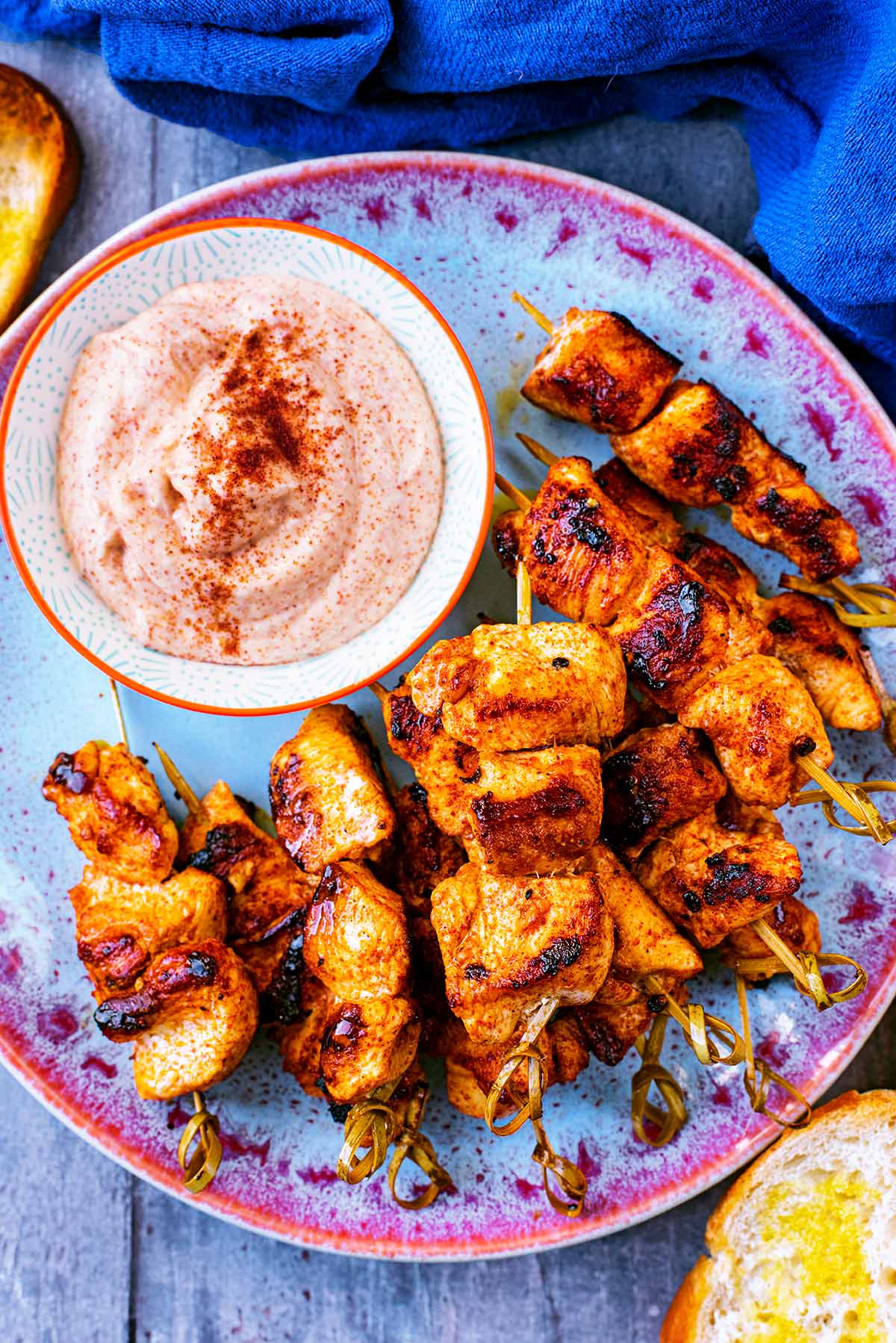 Gambas Pil Pil
A simple prawn recipe that's a must at any tapas table. Gambas Pil Pil is a traditional Spanish dish that transports your taste buds to the Mediterranean.
Check out this recipe
Patatas Bravas
There is so much that you can do with potatoes as a side dish and Patatas Bravas is a traditional Spanish side dish that is perfect for tapas night.
Check out this recipe
Chorizo in Red Wine
Chorizo in Red Wine is a real flavour packed dish that is perfect as part of any tapas spread. Simple Spanish flavours cooked together in less that 15 minutes.
Check out this recipe
Tortilla (Spanish Omelette)
A tortilla, also known as a Spanish omelette, is made with eggs and potato and is a traditional Spanish tapas dish.
Check out this recipe
Spanish Olives
Spanish Olives are a really easy side dish that are a must at any tapas dinner party or just to keep in your fridge as a delicious Mediterranean flavoured snack.
Check out this recipe
Albondigas (Spanish Meatballs)
Albondigas are delicious Spanish meatballs in a rich and smokey tomato sauce. A must at any tapas feast, but equally delicious served with pasta or potato.
Check out this recipe
Spanish Rice
Easy Spanish Rice, also known as Mexican Rice, is a simple and delicious way to make rice more exciting and a must-have side dish at any Tapas dinner party.
Check out this recipe
Canarian Potatoes (Papas arrugadas)
Papas arrugadas, also known as Canarian Potatoes, means 'wrinkled potatoes' and are a traditional potato dish popular across all the Canary islands.
Check out this recipe
Serrano Ham Salad - What is a dinner party without a salad? We kept with the Spanish vibe by making this Serrano ham and Manchego salad. We took a base of rocket lettuce (arugula) and dressed it in olive oil, salt and pepper, lemon juice and red wine vinegar and then topped it with Serrano ham (a traditional Spanish ham), shavings of Manchego cheese and some figs.
If you've tried any of these Easy Tapas Recipes please leave a comment below, we love hearing from you!
Tag us in your creations on Instagram @hungryhealthyhappy - we love sharing photos when people make our recipes. You can use the hashtag #hungryhealthyhappy too.