Perfectly tender and melt in your mouth Slow Cooker Beef Brisket is so easy to make, has the most incredible flavour and it's a great way to get the most out of this cut of beef. It's so juicy, and you need just 7 ingredients and 5 minutes prep time. This is a real crowd please, and great for batch cooking.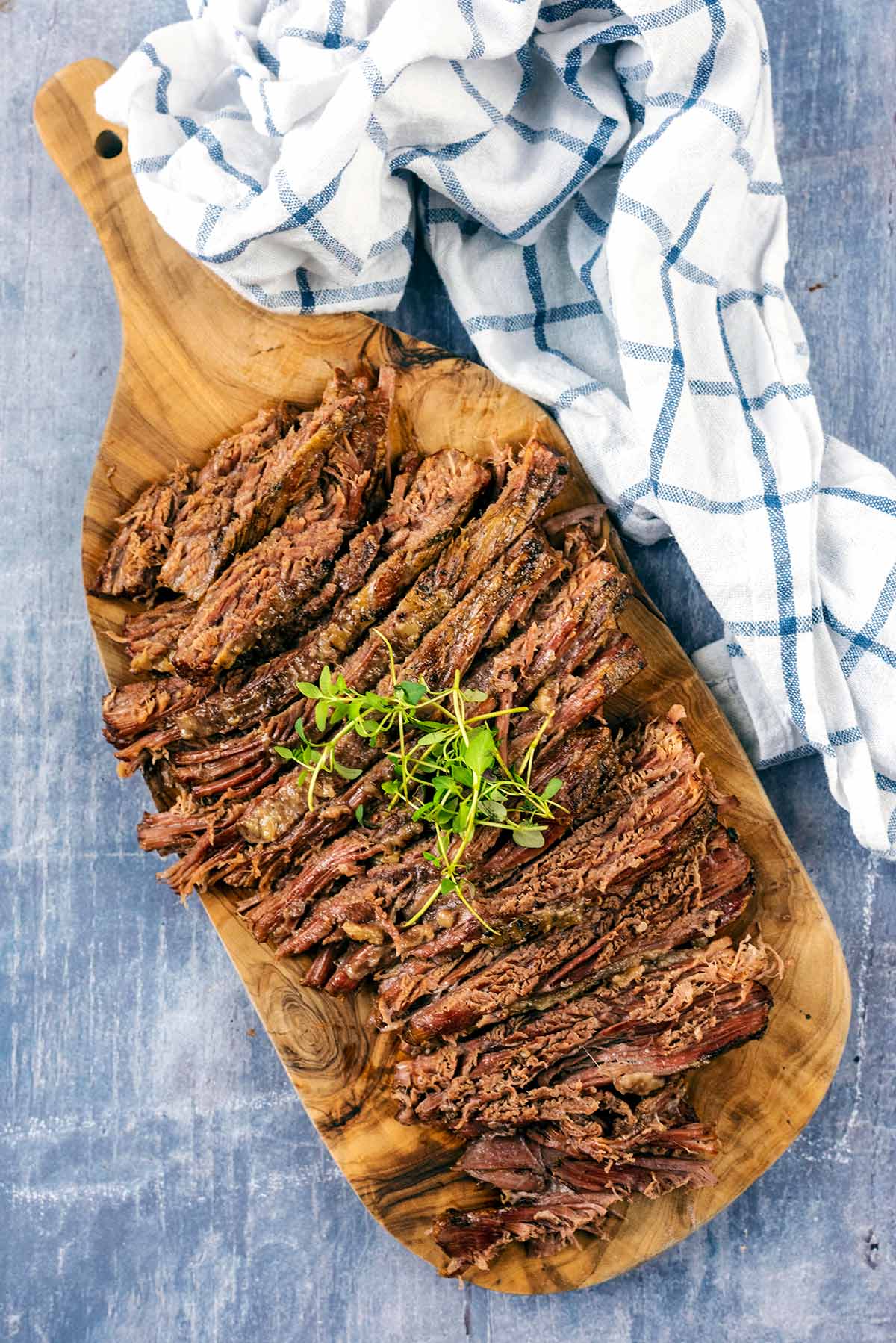 If I had to choose my favourite slow cooker beef recipe (please don't make me), this would definitely be in the top 3. Not just for the flavour and tenderness, but the simplicity too. It is classic comfort food, so satisfying, but versatile too. A delicious dump and leave slow cooker dish that is perfect for easy weeknight family meals, but also impressive enough to serve to guests.
Looking for some other slow cooker recipes to try? Why not try our Slow Cooker Chicken Korma, Slow Cooker Mac and Cheese, Slow Cooker Honey Mustard Chicken or Slow Cooker Jacket Potatoes.
Jump to:
Why you will love it
A delicious way to use brisket - If you haven't cooked brisket before, this is a fool-proof recipe. You could cook it in the oven, but there is a risk of it getting dry. There is no risk of that here, as it is incredibly tender and juicy.
Easy - Just 7 ingredients and 5 minute prep time is all it takes. Although we definitely recommend browning the meat first, it is still such an easy recipe. The slow cooker does all the work!
Versatile - There are so many ways that you can use this slow cooker beef brisket. With a roast dinner, in rolls with slaw, on top of mashed potato. We have lots of options below.
Freezes well - This recipe makes 10 portions, so unless you are serving a lot of people, you are going to have a good amount of leftovers. But, that's okay because this freezes really well.
Ingredients needed
Oil - We used a good quality olive oil to brown the meat in.
Beef brisket - Brisket is a cut of meat from the breast or lower chest of beef. it is easily available in most supermarkets. If not, your local butcher should stock it.
Stock - We used a beef stock pot, as it has the most intense flavour. Try to use the best quality stock that you can, as you really will be able to taste the difference.
Salt and pepper - Season to taste.
Worcestershire sauce - This adds a real depth of flavour and we wouldn't recommend skipping this ingredient.
Onion - This is just used to flavour to stock (which can be used to make gravy)
Garlic - Freshly crushed is best, however you could save time and use ready crushed in a jar.
Thyme - Fresh thyme goes so well with beef. You could swap it for rosemary though if you prefer.
A full ingredients list with measurements is in the recipe carb below.
What is brisket?
Brisket is a cut of meat from the breast or lower chest of beef and it needs to be cooked slowly to break down the connective tissues, which make it tough without slow cooking. The great thing is, although it is cooked low and slow, until you can pull it apart with a fork, it still slices really well.
You can usually find brisket on menus in barbecue restaurants and it is usually fairly expensive. But, don't let that put you off making it, as you can make it go a long way.
Step by step
One: Season the brisket joint all over with the salt and pepper. Heat the oil in a pan and add the seasoned meat. Brown on all sides, around 5 minutes.
Two: Add the remaining ingredients to the slow cooker bowl.
Three: Add the browned brisket and cook on high for 6 hours or low for 8 hours.
Health benefits of beef
Beef can definitely play an important role in a balanced diet and using lean cuts is key for this. It can provide a lean source of protein, iron and eight essential vitamins and minerals. Beef is a significant provider of protein and is naturally low in sodium and contributes towards good health and wellbeing. Trim off any visible fat to make this lighter.
What to serve with Slow Cooker Beef Brisket
We love serving this as a roast dinner, with all the usual trimmings. Why not pair it with our Easy Roast Potatoes, Roasted Tenderstem Broccoli, Roasted Swede, Balsamic and Garlic Roasted Cauliflower or Mustard and Honey Roast Parsnips for a full on belly-busting roast!
And then add some of our delicious Air Fryer Pigs in Blankets!
A roast dinner isn't the only way to serve this slow cooker brisket though. It also make a delicious summer recipes, with plenty of salads on the side. Why not stuff the shredded brisket into some mini brioche rolls with our Homemade BBQ Sauce and then serve it on the side of our Chopped Blue Cheese Salad, Easy Lentil Salad, Little Gem Salad, or Cucumber Salad.
We also love it with mashed potatoes and slow cooker baked beans.
Frequently Asked Questions
How long do you cook slow cooker beef brisket for?
We recommend cooking it on low for 8 hours. However you can cook it in your slow cooker on high for 6 hours. It will depend on your slow cooker and the size of your beef too. If your beef isn't falling apart then it isn't tender enough and it needs some extra time.
How to store slow cooker beef brisket.
It will also keep in the fridge for 3-4 days, but it might start to get a bit dry.
Can you freeze slow cooker beef brisket?
Yes, this freezes really well. You can portion it out in to freezer bags and it will keep in the freezer for 2-3 months.
How to reheat slow cooker beef brisket.
The best way to reheat this is in a pan with a little oil. It will only takes a couple of minutes.
What slow cooker to use.
There really is no rule here, just make sure that the beef you are using can fit in your slow cooker. We use a Crock Pot DuraCeramic Slow Cooker and we love it. What I love most about it is that you can put the bowl insert on the hob too, meaning you can brown meat, sauté vegetables or thicken gravy in it. I also love that it has a clear lid, as I am so impatient that I want to keep looking and seeing what it is doing. If you don't have a clear lid, then lifting it to see will release lots of the heat and add to the cooking time.
Do you have to sear the meat first?
You don't have to, but if you have the time then it adds such a depth of flavour. Basically, you want to trigger the Maillard reaction. It is a chemical reaction between amino acids and reducing sugars that gives browned food its distinctive flavour. You don't have to though, and you can just throw everything in to the slow cooker and leave it if you are really short on time.
Can you prepare slow cooker beef brisket in advance?
Yes, you can do some of the prep in advance. You can sear the meat and add it to the slow cooker with the rest of the ingredients and then allow it to cool fully and then put it in the fridge (in your slow cooker pot) for up to 24 hours. You can then put it on the next day, but it might take longer to cook from chilled.
Is slow cooker beef brisket gluten free?
This can easily be gluten free. Just make sure that the stock is gluten free and that there is no cross contamination.
More slow cooker beef recipes
If you've tried this slow cooker brisket recipe, then let us know how you got on in the comments below.
Tag us in your creations on Instagram @hungryhealthyhappy - Use the hashtag #hungryhealthyhappy too.
Recipe
Slow Cooker Beef Brisket
Perfectly tender and melt in your mouth Slow Cooker Beef Brisket is so easy to make and has the most incredible flavour.

Gluten Free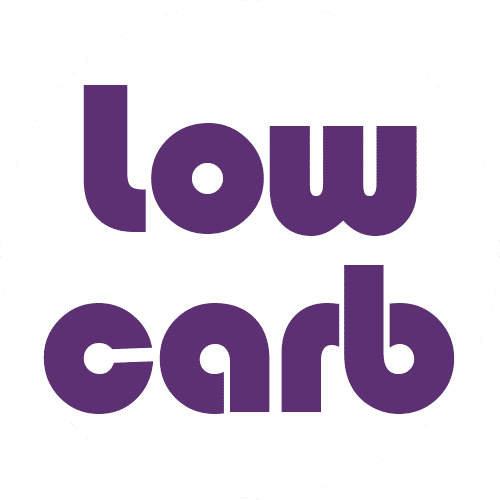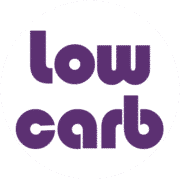 Low Carb
Pin
Print
Save recipe
Recipe saved!
Ingredients
2

tablespoon

Olive oil

2

kg

(

4.5

lb

)

Beef brisket joint

120

ml

(

0.5

cups

)

Beef stock

4

pinch

Sea salt and black pepper

3

tablespoon

Worcestershire sauce

1

Onion

-

sliced

3

Garlic clove

-

crushed

5

sprig

Fresh thyme
Instructions
Season the

2 kg Beef brisket joint

all over with

4 pinch Sea salt and black pepper

. Heat

2 tablespoon Olive oil

in a pan and add the seasoned meat. Brown on all sides, around 5 minutes.

Add

120 ml Beef stock

,

3 tablespoon Worcestershire sauce

,

1 Onion

,

3 Garlic clove

and

5 sprig Fresh thyme

to the slow cooker bowl.

Add the browned brisket and cook on high for 6 hours or low for 8 hours.
Recipe tips
Slow cookers all cook things at different rates. You want to make sure that you don't overcook your beef as it will dry out. The beef is cooked when it easily shreds with a fork.
Make sure you have a slow cooker big enough for the size meat you are cooking.
For something different, but really easy, mix the beef with BBQ sauce rather than the stock.
If there is a lot of juice in your slow cooker after you take the beef out to shred, then you might want to remove some of the mixture before putting the shredded meat back in.
To add a richer flavour, you could add a splash of red wine. Swap 25ml of the beef stock for red wine.
When slicing up the meat, make sure you are cutting it against the grain.
Nutritional Information
Serving:
1
portion
|
Calories:
313
kcal
|
Carbohydrates:
3
g
|
Protein:
42
g
|
Fat:
16
g
|
Saturated Fat:
6
g
|
Polyunsaturated Fat:
1
g
|
Monounsaturated Fat:
9
g
|
Cholesterol:
124
mg
|
Sodium:
233
mg
|
Potassium:
746
mg
|
Fiber:
1
g
|
Sugar:
1
g
|
Vitamin A:
28
IU
|
Vitamin C:
3
mg
|
Calcium:
23
mg
|
Iron:
4
mg
The nutritional information provided is approximate and is calculated using online tools. Information can vary depending on various factors, but we have endeavoured to be as accurate as possible.