BBQ sauce is a staple at any barbecue and a must-have condiment in every fridge. Why not try making this Healthy BBQ Sauce Recipe yourself and keeping it lower in sugar and salt, and no unnecessary ingredients. It still has that smoky and sticky sweet flavour, and perfect for people that have to have sauce on everything! Less than 10 ingredients, all of which you probably have in your kitchen already!
If you are anything like us, you have a whole shelf in your fridge dedicated to sauces. Pickles, chutneys, mayo and a couple of different bottles of BBQ sauce and ketchup that you can't remember when you opened. Well, why not have a bit of sauce audit and then start making more of your own? Save money, save calories, sugar and salt and save the hassle of having to clear that shelf out every 8 weeks by making a jar of this delicious healthy barbecue sauce. It has the same bold flavour you know and love, just healthier!
Perfect on burgers, grilled chicken, hot dogs and fries. It is so much better than store bought sauce and much cheaper too! Easy to adapt with different flavours, you are going to want to put this homemade BBQ sauce on everything!
Jump to:
Why you will love it
Super simple to make - Everything is cooked in one pan and it's super easy to do.
You can make only as much as you need - This means that nothing goes to waste and you don't have a bottle of sauce in your fridge for ages.
Low in calories - there is just 17 calories a portion
Made with kitchen staples - No need to buy any special ingredients, as you probably already have them.
Low in salt and sugar - A much lower salt and sugar alternative than store bought versions.
Kid friendly - If your kids love sauce, then give this a try with them.
Ingredients needed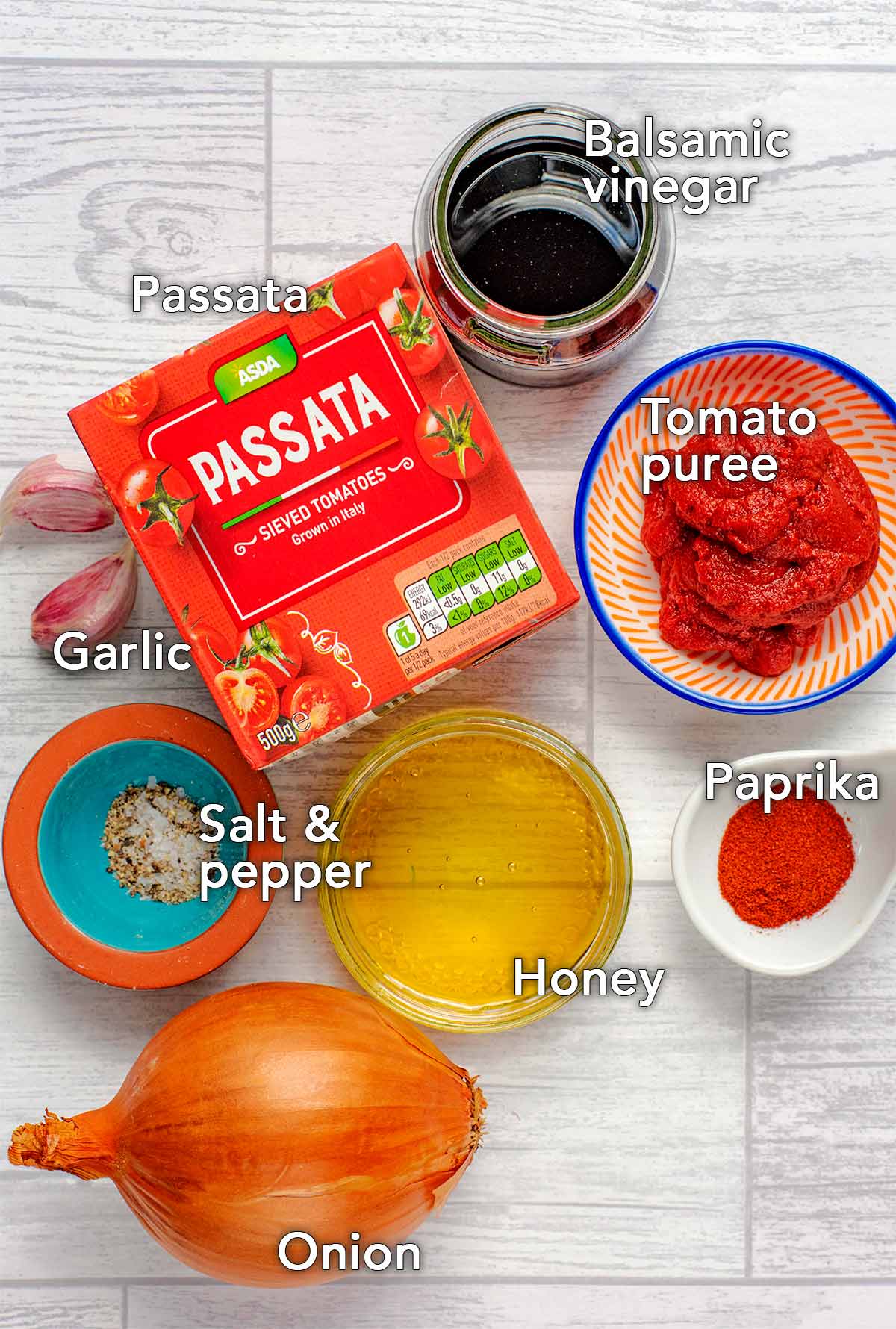 Onion - We used a white onion, but you can easily use shallots for a sweeter taste or even red onion.
Passata - Traditional BBQ Sauce would use tomato ketchup, but as one of our lighter swaps we have uses passata which is lower in sugar and salt. Always try to use a good quality passata as cheaper ones can be a bit watery and don't have much flavour.
Garlic - Feel free to alter the amount depending on your taste. We like our sauce to have a nice garlicy flavour.
Tomato puree (paste) - Used to thicken the sauce.
Honey - This sweetens the sauce. If you wanted to keep it vegan, use maple syrup. You can adjust the amount depending on how sweet you like your BBQ sauce.
Paprika - Gives the sauce it's smoky flavour. Feel free to adjust too.
Balsamic vinegar - Adds more thickness and also sweetness.
Worcestershire sauce - Helps balance out the sweetness from the honey and balsamic. Use a vegetarian version if needed.
A full ingredients list with measurements is in the recipe card below.
How to make BBQ Sauce - Step by step
One: Add a little olive oil to a pan and put the onions in and gently cook for 3-4 minutes until softened.
Two: Add the rest of the ingredients and stir. Simmer for around 10 minutes.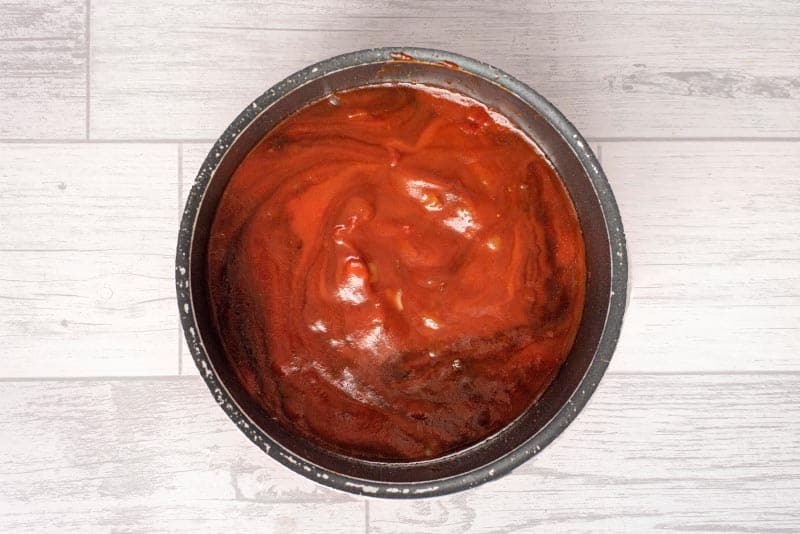 How is this sauce healthy?
Healthy is a bit of a buzz word isn't it. But what does it really mean? Well, it's different to everyone and ultimately to us it means balance. But when it comes to our recipes, it's about finding ways to make your favourite meals, and sauces, that little bit healthier by making them yourself.
The great thing about BBQ sauce is the sweetness. But I find store bought BBQ sauce to be way too sweet (the first ingredient is usually sugar), so by making it yourself you can adjust the sweetness. We have used honey to sweeten ours, but you can keep it vegan by using maple syrup too.
Also, we haven't used any salt in this healthy BBQ sauce recipe, so it's a good sauce alternative to give kids. We went through a stage with our toddler when she wanted sauce on all her meals and this made me feel much less guilty about it.
Ways to use BBQ sauce
Well, apart from smothering a burger or hot dog in it, there is so much that you can do with this BBQ sauce. Here are some of our burger recipes that it goes perfectly on:
It's not just a sauce, but a marinade too. We put it in a slow cooker with some chicken breasts to make Slow Cooked BBQ Chicken, or make our BBQ Chicken Wings and if we have any left over (which is rare), then we use it on a BBQ Chicken Pizza or stirred in to pasta. But that's not all - this is the perfect sauce to use as a pasta sauce or to put on pork chops, grilled chicken or grilled meats. Why not try using it on our Hunters Chicken. This delicious sauce goes with so much. Oh, we also use it on this BBQ Chicken Salad or stirred in to some Baked Beans.
I may have just eaten it out of the jar too, but I can't confirm that and you have no proof, so let's speak no more about it!
Storage
Store: This BBQ Sauce stores really well and the flavours are actually better a couple of days later, as the flavours have a chance to develop. This sauce will keep in an air tight jar (that has been sterilised) in the fridge for up to a week.
Freeze: Yes, you can freeze this BBQ sauce if you make too much. Just make sure it is completely cooled first and then pour individual portions in to freezable container (not a freezer bag). Don't fill the container all the way to the top, as it will expand a little. It will keep for around 3 months in the freezer.
Defrost: When you want to use it, allow it to defrost and if it is a little bit thick, add some water to thin it out.
Frequently asked questions
Is BBQ sauce gluten free?
Yes, as long as you make sure that there is no cross contamination, then this can be gluten free.
Is BBQ Sauce vegan?
This one isn't because we have used honey and Worcestershire Sauce in it. However you could swap the honey for maple syrup if you wanted to keep it vegan. You can find vegetarian Worcestershire Sauce alternatives, or you could use a little tamari or soy sauce instead.
Can homemade BBQ Sauce be used as a marinade?
Yes, it can and it's delicious on chicken or halloumi skewers. You will want to thin the sauce out a little bit to use it as a marinade.
Why is my BBQ Sauce still runny?
The consistency of this comes down to a personal preference. If you like a really thick BBQ sauce then you can just simmer it a little longer until it is a desired consistency.
Can I double the recipe?
Yes, this recipe is easy to scale up or down and there is no change to the cooking method.
More sauce recipes
If you've tried this barbecue sauce recipe, let us know how you got on in the comments below.
Tag us in your creations on Instagram @hungryhealthyhappy - Use the hashtag #hungryhealthyhappy too.
Recipe
Healthy BBQ Sauce
We are bringing you a healthier homemade recipe, so you never have to buy a store bought bottle again. You will want this Healthy BBQ Sauce on everything!

Gluten Free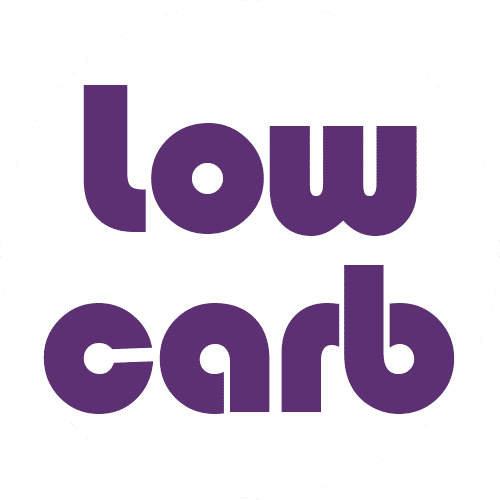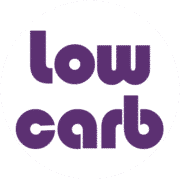 Low Carb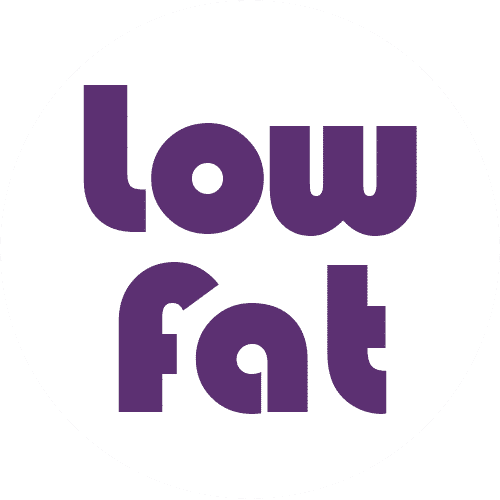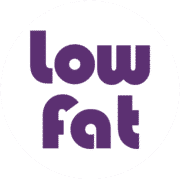 Low Fat
Pin
Print
Save recipe
Recipe saved!
Ingredients
0.5

tablespoon

Olive oil

1

Onion

-

small; very finely diced

500

g

(

2

cups

)

Passata

-

(2 cup)

2

Garlic clove

-

crushed

4

tablespoon

Tomato puree

2

tablespoon

Honey

1

pinch

Black pepper

1

tablespoon

Paprika

3

tablespoon

Balsamic vinegar

1

tablespoon

Worcestershire sauce
Instructions
Add

0.5 tablespoon Olive oil

to a pan and put

1 Onion

in and gently cook for 3-4 minutes until softened.

Add

500 g Passata

,

2 Garlic clove

,

4 tablespoon Tomato puree

,

2 tablespoon Honey

,

1 pinch Black pepper

,

1 tablespoon Paprika

,

3 tablespoon Balsamic vinegar

and

1 tablespoon Worcestershire sauce

. Stir well.

Simmer for around 10 minutes.

If you want a smooth sauce, wait for it to cool and then blend to the desired consistency.
Recipe tips
Keep this BBQ sauce vegan by swapping the honey for maple syrup. You can use any liquid or granulated sweetener you like, but you may need to adjust the measurements.
Change things up a bit and go for a spicy BBQ sauce. Add a teaspoon of cayenne or a few drops of chilli sauce to spice things up a bit.
We like our BBQ sauce nice and smokey, which is why we use smoked paprika in it, but you can easily leave it out.
This sauce has been blended to make it really smooth like a store bought BBQ sauce, but you could skip that stage and just leave it chunky.
If you aren't making this for kids, feel free to add a pinch of salt for some extra flavour.
If you want to add some extra flavour to this, then a teaspoon of English mustard is a good addition.
For loads of extra smokiness, add some liquid smoke to it.
If you want a a grown up version of this, add a little splash of bourbon for a bourbon BBQ sauce that goes so well on ribs. It will take a little longer for the sauce to cook with this in it though.
Nutritional Information
Serving:
1
tablespoon
|
Calories:
17
kcal
|
Carbohydrates:
4
g
|
Protein:
1
g
|
Sodium:
25
mg
|
Potassium:
18
mg
|
Sugar:
3
g
|
Vitamin A:
50
IU
|
Vitamin C:
1.7
mg
|
Iron:
0.2
mg
The nutritional information provided is approximate and is calculated using online tools. Information can vary depending on various factors, but we have endeavoured to be as accurate as possible.