This isn't just any Lentil Salad, this is a fully loaded, vibrant salad that can be enjoyed all year round. Vegetarian (with a vegan option), but still protein packed. A leafy green base topped with chunky vegetables, lots of colour and crunch and creamy feta, all mixed together with a light and fresh lemon and herb dressing.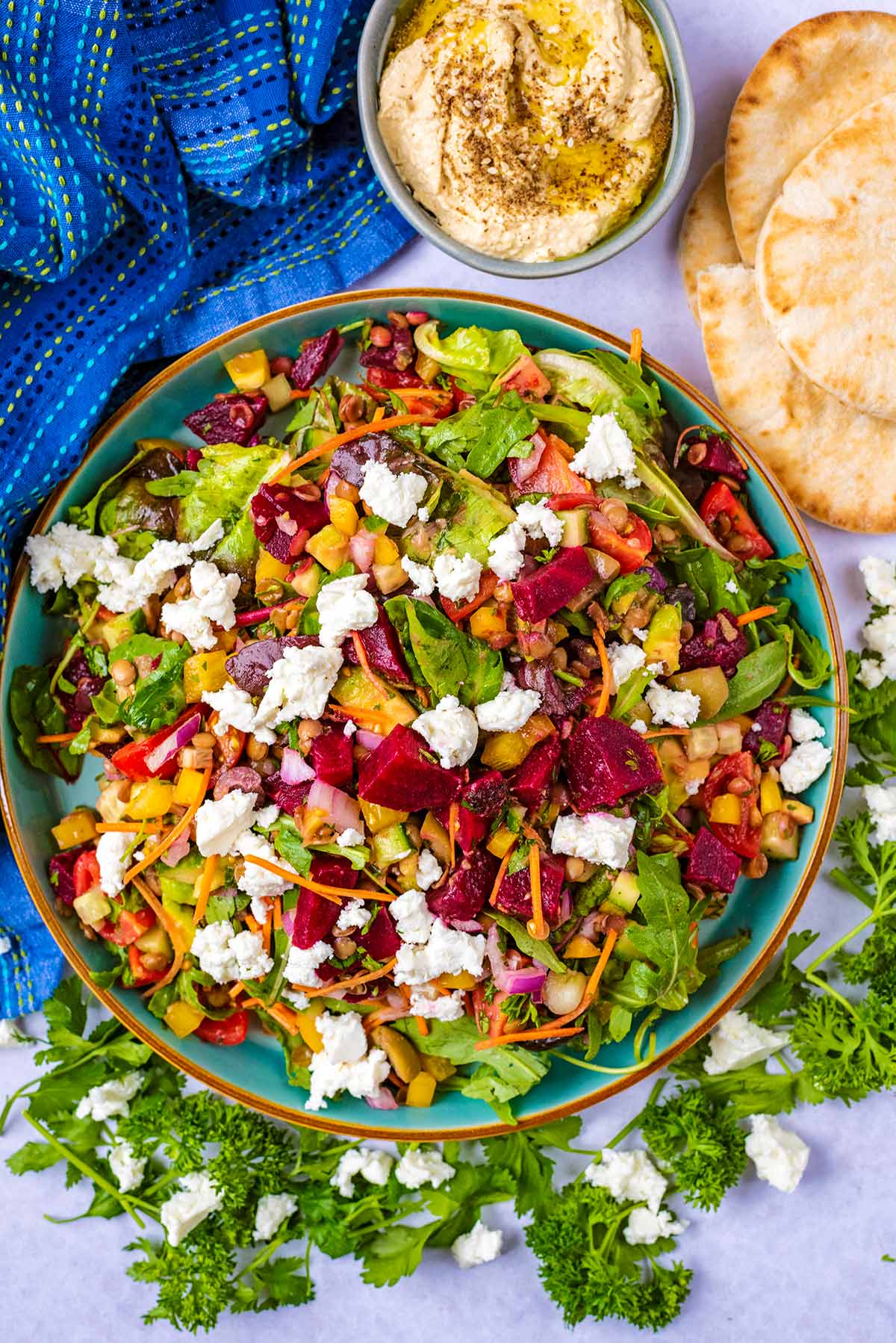 I know some people wouldn't eat salads all throughout the winter, but I honestly believe that they are not just for summer. They are the perfect meal to use up leftovers and they are quick and easy, meaning they should be enjoyed all year round. You just need to make a few adjustments like having some warm cooked ingredients on top for a hearty and filling meal.
Some other salads that are perfect for the colder months are our BBQ Chicken Salad, Pear Salad, Warm Lamb Salad, or Roasted Cauliflower Salad.
Jump to:
Why you will love it
A hearty vegetarian salad - Most people don't think of salads as being a really filling meal, especially if they don't have meat in them, but this one really is.
A delicious winter salad - Who says salads are just for summer? We love eating salads all through the year, we just adapt them to make them more seasonal.
Just 470 calories per serving - Even though this is super filling, there are just 470 calories in this salad.
Easy to adapt - This recipe came out of what we had in the fridge that needed using up, and it worked perfectly. But there great thing about salads like this is that they are easy to adapt with their favourite ingredients.
Protein packed - Lentils are a fantastic source of protein and this salad isn't lacking in protein, despite being meat free.
Can make it in bulk for easy lunches in the week - We love making up a big batch of this and then keeping it in the fridge to use for lunches over the next couple of days.
Ingredients needed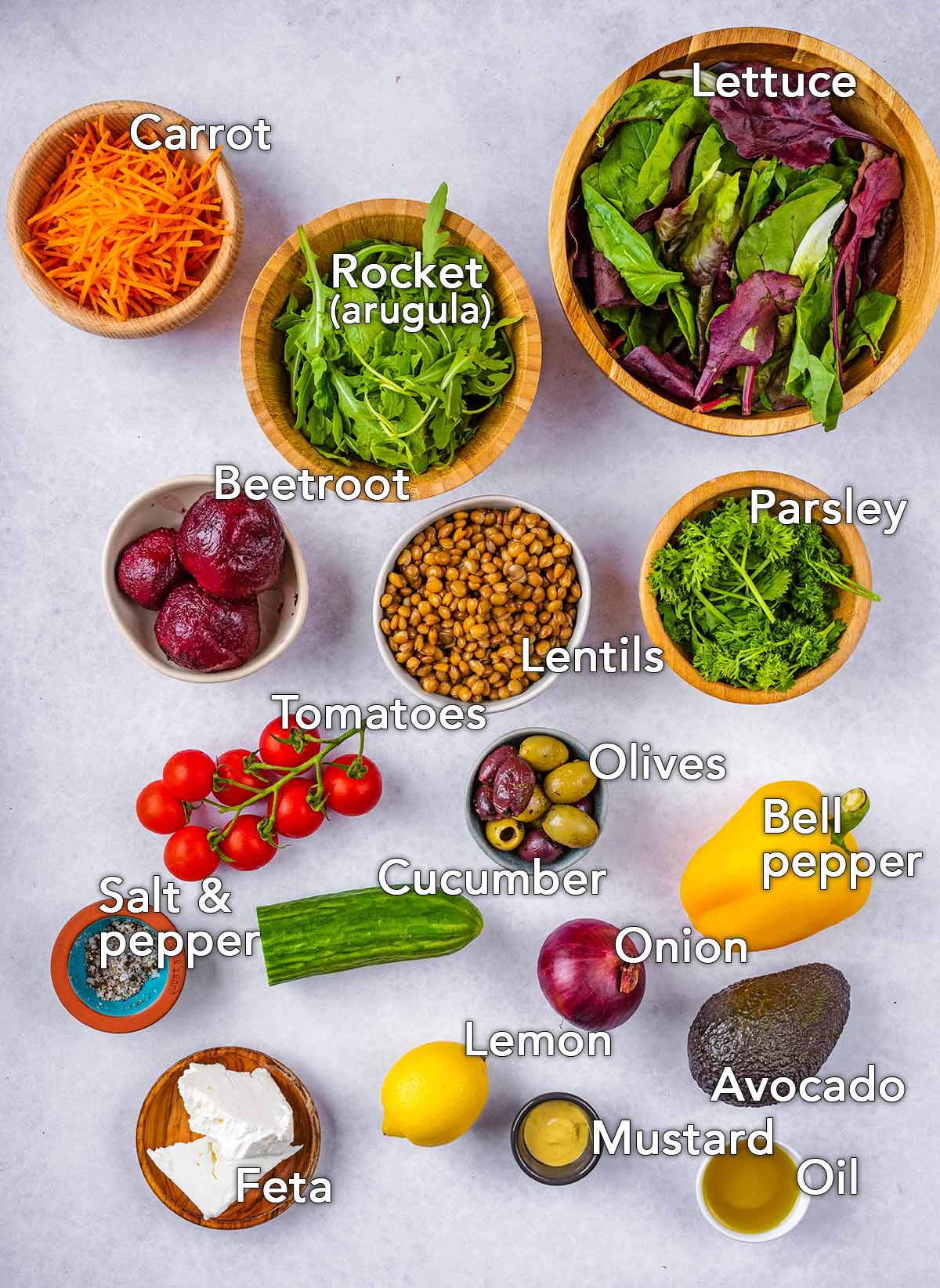 Lettuce - This is the base of the salad. We used a mixture of butterhead, spinach and rocket, however you could use any of your favourite salad greens. Kale works well, or you could use romaine or iceberg if you wanted something with a bit more crunch.
Carrot - This adds lots of crunch and colour to the lentil salad. We shredded it, but you could dice it or thinly slice it. Add some extra colour by using yellow and/or purple carrot in this.
Beetroot - As this is a salad for the colder months, we love the addition of cooked beetroot (not in vinegar). It is chunky and filling and adds some real warmth to the salad.
Cucumber and tomatoes - These are always good fillers in a salad. They add lots of texture, and they have plenty of liquid in them to add to the hydrating salad. We used cherry tomatoes, but you could just dice a larger tomato.
Bell pepper - A good way to add some extra crunch. We used a yellow pepper, but red, orange or green would work well too.
Avocado - The creaminess of the avocado compliments the creaminess of the lentils perfectly. If you are making this salad in the winter though, you might want to leave out the avocado because they aren't their best in the cold months.
Onion - We added some finely diced red onion for colour and crunch. You could swap it for shallots though, which would add some sweetness.
Lentils - The star of the salad and what makes it filling and protein packed. To make this a quick and easy salad, we used a can of green lentils (puy lentils), but there is more on that below.
Oil - This is the base of the lentil salad dressing and we used olive oil. Try to use the best quality oil you can, as you really will notice a difference.
Lemon - Rather than vinegar, we used lemon juice to add acidity to the salad dressing. It really helps to lighten up the whole salad too.
Mustard - A little Dijon mustard adds lots of flavour to the dressing. You could use wholegrain instead if you prefer.
Herbs - A mixture of finely chopped coriander and parsley bring some freshness to the salad. You could use any leafy herbs that you have in your fridge that need using up though.
Feta - This creamy cheese finishes off the salad perfectly. If you wanted this lentil salad to be vegan, then just leave it out.
A full ingredients list with measurements is in the recipe card below.
How to make lentil salad - Step by step
One: Combine the oil, lemon juice, Dijon mustard and salt and pepper to make the dressing.
Two: Build the salad with the lettuces, carrot, cucumber, tomato, beetroot, avocado, pepper and olives.
Three: Add the lentils, dressing, coriander (cilantro) and parsley.
Four: Mix well. Serve topped with the crumbled feta.
Health Benefits of Lentils
High in protein - 1 cup of lentils contains 18g of protein, which is more than chickpeas. That's great news for vegans, as you can use lentils in replace of meat in lots of dishes, and they will still be high in protein.
A good source of calcium - whilst a lot of people get calcium from dairy, if you aren't consuming dairy, then lentils are a good alternative to get calcium.
A good source of iron - one portion of lentils has around a third of your daily requirement of iron. Mix some spinach in to this stew and you have yourself an iron pack meal.
They are full of fibre - if you want to feel fuller for longer, then meals that are high in fibre are the way to go. It's also great for digestive health. Lentils are a good source of fibre and this is a deliciously filling meal.
High in magnesium - Lentils are high in magnesium, which is great if you are feeling stressed and having trouble sleeping.
A good source of folic acid - If you are, or have ever been, pregnant, then you will know the importance of folic acid. But it's also important for lowering the risk of heart disease and is good for healthy hair.
What lentils to use
We used green lentils (puy), because although they do take quite a while longer to cook than red lentils, they hold their shape a lot better (rather than going mushy), which is perfect for salads.
There is no need to soak green lentils, but doing so will reduce the cooking time. However, green lentil should be rinsed, before boiling. To cook, simply add one part lentils to three parts water (or stock for extra flavour) for 40 minutes or until tender.
If you want to save yourself even more time, then you can use canned green lentils, which is what we have done for this recipe. If you are going to do that, then once they are drained, mix a little bit of the salad dressing in to them and leave for 30 minutes. This add so much more flavour to them.
Variations
The great thing about salads is that they are so easy to adapt and they can be loaded with vegetables. We kept it simple with some cucumber, tomatoes, carrot and beetroot. But you could add roasted vegetables and/or roasted squash, which would be a good way to use up whatever you have leftover in your fridge.
Lentils are nice and creamy, so you don't need cheese and leaving it off would make this lentil salad vegetarian. However, we think some creamy feta really compliments the salad. You could grill or dry fry some chunks of halloumi to go on it too. Parmesan is also a good addition.
This is a delicious way to eat more vegetarian meals, however you can add grilled chicken or salmon to it for those people that like to have meat with their meal.
Salad dressing
The salad dressing for this is really easy. It's olive oil and lemon juice mixed with loads of fresh herbs and a little mustard. A honey and mustard salad dressing would work well, as would a balsamic based dressing.
We also love a tahini dressing, as the creaminess goes so well with the lentils and it's a nice vegan option if you are skipping the cheese.
What to serve it with
We love to eat a big bowl of this as a light but filling meal. However, if you wanted to serve this as a side salad, there are a few things that it would go really well with. Why not try one of these:
We are always a big fan of just having a nice light and fluffy Homemade Flatbread to scoop the lentil salad up with. It's worth making the effort to make your own bread to go with it.
FAQs
How many calories in a lentil salad?
This is a really light and protein packed salad, but fairly light on the calories. There are just 470 calories in this salad, but it's actually really filling.
How to store a lentil salad?
This is a great batch cook salad. You can cook everything and mix it all together (except the dressing) and it will keep in an air tight container in the fridge for up to 4 days. Don't dress it though, as it will go very soggy.
Can lentil salad be frozen?
No, we don't recommend freezing lentil salad, as it wouldn't be the same once defrosted.
Can you add chicken to a lentil salad?
This is a nice vegetarian salad, so it really doesn't need any meal. However you could add leftover chicken from our Slow Cooker Whole Chicken, or grilled king prawns or salmon.
More salad recipes
If you've tried this puy lentil salad recipe, let us know how you got on in the comments below.
Tag us in your creations on Instagram @hungryhealthyhappy - Use the hashtag #hungryhealthyhappy too.
Recipe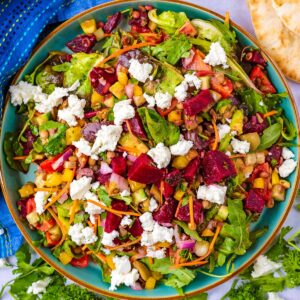 Easy Lentil Salad
This isn't just any Lentil Salad, this is a fully loaded, vibrant salad that can be enjoyed all year round. Vegetarian (vegan option) and protein packed.

Gluten Free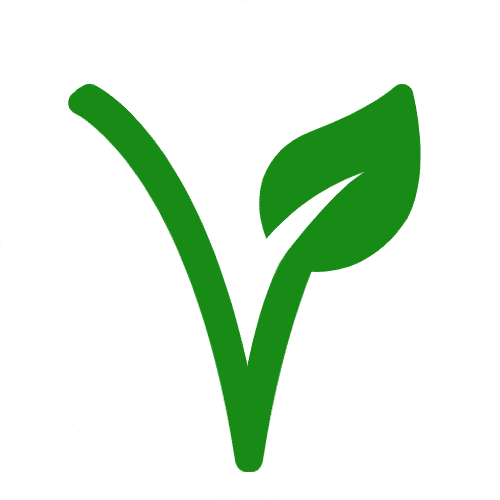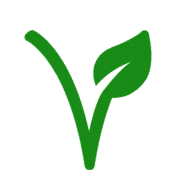 Vegetarian
Pin
Print
Save recipe
Recipe saved!
Ingredients
45

g

(

1.5

oz

)

Butterhead lettuce

45

g

(

1.5

oz

)

Spinach

30

g

(

1

oz

)

Rocket (arugula)

1

Carrot

-

grated

8

Cherry tomatoes

-

quartered

0.5

Cucumber

-

diced

5

g

(

0.25

cups

)

Fresh parsley

5

g

(

0.25

cups

)

Fresh coriander (cilantro)

1

Lemon

-

(juice only)

3

tablespoon

Olive oil

1

pinch

Sea salt and black pepper

1

tablespoon

Dijon mustard

1

Red onion

-

small; diced

3

Cooked beetroot

-

diced

10

Olives

-

halved

30

g

(

0.25

cups

)

Feta

-

crumbled

1

Yellow bell pepper

-

diced

1

Avocado

-

diced

265

g

(

1.33

cups

)

Green lentils

-

(drained weight)
Instructions
Combine

3 tablespoon Olive oil

, juice of

1 Lemon

,

1 tablespoon Dijon mustard

and

1 pinch Sea salt and black pepper

to make the dressing.

Build the salad with

45 g Butterhead lettuce

,

30 g Rocket (arugula)

,

45 g Spinach

,

1 Red onion

,

1 Carrot

,

0.5 Cucumber

,

8 Cherry tomatoes

,

3 Cooked beetroot

,

1 Avocado

,

1 Yellow bell pepper

and

10 Olives

.

Add

265 g Green lentils

, dressing,

5 g Fresh coriander (cilantro)

and

5 g Fresh parsley

. Mix well.

Serve topped with

30 g Feta

(crumbled).
Recipe tips
To add extra flavour to the lentils in this salad, cook them in a really good quality stock instead of water.
If you are using canned green lentils for this salad, then mix some of the dressing in to them and leave for 30 minutes to add some extra flavour.
If you are going to store this in the fridge for a couple of days, then don't dress it. Only add the dressing just before serving.
When it comes to the herby lemon dressing, you can use any leafy herbs in it. It's a great dressing to use up whatever leftover herbs you have in your fridge.
You can swap carrot for grated courgette in this recipe.
Nutritional Information
Serving:
1
portion
|
Calories:
470
kcal
|
Carbohydrates:
57
g
|
Protein:
23
g
|
Fat:
21
g
|
Saturated Fat:
4
g
|
Polyunsaturated Fat:
3
g
|
Monounsaturated Fat:
14
g
|
Cholesterol:
7
mg
|
Sodium:
378
mg
|
Potassium:
1536
mg
|
Fiber:
29
g
|
Sugar:
10
g
|
Vitamin A:
4795
IU
|
Vitamin C:
99
mg
|
Calcium:
158
mg
|
Iron:
7
mg
The nutritional information provided is approximate and is calculated using online tools. Information can vary depending on various factors, but we have endeavoured to be as accurate as possible.