If you are looking for a light and filling soup that is low in calories, then this Creamy Courgette Soup is for you. Just 5 ingredients and a mere 75 calories for a large bowl and can easily be made vegan too. This silky smooth Courgette Soup is a great way to use up a lot of courgettes if you have them growing in your garden.
It doesn't get much lighter than a courgette soup and the chives gives it a stronger onion flavour and they pair beautifully with the courgettes, without adding a lot of extra calories. Roasting the courgettes before adding to the pan adds so much more flavour to the soup too.
Even if you don't have any courgettes growing in your garden, they are really cheap to pick up at this time of year which makes this a budget friendly soup if you stick to the basic recipe. But, we have given you lots of ways below that you can jazz it up a bit with some more indulgent ingredients.
Looking for some other ways to use courgettes? Why not try our Courgette Fritters, Courgette Risotto, Courgette Frittata, or Courgette Pizza Bites?
Jump to:
Why you will love it
A light meal - There are just 75 calories for a big filling bowl of this courgette soup and it is low in fat too.
Boost your daily vegetable intake - We could all do with some extra vegetables in our life, right? This soup is an easy way to eat more vegetables.
Use up a glut of courgettes - If you are growing courgettes, then they are probably taking over your garden. This is an easy way to use a few up so nothing goes to waste.
The perfect summer soup - Soup isn't just for the colder months and this soup is the perfect way to bridge between summer and autumn.
Budget friendly soup - When in season, courgettes are pretty cheap in the shop and this soup is made with very few extra ingredients.
Can easily be made vegan - We added creme fraiche to give it some creaminess, but you could easily leave it out or use a vegan alternative.
Ingredients needed
Courgettes (zucchini) - Choose ones that are no longer than 8 inches and are free of nicks. A really fresh courgette will have very tiny hairs on the skin.
Onion and garlic - The basic base to any delicious soup.
Creme fraiche - You can use yogurt or cream, or leave it out to make the soup vegan.
Vegetable stock - Either a home made stock or a good quality shop bought stock. If you are making this for young kids, then make sure it is a low salt stock.
Chives - To finish off the dish.
A full ingredients list with measurements is in the recipe card below.
How to make courgette soup - Step by step
One: Heat the oil in a large soup pan and then add the onion, garlic and courgette. Gently cook for 5 minutes, stirring every so often.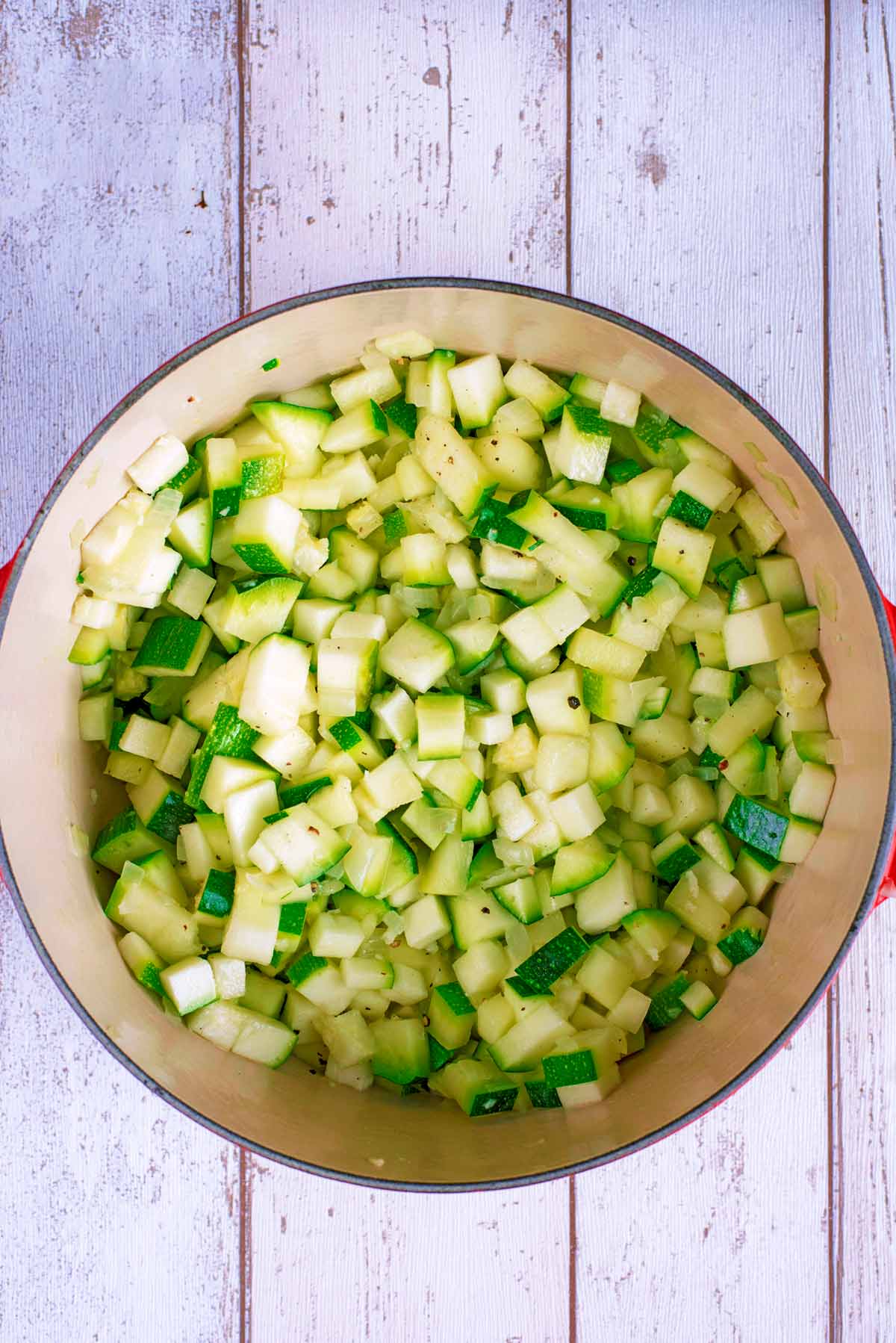 Two: Add the vegetable stock and chives to the pan and gently simmer for 15 minutes.
Three: Blend the soup until smooth and stir in the creme fraiche.
Four: Serve in bowls with a dollop of creme fraiche and chives for serving (both optional).
Courgette or Zucchini?
Courgettes and zucchinis are essentially the same vegetable but are called different things in different countries. In the UK, they are known as a courgettes, but in the US, they are called zucchini.
Technically though, there is a difference between the two. The names are used to refer to that same plant, but which is growing at a different stage of plant's development. The courgette is younger and therefore slightly smaller than the older and larger zucchini.
For any recipe on this blog that uses courgette we are also referring to a zucchini too. For more UK/US food terms see our chart of food translations.
Health benefits of courgette
Courgettes are very low in calories and they have a high water content. They are also super nutritious as they are a great source of vitamins A and C, potassium and fibre.
Make sure to include the skin of the courgette in the soup, as that is where most of the fibre comes from. It will all be blended up in to the soup anyway.
What to serve with Courgette Soup
To give our courgette soup a bit of texture, we love serving it with some crunchy croutons on top. We make our own easy croutons by chopping up some bread in to squares and drizzling over a little olive oil and a sprinkle of garlic granules and dried herbs. Put them in the oven for about 5 minutes to crisp up. Perfect for adding to soups and salads.
You could keep it simple and serve the soup with some French bread fresh from the oven. Garlic bread is also great to dip in it, and that is a favourite with our kids.
This time, we served it with our Garlic and Rosemary Focaccia, which is a really easy and delicious homemade bread that goes perfectly with courgette soup.
Storage
Store: If you have leftovers of this soup, it will store in an air tight container in the fridge for up to 2 days.
Freeze: You can freeze this soup in freezer bags or containers with lids for up to 3 months. When defrosted, it may be a bit watery, so mix in some grated cheese to thicken it up and add some more flavour. This recipe is easy to double or triple the batch and then freeze in individual portions for quick work lunches.
Reheat: You can either reheat it in the microwave or heat it through on the hob.
FAQs
How to make courgette soup creamy
Whether you call it a courgette or a zucchini, it makes a delicious soup and the creamier the better! We make this courgette soup feel a little more indulgent by stirring in some creme fraiche to make it nice and creamy, but you could use plain yoghurt or single cream instead.
Something else that adds a lot of flavour and creaminess is grating a bit of parmesan on top just before serving.
How to thicken courgette soup
We usually just make soup by eye without measuring anything and that can sometimes mean the soup ends up a little too thin and watery. If you find yourself in the same position, then all you need is a flour slurry to thicken it up.
Simply mix together equal parts flour and water and then whisk that mixture in to the soup. Usually 2 tablespoons of flour and 2 tablespoons of water mixed together does the job. You can use this tip for thin stews too.
I would add a little extra chives if you do this, as it can sometimes make the soup taste floury.
Can you make courgette soup in advance?
Yes, you can make this in advance and then leave it to cool in the pan, cover and refrigerate the whole pan. Then, when you want to serve it you can put the whole pan (uncovered) on the hob and heat it through.
Is courgette soup gluten free?
Yes, if you make sure to use a gluten free stock, and make sure there is no cross contamination, then this is a delicious gluten free soup.
More soup recipes
If you've tried this Courgette Soup recipe, let us know how you got on in the comments below.
Tag us in your creations on Instagram @hungryhealthyhappy - Use the hashtag #hungryhealthyhappy too.
Recipe
Creamy Courgette Soup (Zucchini Soup)
If you are looking for a light and filling soup that is low in calories, then this Creamy Courgette (Zucchini) Soup is for you.

Gluten Free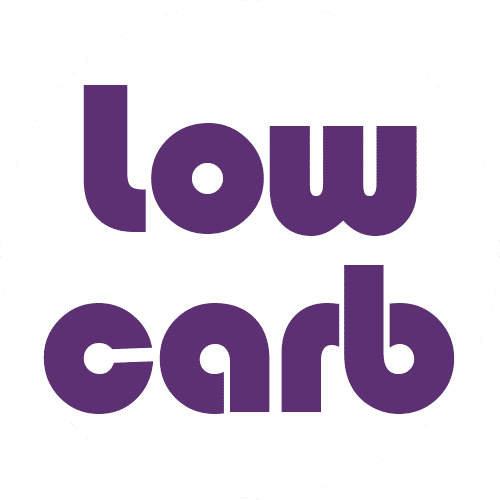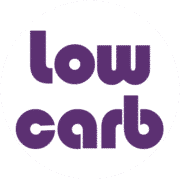 Low Carb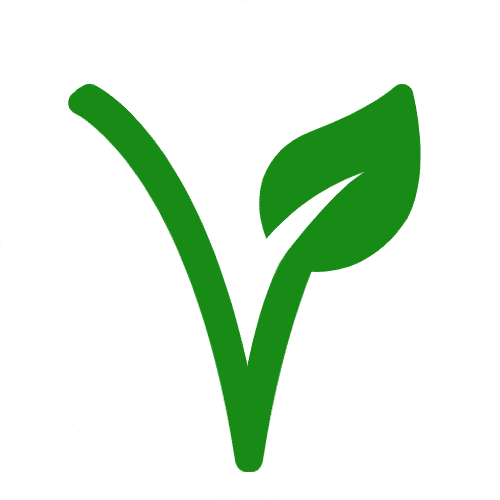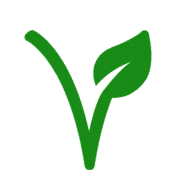 Vegetarian
Pin
Print
Save recipe
Recipe saved!
Ingredients
1

teaspoon

Vegetable oil

5

Courgettes (zucchini)

-

diced

750

ml

(

3.25

cups

)

Vegetable stock

2

Garlic clove

-

crushed

5

g

(

2

tablespoon

)

Fresh chives

-

finely chopped

1

Onion

-

small; diced

1

pinch

Sea salt and black pepper

4

tablespoon

Reduced fat creme fraiche
Instructions
Heat

1 teaspoon Vegetable oil

in a large soup pan and then add

1 Onion

,

2 Garlic clove

and

5 Courgettes (zucchini)

. Gently cook for 5 minutes, stirring every so often.

Add

750 ml Vegetable stock

5 g Fresh chives

and

1 pinch Sea salt and black pepper

to the pan and gently simmer for 15 minutes.

Blend the soup until smooth and stir in

4 tablespoon Reduced fat creme fraiche

.

Serve in bowls with a dollop of creme fraiche and chives for serving (optional).
Recipe tips
If the soup is too thin and watery, you can thicken it with a flour slurry. Mix equal parts plain flour and water (say 2 tablespoons of each) in a cup and then mix that in to the soup until you get desired thickness.
Chives work well with this courgette soup as they have a nice onion flavour, but you could use basil, mint or parsley instead.
Add a little extra vibrant green colour and a nutrient boost by cooking some peas with it and blending them up too.
You could use plain yoghurt or cream instead in this zucchini soup if you don't have any creme fraiche.
Make this vegan by leaving out the creme fraiche.
Use shallots instead of onion for a sweeter flavour.
If you want to give this soup a flavour boost, then roast the courgettes before adding to the pan.
We have used vegetarian stock to keep this soup vegetarian, however you could swap it for a really good quality chicken stock to give it a richer flavour.
If you are making this for your children, then use a low salt stock and don't season the whole soup, just do individual bowls if wanted.
If you are using a jug blender to blend this soup, then wait until it has cooled first as you could crack the jug if it is too hot.
Crumble some feta on top with a little indulgent twist.
If you want to bulk out the soup, then some cooked rice or orzo pasta works well.
Nutritional Information
Serving:
1
bowl
|
Calories:
75
kcal
|
Carbohydrates:
13
g
|
Protein:
3
g
|
Fat:
2
g
|
Saturated Fat:
0.4
g
|
Polyunsaturated Fat:
1
g
|
Monounsaturated Fat:
0.3
g
|
Trans Fat:
0.01
g
|
Sodium:
766
mg
|
Potassium:
689
mg
|
Fiber:
3
g
|
Sugar:
9
g
|
Vitamin A:
942
IU
|
Vitamin C:
47
mg
|
Calcium:
49
mg
|
Iron:
1
mg
The nutritional information provided is approximate and is calculated using online tools. Information can vary depending on various factors, but we have endeavoured to be as accurate as possible.