This easy Greek Lamb Meatball Traybake is a delicious new way to enjoy meatballs. Succulent Greek lamb meatballs baked with peppers and potatoes in a zesty oregano dressing and then sprinkled with feta and mint before serving. Great for serving up to a hungry family with a few delicious sides.
I am a big fan of anything that all gets mixed together in one tray and goes in to the oven and cooks for the same length of time. The meatballs do need to be browned first, but it's honestly worth it.
Meatballs always go down well in our house, but instead of the regular meatballs in a tomato sauce, we like making these Greek meatballs with crispy vegetables. It's easy to adapt, great for batch cooking and an easy way to introduce new flavours to kids.
If you love meatballs, why not try our Air Fryer Meatballs, Meatball Sub, Spanish Meatballs or Sweet and Sour Meatballs.
Jump to:
Why you will love it
One pan dish - Once the meatballs have been browned, just put everything in to a big baking tray and put it in the oven. Less effort and less washing up.
Family friendly - Most families struggle to find meals that everyone will eat and this is a family favourite in our house. Comforting meatballs and potatoes and some added vegetables for a nutrient boost.
Freezes well - This is a great meal to batch cook and then store in the freezer for busy days.
Easy way to try lamb - If you haven't cooked with lamb before and are unsure what to do with it, then this is a great recipe to start with as it's super easy.
Ingredients needed
Lamb - This is the star of the dish. We have used lamb mince and it makes really moist and flavour packed meatballs.
Lemon - We used juice and zest and it adds some lovely freshness to the meatballs. You can leave the zest out if you don't want the lemon flavour to be too strong.
Garlic - Just a little crushed garlic adds lots of flavour to the lamb meatballs. You can save time and use crushed garlic from a jar,
Mint - This adds so much freshness and just add to the Green flavours. If you don't like mint, then you could swap it for parsley or dill. We recommend using fresh herbs rather than dried.
Egg - This is what helps to bind the meatballs. We used a medium egg - a large one would make the meatballs too moist.
Breadcrumbs - This also helps to bind the meatballs. We used wholewheat breadcrumbs, but you could swap them for panko, which would give the meatballs some crunch.
Potatoes - This dish has everything in it, including the sides. We cut potatoes in to wedges and baked them with the meatballs to get them nice and crispy.
Peppers - Slices of bell pepper add lots of colour and crunch. We used red bell peppers, but any colour will work.
Onion - We used red onion, but you could use a brown onion of even halves shallots which would add some sweetness.
Courgette - These add lots of chunkiness to the traybake. You could use aubergines instead, or even a mixture of the two.
Tomatoes - We used red and yellow cherry tomatoes and they add a lovely burst of flavour once roasted.
Oil - We used a really good quality Greek olive oil, to keep with the Greek vibe of this dish. Try to use the best quality olive oil you can, as you will be able to taste the difference.
Seasoning - To give these meatballs the Greek flavour, we added dried oregano and garlic granules to the vegetables. You could add dried thyme too.
A full ingredients list with measurements is in the recipe card below.
Step by step
One: Put all of the ingredients for the meatballs into a bowl.
Two: Mix well. Roll in to 16 meatballs and set aside.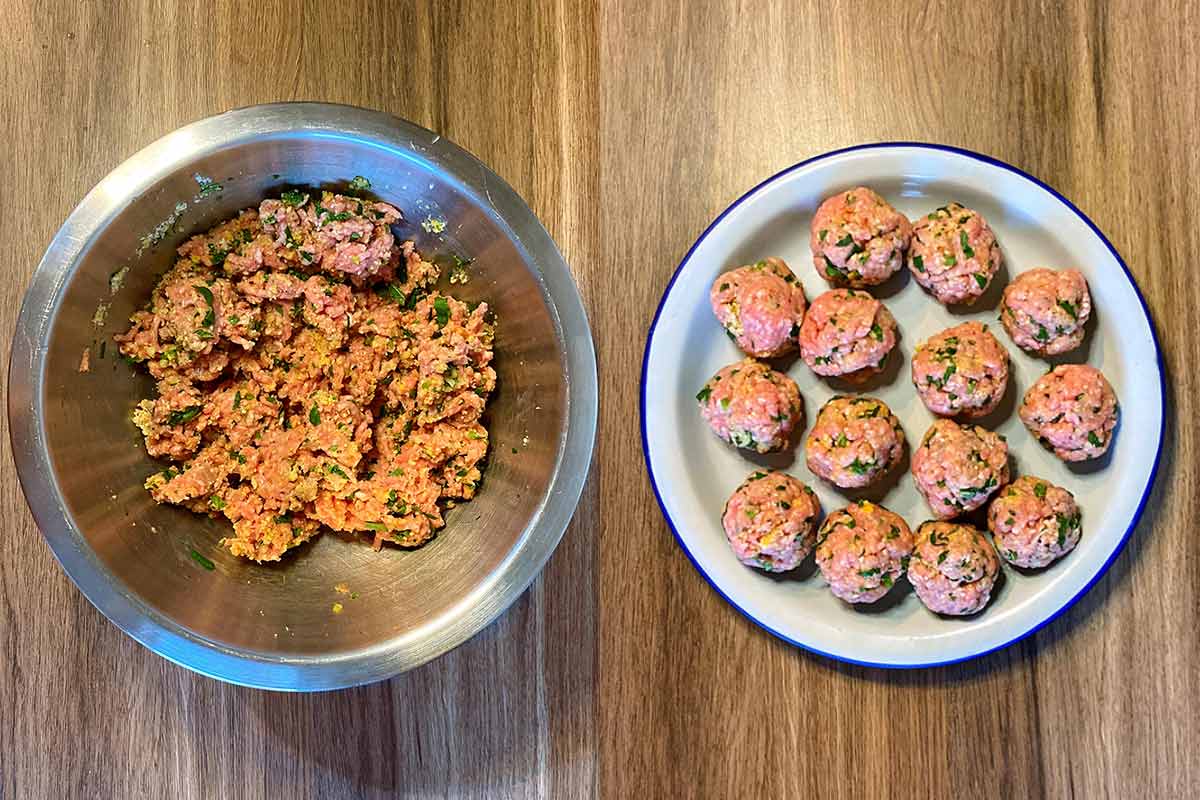 Three: Heat a little oil in a pan and brown the meatballs for 3-4 minutes.
Four: In a separate large bowl, add all the ingredients for the vegetables and mix well.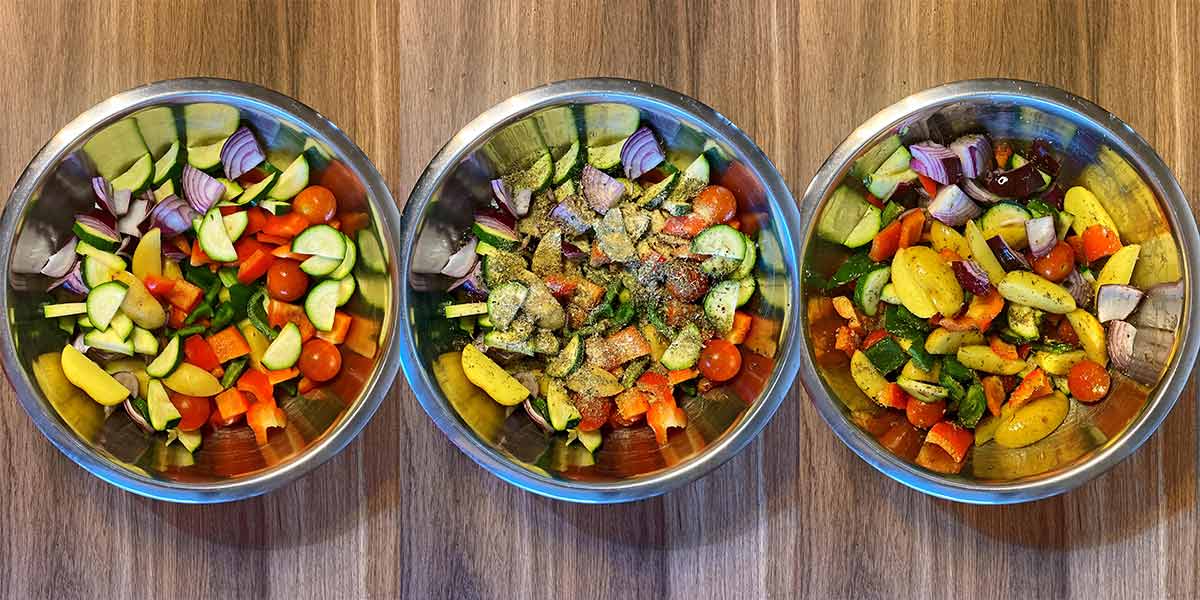 Five: Pour the vegetable mixture in to a large baking tray and then place the meatballs in any gaps.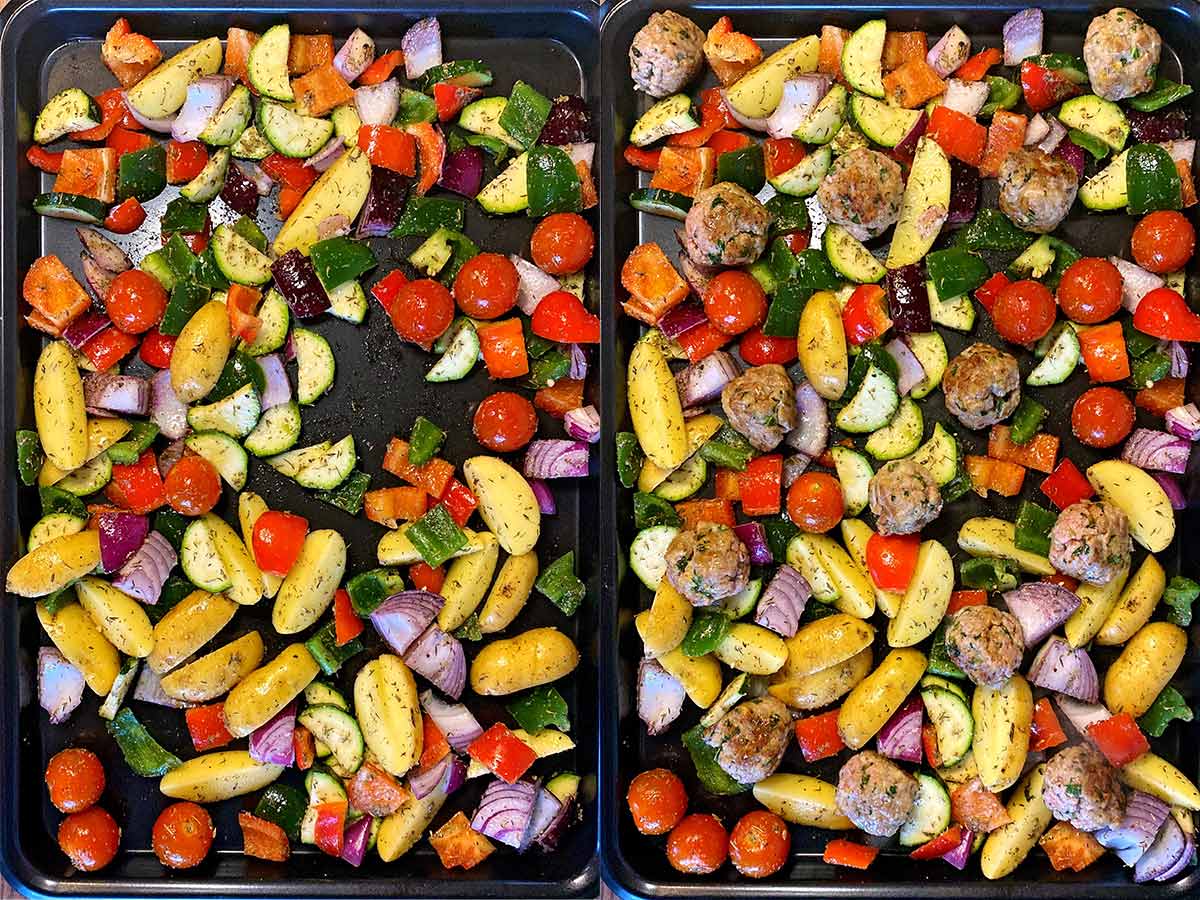 Six: Put in a preheated oven at 200°C/400°F/Gas 6 for 40 minutes, stirring the vegetables and turning the meatballs over half way through.
Seven: Sprinkle the feta and mint on top before serving with tzatziki and pita breads.
Health benefits of lamb
Lamb can get a reputation of being unhealthy, but it really doesn't have to be!
Use the leanest mince that you can find and bake the meatballs instead of frying them and you have already saved yourself some calories, but you still have all that flavour. It's all about pairing it with fresh vegetables and that sprinkle of mint on top at the end is everything.
Lamb is not only a rich source of protein, but it is also a great source of many vitamins and minerals, such as iron, zinc, and vitamin B12.
Variations
There are lots of different ways that you can adapt this recipe. Firstly you can change the meatballs that are using. Beef and pork will both work well, or you could use your favourite vegetarian meatballs. To make the meatballs themselves taste different, play around with the spice mix. Why not try a Mexican seasoning.
We cut the potatoes in the wedges, but you could also half the new potatoes or cube a larger potatoes. Cooking times may vary.
There are loads of options when it comes to the vegetables too. We added peppers, courgettes and tomatoes. But you could also use mushrooms, aubergine, asparagus, cauliflower, broccoli and carrots. It's a great way to use up what you have.
For an extra protein boost, you can stir in some cooked chick peas to the pan. You could finish it off with some rocket (arugula) on top before serving for a bit of a green boost.
What to serve with Lamb Meatballs
This dish has everything in it already. It has the meatballs, potatoes and vegetables all in one pan. However, if you wanted to serve this up to a few people, then some extra side dishes is a good idea. Don't forget to sprinkle the whole dish with some feta and fresh mint.
We like serving it with our Easy Homemade Flatbreads, Tzatziki and Hummus.
If you wanted some extra vegetables on the side, then why not try our Grilled Corn with Herb Butter, Broccoli Slaw, Garlic Spring Greens, Roasted Tenderstem Broccoli.
Storage
Store: If you have leftovers of this, then you can store it in an air tight container in the fridge for up to 2 days.
Freeze: You can freeze this dish in portions, but the meatballs can get a little dry once reheated. Therefore, we would suggest that this dish is eaten straight after cooking.
Reheat: Add a little oil to a pan and then add the meatballs and vegetables until heated through.
FAQs
Can you make Greek Lamb Meatball Traybake in advance?
You can make all the meatballs up, and have all the vegetables pre-chopped, and then keep them in the fridge until you are ready to mix together in a dish and put them in the oven.
Is this gluten free?
As long as you use gluten free meatballs, this is a delicious gluten free dish. Just be careful with cross-contamination.
Do I have to brown the meatballs first?
You don't have to, and you could just put them in the oven at the same time as the vegetables, but you would need to add about 15 minutes extra cooking time. But we would recommend browning them first as it adds lots of flavour and a nice crispy texture.
Can I use store bought meatballs?
Yes, by all means save yourself some time and use ready made meatballs. Try to buy the best quality ones you can, as they are the star flavour in this meatball traybake.
Why are my vegetables not cooked?
You need to make sure that you are using a big enough pan for all the ingredients and that everything can lots of space and is in a single layer. If it is all piled on top of each other, then it will steam rather than roast. You want the potato wedges and vegetables to get nice and crispy.
What temperature should lamb meatballs be cooked to?
The cooked internal temperature of the lamb meatballs is 70°C (160°F). The best way to check this is to use a meat thermometer.
Why are my meatballs dry?
You firstly want to make sure that you don't overhandle the meatballs when you are rolling them. Only handle them just enough to make them, and handle them lightly. You then need to make sure that you don't over cook them.
Can I add a sauce to lamb meatballs?
If you wanted to make this more like a stew, then once the meatballs and vegetables have cooked, add a mixture of canned chopped tomatoes, passata and Greek seasoning to the tray and mix everything together and put it bake in the oven for 10 minutes.
More lamb recipes
If you've tried this lamb meatball recipe, let us know how you got on in the comments below.
Tag us in your creations on Instagram @hungryhealthyhappy - Use the hashtag #hungryhealthyhappy too.
Recipe
Lamb Meatball Traybake
This easy Greek Lamb Meatball Traybake will transport you to a beautiful Greek island through your tastebuds - you can practically hear the lapping waves.
Pin
Print
Save recipe
Recipe saved!
Ingredients
For the meatballs:
500

g

(

1

lb

)

Lean lamb mince

0.5

Lemon

-

(juice and zest only)

2

Garlic clove

-

crushed

10

g

(

0.25

cups

)

Fresh mint

-

chopped

1

pinch

Sea salt and black pepper

1

Egg

-

whisked

50

g

(

0.5

cups

)

Breadcrumbs

1

tablespoon

Olive oil
For the vegetables:
250

g

(

8.75

oz

)

Charlotte potatoes

-

cut in to wedges

2

Bell peppers

-

cut in to chunks

1

Red onion

-

cut in to chunks

1

Courgette (zucchini)

-

sliced

10

Cherry tomatoes

2

tablespoon

Olive oil

0.5

Lemon

-

(juice and zest)

1

tablespoon

Garlic granules

2

tablespoon

Dried oregano

1

pinch

Sea salt and black pepper
For serving:
80

g

(

0.5

cups

)

Feta

-

crumbled

45

g

(

1

cups

)

Fresh mint

-

finely chopped

Pitta breads
Instructions
Preheat your oven to 200°C/180°C(fan)/400°F/Gas 6.

Put

500 g Lean lamb mince

, juice of

0.5 Lemon

,

2 Garlic clove

,

10 g Fresh mint

,

1 pinch Sea salt and black pepper

,

1 Egg

and

50 g Breadcrumbs

into a bowl and mix well with your hands.

Heat

1 tablespoon Olive oil

in a pan and brown the meatballs for 3-4 minutes.

In a separate large bowl, add

250 g Charlotte potatoes

,

2 Bell peppers

,

1 Red onion

,

1 Courgette (zucchini)

,

10 Cherry tomatoes

,

2 tablespoon Olive oil

,

0.5 Lemon

,

1 tablespoon Garlic granules

,

2 tablespoon Dried oregano

. and

1 pinch Sea salt and black pepper

and mix well.

Pour the vegetable mixture into a large baking tray and then place the meatballs in any gaps.

Put into the oven for 40 minutes, stirring the vegetables and turning the meatballs over half way through.

Sprinkle

80 g Feta

and

45 g Fresh mint

on top before serving with

Tzatziki

and

Pitta breads

.
Recipe tips
You could make this with beef or pork if you don't have/like lamb.
Change up the flavours by using different seasonings. Put a Mexican twist on things by mixing some Mexican spice in to the meatballs.
Use this dish as an opportunity to use up any leftover vegetables. Add some broccoli or cauliflower in, as it gets nice and crispy when roasting.
A little drizzle of chilli sauce before serving add a nice bit of heat to this dish.
Nutritional Information
Serving:
1
portion
|
Calories:
521
kcal
|
Carbohydrates:
32
g
|
Protein:
33
g
|
Fat:
28
g
|
Saturated Fat:
11
g
|
Polyunsaturated Fat:
1
g
|
Monounsaturated Fat:
12
g
|
Cholesterol:
52
mg
|
Sodium:
203
mg
|
Potassium:
140
mg
|
Fiber:
4
g
|
Sugar:
6
g
|
Vitamin A:
500
IU
|
Vitamin C:
76.7
mg
|
Calcium:
110
mg
|
Iron:
2.5
mg
The nutritional information provided is approximate and is calculated using online tools. Information can vary depending on various factors, but we have endeavoured to be as accurate as possible.