Creamy roasted butternut squash pasta is a warming and comforting dish, that is still healthy and nutrient dense. It is made with some fusilli pasta, roasted butternut squash and a simple butter and parmesan sauce. This recipe is all about the sweet squash. The perfect pasta dish for Autumn.
Butternut squash, when roasted, just transforms in to these deliciously sweet bites. When combined with the fragrant (and often underused) thyme and mixed with a little butter and Parmesan, it really is a delicious and light meal.
We love a simple pasta dish, as we think that simple is best. Why not try our Cherry Tomato Pasta, Easy Bacon Pasta or Tuna Spaghetti?
Jump to:
Why you will love it
A new way to try butternut squash - We LOVE butternut squash and think it is super versatile, but very underrated. If you haven't tried it before, then roasting it is the way to go and it's so easy to add to pasta to bulk it out a little. We have some more butternut squash recipes below too.
Simple - Pasta dishes should be simple in our opinion and this one ticks that box. Just a few ingredients, and nothing you can't find in your supermarket. This is an easy dish to throw together and the cooking time is only because of the roasted butternut squash.
No sauce - There isn't a traditional sauce to this, like a marinara or a cream sauce. Instead, we have just melted some butter, olive oil and parmesan in to the hot pasta and kept a splash of the pasta water to loosen it all up. It clings to the pasta, without being overly saucy.
Stores well - We love a meal that we can eat again the next day. Cook once, eat twice is a win for us. We don't reheat leftovers of this, instead we have it like a pasta salad. It's great for taking on picnics or for a work lunch.
Ingredients needed
Pasta - We used fusilli pasta, but really any pasta will work - try penne or conchigli. Spaghetti or tagliatelle would work too as the roasted butternut squash would sit nicely on top of it.
Butternut squash - This really is the star of the dish and it gets lovely and crispy. You could swap it for sweet potato if you prefer, but we find that a bit too carb heavy.
Shallots - The chunkiness of the shallots adds some extra texture and once roasted they are nice and sweet which compliments the sweetness of the butternut squash.
Butter and oil - This helps to make the sauce and loosens it all up a little. We also reserve some of the water from the drained pasta, as it helps to make the sauce creamy. Never throw away all the pasta water - it's like gold for pasta sauces. Use the best quality olive oil that you can, as you will be able to taste the difference.
Parmesan - Cheese and pasta are the perfect match. A little parmesan helps to make the sauce (or non sauce) creamy and adds lots of flavour. You could use a mature cheddar instead or even top it with some goats cheese.
Thyme - Usually we would pair butternut squash with sage, but we think that thyme just really works with this pasta dish. Plus it looks pretty sprinkled on top.
Salt and pepper - To taste.
A full ingredients list with measurements is in the recipe card below.
Step by step
One: Mix the butternut squash cubes with the half the oil and season. Put on a baking tray and put in the oven 20 minutes at 180°C/350°F/Gas 4.
Two: Add the shallots to the tray of butternut squash and put back in the oven for 10 minutes
Three: Put the pasta in a pan of boiling water and cook for 10-12 minutes until done, with a little bit of bite.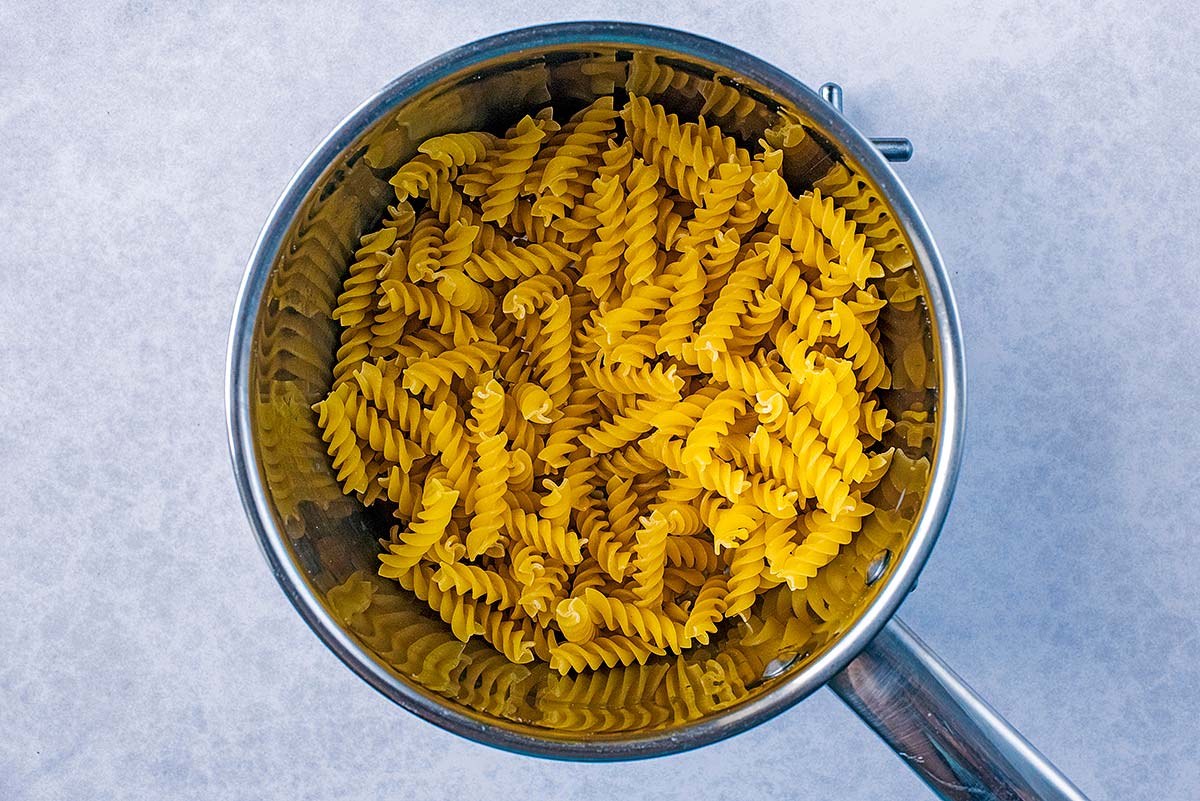 Four: Drain the pasta and add the the butternut squash and shallots and the rest of the ingredients and mix well. Serve topped with extra thyme and Parmesan.
Health benefits of butternut squash
Not only is this a low in calorie pasta dish, but it is nutrient dense too. It is a great source of fibre, potassium, vitamins C and A as well as magnesium. Most people think that butternut squash is a vegetable, but it is actually a fruit.
Butternut Squash is very low in calories and contains no saturated fats or cholesterol. It is a good source of dietary fibre and it is often recommended by dietitians to help in the control of cholesterol. It is high in Vitamins A and B and has plenty of natural polyphenolic flavonoid compounds. They are also high in minerals such as iron, zinc, copper, calcium, potassium, and phosphorus.
Variations
We try to make all of our recipes as easy to adapt as possible. You could roast up some chunks of chicken breast along with the butternut squash, or you could fry some prawns just before serving to put on top.
Alternatively, why not try roasting some other vegetables alongside the butternut squash. Mushrooms, carrot and peppers would work well.
Not a fan of parmesan? Dry fry some halloumi and serve that on top of the pasta dish instead, or even crumble on some goats cheese.
If you want to make this pasta dish even more indulgent, then grilled and chop some bacon to sprinkle on top before serving.
You really don't have to over complicate pasta dishes with lots of different vegetables, an over-the-top sauce, or more than one cheese. Keep things simple and let the star ingredients really shine through.
What to serve it with
We think this is a pretty filling dish on it's own, however if you wanted to serve something with it, then you can't go wrong with garlic bread. Either buy a good quality store bought one or make your own by slicing in to a small French stick and stuffing it with a mixture of butter, garlic, parsley, salt and pepper and heating in the oven.
If you want to serve this butternut squash pasta with something green, then why not try our Little Gem Salad. It is make with grilled lettuce and it is seriously a next level salad.
How to chop a butternut squash
I know they look a bit intimidating, especially if you have not chopped one up before, but it is actually pretty easy. First you want to chop off the top and bottom ends of the squash, so that both ends are flat.
Slice it in half around the middle and using a heavy duty peeler or knife, peel off the skin in downwards strokes. You want to peel until you see orange flesh (no green lines left).
Once you have peeled both halves, slice the flatter half in two to reveal the seeds. Take a spoon and scoop out the seeds (keep them to roast too - great as a snack). Chop the butternut squash in to cubes.
For a full tutorial, see this comprehensive guide on How To Peel and Cut A Butternut Squash.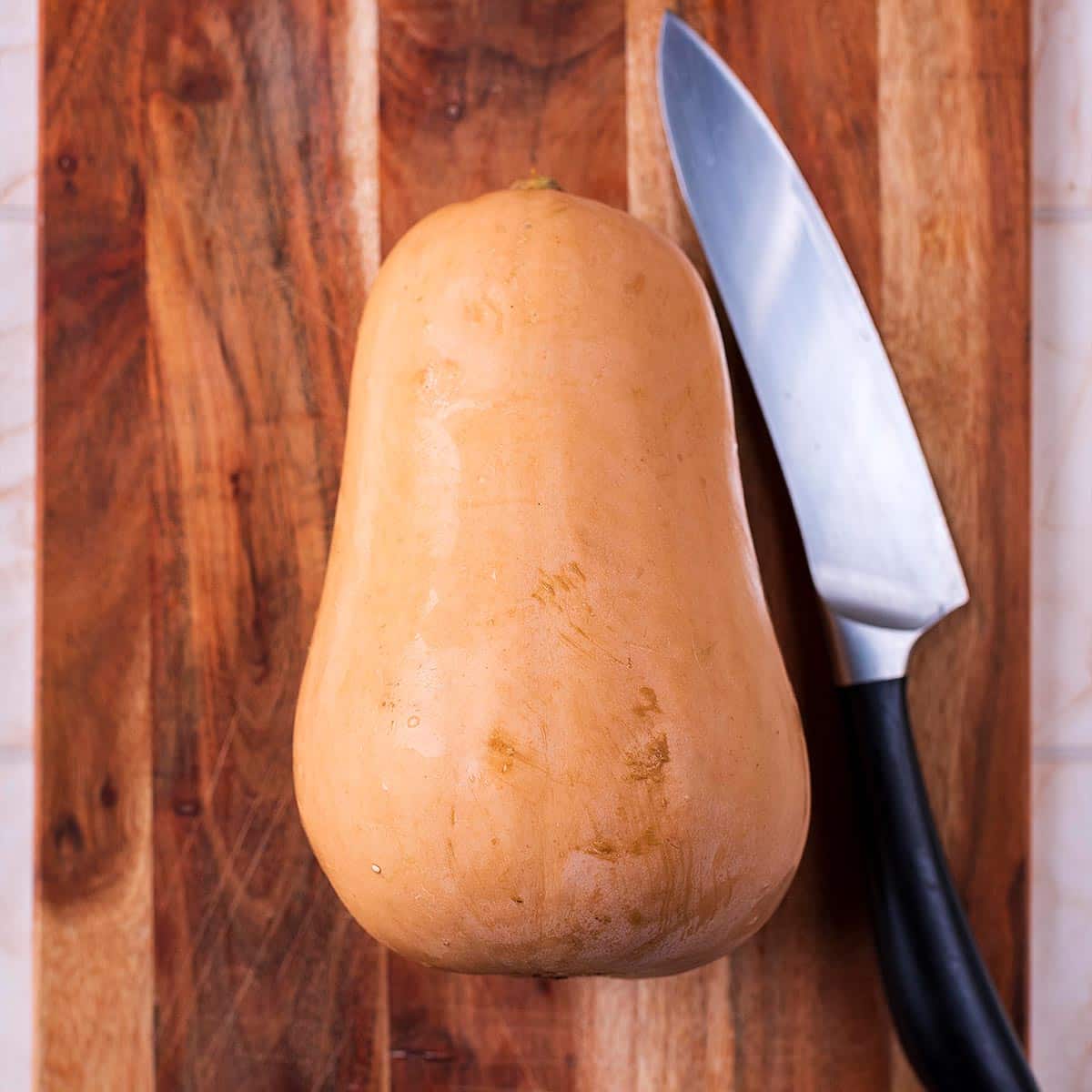 Frequently Asked Questions
Can you add meat to roasted butternut squash pasta?
This is a delicious vegetarian meal, and we could all use more of those in our life, right? So, it really doesn't need any meat. However, if you are serving it up to someone that really can't eat a meal without meat or fish, then there are some options. You could stir in some leftovers from Roast Chicken or even add some fried prawns or grilled salmon.
How to store roasted butternut squash pasta
If you have leftovers of this, then it will keep in an air tight container for up to 3 days.
Can you freeze roasted butternut squash pasta?
We wouldn't recommend freezing this dish as it will be too dry once defrosted. We prefer to keep leftovers in the fridge and serve them as a pasta salad the next day.
How to reheat roasted butternut squash pasta
To reheat it, add it to a frying pan with a little bit of water to heat through. It will be a bit dry, so the water is needed.
Is this gluten free?
To make this gluten free, use your favourite brand of gluten free pasta and make sure there is no cross contamination in the other ingredients.
How to make vegan butternut squash pasta
You can make this vegan by swapping the Parmesan for a plant based option and also using a vegan butter. If you want this to be a vegetarian dish, then you need to use a vegetarian Italian hard cheese. Most supermarket own brands usually are.
More butternut squash recipes
If you've tried this butternut squash pasta recipe, let us know how you got on in the comments below.
Tag us in your creations on Instagram @hungryhealthyhappy - Use the hashtag #hungryhealthyhappy too.
Recipe
Roasted Butternut Squash Pasta
This Roasted Butternut Squash Pasta is a comforting winter warmer and a good way to get some extra vegetables into your diet.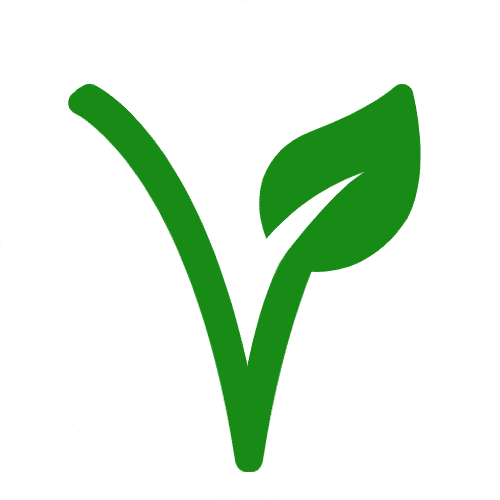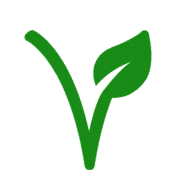 Vegetarian
Pin
Print
Save recipe
Recipe saved!
Ingredients
140

g

(

5

oz

)

Fusilli pasta

350

g

(

2.5

cups

)

Butternut squash

-

cut into cubes

2

tablespoon

Olive oil

3

Shallots

-

peeled and quartered

10

g

(

0.33

oz

)

Butter

40

g

(

0.33

cups

)

Parmesan

5

g

(

0.25

oz

)

thyme

-

finely chopped

Sea salt and black pepper

-

(to taste)
Instructions
Mix the butternut squash cubes with the oil and salt and pepper. Put on a baking tray and put in the oven 20 minutes at 180°C/350°F/Gas 4.

Add the shallots to the butternut squash and cook for 10 more minutes.

Put the pasta in a pan of boiling water and cook for 10-12 minutes, until done.

Mix the roasted butternut squash and shallots in with the pasta and mix in the rest of the ingredients.

Serve topped extra thyme and parmesan.
Notes
If you don't have any penne pasta, you could use fusilli instead.
The sage goes really well with the butternut squash and ricotta, however it isn't essential and could be left out.
Feel free to add some extra protein to this dish with some roasted chicken or even some prawns.
Not a fan of ricotta? Swap it for some dry-fried halloumi chunks.
Nutritional Information
Serving:
1
portion
|
Calories:
411
kcal
|
Carbohydrates:
61
g
|
Protein:
13
g
|
Fat:
13
g
|
Saturated Fat:
4
g
|
Polyunsaturated Fat:
1
g
|
Monounsaturated Fat:
5
g
|
Sodium:
4
mg
|
Potassium:
21
mg
|
Fiber:
4
g
|
Sugar:
5
g
|
Vitamin A:
2750
IU
|
Vitamin C:
5
mg
|
Calcium:
40
mg
|
Iron:
1.1
mg
Disclaimer
The nutritional information provided is approximate and is calculated using online tools. Information can vary depending on various factors, but we have endeavoured to be as accurate as possible.