* This is a sponsored post for Quorn *
A vegetarian charcuterie board is a delicious arrangement of vegetarian appetisers/party food on a wooden board or platter. A selection of meat alternatives (we used Quorn), cheese, crackers, pickles, vegetables, dips and so much more in a colour spread. Perfect for entertaining, or even a cosy night in and ready in just 10 minutes.
What we love about a charcuterie board is that there is a little something for everyone. A mixture of texture and flavour and all arranged on a board for a meal that looks far more fancy than it actually is. Easy to adapt and ready in just 10 minutes. This is such a fun way to eat and it involves no cooking either, which is even better!
If you are looking for some other party food to serve, then why not try our Bagel Crisps, Easy Mushroom Tartlets or Cheese Straws?
Jump to:
What is a vegetarian charcuterie board?
A charcuterie is basically a meat and cheese board, and that's it. Not only have we given ours a meat-free twist, but we have gone so much further and added lots of texture, colour and flavour.
We have given ours a further vegetarian twist with adding lots of dips, vegetables, fruits and nuts. It's always our go-to when we are entertaining as there is no pressure for a sit down meal. You just put this on the table and let everyone pick at it over drinks. This meat-free charcuterie board means there is no need to serve something different to vegetarian guests.
You might have wondered about the charcuterie pronunciation too. Well, it's pronounced shar-KOO-tuh-REE.
Why you will love it
Perfect for entertaining - Forget 3 course meals, this is what you should be serving up to your guests. Not only will they love it, but it will save you time and stress in the kitchen. Perfect for sharing and it can stay on the table for the whole evening whilst everyone just picks at it as and when they are hungry, whilst enjoying a cocktail (or four).
Ready in 10 minutes - As you can see from the video, this vegetarian charcuterie board is put together in minutes (if everything is prepared in advance). Just grab yourself a board big enough for all your ingredients and load it all on. There is no specific way to serve it, but we have given lots of tips below.
Easy to adapt - You can pretty much put anything on this food board - there really is no right or wrong with ingredients. We have added all the ingredients from ours in the recipe card, but also below we have given lots of options for the cheeses, dips and bread. Go wild with all your favourite ones and you never have to serve it the same way twice.
What goes on a charcuterie board?
Crackers and bread -We have used some small sourdough crackers, sesame breadsticks, french stick and flatbread. A good mixture of textures of bread and crackers is good. You could also use our Easy Melba Toast.
Vegetarian meat alternatives - We have used Quorn Deli Slices (more on those below), Quorn Vegetarian Picnic Eggs and Quorn Cocktail Sausages, as well as Quorn Mini Fillets to make little skewers.
Cheese - Some smoked cheddar, Stilton and Brie. The creaminess balances out the saltiness of the other ingredients.
Pickles - These are nice fillers with lots of flavour. We added gherkins, onions and chillies.
Nuts - These help to fill in the small spaces on a board. We added cashews, almonds and pistachios.
Dips - Hummus and Tzatziki. You can make homemade or use store bought to save time.
Sauces - We like some chutney to go with the cheese and caramelised onion is always our go-to
Vegetables - Some cucumber and celery is nice and chunky to dip into the dips.
Fruit - We added some grapes and apple which both go really well with cheese.
A full ingredients list with measurements is in the recipe card below.
Variations
You might be wondering what goes on a charcuterie board. The great thing about a vegetarian charcuterie board is that it is so adaptable. There are so many different things that you can put on it, so use this recipe as a guide and then use our suggestions to below to mix and match to suit your own tastes.
Vegetarian Meat Alternatives - Some kind of sliced meat is always featured on a charcuterie board but as this is a vegetarian version we have used the delicious new Quorn Deli Slices Range as a meat free alternative. We have used the Quorn Roast Beef Style Slices and Quorn Finely Sliced Ham Style Slices which are available in stores nationwide.
The new range is high in protein, low in saturated fat and a source of fibre. Not only are they perfect on a vegetarian charcuterie board, but they are easy to use for a meat-free sandwich filling at lunch. We also love using them in pasta dishes for an easy protein packed add-in. Looking for some meat free party food ideas? Add some of the Quorn Finely Sliced Ham Style Slices on a crostini with some cream cheese - they look fancy, but SO easy.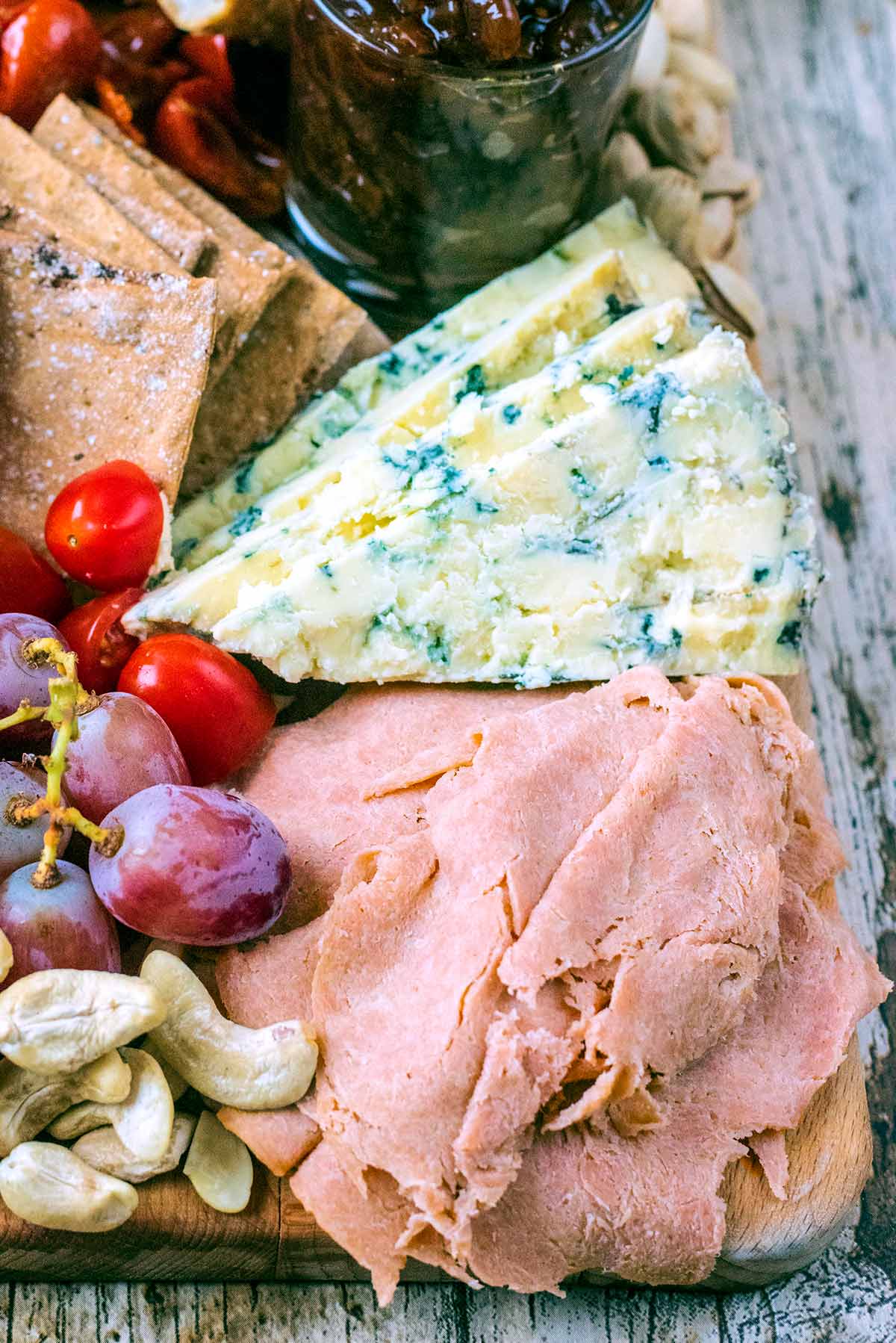 As well as the new vegan and vegetarian deli range from Quorn, we added some of their Vegetarian Picnic Eggs and Cocktail Sausages and made little skewers with their Mini Fillets and some roasted vegetables. The whole Quorn range is SO versatile, which is one of the many reasons we love it. Check out the Quorn Website for more information on the new deli range.
Crackers and Bread - We like crackers with lots of flavour, so things like rosemary and sea salt cracker breads and sweet chilli cracker thins. You could just add some cheese crackers though if you prefer. We also added little melba toasts/crostini and mini bread sticks for extra crunch, but mini rice cakes work well too. If you wanted to add bread, then thin slices of small baguette or pitta strips would work.
Cheese - If you want to make this a vegan charcuterie board, then use your favourite vegan cheese alternatives and make sure all the other ingredients you are using are vegan too - the new Quorn Deli Slices Range is completely vegan!
Pickles - I use the word pickles very loosely, as not all of these are pickles. Things like pickled onions and gherkins, but also olives and artichokes and also some pickled chillies if you like things spicy.
Fruit - Grapes and apples are known to go well with cheese. But if you want to add some extra colour to this board, then why not add some berries? We like strawberries, blueberries and raspberries. Kiwi adds a lovely pop of green too. You don't just have to use fresh fruit though - dried fruit like apricots and prunes add a really intense sweet flavour that will balance out the creaminess of the cheese.
Nuts - These add a lovely crunch, as well as an extra protein boost. We went with some cashews, almonds and pistachios. But peanuts, walnuts and pecans are all good choices. You could even add some seeds, although these are a little harder to pick up.
Dips - Dips are a must! We went with some hummus and tzatziki, but why not try adding our Whipped Feta too? We keep some spoons in them, so guests can spoon on to their plate and crackers rather than having loads of dipping and crumbs everywhere. This also helps with cross contamination if there are allergies too.
Sauces - Just for some extra flavour, we added some chutneys. You could add something like a chunky pickle too if you prefer.
Vegetables - You want something that will add lots of colour, but also some that are strong and dippable. So some cucumber and celery sticks are good for dippings, but you could also so raw bell peppers and carrots.
Frequently Asked Questions
How to store a vegetarian charcuterie board
This is all best eaten fresh, however the chances are you are going to have some leftover and you don't want anything goes to waste. You can put all the Quorn deli slices, cheese, fruit and deli items in an air tight container in the fridge and it will keep until the next day. The crackers can be stored in an air tight container outside of the fridge.
Can I size this vegetarian charcuterie board up or down?
Yes, this is pretty huge and is meant to serve 6-8 people. However, you could always half it to serve 3-4 or even double/triple it for a party.
What kind of board should I use?
Really, you can use anything - it doesn't have to be anything fancy. We have a good selection of serving boards as it's how we like to eat. However, you could use a chopping board or even put it all in a large baking tray. Just make sure you are using a board big enough for the amount of people you are serving. You don't even need to use a board - a few big plates will do. But I do think a big wooden board is a good investment.
Can this be made in advance?
There are definitely a few parts of this veggie charcuterie board that can be made in advance. You can make the Quorn skewers in advance and also chop up the vegetables and make any dips. But everything needs to be added to the board just before serving really. Luckily there is no set way to make this - just throw it all on. You could also save some time by buying some pre-cut things like carrot sticks, cheese cubes and store bought dips too.
More platter ideas
If you've tried this vegetarian charcuterie board, then let us know how you got on in the comments below.
Tag us in your creations on Instagram @hungryhealthyhappy - You can use the hashtag #hungryhealthyhappy too.
Recipe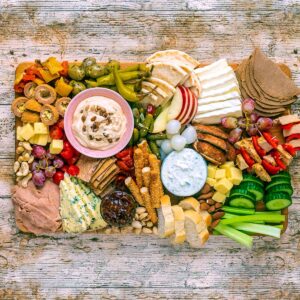 Vegetarian Charcuterie Board
A vegetarian charcuterie board is a delicious arrangement of vegetarian appetisers/party food on a wooden board or platter.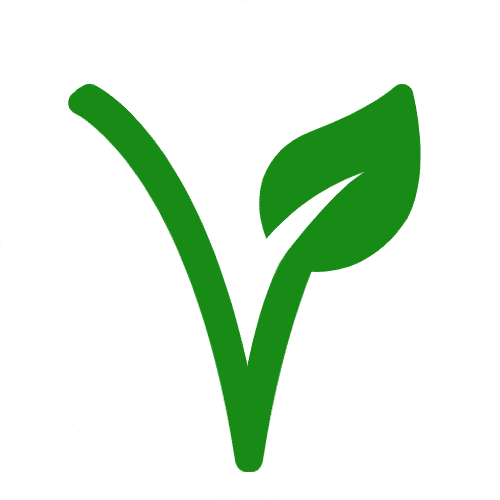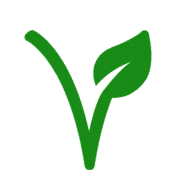 Vegetarian
Pin
Print
Save recipe
Recipe saved!
Ingredients
120

g

(

4.25

oz

)

Quorn finely sliced ham style slices

105

g

(

3.75

oz

)

Quorn roast beef style slices

200

g

(

7

oz

)

Brie

200

g

(

7

oz

)

Stilton

200

g

(

7

oz

)

Smoked cheddar

1

Apple

-

sliced

120

g

(

1

cups

)

grapes

1

Red bell pepper

-

cut into squares

4

rib

Celery

90

g

(

3

oz

)

Quorn Vegetarian Picnic Eggs

90

g

(

3

oz

)

Quorn Cocktail Sausages

-

halved

70

g

(

2.5

oz

)

Quorn Mini Fillets

-

cut into chunks

10

Cherry tomatoes

100

g

(

0.75

cups

)

roasted peppers

50

g

(

0.33

cups

)

Pickled chillies

50

g

(

0.33

cups

)

gherkins

0.5

Cucumber

-

sliced

100

g

(

0.75

cups

)

Olives

120

g

(

0.75

cups

)

Pickled onions

200

g

(

7

oz

)

hummus

200

g

(

7

oz

) tzatziki

100

g

(

1

cups

)

Sun-dried tomatoes

200

g

(

7

oz

)

French bread

-

sliced

12

bread sticks

150

g

(

0.66

cups

)

Chutney

12

Crackers

70

g

(

0.5

cups

)

Cashews

70

g

(

0.5

cups

)

Almonds

70

g

(

0.5

cups

)

Pistachios
Instructions
Thread the Quorn Mini Fillets and bell pepper onto cocktail sticks.

Slice the cucumber and apple.

Slice and butter (optional) the bread.

Arrange everything on to a large serving board.
Recipe tips
The key to the best grazing board is a mixture of textures and flavours.
To keep costs down, raid your fridge and cupboards to use things that you already have. Remember that this is adaptable.
Make sure that everything can be eaten with your hands. This isn't a sit down meal with a knife and fork, so it needs to be things than can be picked up and stacked on to a cracker.
Finish everything off and add some freshness with a few sprigs of rosemary on top of everything. It doesn't have to be eaten, but it looks amazing.
To make a vegetarian charcuterie board look really special, as well as having the huge board that you serve it all on, try to use other little bowls, ramekins, shot glasses or plates on the board to serve things in. It will add layers to the board and stop all the ingredients just spreading into each other. Anything oily, like olives, should go in a bowl.
If you are using store bought dip, spoon it out into a nice bowl to give it a homemade look. Keep the pot and lid to be able to put leftovers back in and keep it in the fridge.
If you are adding grapes and olives, try to stick to seedless. It avoids your guests crunching into something unexpected and then having to find somewhere to put the stone.
If you don't have a board big enough for all your ingredients, don't worry. You can add what you can and then replenish it as the night goes on.
Nutritional information and calories will depend on the exact ingredients you have used and the amount per person.
If you are serving these up to guests, add a few mini spoons and tongs and forks for your guests to pick things up with.
Nutritional Information
Serving:
1
portion
|
Calories:
974
kcal
|
Carbohydrates:
88
g
|
Protein:
46
g
|
Fat:
50
g
|
Saturated Fat:
19
g
|
Polyunsaturated Fat:
5
g
|
Monounsaturated Fat:
15
g
|
Trans Fat:
0.001
g
|
Cholesterol:
69
mg
|
Sodium:
2465
mg
|
Potassium:
1147
mg
|
Fiber:
13
g
|
Sugar:
17
g
|
Vitamin A:
2017
IU
|
Vitamin C:
44
mg
|
Calcium:
463
mg
|
Iron:
6
mg
The nutritional information provided is approximate and is calculated using online tools. Information can vary depending on various factors, but we have endeavoured to be as accurate as possible.