This is the ULTIMATE Halloween Platter, that kids and adults will love. All put together in under 45 minutes, it's easy to adapt and it's the perfect way to celebrate spooky season. Invite some people round and serve up a big platter of Halloween fun! Trick or treat? This is definitely a treat!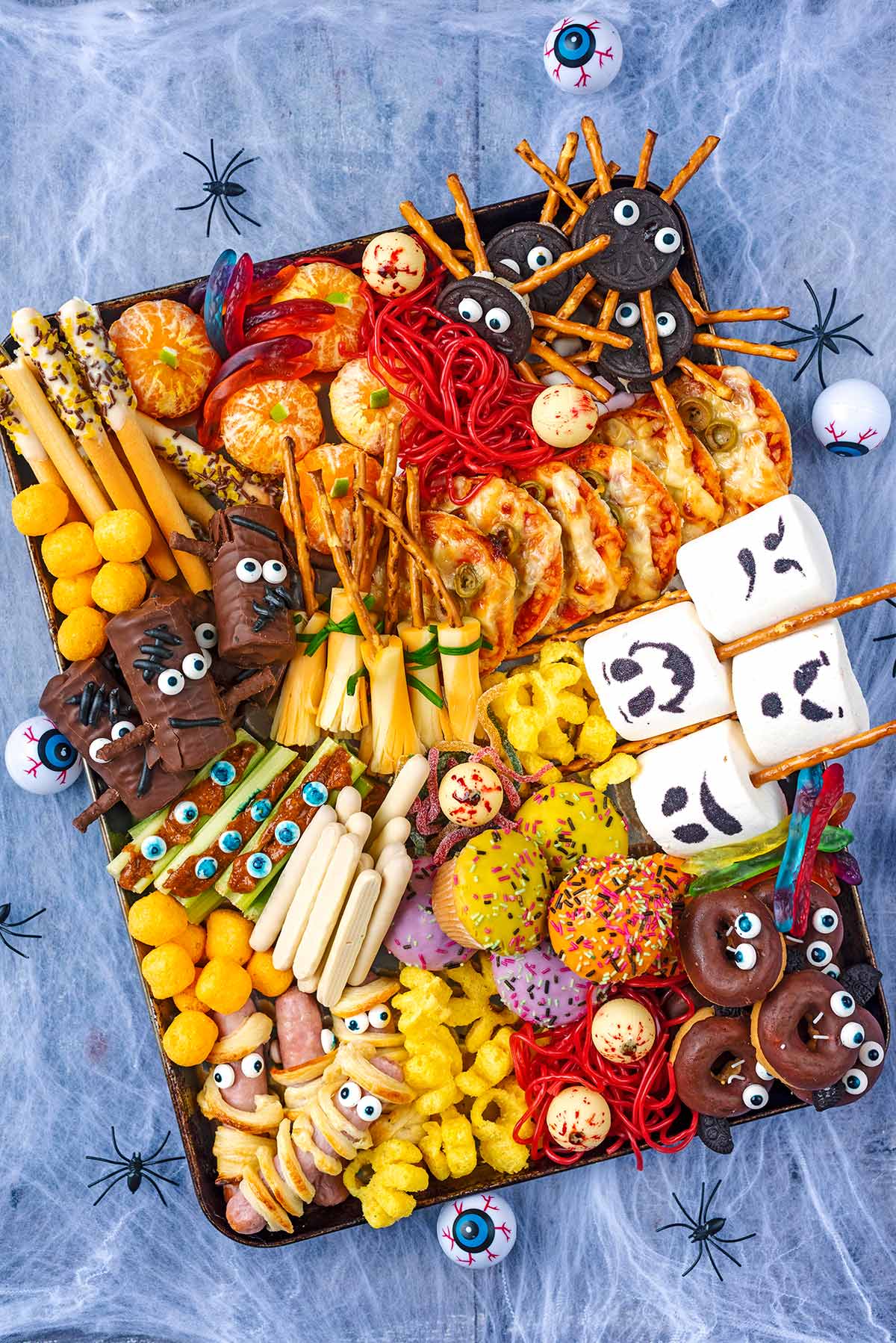 This Halloween platter is so simple to put together and it's the best way to serve up some Halloween themed treats. Just a couple of cooked items, a few easy to assemble snacks and some spooky sweets and you have yourself a platter that will go down a storm at a Halloween party.
You should have seen all the kid's faces when we served this up at a party recently! They didn't know what to look at first and they all just grabbed for whatever they could. Favourites were the giant marshmallow ghosts, Oreo spiders and sausage mummies. Personally I was a fan of the cheese string broomsticks!
Just a heads up! You are going to need a lot of edible eyes to make this Halloween Platter. We buy them in bulk at Amazon. If you want to make an adult friendly platter to go alongside this for the kids, why not make our Grazing Platter or our Greek Meze Platter?
Jump to:
Why you will love it
Easy to assemble - This looks far more complicated than it is. Just 2 of the things added need to be cooked, and they are really simple. Everything else is kind of thrown together and I did it all in under 45 minutes.
Fun party food - We love a theme and if you are throwing a Halloween party this year, then this platter is a must!
Something for everyone - Everyone will find something they like on this platter. Sweet or savoury, this has it all.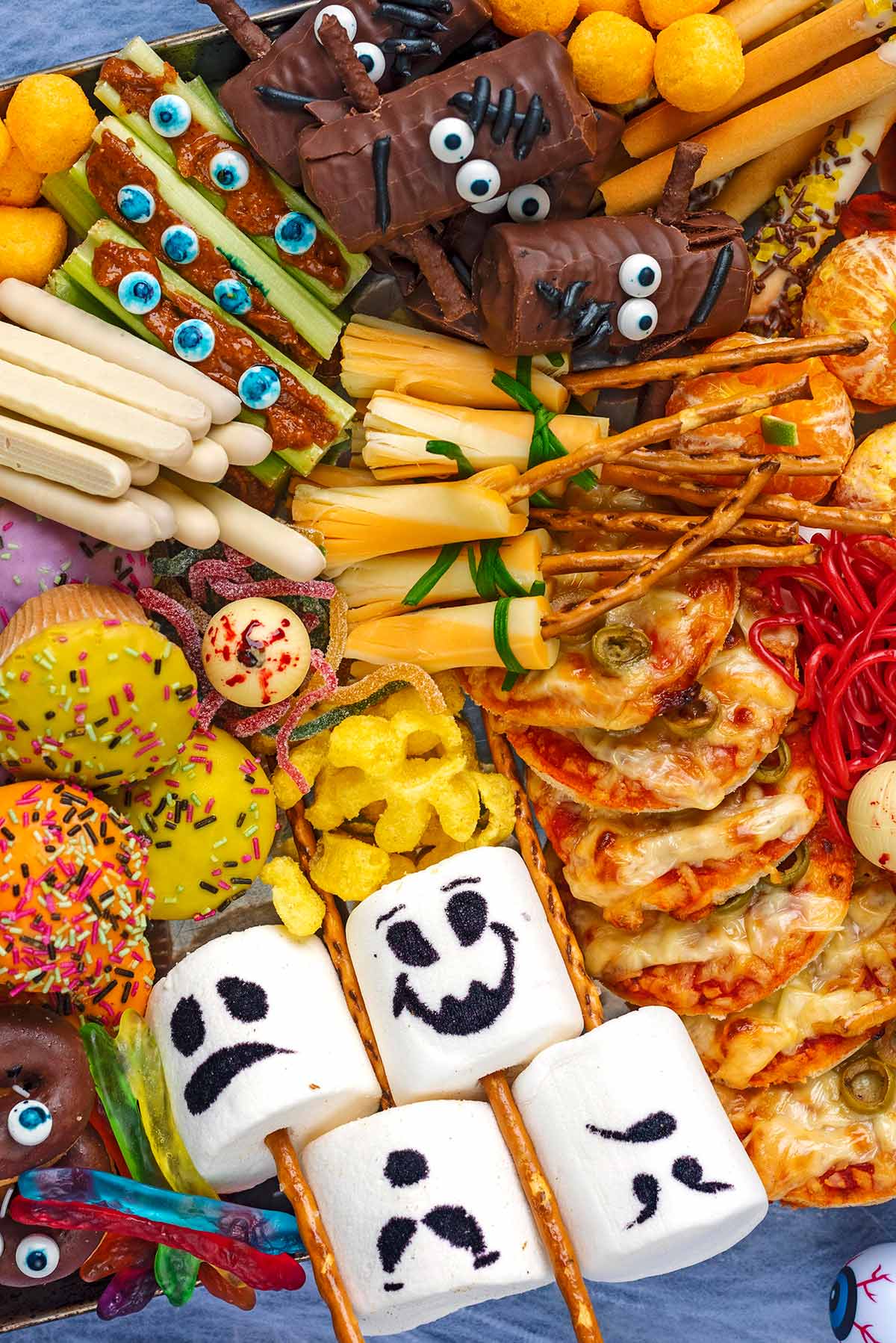 What is a Halloween Platter?
A Halloween Platter is the Ultimate Halloween party food! We have taken classic kids party food, and given them a spooky twist. A few cooked items, a few easily assembled snacks and then some store bought treats to bulk it all out. A mix of sweet and savoury, it's all loaded on to a large tray and served up to a lot of excited kids - and some excited adults!
A Halloween Platter is easy to adapt with whatever Halloween themed snacks you can get your hands on, so use this post as a guide and add things to suit your own tastes. We have included recipes for some of the more complicated parts of the platter, but a lot of it is about assembling.
Savoury
Halloween Pizzas - These look far more complicated than they are, and we did 'cheat' a little. We used store bought mini pizzas and cheese slices and created mummy pizzas. Take a cheddar cheese slice and cut in to strips, and then lay it across the mini pizzas to create a mummy. You can then use olives to make eyes. Take a look at our Easy Halloween Pizzas recipe, to see other Halloween decorations for pizza, including ghosts and monsters.
Sausage Mummies - I just love these, and they are so simple to make too. All you need is sausages (chipolatas are our preference), some puff pastry and egg and then some edible eyes and honey to decorate. Check out our Sausage Mummies post for all the ingredients and cooking instructions.
Cheese string Broomsticks - This is definitely a favourite of mine, and I was really surprised that the kids knew what they were. Cut cheese strings in to thirds and then peel them apart a little at the bottom (like you would with a cheese string) to make it look like a broom. Then use a knife to put a hole in the other end and very carefully put a pretzel stick in. To make them look really authentic, tie a little bit of chives round the cheese.
Zombie Celery - This was our attempt at adding some vegetables to the Halloween platter. Cut up some celery sticks, fill them with a nut butter (check that there are no nut allergies with people attending the party) and then top with edible eyes. Add a little water to the edible eyes to make them look really zombie like.
Sweet
This Halloween Platter was really all about the sweet treats, and it was the first things the kids (and adults) went for. There is no cooking involved in any of the sweet parts, which is what makes them even better.
Oreo Spiders - It's not Halloween without spiders. Our house is decorated with spiders everywhere and our Halloween Platter couldn't go without. These are made with Oreos, pretzel sticks and edible eyes. Head over to our Oreo Spiders post for the full recipe and all the tips on making them.
Magic Wand Breadsticks - A simple and filling addition to this Halloween snack platter. Snap some long breadsticks in half and then dip them in melted white chocolate and add sprinkles. Make sure they are magic sprinkles! You could use milk or white chocolate too if you prefer.
Marshmallow Ghosts - These were one of the first things the kids went for and we had great fun making them. You just need an edible pen (which we buy off Amazon) and then draw some spooky faces on giant marshmallows (the kind you would use to make S'mores) and then stick a pretzel stick in them. You could use a Mikado (Pocky) stick or just leave them as they are.
Frankenstein Mini Rolls - These are so simple, but really fun. Just take some mini rolls and use icing to make a scar and smile and then add eyes and chocolate sticks for the bolts through the neck. You can get really creative with all the facial expressions. Head over to our Frankenstein Mini Roll post for all the tips on making them.
Cupcakes - These were a good filler snack, and what kid doesn't like cupcakes? Most supermarkets have mini Halloween cupcakes in at this time of year. You could make your own though if you wanted to.
Pumpkin Oranges - This is a pretty indulgent platter, but at least there is fruit, right? Not just any fruit, but fruit that looks like a pumpkin. Take some satsumas and peel them and then use something green like a bit of celery or lime peel to make the stalk. You could even keep the peel on and then draw a face on them and that way if they don't get eaten, then they still have their peel on.
Doughnut Bats - These cute/spooky bats really add some character to the platter. Some mini doughnuts, edible eyes and mini Oreos for wings is all you need. The full tutorial is over on our Doughnut Bats post.
Fillers
Sweets - These are really good filler ingredients, as they are cheap and kids love sweets. Once you have all the main bits on, stuff all the gaps with things like jelly worms, strawberry lace and mini marshmallows. We also added some white chocolate fingers which we called skeleton fingers. You could dip them in red food colouring too.
The eye balls were just white chocolate balls (they are in the Christmas sections of supermarkets at the moment), dipped in red food colouring.
Crisps - These are also a good filler ingredient and if you choose well, they can keep with the Halloween theme too. We used cheese balls, as they kind of look like pumpkins and then some Monster Munch, because monsters are totally Halloweeny.
You could fill in the gaps with little Halloween toys, but we wanted to keep everything edible, because there were a few younger kids at the party who are very much in the stage of putting everything in their mouth.
Frequently Asked Questions
What to serve the Halloween platter on.
Really, anything goes! I made all this up on the biggest baking tray we had, as it was to serve 10 hungry kids. But what you will need will depend on how big a Halloween platter you are making. You could use a chopping board, serving platter, baking tray or even just a plate.
How to store a Halloween platter.
This is a really difficult question to answer as there are SO many things on here, and they all need to be stored differently. Basically, try to only make as much as you know will get eaten. Make a smaller platter, and then top it up over time. Kids can get easily overwhelmed, and also eat way much when sweets are involved. The pizzas and sausages can be stored in an air tight container in the fridge for 2 days.
More party food recipes
If you've tried any of these Halloween Platter ideas, let us know how you got on in the comments below.
Tag us in your creations on Instagram @hungryhealthyhappy - Use the hashtag #hungryhealthyhappy too.
Recipe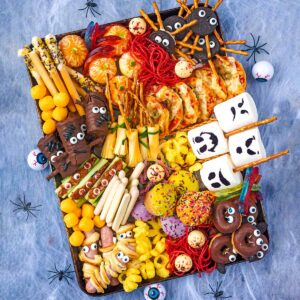 Halloween Platter
This is the ULTIMATE Halloween Platter that everyone will love. Put together in under 45 minutes, it's the perfect way to celebrate spooky season.
Pin
Print
Save recipe
Recipe saved!
Ingredients
Marshmallow ghosts

Mummy sausages

Witches broomsticks

Magic wands

Satsuma "pumpkins"

Celery zombies

Various jelly sweets
Instructions
Put all the larger items onto your serving board.

Arrange all the smaller items into the gaps.
Recipe tips
The calories per portion is based on consumption of one of each item. This will vary greatly, depending on how much of each item is eaten.
Nutritional Information
Serving:
1
portion
|
Calories:
500
kcal
The nutritional information provided is approximate and is calculated using online tools. Information can vary depending on various factors, but we have endeavoured to be as accurate as possible.