If you like radishes, then you are going to LOVE this refreshing cucumber and radish salad. A chunky salad with a lot of crunch and flavour. A zesty dressing that covers vibrant vegetables for a versatile side dish that goes well with curry, wraps, chicken or fish.
Although you often see radishes in a salad, they are usually just hidden in there as a last minute addition. This cucumber and radish salad makes the radishes the star of the show! A side salad that really lets their incredible peppery flavour shine. We love making a big batch of this in the summer - it makes a nice alternative to the usual salads at BBQs too.
If you are looking for other recipes that use radish, then why not try our Chopped Blue Cheese Salad, Little Gem Salad, Rocket Salad, Thai Chicken Noodles or Beef Burrito Bowl?
Jump to:
Why should you try it?
A delicious way to use radishes - If you are not sure what to do with radishes, or you have received lots in your vegetable box, then this is a great way to use them up. It really lets their amazing flavour shine.
Quick and easy - This salad takes just a few minutes to throw together, and no cooking needed.
Stores well - You can make this in advance and it stores well in the fridge for a couple of days.
Versatile - This is such a versatile side dish and there are so many ways you can serve it. We have shared our favourite recipes to serve it with below.
Ingredients needed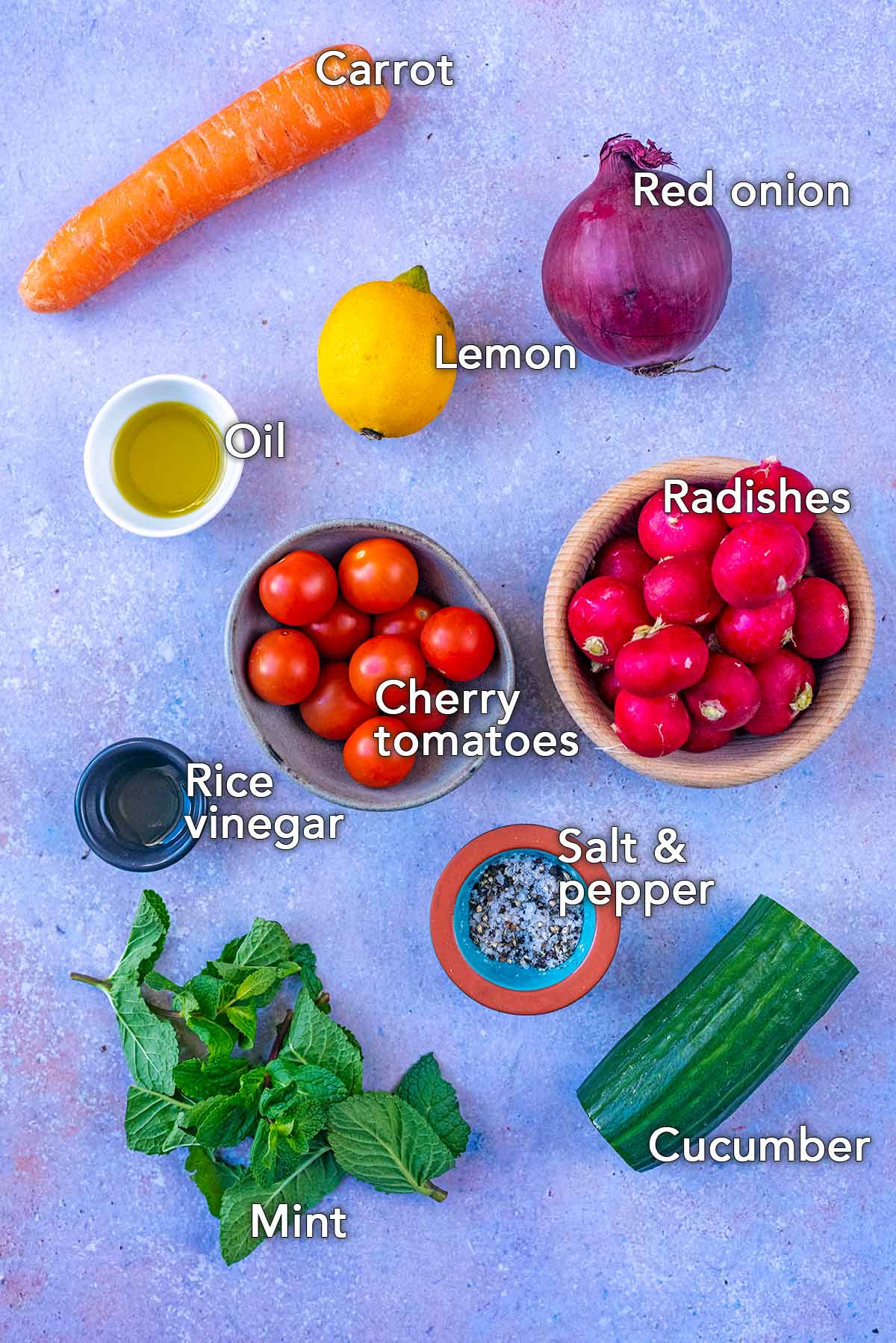 Cucumber - This helps to bulk out the radish salad a little and takes off the edge of the peppery flavour from the radishes. We used English cucumbers, but you could use Persian cucumbers if you wanted them smaller.
Radishes - These are the star of the salad. They have the most incredible peppery flavour, but if that is a bit too much for you then you can always roast them first, which makes them a little milder.
Carrot - This adds some vibrant colour and crunch too. We grated the carrot, but you could thinly slice it like the radishes too.
Salt and pepper - Season to taste.
Rice vinegar - We would usually add apple cider or balsamic vinegar to a salad, but we love rice vinegar in this.
Mint - Radishes and mint are such a delicious flavour combination and fresh mint adds a lovely freshness to the salad. You could use dill instead if you don't like mint.
Red onion - This is a nice way to add some crunch and colour. You could swap them for shallots though if you prefer. If you find raw red onion a bit too strong, then you could always sauté them first.
Tomatoes - These add a burst of flavour. You can use cherry tomatoes, or dice larger tomatoes.
Oil - We used a good quality extra virgin olive oil. Try to use the best quality oil you can, as you really will be able to taste the difference.
Lemon juice - This really lightens up the whole salad and adds lots of freshness.
A full ingredients list with measurements is in the recipe card below.
How to make Cucumber and Radish Salad - Step by step
One: Add the radishes and cucumber to a bowl.
Two: Add the grated carrot, diced onion and quartered tomatoes. Add the chopped mint, rice vinegar, lemon juice and season.
Three: Give everything a good mix.
Health benefits of radish
You wouldn't immediately thing of radishes when it comes to nutritious ingredients, but this under appreciated root vegetable does have lots of health benefits. Firstly, they are very low in calories and virtually no fat. They are also a good source of vitamin C, which is an antioxidant that helps battle free radicals in your body and helps prevent cell damage caused by ageing. Did you know that vitamin C also helps with collagen production, which supports healthy skin and blood vessels.
Radishes are also a good source of fibre, which is great for a healthy digestive system and helps to keep everything moving.
Variations
The great thing about this salad is how easy to adapt it is. Feel free to use up whatever salad ingredients you have that need using. Other things we like to add to this salad are chopped bell pepper, asparagus, chickpeas and sweetcorn.
If you wanted to make a creamy version of this, then you could swap the oil, vinegar and lemon juice dressing and use sour cream instead. It makes it far more indulgent, but really delicious.
We don't find that this is missing having cheese, however if you wanted to add some cheese to it then some crumbled feta or shaved Parmesan is a delicious addition.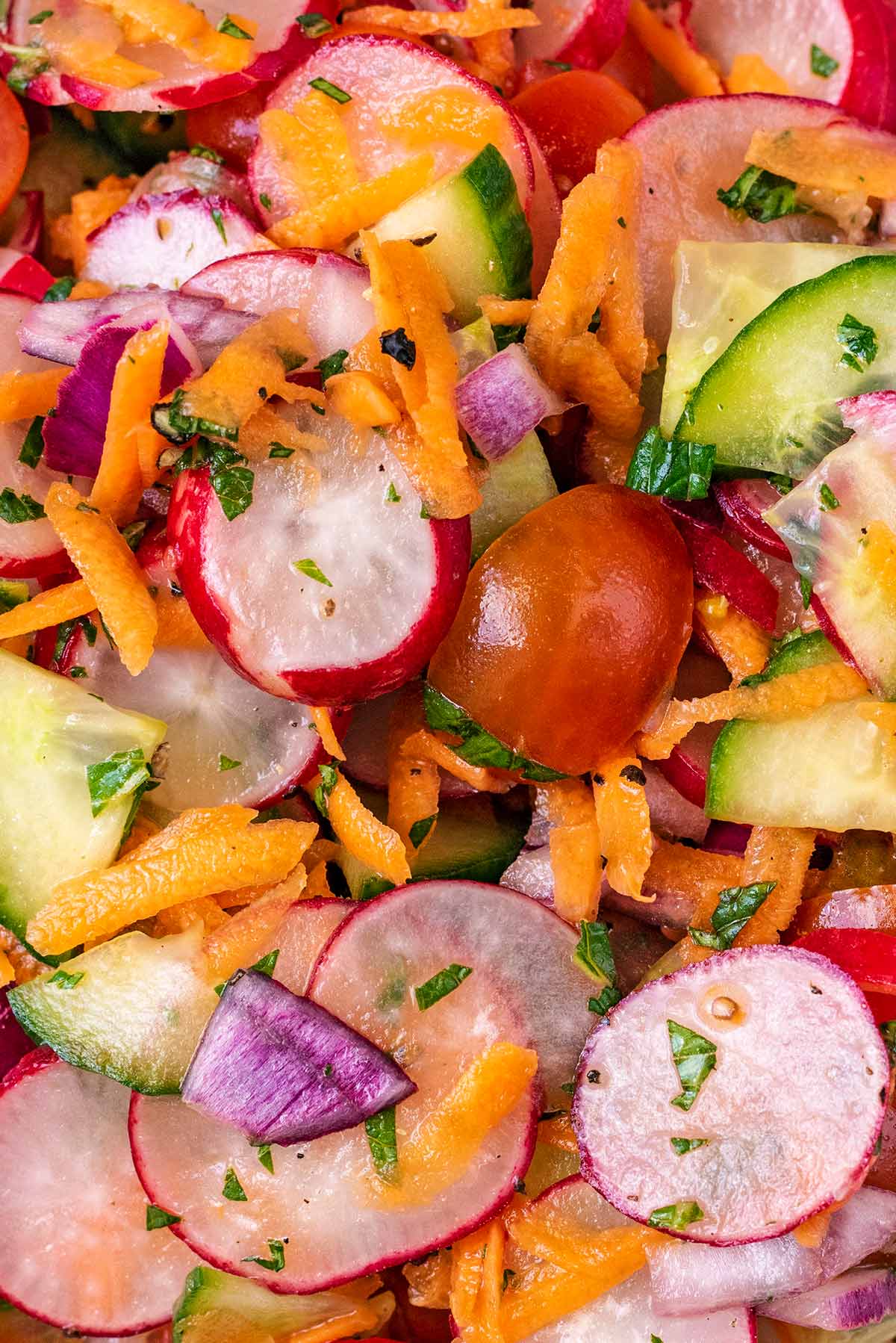 What to serve with a cucumber and radish salad
We think this salad goes really well with curry. It's light and fresh and can cut through those spicy flavours. Why not try our Paneer Curry, Slow Cooker Chicken Korma, Cauliflower and Potato Curry or Easy Salmon Curry?
It's a delicious addition to wraps to bulk them out. We put it in these Paneer Wraps, but it also goes well in Salmon Wraps or Loaded Tuna Sandwiches.
It is such a versatile side dish though, that it goes with so many main meals. Why not try our Greek Lamb Traybake, Pizza Toast, Salmon Fishcakes, Lamb Shish Kebabs, Stuffed Portobello Mushrooms or Easy Hunter's Chicken?
Storage
Store: You can store it in an air tight container for 2 days. Just make sure to give it a good mix before serving as it will absorb all the liquid and go a bit soggy.
Freeze: We wouldn't recommend freezing this cucumber and radish salad.
Frequently Asked Questions
Is a radish salad healthy?
Yes, as well as all the nutritional benefits of the radishes listed below, this is a low calorie and nutrient dense side dish. A great way to bulk out a heavy meal.
Can you eat radishes raw?
Yes, you can and they are actually best eaten raw because of the amazing flavour and added crunch.
How do you prepare radishes for a salad?
To give the radishes some extra crispiness, soak them in iced water for a couple of hours. You then need to wash them, slice off the greens if they have them and then slice off the root. Leave whole, slice or chop, as needed. We love slicing them up and dipping them in hummus too.
Do I need to peel the radish?
No, there is no need to peel them, just make sure they are washed well.
Can I cook the radishes?
Yes, you can cook them which will take off some of the peppery taste.
What can I do with the radish greens?
Don't throw them away! You can make a pesto with them.
Can I make this radish salad in advance?
Yes, you can make this in advance and then keep it in the fridge until you need to serve it. We would recommend only adding the mint before serving.
More salad recipes
If you've tried this radish salad recipe, then let us know how you got on in the comments below.
Tag us in your creations on Instagram @hungryhealthyhappy - Use the hashtag #hungryhealthyhappy too.
Recipe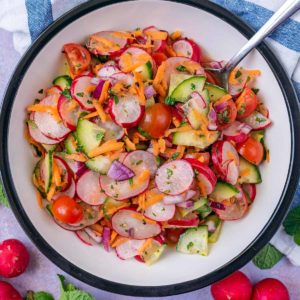 Cucumber and Radish Salad
If you like radishes, then you are going to LOVE this refreshing cucumber and radish salad. A chunky salad with a lot of crunch and flavour.

Gluten Free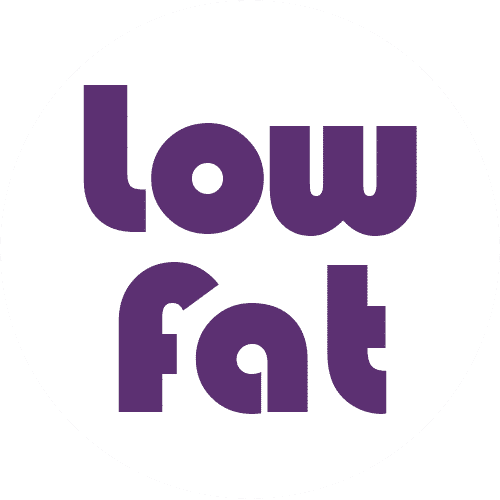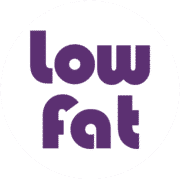 Low Fat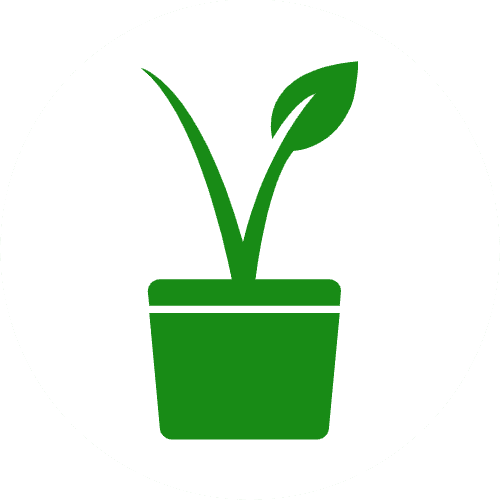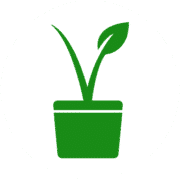 Vegan
Pin
Print
Save recipe
Recipe saved!
Ingredients
200

g

Radish

-

thinly sliced

170

g

Cucumber

-

halved lengthways and sliced

1

Carrot

-

finely grated

1

Red onion

-

small; finely sliced

100

g

Cherry tomatoes

-

quartered

5

g

Fresh mint

-

finely chopped

1

tablespoon

Rice vinegar

0.5

Lemon

-

(juice only)

1

pinch

Sea salt and black pepper
Instructions
Add the radishes and cucumber to a bowl.

170 g Cucumber,

200 g Radish

Add the grated carrot, diced onion and quartered tomatoes. Add the chopped mint, rice vinegar, lemon juice and season.

1 Carrot,

1 tablespoon Rice vinegar,

5 g Fresh mint,

1 Red onion,

100 g Cherry tomatoes,

0.5 Lemon,

1 pinch Sea salt and black pepper
Notes
If you want all the ingredients really wafer thin, then use a mandolin or an attachment on a food processor to slice everything.
You could even roast the radishes and leave them whole which would add a whole new flavour and texture to the salad.
Add some extra crunch to this salad by sprinkling it with pine nuts or flaked almonds before serving.
If you don't like mint, then you can use dill instead.
Nutritional Information
Serving:
1
portion
|
Calories:
24
kcal
|
Carbohydrates:
6
g
|
Protein:
1
g
|
Fat:
1
g
|
Saturated Fat:
1
g
|
Polyunsaturated Fat:
1
g
|
Monounsaturated Fat:
1
g
|
Sodium:
24
mg
|
Potassium:
229
mg
|
Fiber:
2
g
|
Sugar:
3
g
|
Vitamin A:
1840
IU
|
Vitamin C:
17
mg
|
Calcium:
26
mg
|
Iron:
1
mg
Disclaimer
The nutritional information provided is approximate and is calculated using online tools. Information can vary depending on various factors, but we have endeavoured to be as accurate as possible.