Two of the main things that stand between a person and a healthy diet is money and time. We try to provide you with recipes that are quick and easy to help you with the time issue, and now we are going to help you with the budget side with this healthy eating on a budget, shopping list and meal plan.
When money is tight, it is often healthy food that takes a back seat as bills still need to be paid. I hear so often from people that they can't afford to have a healthy diet because it is so expensive. Whilst that can be true, it doesn't have to be.
There is no doubt that a lot of junk is pretty cheap (frozen chicken nuggets, potato waffles, cookies and stuff like that) but healthy eating doesn't have to be anywhere near as expensive as people think it is. With a few smart swaps and meal planning, healthy eating can be for everyone.
If you are just starting out on trying to save money on your food shopping then take a look at ours Tips For Healthy Eating on a Budget, which has loads of general money saving tips to get you started.
Not all of the meals in the meal plan below are going to suit everyone in terms of taste, dietary requirements and calorific needs, so please adapt it to suit your own needs. This is just a guide to get you started and save you some money on your healthy food shop.
Below we have provided you with a weeks worth of healthy meals and snacks, along with a shopping list of everything you need to buy to make the meals for the week.
Although the word budget is relative, all these meals and snacks are cheap to make so they should save you some money on your healthy shopping bill.
We could have had a healthy diet for the week on less money than we spent, but it would have relied on us eating mostly the same things throughout the week and repetition is what causes us to go off track and order a pizza usually.
If you are on a stricter budget, cut out meat completely and eat more bean based meals and have more pasta dishes - that will bring the cost down.
What constitutes a "budget"?
So, let's speak about the budget. The average family spends £70 a week on food and drink shopping (this doesn't include things like toiletries and pet food etc), so we have tried to keep our budget shop under £55 so it is less than the national average and saving you some money. This is £54 for 2 adults and 2 small children.
I have not included things like spices, herbs, tea, coffee and oil and vinegar, as this is presuming that you already have those things, because they don't need to be bought very often.
Some of our shopping costs less some weeks, and some times more, so it balances itself out. These meals also provide some leftovers, so you will have extra meals to freeze for the next week.
Cheap Healthy Meal Plan
Monday
Breakfast:

Healthy Apple Pie Oatmeal
This Apple Pie Oatmeal is a delicious vegan breakfast. It makes getting out of bed on a cold morning that little bit easier!
Lunch:
Shakshuka (Poached Eggs in a Spicy Tomato Sauce)
If you are looking for an easy meal that is bursting with flavour, super cheap to make and uses ingredients you probably already have in your cupboard, then give Shakshuka a try.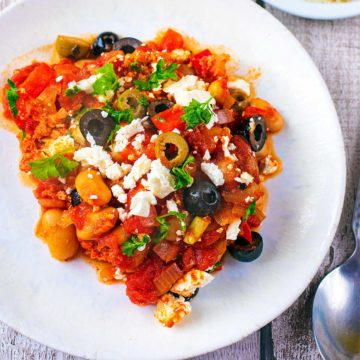 Dinner:


10 Minute Chickpea and Spinach Curry

Curries don't get much quicker and easier than this 10 Minute Chickpea and Spinach Curry. Just tip everything in to the pan and it's ready less than 10 minutes later.
Tuesday
Breakfast:


Breakfast Egg Muffins

These Feta, Bacon and Tomato Breakfast Egg Muffins are the ideal time saving breakfast. You can make them ahead of time, and with endless flavour combinations, there is something for everyone.

Lunch:


Roasted Cauliflower Salad

Roasted to perfection in an easy spice blend and then tossed with a zesty lemon salad, this Roasted Cauliflower Salad with chickpeas ticks all the boxes.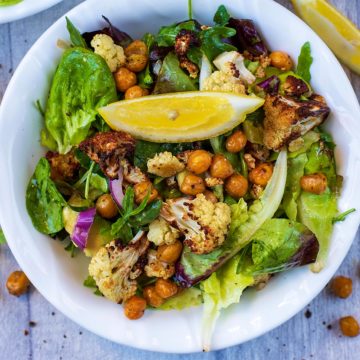 (serve with bread)
Dinner:


Penne Arrabbiata

A simple tomato pasta sauce that has a kick of heat and plenty of flavour. This Penne Arrabbiata recipe shows that vegan food doesn't have to be boring or complicated.

with frozen vegetables (Make double to have leftovers the next day)
Wednesday
Breakfast:


Microwave Porridge

If you don't have a lot of time for breakfast in the morning, then this delicious 5 minute Microwave Porridge is going to change your eating habits.

Lunch:


Penne Arrabbiata

A simple tomato pasta sauce that has a kick of heat and plenty of flavour. This Penne Arrabbiata recipe shows that vegan food doesn't have to be boring or complicated.
with frozen vegetables
Dinner:


Chicken Tikka Skewers

These chicken tikka kebabs make a great addition to any party food table, or served up with a simple salad and some dips for a light lunch.
with salad and pitta bread
Thursday
Breakfast:

Eggs Baked in Portobello Mushrooms
Eggs are always an easy go-to when it comes to a filling breakfast, and these Eggs Baked in Portobello Mushrooms are perfect for a Sunday brunch, or breakfast when you have a little bit more time to cook your eggs.
Lunch:


Tuna Spaghetti

Make the use of your store cupboard staples and whip up this tasty week night meal in under 15 minutes. This Spicy Tuna Spaghetti is easily adaptable to suit all tastes too.
with salad
Dinner:


Bean Chilli with Avocado Salsa

A hearty and delicious chilli doesn't have to have meat in it and this Bean Chilli with Avocado Salsa will hit the spot this National Chilli Day.
serve with
rice
Friday
Breakfast:

Easy Banana Porridge
Banana Porridge is fuss free breakfast comfort food at its finest. Just 5 ingredients and you have a tasty, filling breakfast the whole family will love.
Lunch:
Roasted Sweet Potato Salad
This Roasted Sweet Potato Salad makes a nice change from the regular creamy white potato salad. Sweet and savoury mixed together - a must at your next BBQ.
Dinner:


Greek Turkey Burgers

Turkeys aren't just for Christmas! These Greek turkey burgers are a great option if you are looking for a leaner, healthier option to a traditional burger.
serve with homemade
potato wedges
Saturday
Breakfast:

Mushroom Omelette
This Mushroom Omelette is a filling and protein packed meal, whether you have it for dinner or breakfast. Low on calories, but high on taste, this is light enough for a post workout snack option too.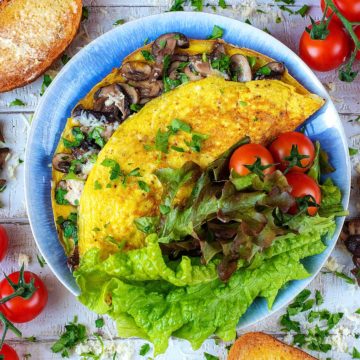 Lunch:
15 Minute Garlic and Herb Spaghetti
Sometimes it's the simplest dishes, with the least ingredients, that are the favourites and that certainly goes for this 15 Minute Garlic and Herb Spaghetti.
(using up any leftover herbs from other recipes from the week)
Dinner:
Honey and Mustard Sausage Traybake
If you are looking for some family friendly comfort food that can all be done in one pan, then give this Sausage and Potato Traybake a try. It's bursting with vegetables too
Sunday
Breakfast:

Breakfast Hash
Breakfast Hash is the perfect dish for a lazy Sunday morning, when you have a little more time and want something really hearty and filling.
Lunch:
Fajita Sandwich
Spicy and crunchy vegetables are the star of this this Vegetable Fajita Grilled Cheese Sandwich. A great way to use leftovers and the perfect vegetable packed comfort food.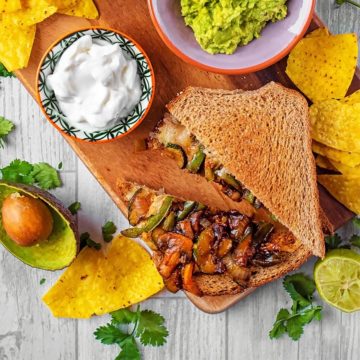 Dinner:
Mushroom Bolognese
Spaghetti Bolognese is always a family favourite, but this mushroom bolognese is a vegetarian version of the classic Italian dish.
Snacks throughout the week: smoothies, apples, oranges, roasted chick peas, eggs, pears, plums, banana, pineapple slices
Shopping
Fresh fruit and vegetables
Apples
2 packs Bananas
Lemons x 4
Oranges
Plums
Pineapple
Bag of Potatoes
2 sweet potatoes
3 red bell peppers
3 yellow bell peppers
Fresh coriander, basil and parsley
Broccoli
Cherry tomatoes
Cucumber
A bag of spinach
4 shallots
2 courgettes
Celery
A large cauliflower
2 red onions
6 carrots
3 large boxes of Mushrooms
Bag of onions
1 leek
Frozen
3 x bag of frozen vegetables (to serve on the side of meals or to bulk out meals)
Bag of frozen fruit
Meat/Meat alternative
A small pack of bacon
Turkey Mince
Chicken breast x 2
Pack of veggie sausages
Dairy
4 pints of milk
Greek yoghurt
Eggs (30)
Feta
A large block of cheddar
Tinned/Jarred
Tin Tomatoes x 10
2 tins of tuna
Small pack/jar of olives
Dried goods
Porridge oats
Beans - 2kg dried
Dried chickpeas
Brown Rice
Whole wheat pasta
Wholewheat spaghetti
Bakery
A pack of pita breads
A loaf of bread
Burger buns
**Note: It is difficult to make this budget shopping list and meal plan as everyone shops at different places, and people are from different parts of the world, so not everything is going to cost the same. This isn't meant to be an exhaustive list, but more a guide to show you what I buy and what I make on the budget I have.**
Do you want to be kept up to date on more delicious posts like this? Please subscribe to the blog mailing list (it takes 30 seconds).
If you've tried this easy weekly meal plan or any of the other recipes on the blog then let us know how you got on in the comments below, we love hearing from you!
Tag us in your creations on Instagram @hungryhealthyhappy - we love sharing photos when people make our recipes. You can use the hashtag #hungryhealthyhappy too.