This Meatball Pasta Bake is a rich and delicious comfort food dish that you can also pack out with vegetables. An easy dish to make to feed a hungry crowd, it also freezes well too, making it perfect for batch cooking. You can make your own meatballs, or use store bought to save you some time.

When it's cold, we crave comfort food and it doesn't get much more comforting than this. Chunky pasta, mixed with homemade meatballs, a rich tomato sauce and then loaded with cheesy. Rich, gooey and delicious comfort food that your whole family will love.
We love a pasta bake. They are a great way to save some money on your food shopping, as you can pretty much put anything in them, making them great for a fridge raid, or to use up leftovers.
Jump to:
Why should you try it?
Step by step
One: Prepare the vegetables.
Two: Put water in a pan and bring to the boil. Add the pasta to the water and reduce to a simmer for 12 minutes.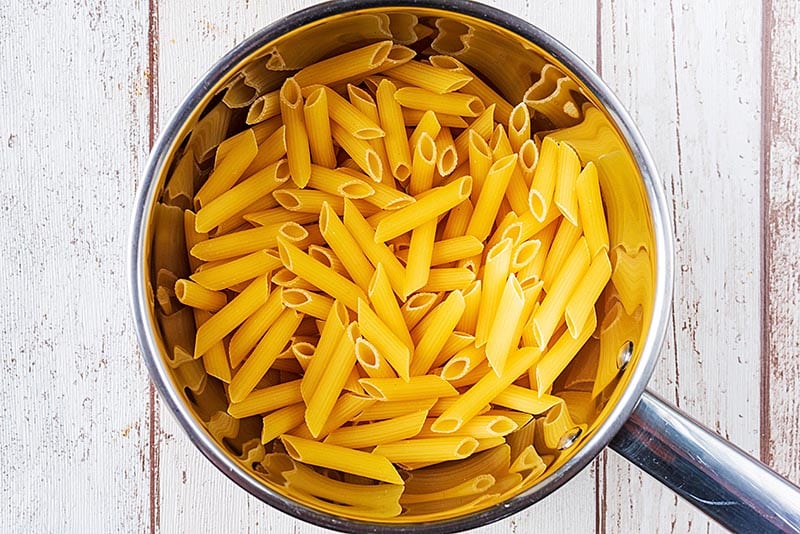 Three: Add some oil to a large frying pan over a medium heat, add the meatballs and cook according to instructions - this will take around 10 to 15 minutes. Take them out of the pan and set aside.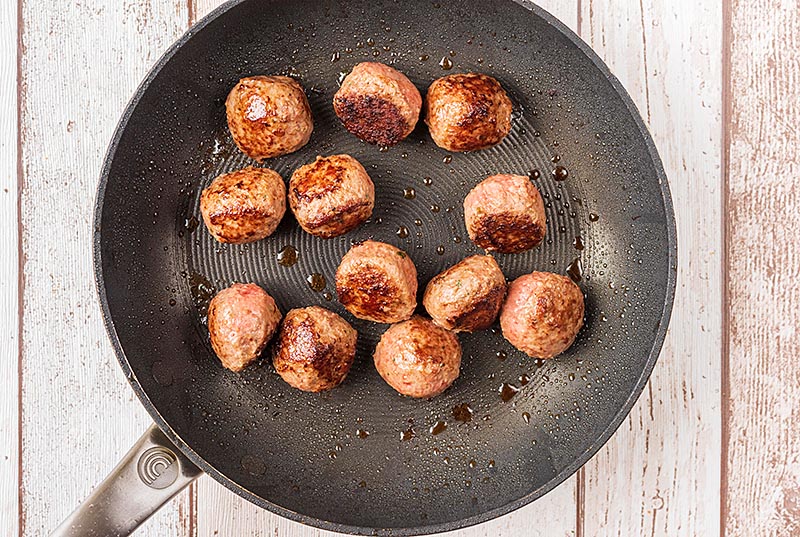 Four: Put a little more oil to the pan and add the vegetables. Gently cook for 3-4 minutes stirring occasionally until softened.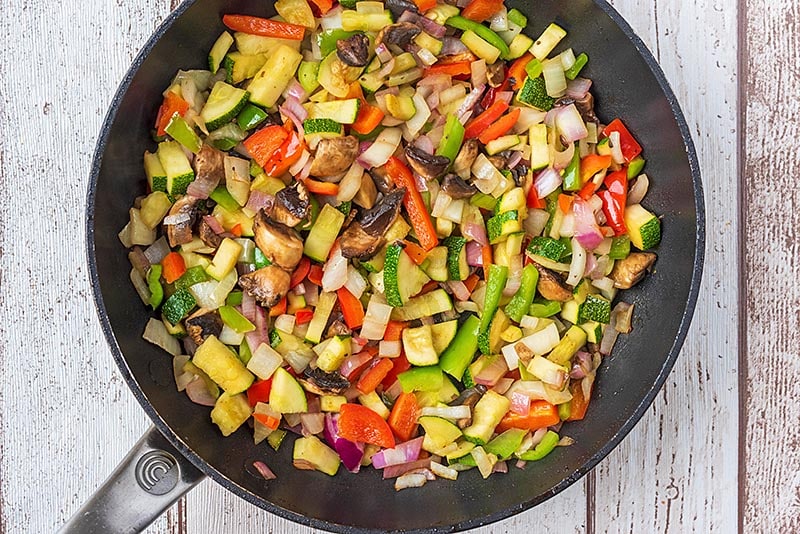 Five: Drain the pasta and put back in the pan with the cooked vegetables and all other ingredients (except the meatballs and cheese) and stir well.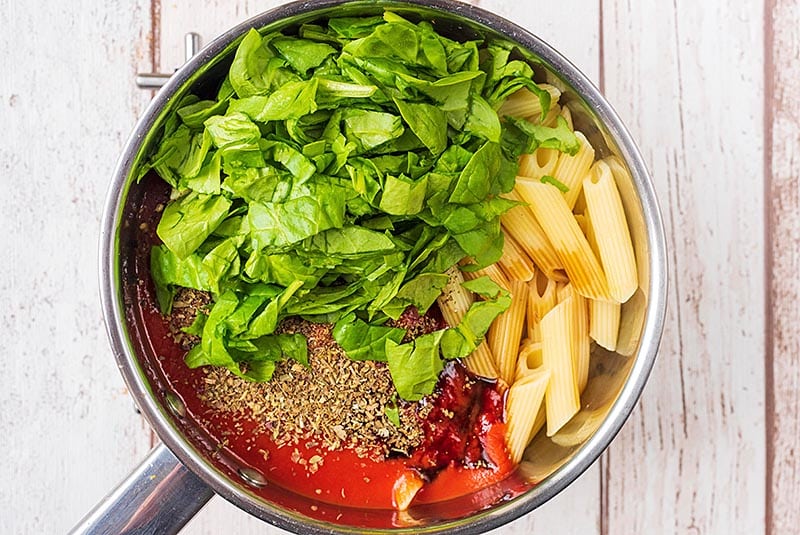 Six: Transfer to a large baking dish.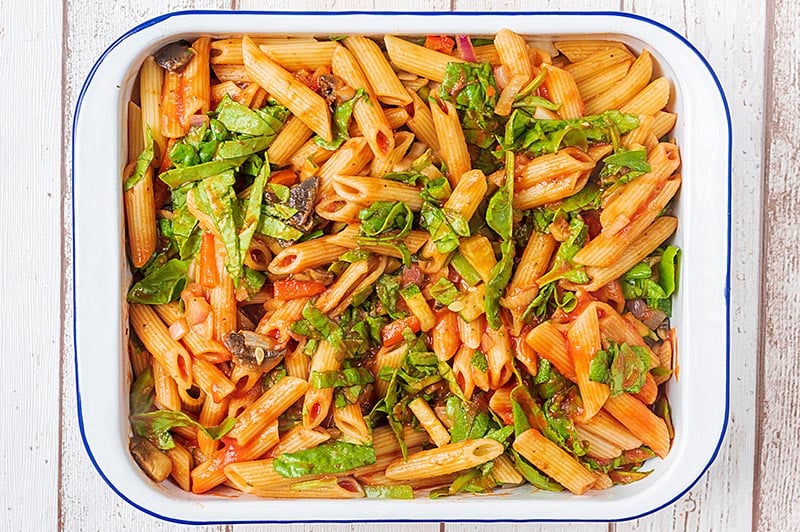 Seven: Add the meatballs.
Eight: Add the cheese on top.
Nine: Put in a preheated oven at 190°C/375°F/Gas 5 for 20 minutes.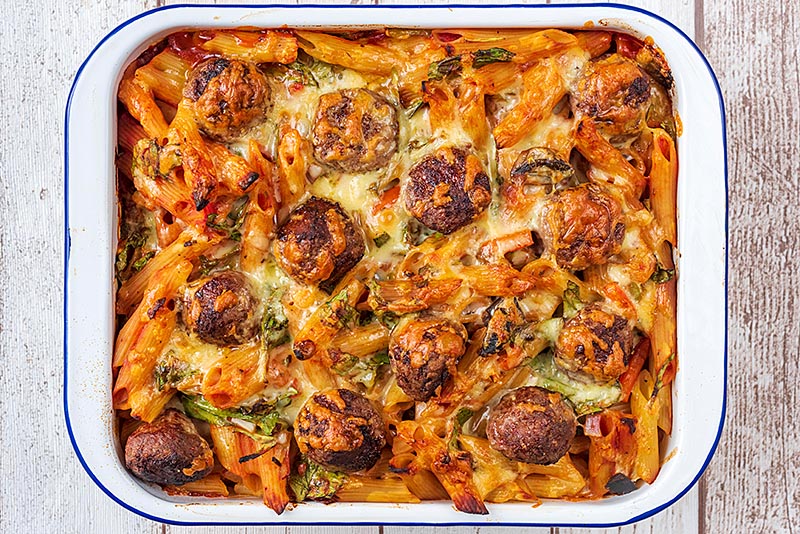 What meatballs to use?
You an go the homemade route, or the convenience route. No judgement, just do what works for you. Your local butchers should have some ready made meatballs, or you can pick up some great quality ones in your supermarket.
Making your own is a good opportunity to flavour them exactly how you want to, or even add in some finely chopped vegetables for a vitamin boost. We used butcher's meatballs though.
If you have made our Slow Cooker Meatballs, then any leftovers could be used in this dish and some of the sauce too.
What pasta to use
We used penne, as that is what we have in the cupboard to use up. But you could use fusilli, macaroni or conchiglie. I prefer penne or rigatoni, because they are bigger and the sauce gets inside the tube - but that is just a preference thing.
Marinara
The sauce is really what brings this whole dish together, but that doesn't mean that it has to be complicated. We have used some passata, with tomato purée, garlic, herbs and balsamic - all ingredients you probably already have in your cupboard anyway.
You could use a jar of sauce, or your favourite marinara recipe. Or, if you have made our Easy Tomato Pasta Sauce, you could use that too. Failing that, just a tin of chopped tomatoes with still work well.
What cheese to use
I think a mix of cheese is good here. I really love the strong flavour of a mature cheddar, as it means that you can use less of it but still have an intense flavour. But, I also like how melty mozzarella goes, so we have used a mixture of the two. Gouda, parmesan and Emmental all melt well too.
Is it healthy?
Pasta bakes are a great opportunity to hide a load of vegetables in a dish - so this is perfect for fussy eaters. We have packed this out with onion, peppers, mushrooms and courgette and even added some grate courgette (zucchini) and some spinach in to the pasta too. All the greens! You could make veggie packed meatballs too.
We have loaded this with cheese, because, well, cheese! But you could save yourself some calories and halve the cheese.
What to serve with it
I think a pasta bake is a pretty epic and filling dish as it is, but if you are making this for a dinner party for a big group of people and you want some sides to go with it, then of course we have some suggestions for you.
Can this be frozen?
Yes, this meatball pasta bake is a great batch cooking meal, so make extras and then portion it out to put in the freezer. Make sure you let it cool down completely before freezing.
To reheat, make sure it is fully defrosted and then put it in the microwave for a couple of minutes. Always make sure that it is heated all the way through before serving.
You could even freeze whole trays of this and then once defrosted, put it in the oven for about 20 minutes to reheat. Great for an easy family freezer meal.
Extra tips
Make this a little bit more indulgent by mixing some breadcrumbs with the cheese before crumbling it on top.
Give this dish a green veggie boost my mixing in some grated courgette (zucchini) and spinach when mixing it all together. You could even add vegetables in to the meatballs.
Like a kick of spice to your meals? Add some red chilli flakes in to the mix. Some Worcestershire Sauce goes well too.
You can make a vegan version of this by using your favourite vegan meatballs and using a vegan cheese alternative.
You can make this dish creamier by mixing some cream cheese in to the cooked pasta.
More pasta recipes
Do you want to be kept up to date on more delicious posts like this? Please subscribe to the blog mailing list (it takes 30 seconds).
Click here to sign up.
If you've tried this or any other recipe on the blog then let us know how you got on in the comments below, we love hearing from you!
Tag us in your creations on Instagram @hungryhealthyhappy - we love sharing photos when people make our recipes. You can use the hashtag #hungryhealthyhappy too.
DON'T FORGET TO RATE THE RECIPE ↓
Recipe