A hearty Creamy Broccoli Soup and just over 300 calories for a big filling bowl - this is healthy comfort food and ready in under 20 minutes too. The creaminess will make it feel much more indulgent than it actually is. Soup is an easy way to increase your vegetable intake, it's cheap to make and it's warming for those cold autumn/winter days.
This is the creamiest of creamy soups and that is just thanks to the milk and a little bit of grated cheese - no cream needed. When all blended together it gives it such a creamy texture that this soup feels far more indulgent than it actually is and it's one of your five a day too.
You could mix things up a bit and do half broccoli and half cauliflower. It would change the colour and flavour, but it would make a nice change. We all know how well cauliflower and cheese go together too.
If you want to get more broccoli in your diet, this is an easy way to do it. Fancy trying some more broccoli recipes? Why not try our Roasted Tenderstem Broccoli, Broccoli Pasta Bake or Broccoli Cheese.
Jump to:
Why you will love it
Easy way to eat more vegetables - We can all struggle to eat enough vegetables sometimes, and this is an easy recipe to give you a veggie boost. It is also one of your five a day.
Quick - This broccoli soup is ready in under 20 minutes
Super creamy and comforting - Total creamy comfort food, but no cream used
Low calories - This is a low calories meal option with just over 300 calories for a huge filling bowl.
Healthy - Broccoli is a great source of vitamins K and C, a good source of folate (folic acid) and also provides potassium, fibre.
Ingredients needed
Broccoli - The star of this dish. To make this the best it possible can be, then try to choose the perfect broccoli. Choose a broccoli head with tight, green florets and firm stalks. Your broccoli should feel heavy for its size. Avoid broccoli with dried out or browning stem ends or yellowing florets.
Potato - This helps to really thicken the soup up. You could leave it out if you prefer a more brothy soup.
Onion - You could swap this for shallots if you prefer, and this would give the soup a slightly sweeter taste.
Milk - This is what helps to make the soup creamy. You can make it more indulgent by swapping the milk for cream.
Vegetable stock - Try to use the best quality stock you can buy. If you are making this for young children, then use a low salt stock.
Garlic - To save yourself some time, use some of that lazy ready chopped garlic in a jar.
Mustard - We used wholegrain mustard, but Dijon would work well too.
Cheese - We used a mature cheddar, as it has a nice strong flavour, which means you can get away with using less of it.
A full ingredients list with measurements is in the recipe card below.
How to make broccoli soup - Step by step
One: Heat some oil in a large pan and cook the onion, garlic and potato for 3 minutes.
Two: Then add the stock, mustard and salt and pepper and simmer for 2 minutes.
Three: Add the milk and the broccoli and cook for 10 minutes.
Four: Blend until smooth then stir in the grated cheese.
Five: Pour into bowls and top with grated cheddar.
Health benefits of broccoli
This creamy soup is low in calories and fat and even people that don't love broccoli have said that they love this soup. If one of your goals is to get extra vegetables in to your diet, then this is a recipe for you to try. It really doesn't feel like you are eating vegetables.
Superfood is a bit of a buzz food that is thrown around, but there is no denying that broccoli is nutrient dense. It's a great source of vitamins A, B1, B2, B3, B6 and K, as well as iron, zinc and fibre, which can support digestive health.
Did you know that broccoli is also a good source of protein, although an incomplete one.
You could add even more veggies by throwing some spinach or kale in there too. It would give it even more of a vibrant green colour too, not to mention a vitamin boost.
What to serve it with
Warm crusty French bread is the best thing to dip in this creamy soup. However, if you want to keep it lighter, but still want a bit of texture to it, then why don't sprinkle some croutons on top.
We make our own easy croutons by chopping up some bread in to squares and drizzling over a little olive oil and a sprinkle of garlic granules and dried herbs. Put them in the oven for about 5 minutes to crisp up. Perfect for adding to soups and salads.
Why not try making our Garlic and Rosemary Focaccia or easy Slow Cooker Bread to dip in it?
When it comes to toppings, some raw broccoli and grated cheese (although stilton goes really well with broccoli soup) is our go-to combo. However, some crispy grilled bacon is an amazing addition. It adds some nice texture to it.
FAQs
How to make broccoli soup kid friendly?
You wouldn't think that creamy broccoli soup was kid friendly, but it really is. In our house anyway! Add a ladle to a bowl and then top with cooked pasta to make it more filling. It's more of a pasta soup stew combo, which makes it easier for little kids to feed themselves.
Can you make creamy broccoli soup vegan?
This soup is all about the creaminess, but that doesn't mean that you couldn't easily make a vegan broccoli soup. Simply swap the semi-skimmed milk for almond/soya milk, or use extra stock and add a dollop of oat creme fraiche once it is blended. Swap the cheese for a good melty vegan cheese too.
How to store broccoli soup?
This soup is always best eaten fresh, however if you do have leftovers then you can keep it in the fridge for up to 3 days. Let it cool down and then store in an air tight container in the fridge.
Can you freeze creamy broccoli soup?
Yes, broccoli soup freezes really well. Allow it to completely cool first and then portion it out in to air tight containers or freezer bags (these are great for space saving as you can lay them flat) and then it will keep in the fridge for up to 3 months. Let it defrost and then you can reheat it in the microwave or heat it through on the hob.
How to cut broccoli
It depends on the size of the head of your broccoli. Ours was fairly large, so we cut florets off and then quartered each of them. If you were using a smaller head of broccoli, then you might just need to halve them.
Is broccoli soup gluten free?
Yes, this can be gluten free if you use a gluten free stock and mustard. Make sure you grate the cheese yourself rather than using a bag of pre-grated cheese as that is sometimes coated in flour to stop it from sticking together.
How to thicken broccoli soup
To thicken the soup, you will need to make a cornflour slurry. Simply mix together equal parts cornflour flour and water and then whisk that mixture in to the soup. Usually 2 tablespoons of cornflour and 2 tablespoons of water mixed together does the job. You can use this tip for thin stews too.
Can you make broccoli soup in advance?
Yes, you can make this in advance and then leave it to cool in the pan, cover and refrigerate the whole pan. Then, when you want to serve it you can put the whole pan (uncovered) on the hob and heat it through.
More soup recipes
If you've tried this creamy broccoli soup, let us know how you got on in the comments below.
Tag us in your creations on Instagram @hungryhealthyhappy - Use the hashtag #hungryhealthyhappy too.
Recipe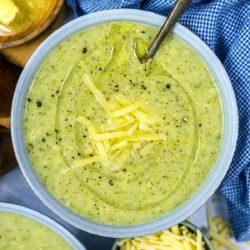 Creamy Broccoli Soup
The creaminess of this Creamy Broccoli Soup will make it feel much more indulgent than it actually is.

Gluten Free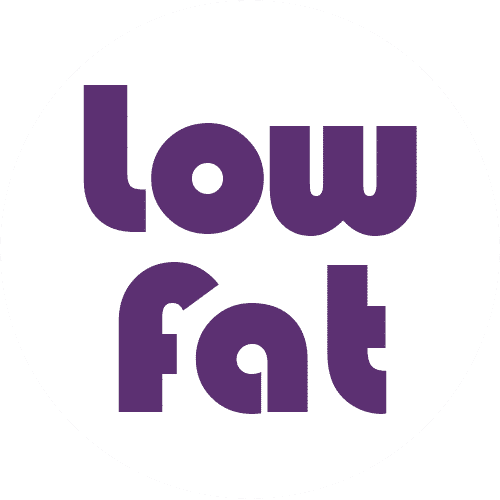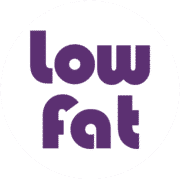 Low Fat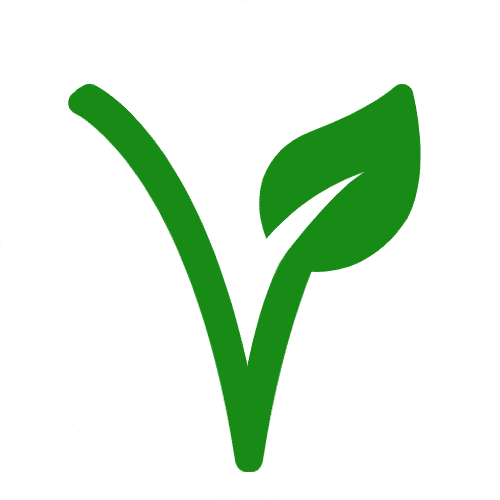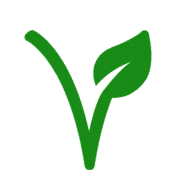 Vegetarian
Pin
Print
Save recipe
Recipe saved!
Ingredients
1

tablespoon

Olive oil

800

ml

(

3.33

cups

)

Vegetable stock

200

ml

(

0.75

cups

)

Semi-skimmed milk

1

Potato

-

peeled and chopped

1

Onion

-

chopped

2

Garlic clove

-

crushed

1

head

Broccoli

-

chopped

1

teaspoon

Wholegrain mustard

1

pinch

Sea salt and black pepper

60

g

(

0.5

cups

)

Mature cheddar

-

grated
Instructions
Heat

1 tablespoon Olive oil

in a large pan and cook

1 Onion

,

2 Garlic clove

and

1 Potato

for 3 minutes.

Add

800 ml Vegetable stock

,

1 teaspoon Wholegrain mustard

and

1 pinch Sea salt and black pepper

. Simmer for 2 minutes.

Add

200 ml Semi-skimmed milk

and

1 head Broccoli

and cook for 10 minutes.

Blend until smooth, then stir in

60 g Mature cheddar

.

Pour into bowls and top with more grated cheddar (optional).
Recipe tips
You could add some cauliflower too to use a mixture of vegetables.
Prefer a stronger flavour? Use Stilton instead of mature cheddar.
If you are making this for young kids, mix some little bits of pasta in to it, to make more of a pasta soup stew.
You could make this vegan by using almond/soya milk and vegan cheese.
Try using shallots instead of onions for a sweeter flavour.
Top with some toasted seeds to add some crunch.
Give this a green spinach boost by adding some spinach to it. It will make it a really vibrant green colour too.
Use a stick blender to blend this soup. If you are going to use a jug blender, make sure it cools down first, as putting hot soup in can cause it to explode.
Add a drizzle of olive oil for presentation.
Nutritional Information
Serving:
1
bowl
|
Calories:
366
kcal
|
Carbohydrates:
51
g
|
Protein:
23
g
|
Fat:
10
g
|
Saturated Fat:
5
g
|
Cholesterol:
60
mg
|
Sodium:
243
mg
|
Potassium:
1082
mg
|
Fiber:
11
g
|
Sugar:
14
g
|
Vitamin A:
1900
IU
|
Vitamin C:
382
mg
|
Calcium:
320
mg
|
Iron:
2.3
mg
The nutritional information provided is approximate and is calculated using online tools. Information can vary depending on various factors, but we have endeavoured to be as accurate as possible.