A Green Smoothie is a great pick me up when you need a green veggie boost. An easy sweet smoothie that is packed with spinach and easy to adapt with other ingredients. Just 5 ingredients and ready in minutes, this post will show you how to make a green smoothie with lots of variations. I have been drinking a green smoothie almost every day for a while now and I feel SO much better for it.
Despite the vibrant green colour, this spinach smoothie is actually really sweet. The green colour comes from the spinach, which although doesn't add any flavour, adds a whole lot of nutrients.
Kids will love it (ours call it a superhero smoothie) and have no idea that they are drinking a glass of spinach.
If you are looking for some other recipes that are packed with spinach, then why not try our 10 Minute Chickpea and Spinach Curry, Spinach and Ricotta Pasta Bake or Spinach and Mushroom Gnocchi.
Jump to:
Why you will love it
Nutrient dense - There is so much goodness packed into this green smoothie. It's a nice little pick me up if your energy levels are low.
A great way to get kids to eat more greens - Most kids love smoothies, and this is full of spinach and a good way to get kids to have more greens.
Easy to adapt - Feel free to adapt it with your favourite fruit and vegetables and to use up what you already have.
Can be vegan - Use a plant based milk in this spinach smoothie to make it vegan.
Ingredients needed
Banana - This adds some natural sweetness to a vegetable smoothie, as well as thickening up the smoothie. If you don't like banana, then you can use avocado for thickness, and extra honey to sweeten.
Spinach - This is what gives the green smoothie the green boost. You could swap it for kale.
Blueberries - We think all smoothies should have berries in them. You can swap blueberries for raspberries or strawberries. Use frozen berries to make the smoothie really cold.
Milk - You have got a few options when it comes to what milk to use in this healthy smoothie, and we have written about them below.
Honey - This is what helps to sweeten the smoothie. You could leave it out, or even swap it for maple syrup if you want this smoothie to be vegan.
Almond butter - This helps to thicken the smoothie, and give it a protein boost.
A full ingredients list with measurements is in the recipe card below.
How To Make a Green Smoothie - Step by step
One: Put all the ingredients into a blender.
Two: Blend until smooth.
What fruit to use
There are so many options here when it comes to what fruit to use. We kept it simple with banana and blueberries. Use a frozen banana if you want a super cold smoothie, or you could just add some ice cubes if your banana isn't frozen.
Any kind of berries work in this, and we also like to add strawberries, cherries, raspberries and blackberries. Bear in mind that the fruit you use can effect the colour of the smoothie. Darker fruits like berries will make the smoothie more of a brown colour, but tropical fruits will keep it green.
If you want more of a tropical flavour to this smoothie, then use pineapple and mango. Try to make sure these are frozen too, and you will have yourself a super refreshing smoothie.
Using frozen fruit means that you can make this green smoothie all year round and use fruits that might not be in season.
What greens to use
You need to use a lot of greens in this green smoothie recipe to get that super green colour. We have just used spinach in this recipe, but you could swap some of the spinach for kale, or use all kale. You could also use Swiss chard, pak choi (bok choy), romaine lettuce or even the green carrot tops, which is a great way to reduce waste.
What milk to use
You have lots of options when it comes to the milk used in this recipe. We used standard whole milk, however you could make this a vegan smoothie by using a plant based milk like almond milk, cashew milk or oat milk.
To make this smoothie creamier and add some extra flavour, swap 50ml of the milk for coconut milk. This will really help to thicken the smoothie too.
You could use water instead of milk, however I wouldn't recommend doing that because it would make it really thin.
Variations
The great thing about a smoothie, is that they are so easy to adapt. We added a spoonful of almond butter (although you could use peanut or cashew butter) which gives it a protein boost, but you could add some chia seeds which will do the same too. You could also add some protein powder if that's your thing.
You could add a little flavour with some cinnamon, or give it a chocolate twist with some cocoa powder - this would definitely turn the smoothie brown, but delicious all the same.
Storage
You can store any leftover smoothie in the fridge for 1-2 days. The ingredients may separate, but this is normal. Just give it a quick stir before drinking. It's always best to make this smoothie fresh - luckily it is really quick to make.
FAQ
Can you taste the spinach in a smoothie?
No, you can't taste the spinach in this smoothie. It just adds lots of colours and vitamins. You need to make sure you use really ripe fruit, then all you should be able to taste is the fruit. If you used kale instead of spinach, then you would probably be able to taste that as it has a stronger flavour.
Can you make smoothies in advance?
Green smoothies taste best when they are made fresh, however if you would like to do some of the prep in advance, you can put the fruit and spinach in the zip lock bags and then keep them in the freezer. Then, when you are ready to make the smoothie, just empty the bag in to the blender and add the milk and anything extra. Why not try our Make Ahead Smoothie Bags?
How to sweeten a green smoothie?
We used honey to sweeten the smoothie, however if you want it to be a vegan smoothie then swap it for maple syrup. The riper the fruit used, the sweeter it will be naturally. You don't have to use any added sweetener at all.
What can I use instead of banana in a smoothie?
I think bananas are kind of essential in this smoothie. Not only to they add lots of sweetness, but they thicken it too. If bananas aren't your thing, then you could use avocado instead. This will help with the green colour too. Fruits like mango would help to thicken it also.
More smoothie recipes
If you've tried this super green smoothie recipe, let us know how you got on in the comments below.
Tag us in your creations on Instagram @hungryhealthyhappy - Use the hashtag #hungryhealthyhappy too.
Recipe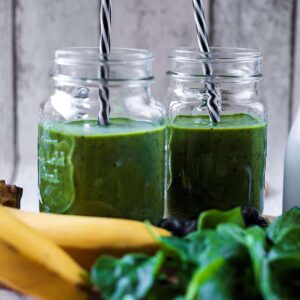 Green Smoothie
This super simple Green Smoothie is made with spinach, banana, blueberries strawberries, and just water. It is really nutritious and totally delicious!

Gluten Free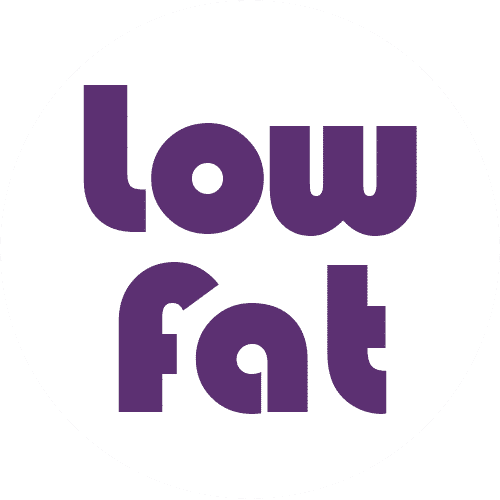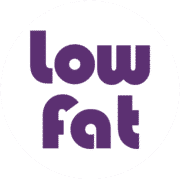 Low Fat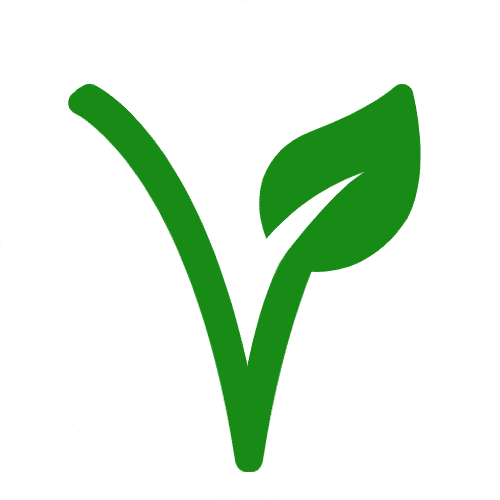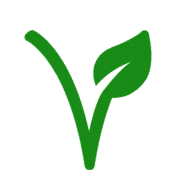 Vegetarian
Pin
Print
Save recipe
Recipe saved!
Ingredients
1

Frozen banana

1

tablespoon

Honey

20

g

(

0.25

cups

)

Blueberries

30

g

(

1

cups

)

Spinach

250

ml

(

1

cups

)

Whole milk
Instructions
Put all the ingredients in to your blender.
Recipe tips
To get a super smooth smoothie, blend the liquid and greens first and then add the fruit and continue blending.
If you don't have frozen fruit, then you can add ice cubes to the blender instead.
Try to make the smoothie from fresh. However if you want to prep it in advance, then you can put everything except the liquid in a freezer bag and freeze until you need it.
The general rule of making a green smoothie is 1 cup greens, 1 cup liquid and 2 cups of fruit.
Nutritional Information
Serving:
1
portion
|
Calories:
132
kcal
|
Carbohydrates:
35
g
|
Protein:
2
g
|
Sodium:
25
mg
|
Potassium:
681
mg
|
Fiber:
5
g
|
Sugar:
19
g
|
Vitamin A:
2890
IU
|
Vitamin C:
55.9
mg
|
Calcium:
30
mg
|
Iron:
1.4
mg
The nutritional information provided is approximate and is calculated using online tools. Information can vary depending on various factors, but we have endeavoured to be as accurate as possible.