If you love smoothies, these make ahead smoothie packs are going to save you so much time. No need to get 6 different ingredients out every time you want a smoothie, just make up these bags with your favourite fruit and vegetables and stash in the freezer. Then just add milk and blend when it is smoothie time. Make this part of your weekly meal planning and prep!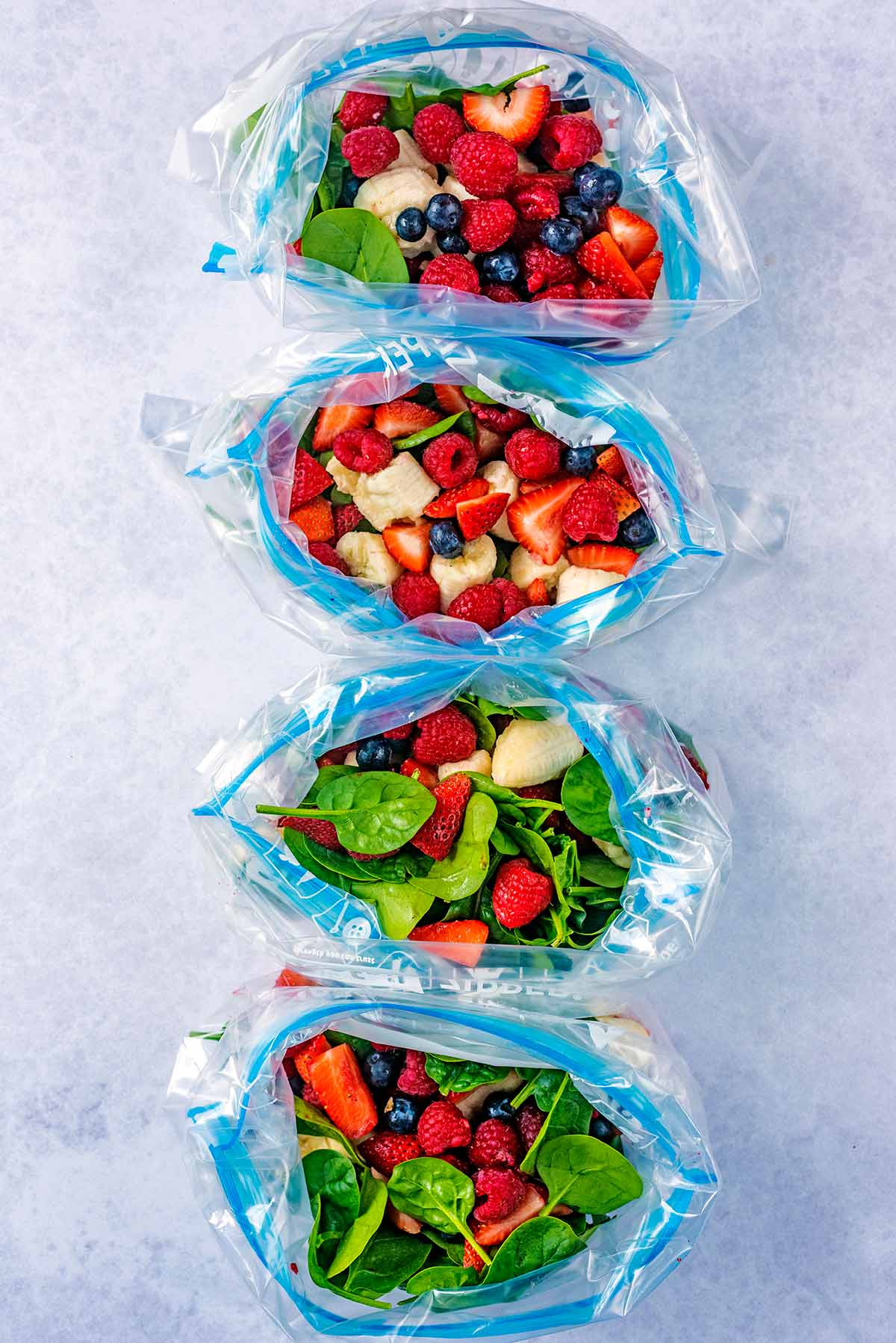 This is so easy, it's not even a recipe. But it's such a great time saving hack that I just HAD to share it with you. We are big fans of smoothies in this house, and our freezer is always packed full of these smoothie packs so we can have a quick and easy breakfast or snack on the go, that is refreshing and nutrient dense too. They are such a great little life hack.
We always make these when certain fruit is on offer, or when we can buy it in bulk to save money. Smoothies don't have to be expensive. It's also a good way to use up fresh fruit that might be a little past it's best. Mushy berries? Brown bananas? Freeze them in smoothie packs. Nothing goes to waste!
If you are looking for some other make ahead and store recipes, then why not try our Breakfast Burritos, Overnight Oats, Easy Salad Jars or Crispy Chicken Goujons?
Jump to:
Ingredients needed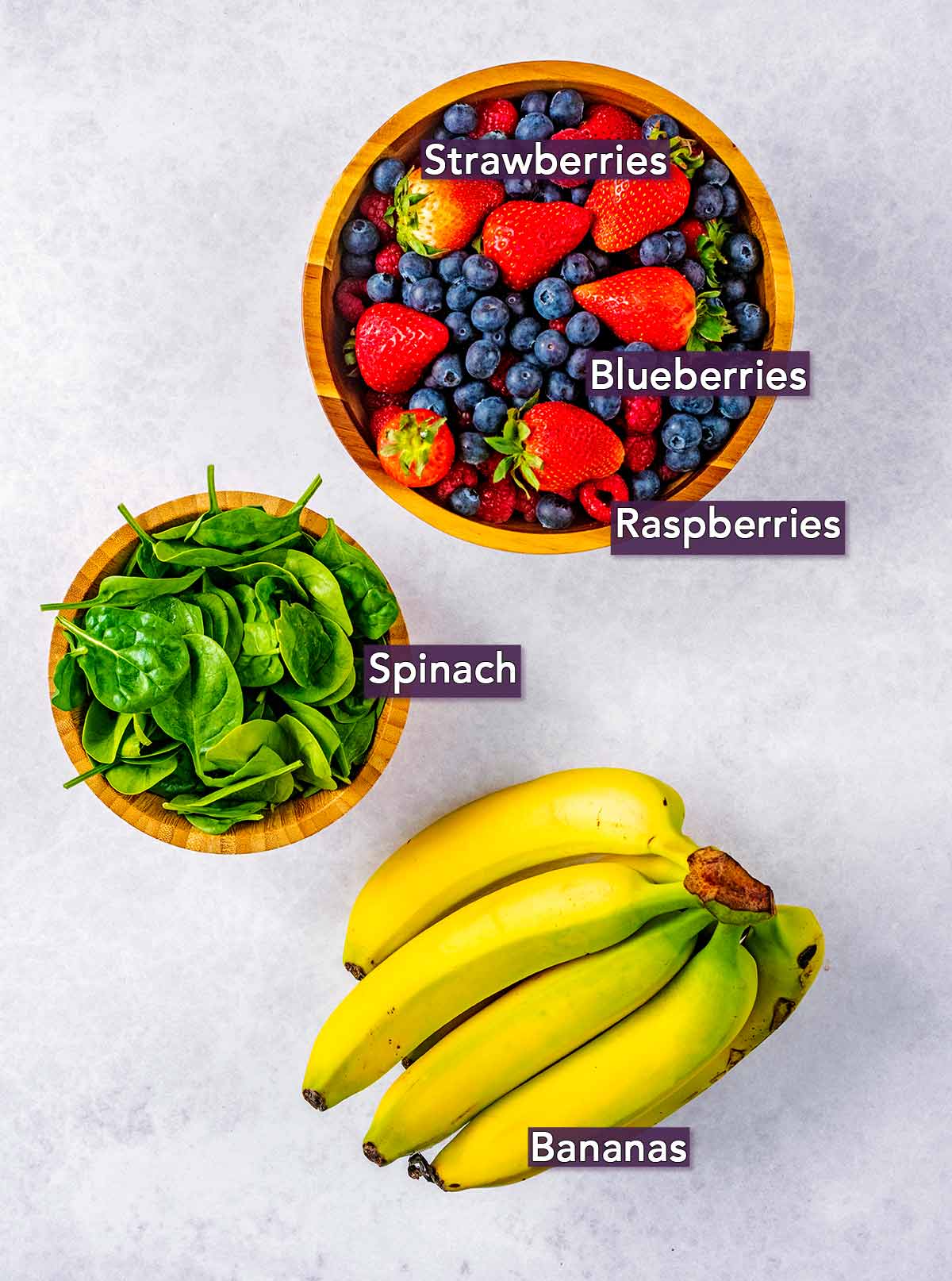 Banana - This helps to thicken the smoothie, but it doesn't add too much of an overpowering banana flavour. If you want a thicker smoothie, then use frozen bananas.
Berries - This is where all the colour for the smoothie comes from. We used strawberries, raspberries and blueberries for a nice mix.
Spinach - An easy way to give smoothies a green vegetable boost and you can't even taste it. If you use enough red berries, you won't even see a change of colour either.
A full ingredients list with measurements is in the recipe card below.
How to make smoothie packs - Step by step
One: Fill a Ziploc bag (or similar) with spinach...
Two: Then chunks of banana...
Three: Then the strawberries...
Four: And finally the raspberries and blueberries.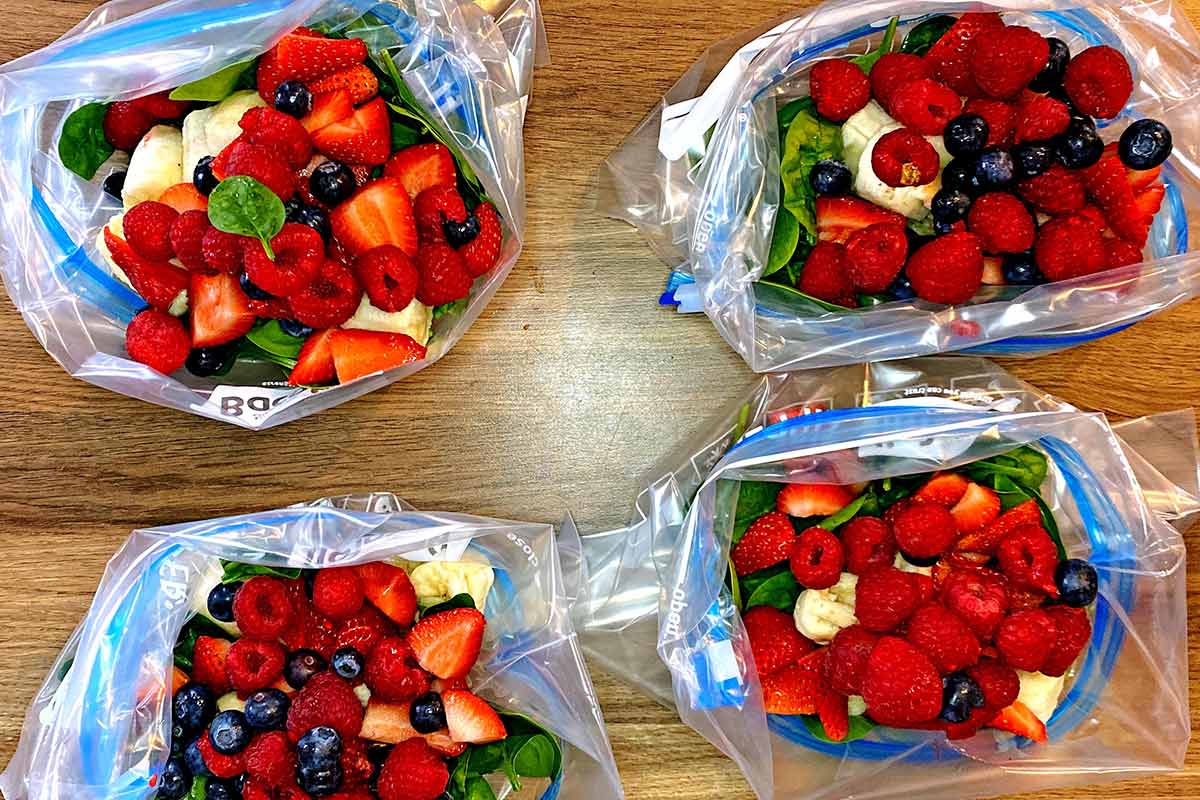 Why should you try it?
Quick - It takes just 5 minutes to make up lots of these smoothie bags and then once they are made it takes less than 1 minute to whizz the smoothie up and serve.
Filling - A smoothie can be a filling meal or snack. Add some oats to these smoothie bags when blending, which makes it much more of a filling meal.
Use frozen fruit - You can easily use frozen fruit in this recipe, so it can be enjoyed all year round and not just when berries are in season. Or, make these up in the summer when berries are in season and store them for winter.
Kid friendly - Looking for more ways to get fruit into your kid's diet? They will love this! They can help to make it too.
All portioned out - You have already measured everything out and you know that each bag has a single serving in it.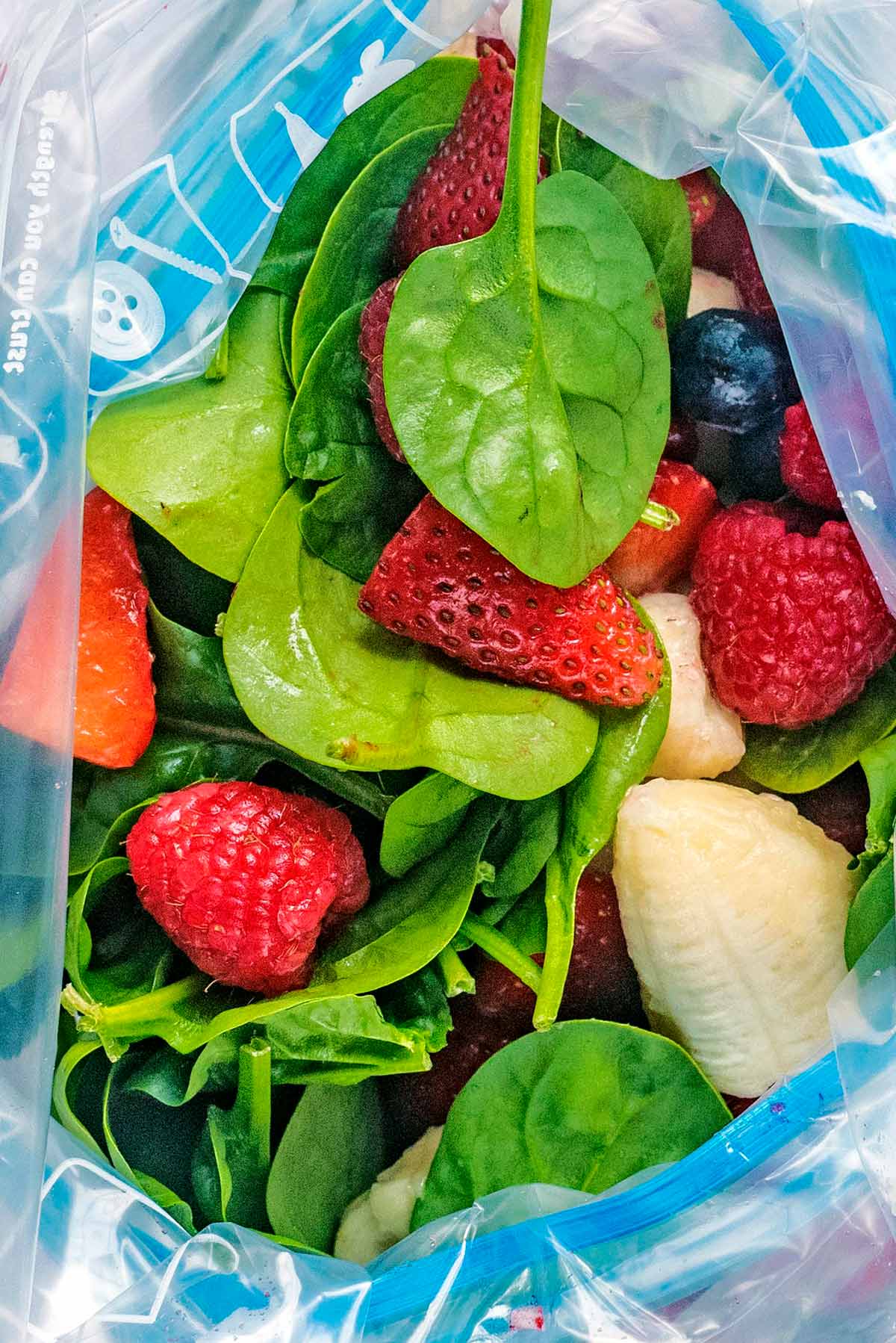 Health benefits of smoothies
The exact health benefits will depend on the fruit that you use in your smoothie. However, smoothies are a great way to get more fruit into your diet and encourage kids to try new fruits and vegetables.
Not only are blueberries sweet and delicious, but they are nutritious too. Known as being a "superfood", they are low in calories, high in fibre, vitamin C and vitamin K. Blueberries are believed to have one of the highest antioxidant levels of all common fruit. Antioxidants protect your body from free radicals, which are unstable molecules that can damage your cells and contribute to ageing and diseases.
Bananas are a great source of potassium, vitamin B6, fibre and carbohydrate, and some vitamin C too. They do have a lower water content than most fruit, so bananas typically have more calories as well as a higher sugar content compared to other non-tropical fruits. Bananas are full of potassium, which is one of the most important electrolytes in the body, helping to regulate heart function as well as fluid balance. It is a key factor in regulating blood pressure.
We gave these smoothie packs a green boost with some spinach. Spinach is a great source of iron, which can really boost your energy levels. Iron has a key role in the function of red blood cells, and these help to transport oxygen around the body, which supports energy production.
Spinach is also great for heart health. It is naturally rich in compounds called nitrates and these may help improve blood flow and pressure by relaxing the blood vessels. Spinach is also a great source of vitamin K, magnesium and calcium.
Variations
Mango
Pineapple
Peach
Cherries
Orange
Pear
Apricot
Kale
Grated cauliflower
Carrot
Ginger
Turmeric
Melon
Cucumber
Pumpkin
How to use Smoothie Packs
Now you have all these smoothie packs bursting out of your freezer, you need to know how to use them, right? You just tip the packs out into your blender and add 600ml of liquid and blend. You can use any kind of milk such a whole, skimmed or coconut, cashew or almond milk. You could also use coconut water or even just plain water.
There are loads of other add-ins that you can put in your blender to make this smoothie extra special. Here are some of our favourite smoothie additions:
Cocoa powder
Nut butter
Chia or flax seeds
Honey or maple syrup
Greek yoghurt
Oats
Avocado
Cinnamon
Storage
Whilst you can store these in the fridge for a couple of days, we store them all in the freezer to keep them for longer. If you keep them in air tight freezer bags, they will store well for up to 3 months. No need to defrost them, just blend them from frozen.
Frequently Asked Questions
Is it good to drink smoothies every day?
Yes, there is nothing wrong with drinking a smoothie every day. Make sure that isn't the only way you are having fruit and vegetables though, as they should be enjoyed as part of a balanced diet.
How many calories in a smoothie pack?
If you make one of these smoothie packs up with 600ml of skimmed milk, and no other ingredients added, then there are 254 calories per smoothie (each pack will make two smoothies).
Does blending fruit destroy the nutrients?
No, it doesn't. Blended fruit is still just as nutritious.
Are smoothie packs gluten free?
As long as you make sure that any other ingredients you are adding are gluten free, and there is no cross contamination, then this can be gluten free.
Are smoothie packs vegan?
Yes, the ingredients here are vegan. Just make sure to use a plant based milk and that any other additions are also vegan.
How to thicken a smoothie.
You can add coconut milk to thicken it, or Greek yoghurt or oats.
Can I double the recipe?
Yep, you can make as many smoothie bags as you like - just double or triple the ingredients. Just make sure that you have enough freezer bags and enough room in your freezer.
Can I freeze the smoothie after it is blended?
No, we don't recommend freezing it again after blending. It is best enjoyed straight away. However, if you do have any left over, you could pour it into an ice lolly/popsicle mould and then freeze that as a little healthy treat for the kids.
More smoothie recipes
If you've tried these smoothie packs, then let us know how you got on in the comments below.
Tag us in your creations on Instagram @hungryhealthyhappy - You can use the hashtag #hungryhealthyhappy too.
Recipe
Make Ahead Smoothie Packs
If you love smoothies, these make ahead smoothie packs are going to save you so much time. Make these smoothie bags part of your weekly meal prep!

Gluten Free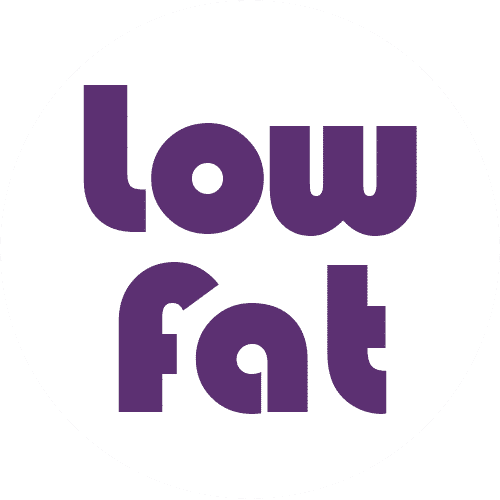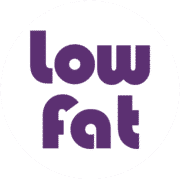 Low Fat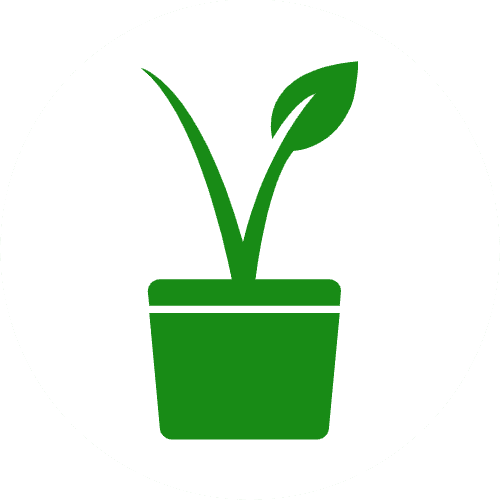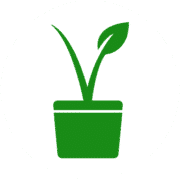 Vegan
Pin
Print
Save recipe
Recipe saved!
Ingredients
100

g

(

3.33

cups

)

Spinach

4

Banana

-

cut into chunks

400

g

(

2.75

cups

)

Strawberries

-

hulled and halved

200

g

(

1.66

cups

)

raspberries

200

g

(

1.33

cups

)

Blueberries
Instructions
Fill a Ziploc bag (or similar) with spinach...

And finally the raspberries and blueberries.
Recipe tips
Not a fan of banana? You can use avocado instead which makes it really creamy. It doesn't blend as well as banana though.
Use good quality zip lock freezer bags and then wash them and reuse them each time.
You can also store the ingredients in mason jars in the freezer. They do take up a lot more space though and we like bags because they lay flat in the freezer and can be stacked.
Flatten the smoothie bags and remove the air before zipping them up as they will take up less space in the freezer that way.
Make sure to label each smoothie bag so you know when it went in the freezer and how long it will be fresh for.
The amount of liquid you add to the blender will depend on how thick or thin you like your smoothie. Feel free to add more or less.
This recipes is to make 4 smoothie bags (2 adult servings per pack). Each bag will be enough for 4 smoothie loving kids to share.
Nutritional Information
Serving:
1
portion
|
Calories:
99
kcal
|
Carbohydrates:
24
g
|
Protein:
2
g
|
Fat:
1
g
|
Saturated Fat:
1
g
|
Polyunsaturated Fat:
1
g
|
Monounsaturated Fat:
1
g
|
Sodium:
11
mg
|
Potassium:
414
mg
|
Fiber:
5
g
|
Sugar:
13
g
|
Vitamin A:
1238
IU
|
Vitamin C:
47
mg
|
Calcium:
31
mg
|
Iron:
1
mg
The nutritional information provided is approximate and is calculated using online tools. Information can vary depending on various factors, but we have endeavoured to be as accurate as possible.