Grilling peaches really brings out their flavour and they are the perfect summer dessert. Either cook them on the BBQ grill or a grill pan indoors for an easy flavour packed dessert that can be topped with either yogurt or ice cream. Grilled Peaches are made with just 4 ingredients and ready in under 10 minutes too.
Grilling peaches brings out their natural sweetness and gives it a slight caramelisation. It's one of our favourite ways to use peaches and it's a great way to use up under rip peaches.
We have flavoured ours with honey and cinnamon for a delicious and healthy dessert. If you have never had peaches on the grill before, then you are in for a treat.
If you are looking for more ways to use peaches then why not try our Peach Iced Tea, Peach Smoothie or Grilled Peach Salad.
Jump to:
Why you will love them
The perfect summer dessert - When peaches are in season, this is the best way to use them.
Easy to make vegan - You can make this vegan by swapping the honey for maple syrup or another liquid sweetener.
Just 4 ingredients - This grilled peach recipe is SO simple to make, with no fancy ingredients.
Ready in under 10 minutes - Quick and easy as it's cooked on a high heat.
Can be made with plum or nectarines instead - The topping works well regardless of what stone fruit you use.
A great BBQ dessert for entertaining - You can easily make a huge batch of these.
Ingredients needed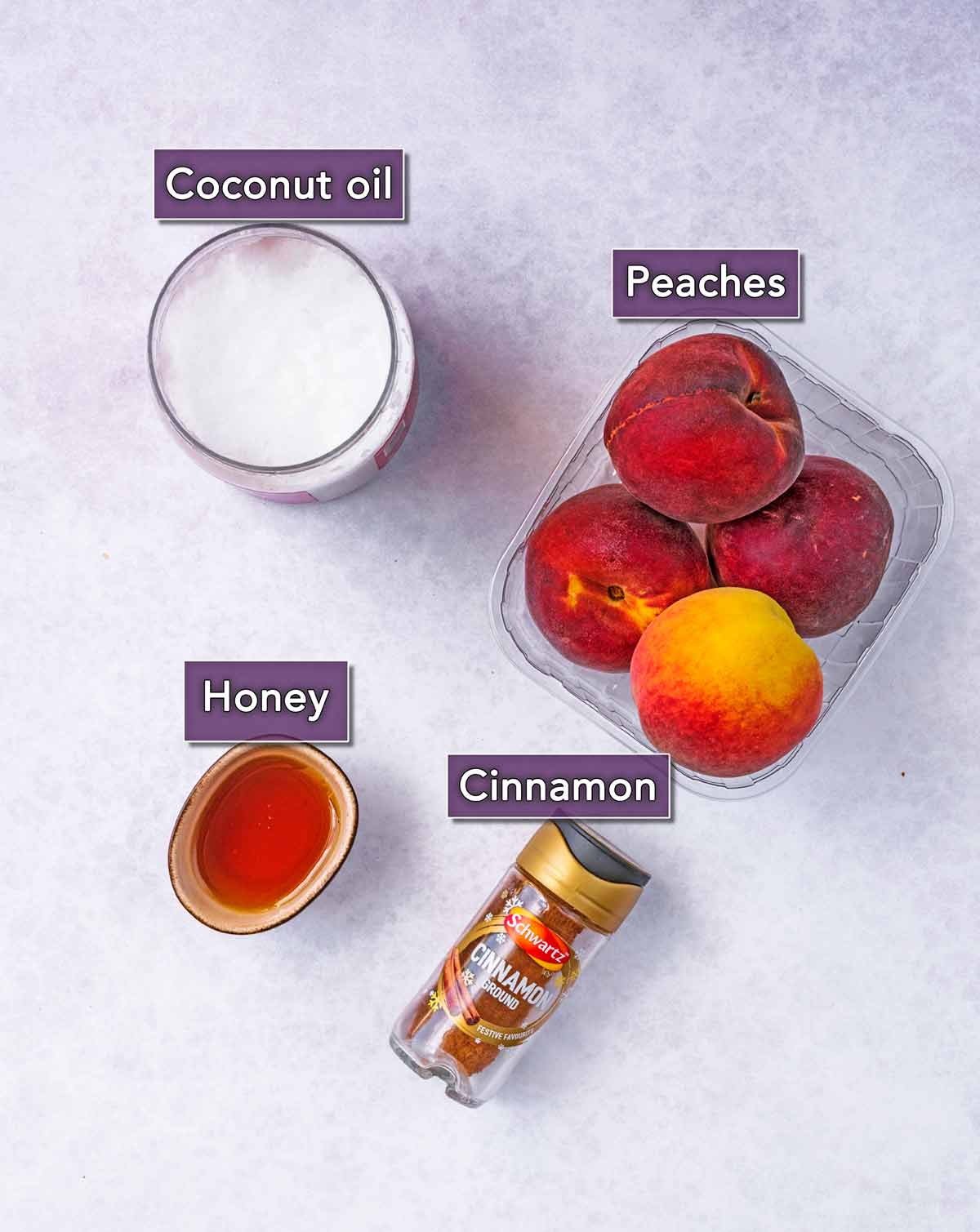 Peaches - This is best made when peaches are in season. In the UK that is July to September. This will give you the best flavour to your grilled peaches.
Coconut oil
Honey - To make this vegan, swap it for maple syrup.
Cinnamon - This adds a lovely warmth. You could ginger or nutmeg instead, or a mixture of them.
A full ingredients list with measurements is in the recipe card below.
How to grill peaches - Step by step
One: Brush the cut sides of the peaches with oil and then put them on the grill pan or BBQ grill rack cut side down.
Two: Cook on a gentle heat for around 4 minutes each side, until there are grill marks and the peaches have softened.
Three: Drizzle with honey and sprinkle with cinnamon and serve with vanilla ice cream (optional).
How to choose a peach
Before you even get to cooking the peach, you need to have chosen the perfect peach. You want it to be firm, but just ripe. Basically, not really hard or squishy - somewhere in between.
You want it to be firm enough to handle being grilled and not fall to pieces, but also ripe enough so it has flavour - but the grilling will help with that.
Cutting and pitting
Cutting a peach is a bit like cutting an avocado, or any stone fruit really. First you need to run a knife round the edge and then twist it open. Peaches have a natural seam, so it's best to follow that with your knife.
Once you have twisted it open, you will have two halves and the stone will have been revealed. To remove it, simply take a melon baller or a small ice cream scoop and scoop it out. You can't just stick a knife in to it and wiggle it out like you can with an avocado, as the pit of a peach is more fragile and it will fall apart.
What to serve with grilled peaches
As soon as the grilled peaches come off the grill, we give them a drizzle of honey and a sprinkle of cinnamon and it's delicious. You could swap the honey for maple syrup to keep it vegan and change the spice for nutmeg or ginger.
This is a pretty light and healthy dessert, so if you want to keep it that way I would suggest serving it with some Greek yogurt or even some frozen yogurt.
But, our favourite way to serve these is with some really good quality vanilla yogurt. It's the perfect paring. For something a little more indulgent, grilled peaches and ice cream is the way to go.
FAQs
What oil to cook peaches in
Although your first thought might be to cook them in butter, they will burn before they actually cook and you want to make sure that the peaches get nice and soft.
You want to use an oil with a high smoking point, so we used coconut oil for this and it gives it a nice extra flavour too. You could use avocado or canola oil though.
BBQ grill or indoor grill pan?
You can make these grilled peaches either outside on the BBQ Grill (the perfect outside summer dessert) or inside on a grill pan. They will both take around the same time. Just be aware that cooking them over a direct flame on the BBQ can make them burn a lot quicker.
How to store grilled peaches
These are best eaten right away, however if you do have any extra, don't top them with any yoghurt or ice cream and you can store them in an air tight container for up to 2 days. You can then chop them up and add them to yoghurt and granola for breakfast or a snack.
Can you grill sliced peaches?
Yes, if you have already got some peaches sliced up, then you can just grill them in the same way that you would the halves.
More dessert recipes
If you've tried these grilled peaches, let us know how you got on in the comments below.
Tag us in your creations on Instagram @hungryhealthyhappy - Use the hashtag #hungryhealthyhappy too.
Recipe
Grilled Peaches with Cinnamon and Honey
Grilling peaches really brings out the flavour and are a perfect light dessert. These Grilled Peaches use only 4 ingredients and ready in under 10 minute

Gluten Free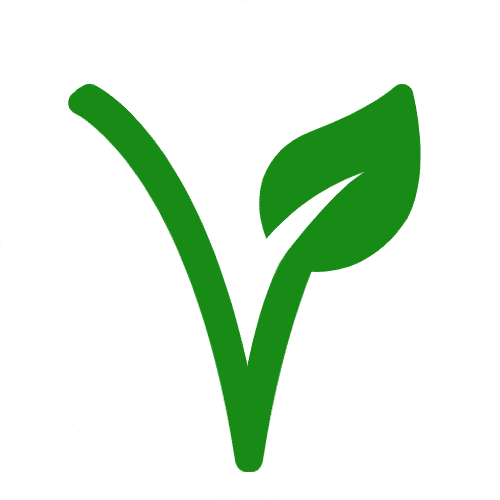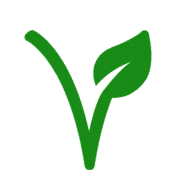 Vegetarian
Pin
Print
Save recipe
Recipe saved!
Ingredients
2

tablespoon

Coconut oil

4

Peaches

-

halved and pit removed

2

tablespoon

Honey

1

pinch

Cinnamon
Instructions
Brush the cut sides of

4 Peaches

with

2 tablespoon Coconut oil

and then put them on the griddle pan or BBQ grill rack cut side down.

Cook on a gentle heat for around 4 minutes each side, until there are grill marks and the peaches have softened.

Drizzle with

2 tablespoon Honey

and sprinkle with

1 pinch Cinnamon

and serve with vanilla ice cream (optional).
Notes
You can cook these on the BBQ grill or a grill pan indoors.
Cooking on a gentle to medium heat is key.
Grilled peaches are delicious served with Greek yogurt for something lighter, or vanilla ice cream for a more indulgent dessert.
Add some extra flavour with a sprinkling of fresh mint just before serving.
Leave the vanilla and honey out and just grill them plain for a really delicious addition to a green salad.
You can also use this method with plums and nectarines.
Make this dish vegan by swapping the honey for maple syrup.
Nutritional Information
Serving:
2
peach halves
|
Calories:
141
kcal
|
Carbohydrates:
23
g
|
Protein:
1
g
|
Fat:
7
g
|
Saturated Fat:
6
g
|
Sodium:
1
mg
|
Potassium:
285
mg
|
Fiber:
2
g
|
Sugar:
21
g
|
Vitamin A:
489
IU
|
Vitamin C:
10
mg
|
Calcium:
9
mg
|
Iron:
1
mg
Disclaimer
The nutritional information provided is approximate and is calculated using online tools. Information can vary depending on various factors, but we have endeavoured to be as accurate as possible.