Hot Chocolate Spoons are so easy to make, with lots of different topping possibilities, and they make a lovely homemade gift. Forget about store bought hot chocolate sachets, and make your own hot chocolates with real chocolate and a few fun toppings. The whole mixture is set with a spoon inside it, making it easy to just stir it all in to hot milk.
I used to buy loads of these hot chocolate spoons every year for Christmas. I would give some as gifts, add some as stocking fillers and the rest would be used for our daily festive hot chocolates. But, they are SO easy to make yourself. You just need some chocolate, an empty yoghurt pot and a small spoon and then any toppings you want to add. Just 10 minutes prep time and then they go in the fridge to set.
I just love how versatile these hot chocolate spoons are, and you can even make vegan versions. They look far more impressive than they actually are, and if you want to make a hot chocolate station for a kids party, or Christmas party, then these would be a perfect addition.
If you want to try some other hot drink recipes, then why not try our Vegan Eggnog, Chai Tea Latte, Cinnamon Coffee, Oat Milk Hot Chocolate, Baileys Hot Chocolate or Slow Cooker Mulled Wine?
Also, have a look at our collection of 25 of the best Christmas Drinks.
Jump to:
Why you will love them
Quick and easy - Although these hot chocolate spoons take 4 hours in the fridge to set, the actual time spent preparing these is just 10 minutes. You just melt the chocolate, pour it into a yogurt pot and push in the spoon. So easy!
Adaptable - Once you know how to make these, the different options are almost endless. You can use different chocolate, different toppings and we have given you lots of options below.
Lovely homemade gifts - These make such lovely gifts, and you don't have to spend a lot of money on them either. Wrap them up in some nice presentation film with ribbon and add to a little hamper.
Stores well - These keep really well in the fridge, so you could make a big batch and keep for all those hot chocolates on a cold day.
Ingredients needed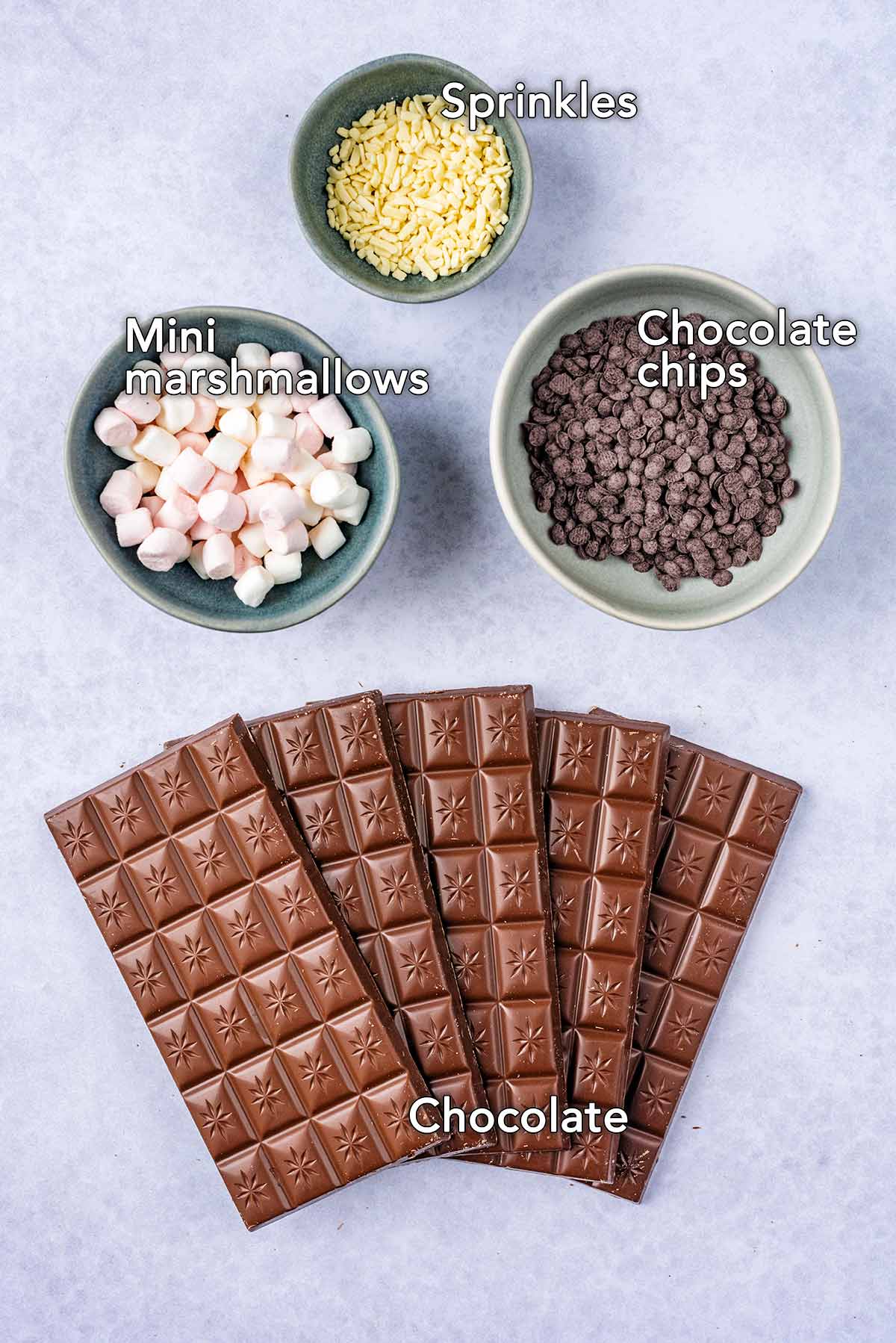 Chocolate - We used milk chocolate, but you could use dark or white. You can use any chocolate, and even the cheapest supermarket own brand chocolate works well.
Mini marshmallows - Marshmallows are a must on a hot chocolate and they add some volume to the yogurt pots. Make sure you use mini marshmallows so they fit in the little yogurt pots. Keep these drinks gluten free by using GF marshmallows.
Chocolate chips and Sprinkles - This is an opportunity to add lots of colour and texture to the hot chocolate spoons. Kids will love going crazy adding these.
A full ingredients list with measurements is in the recipe card below.
Step by step
One: Melt the chocolate in a microwave.
Two: Grease 8 small yogurt pots with a little oil. We used 55g yogurt pots. Spoon the melted chocolate into the yogurt pots so they are ¾ full.
Three: Put a wooden spoon into the chocolate. Top with mini marshmallows and chocolate chips. Refrigerate for 4 hours.
Four: Stir into hot milk to make hot chocolate.
Variations
Chocolate - You can literally use any chocolate you like here. It is the dominant flavour in the hot chocolate, so use your favourite. We used a cheap supermarket own milk chocolate and it worked well. However, white or dark chocolate would also work.
You could even use flavoured chocolate, like chocolate orange. The better the quality chocolate, the better flavour you will have. But if you are on a budget, then a cheaper brand will be fine.
Toppings - Here is where you can go really wild! We added some marshmallows, chocolate chip and some sprinkles, but there are so many different options. We love a malteasers one, with crumbled Malteasers on top. If you like mint chocolate, then why not melt and Aero, and then top it with chopped up Aero pieces on top? Love Nutella? Drizzle some on top of the melted chocolate.
My kids love a Kinder Bueno one and personally, I love peanut butter so I like crushed up Reece's peanut butter cups on top. You can also crush up some pretzels or add some fudge pieces. The great thing about these hot chocolate spoons is that you an adapt them to suit everyone's preferences and you can really personalise them.
To make a festive version of these, top them with mini chocolate Santas or reindeers. Edible glitter is a great way to make them festive too.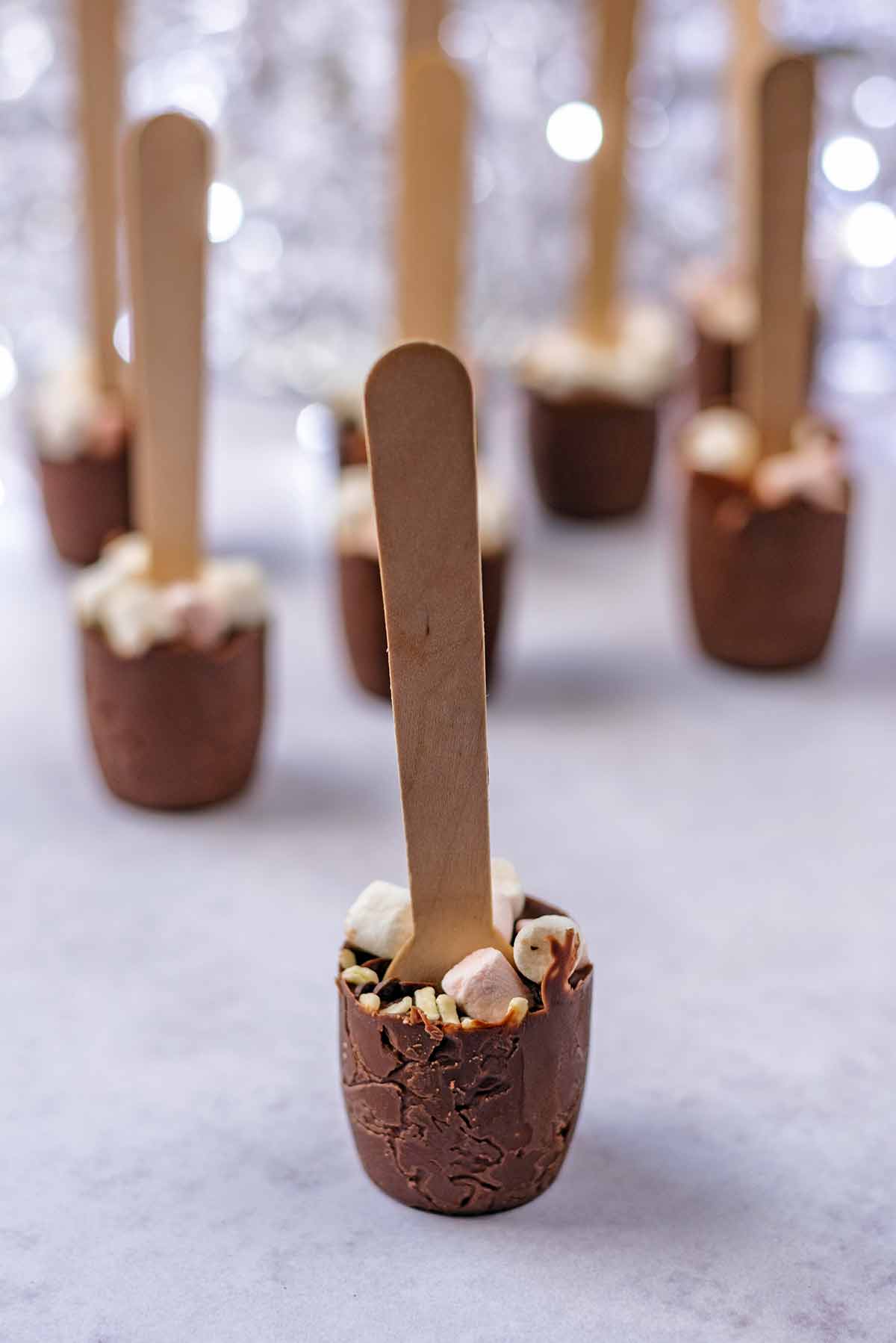 What to serve with hot chocolate spoons
Well, we turn them in to hot chocolate! Simply stir them in to 250ml of hot milk and let them melt. If you are making vegan versions, then you will need to stir them in to a plant based milk. We then love to make these super indulgent by topping the hot chocolates with cream and caramel sauce.
Want something else sweet to serve these hot chocolate spoons with? We have got you covered! Why not try one of these:
FAQs
Do I have to add the spoons?
If you don't have any spoons, then you can leave them out, but they really do make it easier to get the chocolate cubes out of the yogurt pots. You can use coffee stirrers or lollipop sticks too. We used these Wooden Spoons.
What yogurt pots do I need?
We used 55g/2oz fromage frais pots to make these smaller. If you used larger yogurt pots, then you would either need to melt more chocolate to add to them, or not have them filled up as much, which would make it wider, but stumpier. You don't have to use yogurt pots though. You can use large ice cube trays or silicone moulds. But we like yogurt pots, as we always have them and the kids like eating the yogurt first.
How to store hot chocolate spoons.
These store well in the fridge for up to 2 weeks. If you leave out the marshmallows, they will keep for a couple of weeks longer. Marshmallows will go hard after a little while.
Can I make a smaller batch?
Yes, it is easy to adjust the amount you need. We used 60g of chocolate per hot chocolate spoon. So you can make as many or as few as you want.
Are hot chocolate spoons vegan?
You can easily make vegan versions of these but using vegan chocolate and making sure all the toppings are vegan too. We like these vegan mini marshmallows.
Are hot chocolate spoons gluten free?
Yes, as long as you make sure there is no cross contamination, then these can be gluten free.
More chocolate drink recipes
If you've tried these hot chocolate spoons, let us know how you got on in the comments below.
Tag us in your creations on Instagram @hungryhealthyhappy - Use the hashtag #hungryhealthyhappy too.
Recipe
Easy Hot Chocolate Spoons
Hot Chocolate Spoons are so easy to make, with lots of different topping possibilities, and they make a lovely homemade gift.

Gluten Free
Pin
Print
Save recipe
Recipe saved!
Ingredients
500

g

(

1.1

lb

)

Chocolate

-

milk

4

teaspoon

Sprinkles

30

g

(

1

oz

)

Mini marshmallows

4

teaspoon

Milk chocolate chips
Instructions
Melt

500 g Chocolate

in a microwave.

Grease 8 small yogurt pots with a little oil. We used 55g yogurt pots. Spoon the melted chocolate into the yogurt pots so they are ¾ full.

Put a wooden spoon into the chocolate. Top with

30 g Mini marshmallows

,

4 teaspoon Milk chocolate chips

and

4 teaspoon Sprinkles

. Refrigerate for 4 hours.

Stir into hot milk to make hot chocolate.
Notes
Don't forget to lightly oil the yogurt pots before pouring the melted chocolate in to them. This helps to get the hot chocolate spoons out of the pot and you will struggle without it. It doesn't add any flavour.
To make these in to lovely homemade gifts, put them in cellophane gift bags and then tie them up with ribbon.
Nutritional Information
Serving:
1
portion
|
Calories:
314
kcal
|
Carbohydrates:
40
g
|
Protein:
3
g
|
Fat:
20
g
|
Saturated Fat:
13
g
|
Polyunsaturated Fat:
1
g
|
Monounsaturated Fat:
7
g
|
Cholesterol:
1
mg
|
Sodium:
13
mg
|
Potassium:
181
mg
|
Fiber:
3
g
|
Sugar:
37
g
|
Calcium:
15
mg
|
Iron:
2
mg
Disclaimer
The nutritional information provided is approximate and is calculated using online tools. Information can vary depending on various factors, but we have endeavoured to be as accurate as possible.