This easy and fresh Pineapple Salsa recipe goes great with fish, chicken, tacos and tortilla chips and it a must at a summer BBQ! A zesty and light, chunky salsa that can liven up any meal and it's colourful, a little sweet and a little spicy. Ready in just 10 minutes with a few ingredients, it's an easy way to make Mexican night a little more exciting.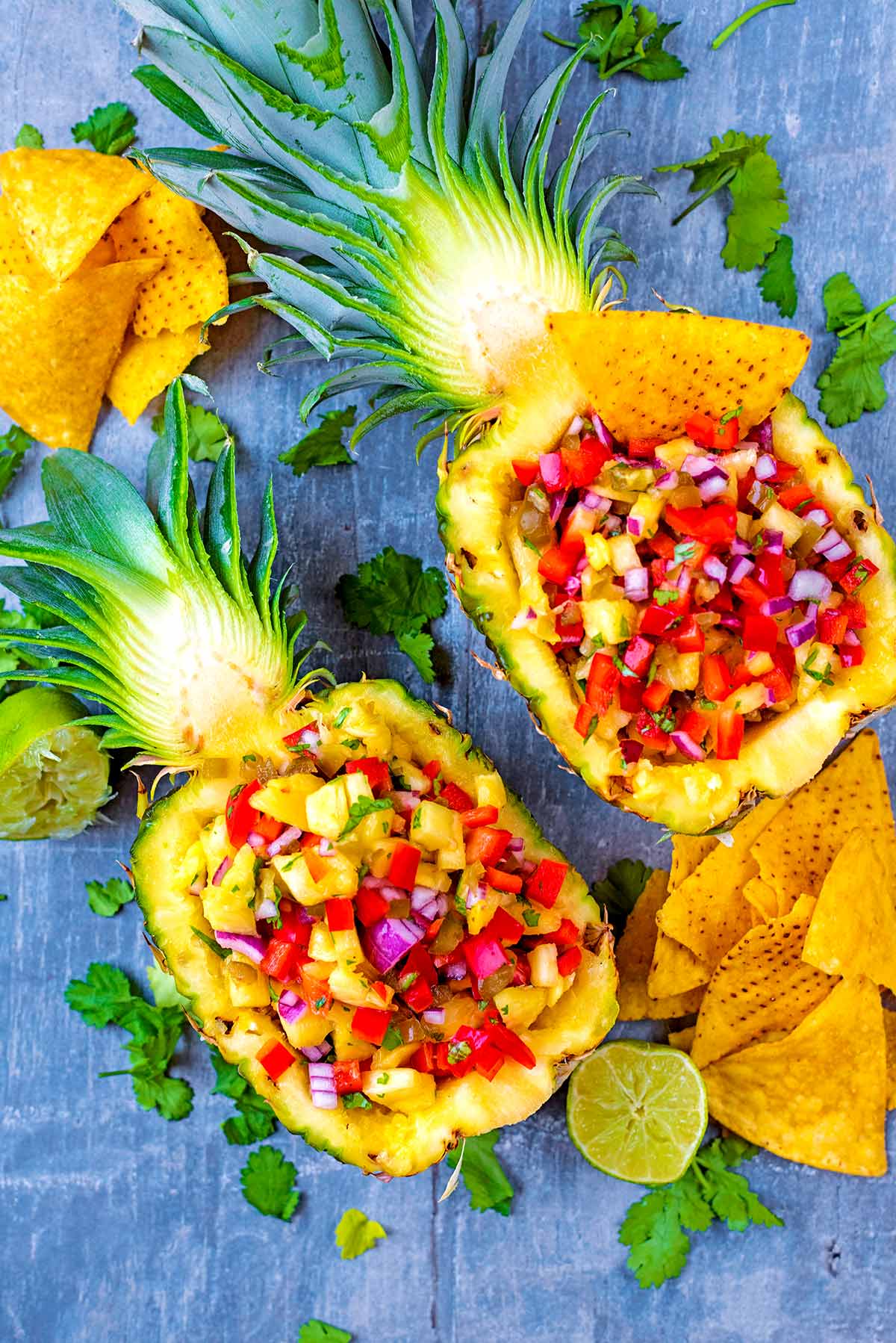 Pineapple salsa might sound a little bit crazy, but trust us on this. The sweetness of the pineapple combined with the chilli and chunky vegetables just works.
You would use tomatoes usually, and they are a fruit too don't forget. It's a fantastic side dish at a BBQ and so easy to make, as you just mix it all up in a bowl. Any time we buy pineapple, we make a batch of this!
If you are looking for other ways to use pineapple, then we have an amazing Honey Grilled Pineapple or we caramelise it and use it on top of our Coconut Rice Pudding. Pineapple also makes up part of our Immune Booster Juice. As well as desserts, like our Pineapple Ice Lollies, pineapple works really well with savoury dishes. Why not put it on a pizza? (Controversial, I know!) Or use it in a sweet and sour dish, like our Sweet and Sour King Prawns.
Jump to:
Why you will love it
A really fun way to serve salsa - Salsa is a must with any kind of Mexican meal and this is a great way to change things up and make it a bit more exciting.
Quick and easy to make - This takes less than 10 minutes to make, and all you need to do it chop up the ingredients. Easy!
Easy to adapt with different ingredients - Use this recipe as a base and then adapt it with different vegetables to bulk it out.
Make it as spicy or mild as you want - This is adaptable when it comes to the spice levels too.
Ingredients needed
Pineapple - The star of the show and it gives such an amazing sweet salsa. We have given all the tips below on how to choose the best pineapple too.
Red bell pepper - We used a red pepper, because it is the sweetest making it perfect for salsa. However, you could use a yellow, orange or green pepper instead.
Red onion - This is sweeter than a brown onion and adds lots of colour. You could swap it for diced shallots if you prefer.
Lime - This adds some extra freshness and zest. You can use lime zest too if you want a more intense lime flavour.
Coriander (cilantro) - It's not a Mexican dish without in in my opinion. It helps to lighten the salsa up too.
Jalapenos - This is where the spice comes from. We used jarred pickled jalapenos, but you could use fresh if you prefer. Feel free to adjust the amount depending on how spicy you want your salsa.
Salt and pepper - Season to taste.
A full ingredients list with measurements is in the recipe card below.
How to make pineapple salsa - Step by step
One: Using a large, sharp knife cut the pineapple in half, length ways. A good knife is important for this and we highly recommend the Hejegato Chef's Knife.
Two: Using a smaller sharp knife, cut along the spine and the inside of the skin, to remove the flesh.
Three: Cut out the spine and discard.
Four: Chop the pineapple into chunks and mix with the other ingredients.
Five: Fill the pineapple halves with the salsa and serve.
Health benefits of pineapple
Pineapples are a good source of fibre, vitamins A and C, as well as folic acid. Pineapple also contains bromelain which is known for its anti-inflammatory and anti-microbial effects. An 80g portion of pineapple counts as one of your five-a-day.
How to choose a pineapple
You want to make sure that you pick a pineapple that is ripe and ready to eat. Although cooking it will help to bring out the flavours, it will still struggle if it isn't ripe.
You want to look out for a pineapple that is a vibrant gold colour. A dull green means that it isn't ripe yet and a red/brown colour with wrinkled skin means that it is past its best.
When you are picking your pineapple, give it a little squeeze and it should give slightly. If it is rock hard, then it isn't ripe and a pineapple that feels mushy is on its way out. Also, a nicely ripe pineapple with have a lovely sweet smell, rather than a fermented smell of an off pineapple.
How to cut a pineapple
Firstly, lay the pineapple on a chopping board and hold on to it tightly and whilst using a sharp knife, chop the top and the bottom off. Stand it up and carefully slice the skin off. Start from the stop and follow the natural curve of the pineapple until your knife touches the chopping board. Try to just skim the skin, as you want to keep as much pineapple flesh as possible.
Any brown "eyes" that are left in the pineapple flesh from the skin should be removed. You can to this carefully by using the end of the knife and scooping them out.
Keeping the pineapple upright, hold on to it with one hand and using the other hand, cut it in to 4, length-ways. Slice out more of the hard inside, trying to leave as much edible flesh as possible. Cut each quarter into three, so you have 12 sticks of pineapple, and then you can dice them in to chunks for the pineapple salsa.
Top tip
Try to dice the pineapple as small as possible, because it will make it easier to pick up the salsa with a tortilla chip.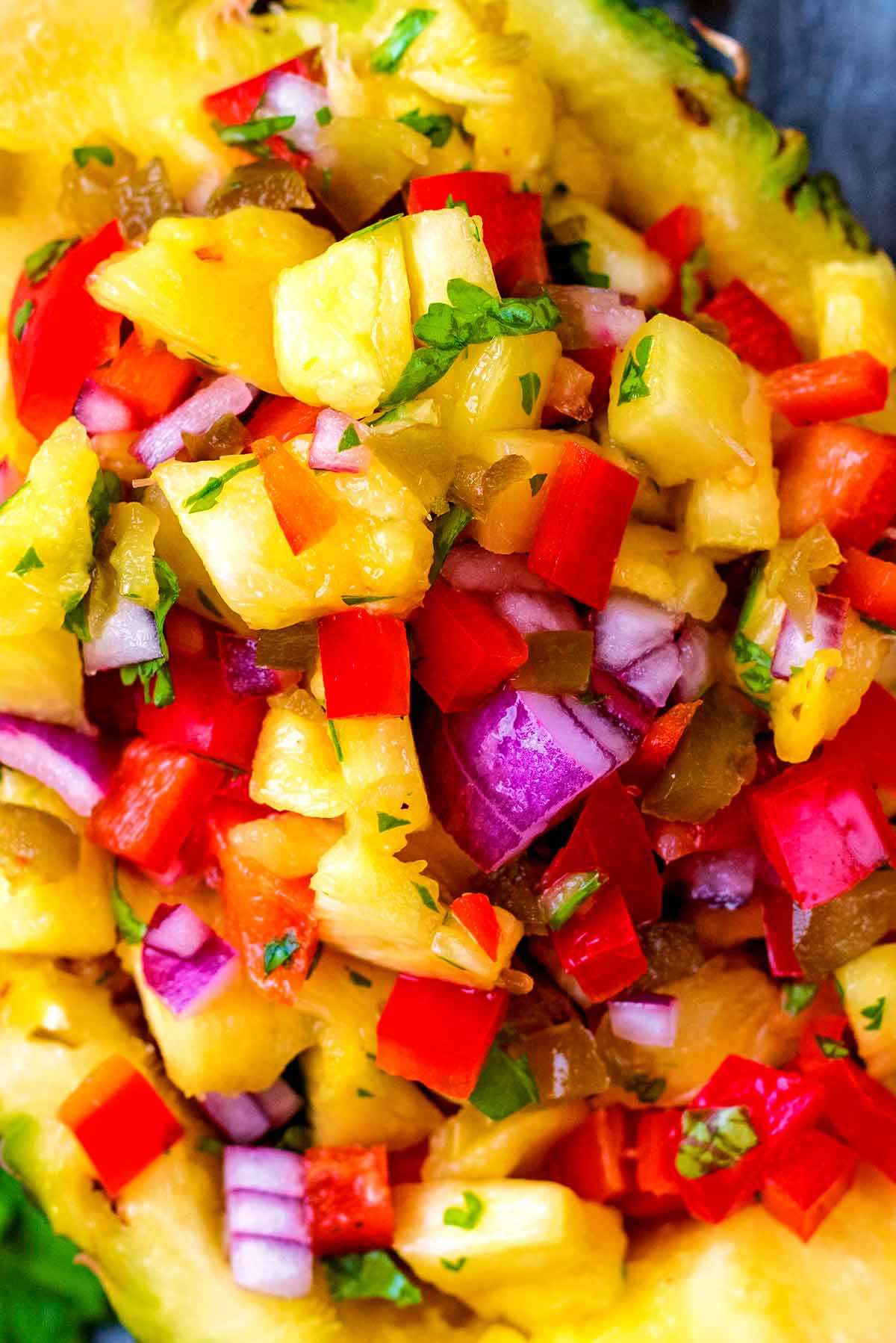 Variations
This recipe used bell peppers, red onion, tomatoes and jalapenos, which is pretty much a standard base for salsa. You could also add some corn, chopped cucumber or some diced courgette (zucchini). You could add some diced celery or even small florets of raw broccoli for a nice crunch. And of course, diced avocado always works well in a salsa,
To really bring out the sweetness of the pineapple, try grilling it before dicing it. Put the strips of pineapple under the grill (broiler) for 3 minutes each side. Or you can cook on a BBQ grill for 3 minutes each side. Once cooked, cut them in to chunks and mix with the other ingredients.
What to serve with Pineapple Salsa
You might be wondering what goes with pineapple salsa? Well, tortilla Chip are a must! Just grab a chip, dive into the salsa and scoop a big pile! Why not try making your own with our Baked Tortilla Chips or Air Fryer Tortilla Chips.
This salsa is a great accompaniment to so many dishes. Serve it with any of your favourite Mexican dishes for a simple, fresh side dish. You could top grilled chicken or fish with it or put it on top of scrambled eggs for quick and tasty breakfast or lunch.
We love it with Fish Tacos, or any kind of burrito or quesadilla. Have you tried our Vegan Burrito Bowl?
Storage
Store: This salsa can be stored in the fridge in air-tight container for up to a 5 days. The flavours will intensify after a couple of days.
Freeze: If you want to freeze it, put it into an air-tight container and store in the freezer, where it will be good for 2 months. Keep in mind that the texture of the pineapple will change after it has been frozen and defrosted though.
Defrost: Defrost in the fridge and make sure it it fully defrosted before serving.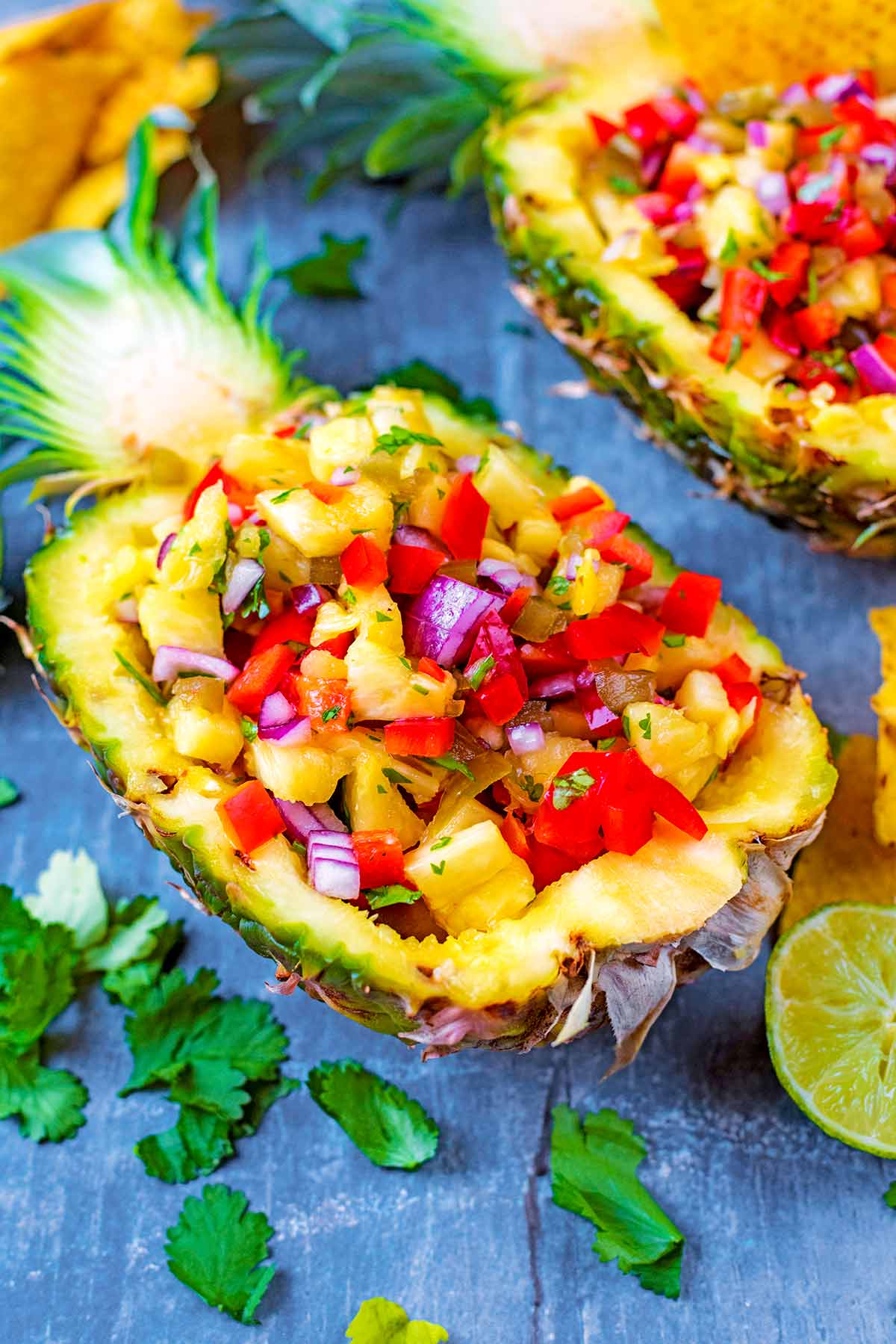 Frequently asked questions
Is pineapple salsa spicy?
This is a fresh, sweet and slightly spicy salsa. There is a little pickles jalapeno in this to give it a kick of heat, however you could use less if you don't like spice, or you could add more if you love it.
Can you use canned pineapple?
We used fresh pineapple as it's really cheap in the summer and so juicy. However, in a pinch you could use canned pineapple. Use a can of pineapple chunks and follow the recipe as normal.
Is pineapple salsa gluten free?
Yes, as long as you make sure that there is no cross contamination, then this can be gluten free.
Is pineapple salsa vegan?
Yes, this is vegan.
Can you make pineapple salsa ahead of time?
Yes, and we would recommend this as it really allows all the flavours to come together.
Can I make pineapple salsa in a blender?
No, we wouldn't recommend making pineapple salsa in a blender like you can with other salsas. This one is meant to be chunky.
Extra tips
• Swap the vegetables to things like corn, celery, courgette (zucchini) or avocado.
• Store in the fridge for a week or in the freezer for two months.
• This is really good with grilled pineapple, as it brings out the sweetness.
• You can use canned pineapple instead of fresh, but fresh is always best. Using canned means that this can be enjoyed all year round.
More salsa recipes
If you've tried this pineapple salsa recipe, let us know how you got on in the comments below.
Tag us in your creations on Instagram @hungryhealthyhappy - Use the hashtag #hungryhealthyhappy too.
Recipe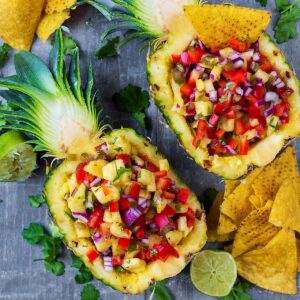 Easy Pineapple Salsa
This easy Pineapple Salsa is a must at a summer BBQ! A zesty and light, chunky salsa that's colourful, a little sweet and a little spicy.

Gluten Free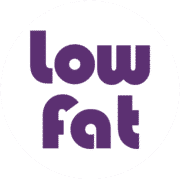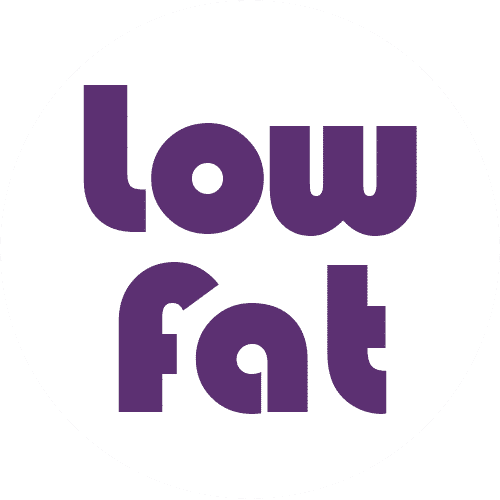 Low Fat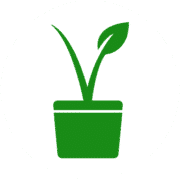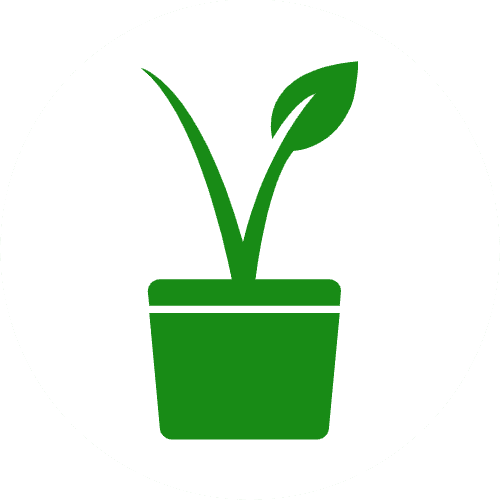 Vegan
Pin
Print
Save recipe
Recipe saved!
Ingredients
1

Pineapple

-

halved, flesh removed and diced

1

Red bell pepper

-

diced

1

Red onion

-

diced

1

Lime

-

(juice only)

15

g

(

1

cups

)

Fresh coriander (cilantro)

-

finely chopped

4

tablespoon

Pickled jalapenos

1

pinch

Sea salt and black pepper
Instructions
Slice 1 Pineapple in half length-ways and scoop out the flesh.

Chop the pineapple into chunks and mix with the other ingredients.

Fill the pineapple halves with the salsa and serve.
Recipe tips
Swap the veg to things like corn, celery, courgette (zucchini) or avocado.
Store in the fridge for a week or in the freezer for two months.
This is really good with grilled pineapple.
You can use canned pineapple instead of fresh.
Nutritional Information
Serving:
1
portion
|
Calories:
96
kcal
|
Carbohydrates:
27
g
|
Protein:
2
g
|
Fat:
1
g
|
Saturated Fat:
1
g
|
Sodium:
125
mg
|
Potassium:
416
mg
|
Fiber:
4
g
|
Sugar:
18
g
|
Vitamin A:
1503
IU
|
Vitamin C:
112
mg
|
Calcium:
35
mg
|
Iron:
1
mg
The nutritional information provided is approximate and is calculated using online tools. Information can vary depending on various factors, but we have endeavoured to be as accurate as possible.