A healthy and balanced diet is important for a healthy immune system. But when you are feeling low on energy and a little under the weather, this 4 ingredient Immune Booster Juice, that is bursting with orange, lemon, pineapple and ginger, will give you just the boost you need.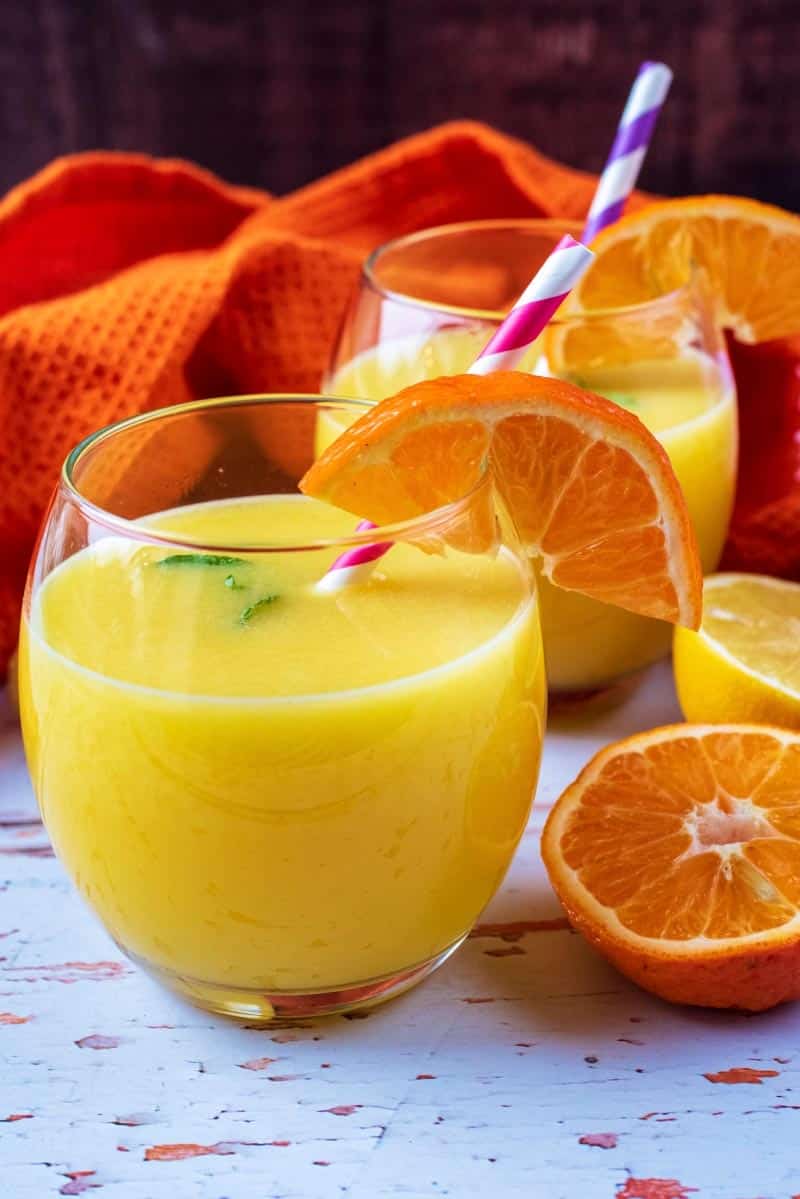 Whenever we start to feel like we are coming down with a cold (which seems to be way too often since having children, who pick up everything), we make a batch of this.
Not only is it a delicious way to stay hydrated and feel refreshed, but you can almost feel the lemon and ginger instantly giving you a boost. So delicious and so good for your body.
This juice isn't just to help deal with the symptoms of a cold, but we use it to prevent them too. If we have a trip coming up, then we make sure to have a couple of these the days running up to it to make sure we are feeling our best. We have also been replacing one cup of coffee a day with this, and it gives just as much of an energy boost as caffeine.
This is also just a super refreshing drink. Check out our roundup of non-alcoholic summer drinks for more refreshing drink ideas.
Jump to:
Why you will love it
Hydrating and refreshing - Even if you forget about how nutritious this juice is, it's a great way to cool down on a hot day. It can be hard to drink enough liquid sometimes, but this definitely helps.
Gives you an energy boost - We have been replacing our afternoon coffee for this and it gives us such an energy boost that we aren't missing the afternoon caffeine.
A good way to use up fruit - If you have some oranges and pineapple in the fridge that are getting close to past their best, then this is a good way to bring them back to life and make sure they don't get wasted.
Cheaper than store bought juice - Anything that promotes some kind of health benefit has a seriously inflated price tag. You can buy immune booster juices in shops, but they cost about 10 times the amount it costs to make it yourself (if you already have a juicer of course).
Ingredients needed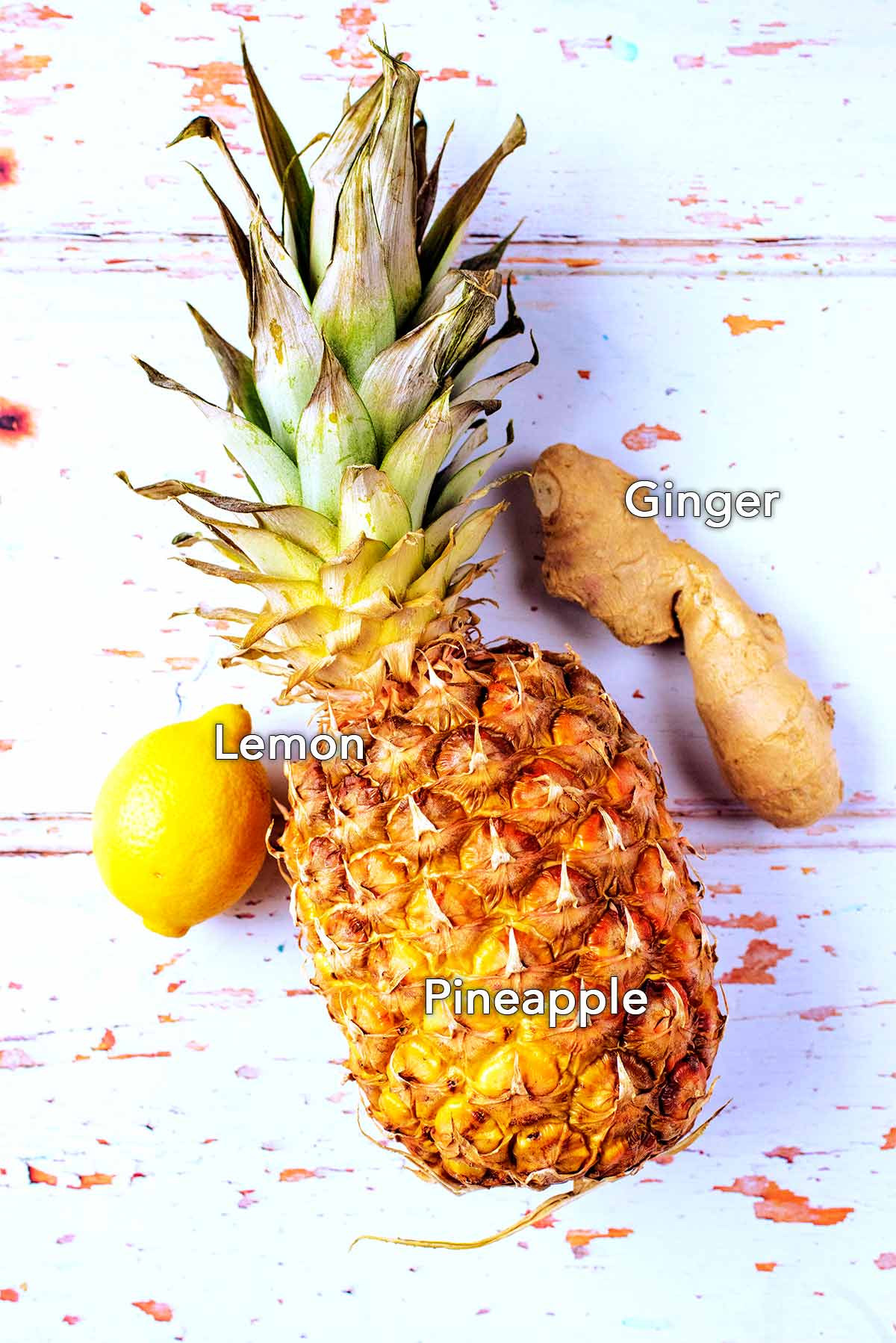 Pineapple - You want to look out for a pineapple that is a vibrant gold colour. A dull green means that it isn't ripe yet and a red/brown colour with wrinkled skin means that it is past its best. When you are picking your pineapple, give it a little squeeze and it should give slightly. If it is rock hard, then it isn't ripe and a pineapple that feels mushy is on its way out. Also, a nicely ripe pineapple with have a lovely sweet smell, rather than a fermented smell of an off pineapple.
Orange - You can use grapefruit instead, or even a mixture of of them them both.
Lemon
Ginger
A full ingredients list with measurements is in the recipe card below.
Step by step
One: Put all the ingredients in to your juicer and collect in to a jug.
Two: Pour into glasses and serve.
Health benefits
Oranges are high in vitamin C and we all know how healthy that is to keeping your immune system in tip top shape. You can definitely taste the punch of ginger in this, and it comes with a nutritional punch too as it's a good source of potassium, niacin and also vitamin C and it's what gives you that energy boost too. Pineapple is also known for its anti-inflammatory priorities, as well as being nutrient rich.
Variations
There are so many fruit and vegetables out there that are great for supporting immunity, that you can easily adapt this and it will be just as nutritious. If you wanted to add some vegetables, then carrot it a good option and not only are they nutrient dense, but they give this immune booster juice a wonderful colour.
Carrots are a good source of beta-carotene, which is an antioxidant that provides lots of Vitamin A. Add a pinch of cayenne too, which not only has anti-inflammatory properties and helps aid digestion, but it also helps with the absorption of beta-carotene from the carrots.
Another way to give this juice a serious nutrient boost is by adding some turmeric. It is known for it's anti-inflammatory properties, and its active ingredient (curcumin) is known as an anti-viral and anti-fungus. You only need a quarter of a teaspoon.
What to serve with an Immune Booster Juice
We usually just have this as a drink with breakfast and it's something nice and light for a summers day. If you are looking for some light breakfast options to serve with this, then why not try one of these recipes:
Storage
You can store any leftovers in air tight jars in the fridge. It is best consumed within 48 hours for maximum freshness, but it will last for up to 5 days in the fridge. We like to make a big batch to drink throughout the week.
Frequently Asked Questions
Can I make this without a juicer?
It is best to make it in a juicer, however you could put everything in a blender (the orange, lemon and ginger would need to be peeled too) with some water and blend until smooth. You would need a really good high powered blender to make sure it is all nice and smooth though.
What should I do with the leftover pulp?
We hate wasting anything, so when we make juice we never throw away the leftover juice pulp. Not only is it a waste, but it's where a lot of the fibre is. We save it to add to a smoothie the next day or we make these Juicer Pulp Muffins.
Is this immune booster juice vegan?
Yes, this is totally vegan.
Is this immune booster juice gluten free?
If you make sure that there is no cross contamination, then this is gluten free.
Is juicing good for you?
We don't recommend juicing as a way to replace meals. However, we love making our own juices for refreshing drinks to go alongside our meals.
More drink recipes
If you've tried this immune booster juice, then let us know how you got on in the comments below.
Tag us in your creations on Instagram @hungryhealthyhappy - You can use the hashtag #hungryhealthyhappy too.
Recipe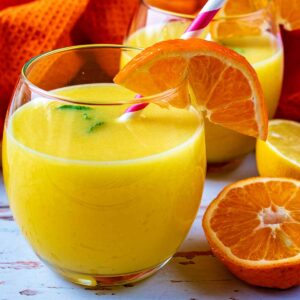 Immune Booster Juice
Low on energy and under the weather? This Immune Booster Juice is bursting with orange, lemon, pineapple, ginger and will give you the boost you need.

Gluten Free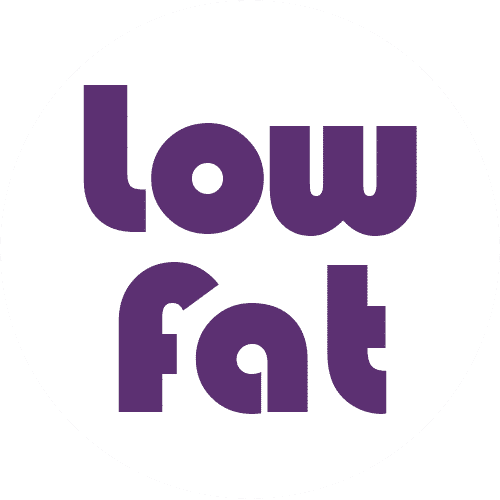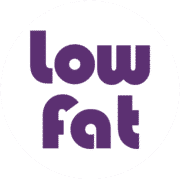 Low Fat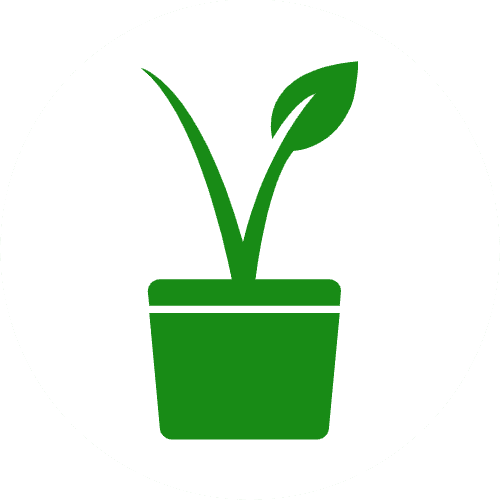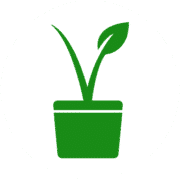 Vegan
Pin
Print
Save recipe
Recipe saved!
Ingredients
1

Pineapple

-

peeled and cut

4

Oranges

-

quartered

2

Lemons

30

g

Fresh ginger

-

peeled
Instructions
Put all the ingredients in to your juicer and collect in to a jug.

Pour in to glasses and serve.
Notes
If you are making this for kids, or you don't like too much ginger, then halve the amount of ginger in this recipe.
You can mix up the fruits being used, and you could swap the oranges for clementines or even grapefruit.
Serve with some mint leaves to add some extra colour and freshness.
If you don't have a juicer, then the peeled fruit and ginger can be put in a blender with some water.
Nutritional Information
Serving:
1
glass
|
Calories:
186
kcal
|
Carbohydrates:
51
g
|
Protein:
3
g
|
Fat:
1
g
|
Saturated Fat:
1
g
|
Sodium:
4
mg
|
Potassium:
589
mg
|
Fiber:
8
g
|
Sugar:
36
g
|
Vitamin A:
425
IU
|
Vitamin C:
206.8
mg
|
Calcium:
96
mg
|
Iron:
1.1
mg
Disclaimer
The nutritional information provided is approximate and is calculated using online tools. Information can vary depending on various factors, but we have endeavoured to be as accurate as possible.