We have made a classic comforting Italian dish a little bit lighter by using courgette (zucchini) instead of lasagna sheets. Still all the delicious lasagna flavour from the sauce and cheese, but lower in carbs. This Low Carb Lasagna is a lighter dish, packed with veggies, that the whole family can enjoy. It's under 300 calories a portion too.
This low carb lasagna has the classic delicious rich meat sauce that you know and love from a lasagna, but layered in between slices of courgette (zucchini) instead of pasta sheets.
The slices of courgette are still thick enough to hold the lasagna together, but not only make it lower in carb, but add some extra veggies too.
I am definitely not anti-carb, in fact I am totally pro carb. But I am also pro moderation and pro garlic bread. That means that I love eating lasagna and garlic bread together.
The combination of pasta and bread is a little bit too much for me, so I make a low carb lasagna so I can happily indulge in some garlic bread with it. Even better is that this recipe is under 300 calories for a huge portion of lasagna.
Jump to:
Why should you try it?
What you will need
Step by step
One: Put all of the courgette strips on a baking sheet and in a preheated oven at 200°C/400°F/Gas 6 and cook for 4 minutes each side and then set aside.
Two: Chop the onion and mushrooms and crush the garlic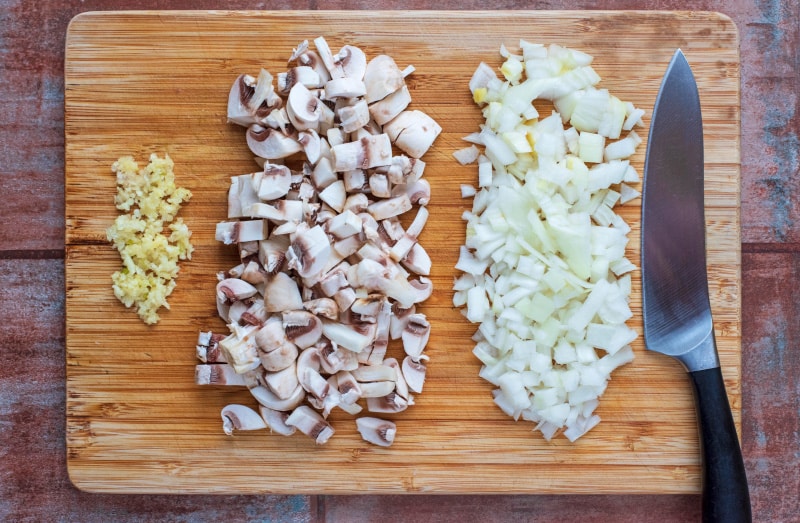 Three: In a large pan, heat a little oil and then add the onion, mushrooms and garlic and gently cook for 3-4 minutes.
Four: Add the turkey mince and cook for a further 5 minutes.
Five: Add all of the pasta sauce and simmer for 5 minutes.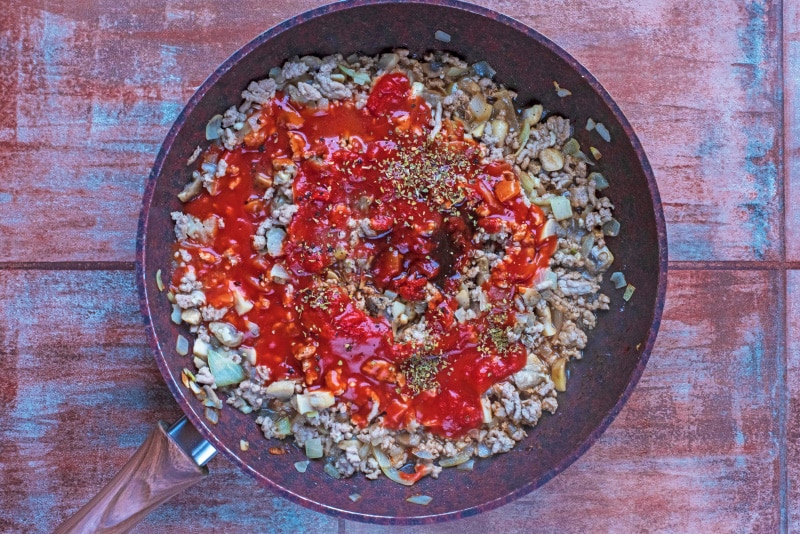 Six: Mix together the spinach and Greek yogurt.
Seven: Using a lasagna dish that is as long as (or longer than) the courgette strips are, add the meat sauce to the bottom of the dish.
Eight: Add a layer of courgette.
Nine: Add a layer of the meat sauce and a layer of the spinach mix.
Ten: Add another layer of courgette, some more meat sauce and some more spinach mixture and finish by topping with the remaining courgette. Sprinkle the mozzarella and cheddar on top and put in the oven at 220°C/420°F/Gas 7.
Eleven: Bake for 20-30 minutes, until the cheese has browned.
Lasagna or lasagne?
Those of you in North America would refer to it as lasagna, but most of us outside of North America would say lasagne. However, in Italian, lasagna is the singular noun and lasagne is the plural, so I am going to go with that. Just in case anyone was confused about the spelling. Either way, this Low Carb Lasagna will please everyone.
Is this healthy?
Even carb lovers will love this lasagna, as it still has all the flavours you know and love - with some lighter swaps. This is a great way to get people to eat more vegetables, as it is pretty much hidden. My family didn't even know it was low carb the first time he ate it.
I have also added a creamy spinach layer to this dish, in replace of a white sauce. So there is no flour or butter in it either and the cheese on top is just enough. We didn't skimp on the cheese either, as that would make for a bit of a sad lasagna. You could use less if you wanted to though.
Courgette/zucchini alternative
You could use aubergine instead of courgette/zucchni, or use a mix of both. They have a really meaty texture too, so it's a good thing to include in a vegetable lasagna. They key to making sure the lasagna doesn't get soggy with using vegetables rather than pasta is to pre-cook the vegetable strips first.
To save yourself some time, you could make the "lasagna sheets" ahead of time and then just layer the lasagna when you are ready to put it in the oven.
Does it freeze well?
This lasagna freezes really well and is a great batch cook meal. It will go a little watery when defrosted and reheated, but you could just soak that up with some paper towel, or dip some garlic bread in to it so nothing goes to waste.
Extra tips
To stop the lasagna getting soggy, you will want to cook the courgette a little first, before layering up the lasagna.
Let the lasagna cool for 10 minutes before serving too, this allows some of the extra liquid to soak up.
To save some time, pre-cook the vegetable lasagna sheets ahead of time and then assemble the lasagna when you are ready to put it in the oven.
We used courgette for the layers, but you could use aubergine or a mixture.
More courgette recipes
Do you want to be kept up to date on more delicious posts like this? Please subscribe to the blog mailing list (it takes 30 seconds).
Click here to sign up.
If you've tried this low carb lasagna, or any other recipe on the blog, then let us know how you got on in the comments below, we love hearing from you!
Tag us in your creations on Instagram @hungryhealthyhappy - we love sharing photos when people make our recipes. You can use the hashtag #hungryhealthyhappy too.
DON'T FORGET TO RATE THE RECIPE ↓
Recipe