If you are looking for easy ways to get more fish in to your family's diet, then try these salmon muffins. Eggs mixed with cooked salmon, cheese, herbs and asparagus and baked in bite-sized muffins for a delicious and healthy protein packed snack or light lunch that is easy to adapt with different vegetables and cheese.
We love egg muffins, as they are protein packed and so easy to adapt and use up whatever we have - the perfect fridge raid dish. We usually make our Breakfast Egg Muffins, but these salmon muffins make a nice change and they are an easy to to get kids to eat more fish. You could either grill and flake a salmon fillet, or use smoked salmon for some extra flavour.
Jump to:
Why you will love them
Adaptable - Egg muffins are so easy to adapt and these are no different. You can change the cheese, fish or vegetables used and pretty much anything goes. We have given a few different options on what would work.
Snack or meal - These are perfect for a filling snack or part of a bigger meal. If we are having them as a snack, then we would have 2 or 3 of them. But if they are part of a bigger meal, then 1 or 2 would be enough with some other sides.
Easy way to eat more fish - If you struggle to get your kids to eat more fish, then this is a good place to start. It is flaked in, so not overly noticable.
Vegetable boost - These are so easy to pack with vegetables. You can add kids favourites like peas and sweetcorn, but you can also finely chop up other vegetables they might not love like courgette and spinach.
Ingredients needed
Eggs - Try to always use the best welfare eggs you can afford, as we believe it is really important. We also like to use golden yolk eggs, as it gives these salmon muffins a nice colour.
Salmon - We grilled and flaked a salmon fillet to mix in to the eggs. However, if you didn't want to cook salmon beforehand, then you could chop up some smoked salmon to add in to it. If we use smoked salmon, then we make sure to use a lighter flavour cheese, otherwise the flavours all try to battle against each other.
Herbs - Fresh chives go so well with salmon, so that is what we added. You can use fresh parsley, coriander (cilantro) of even dill if you prefer.
Asparagus - We love adding vegetables to anything we can, and salmon and asparagus go perfectly together. Just dice the asparagus spears up small and they will cook in the oven with the egg mixture. Make sure you check out this post on How To Store Asparagus. We have given some options for other vegetables you can add below.
Cheese - A little bit of cheddar or goats cheese is delicious in these salmon muffins, and adds lots of creaminess. You could also use feta, Parmesan or any kind of smoked cheese.
A full ingredients list with measurements is in the recipe card below.
Recommended equipment
Step by step
One: Put the egg, cheese, chives and asparagus in to a large bowl and mix well.
Two: Stir in the cooked salmon.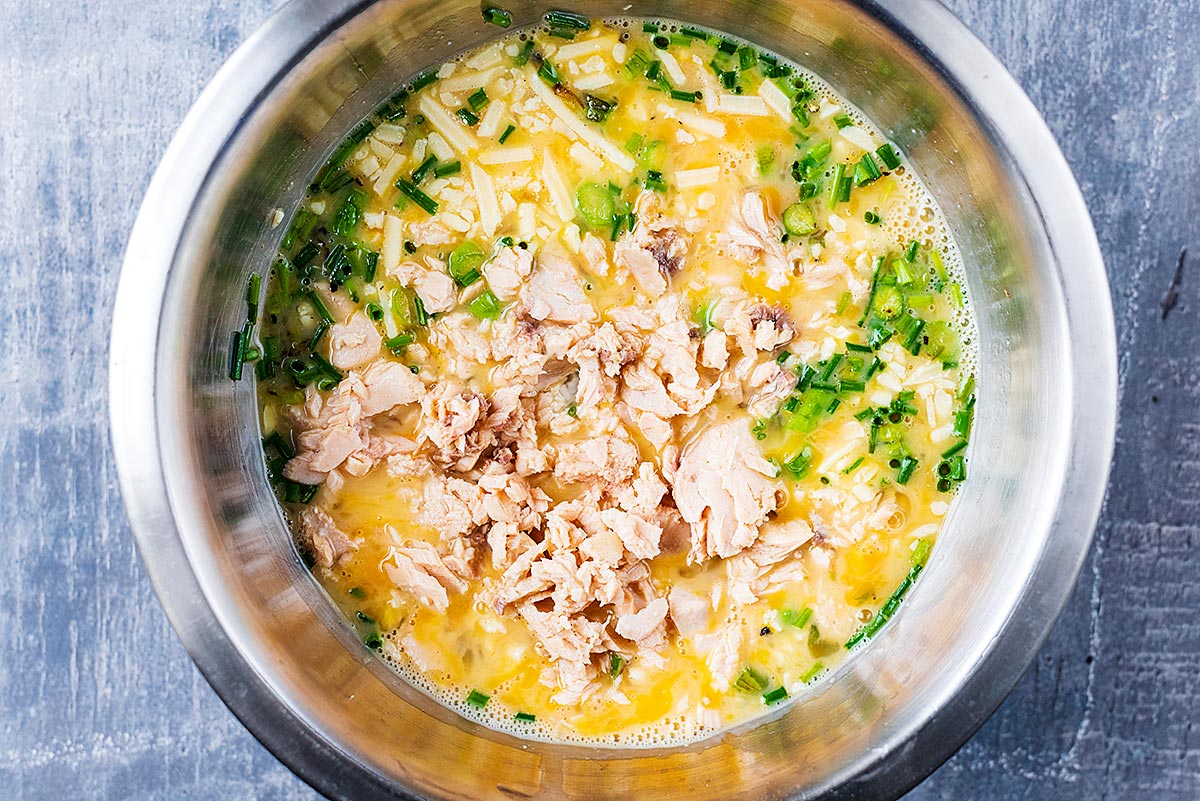 Three: Pour in to a muffin tin sprayed with oil
Four: Cook in a preheated oven at 180°C/350°F/Gas 4 for 20 minutes, until cooked through and set.
Health benefits
Eggs are delicious and nutritious, not to mention a great budget friendly ingredient for making versatile meals. They are a great source of protein, Omega-3s and "good" cholesterol.
Salmon is also nutrient dense:
It is one of the best sources of long chain omega-3 fatty acids, which have been proven to reduce inflammation and lower blood pressure. Children who regularly consume foods rich in Omega-3 have been shown in studies to have increased concentration levels and improved learning abilities.
Salmon is an excellent source of high quality protein - a 100g (3.5oz) portion contains 25g of protein.
Contains high amounts of B vitamins. These are good for repairing DNA and reducing the causes that can lead to heart disease. B vitamins also help maintain optimal brain and nervous system functioning.
Scientists are investigating the role fish consumption may have in protecting people from some cancers, Alzheimer's disease, depression, asthma, diabetes, macular degeneration, high blood pressure and multiple sclerosis.
Contains antioxidants.
Variations
The great thing about these salmon muffins is that they are so easy to adapt with different vegetables. We like something with a bit of crunch, which is why we chose asparagus, and it also goes really well with salmon.
Vegetables - other vegetables that work well as mushrooms, bell pepper, courgettes, spinach or kale for a leafy green boost. To really hide the courgette, grate it in to the muffins. You can also do that with carrots too.
Cheese - You can also change up the type of cheese that is used too. We went with a mature cheddar, as it has a strong flavour, meaning you can use less of it. However we also like using a crumbly goats cheese which makes it really creamy, or even some Parmesan. If you add the Parmesan on top, it gives a bit of a crunchy topping.
Protein - Whilst this recipe is all about the salmon, you could swap it for cooked cod or even leftover shredded chicken.
What to serve these with
We love making these when we are feeding a crowd for breakfast, as they can literally be thrown in the oven and forgotten about. So when we batch cook them, we serve them with bagels, our Homemade Best Guacamole Recipe, and coffee of course. Have you tried our Cinnamon Coffee or Mocha Frappuccino?
Frequently asked questions
How to store salmon muffins
These are great to batch cook for snacks and light lunches. If you have leftovers, you can store them in an air tight container in the fridge for 3 days. They can also be frozen in freezer bags for 2 months. Defrost them in the fridge overnight and then you can heat them through in the oven or microwave.
How to reheat salmon muffins
To reheat these, we just put them in the microwave for 20-30 seconds.
Do I need to add milk to the eggs?
No, there is no need to add milk to the eggs. It won't make them creamier or fluffier. Instead, it will make them tough and rubbery and dilute the flavour of the eggs.
Why are my eggs still runny?
These salmon muffins should be completely cooked through, and the eggs set, before serving. Every oven is different, so yours may need a few minutes longer in the oven. Gently press the top of the muffins and they should be firm. Be careful not to over cook them though, as you don't want them to be rubbery.
More salmon recipes
If you've tried these salmon muffins, let us know how you got on in the comments below.
Tag us in your creations on Instagram @hungryhealthyhappy - Use the hashtag #hungryhealthyhappy too.
Recipe
Salmon Muffins
If you are looking for easy ways to get more fish in to your family's diet, then try these Salmon Muffins. A delicious and healthy protein packed snack.

Gluten Free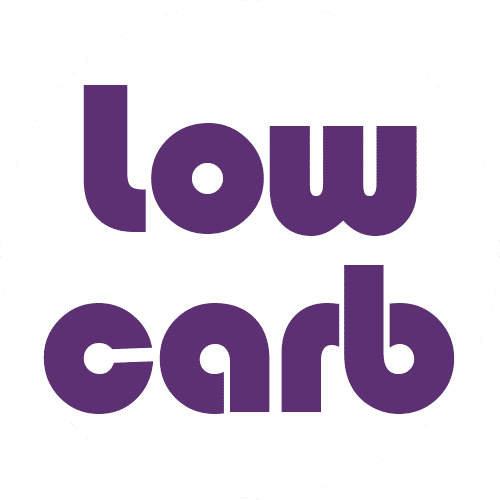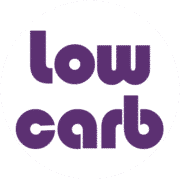 Low Carb
Pin
Print
Save recipe
Recipe saved!
Ingredients
6

Eggs

8

Asparagus spears

-

chopped

30

g

(

0.25

cups

)

Cheddar cheese

-

grated

3

g

Chives

-

finely chopped

240

g

(

8.5

oz

)

Salmon fillet

-

grilled and flaked
Instructions
Preheat your oven to 180°C/160°C(fan)/350°F/Gas 4.

Put

6 Eggs

,

30 g Cheddar cheese

,

3 g Chives

and

8 Asparagus spears

(chopped) into a large bowl and mix well.

Stir in

240 g Salmon fillet

(precooked).

Pour into a muffin tin sprayed with oil.

Cook in the oven for 20 minutes, until cooked through and set.
Recipe tips
Make sure you have really greased your muffin tin before pouring the mixture in, as they can easily stick and you will end up leaving half the muffin in the tin when trying to get them out. Using a good non stick muffin tin helps too. If you don't want to use oil to grease the muff tin, then you could always use silicone cupcake moulds in the muffin turn and they will easily come out of those.
Leave them to cool for about 10 minutes before getting them out of the tin, and run a knife around the muffins to loosen them.
These egg muffins do puff up whilst cooking, so you don't want to pour the mixture all the way to the top of your tin. Just pour to about ¾ full and they will rise when cooking.
You can easily double or triple this recipe if you are feeding a crowd, or just want to make extra to keep in the freezer for easy weekday breakfasts.
If you are using spinach, I would recommend cooking it and squeezing out the excess water first. If you add raw spinach to these, the muffin itself might get quite liquid-y.
Want to make these lower in calories? Apart from swapping the fillings to less cheese and more veggie base, you can use 4 egg whites and 2 whole eggs, rather than 4 whole eggs that we have used in this recipe.
Nutritional Information
Serving:
3
muffins
|
Calories:
227
kcal
|
Carbohydrates:
2
g
|
Protein:
28
g
|
Fat:
13
g
|
Saturated Fat:
4
g
|
Polyunsaturated Fat:
4
g
|
Monounsaturated Fat:
5
g
|
Trans Fat:
1
g
|
Cholesterol:
300
mg
|
Sodium:
178
mg
|
Potassium:
582
mg
|
Fiber:
1
g
|
Sugar:
1
g
|
Vitamin A:
740
IU
|
Vitamin C:
2
mg
|
Calcium:
110
mg
|
Iron:
3
mg
The nutritional information provided is approximate and is calculated using online tools. Information can vary depending on various factors, but we have endeavoured to be as accurate as possible.