Salmon and dill are a match made in heaven and this Creamy Dill Salmon might just be the best salmon recipe we have ever made. It's ready in just 15 minutes too! With an easy sauce of yogurt, dill, lemon and mustard spread on the salmon fillets and then grilled to crispy perfection - this is a simple and delicious weeknight meal.
Salmon is always our go to when we want a healthy and protein packed meal that doesn't take longer than 15 minutes to cook. Even though we would happily eat plain grilled salmon, there is so much that you can do with it with just a few fridge staples.
This grilled salmon it topped with the most delicious, and simple, creamy lemon and dill sauce. It is seriously crazy simple and will make you wonder why you haven't been making it already.
Greek yogurt is the base of the sauce, although you could use creme fraiche, and then we mixed in plenty of dill, lemon juice and some wholegrain mustard.
If you are looking for some other ways to use dill, then why not try our Cucumber Salad or Greek Pasta Salad.
Jump to:
Why you will love it
Easy - This is such an easy recipe to make. Just mix the creamy dill sauce together and put it on top of the salmon.
Delicious way to eat salmon - If you are looking to get some more oily fish in your diet, then this is a great way to do that.
Uses up lots of dill - If you have bought dill for another recipe and you are looking for other ways to use it then this is a good recipe to use up a lot of dill.
Ingredients needed
Salmon - We used boneless, skin on salmon.
Yogurt - This is where the creaminess comes from. Use full fat for extra flavour.
Dill - Always try to use fresh dill, however in a pinch you can use dried dill (this work in the winter months) but it won't have the same flavour. Not a fan of dill? You could swap it for chives, parsley or even coriander. But dill is such a perfect match with lemon and salmon for a light and fresh dish.
Mustard - We used wholegrain, but you could use Dijon mustard instead.
Lemon juice - This adds a nice freshness to the salmon.
Black pepper - Season.
A full ingredients list with measurements is in the recipe card below.
How to make Creamy Dill Salmon - Step by step
One: In a bowl, add the Greek yogurt, dill, mustard, pepper and lemon juice. Mix well.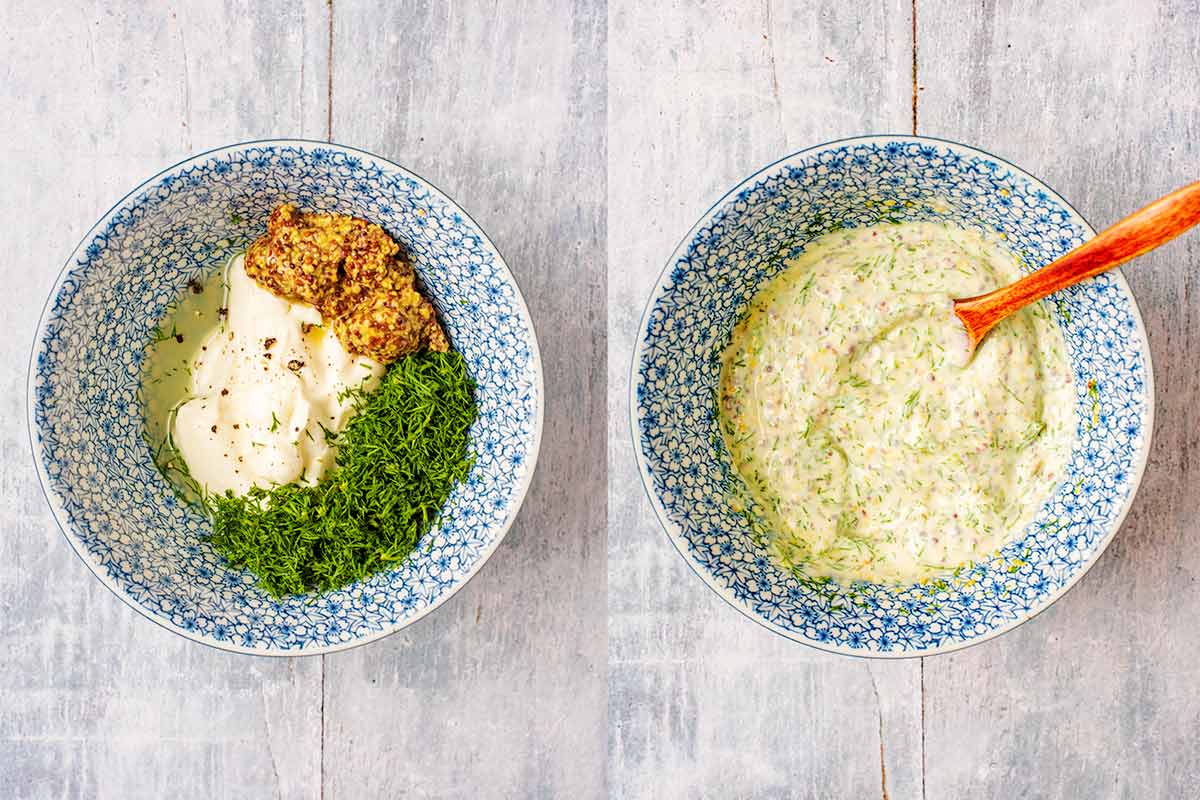 Two: Place the salmon under the grill and cook for 10 minutes.
Three: After 10 minutes under the grill, remove the salmon and spread the yogurt mixture over the fillets. Return the coated salmon to the grill and cook for a further 5 minutes.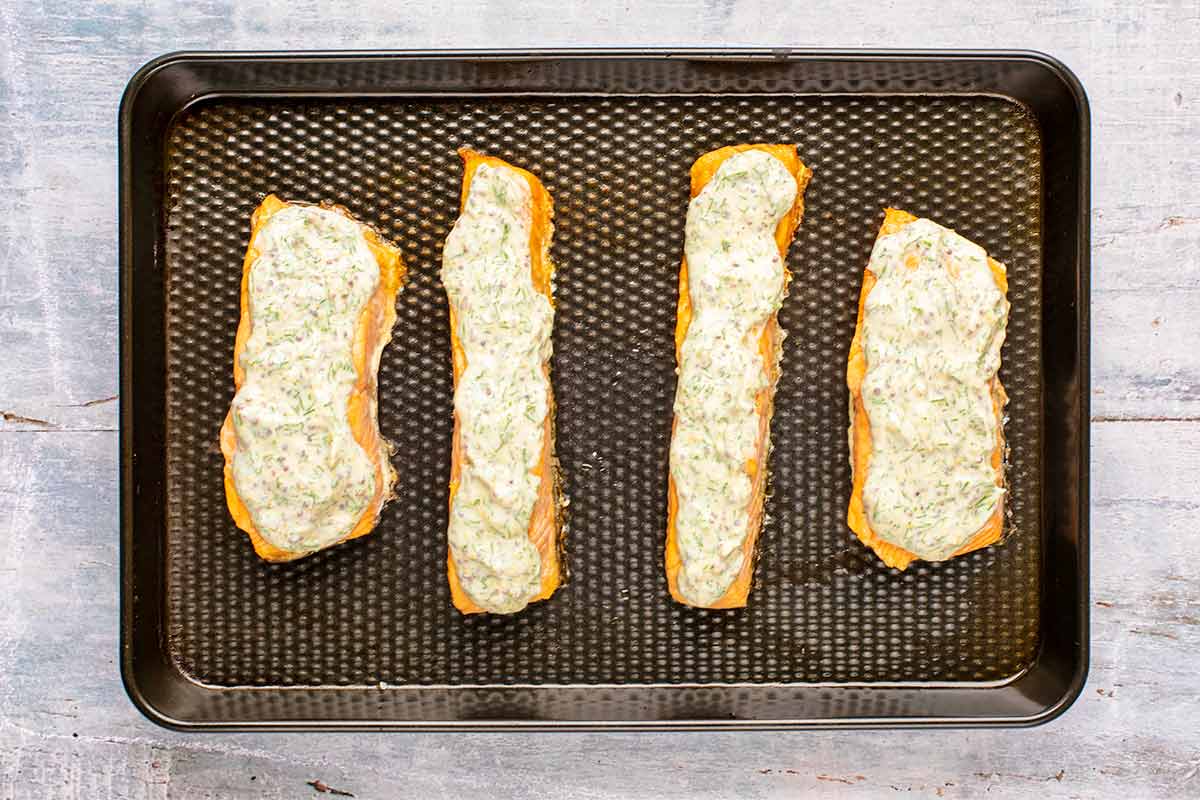 Health benefits of salmon
Salmon is one of the best sources of long chain omega-3 fatty acids, which have been proven to reduce inflammation and lower blood pressure. Children who regularly consume foods rich in Omega-3 have been shown in studies to have increased concentration levels and improved learning abilities.
Salmon is an excellent source of high quality protein - a 100g (3.5oz) portion contains 25g of protein.
Contains high amounts of B vitamins. These are good for repairing DNA and reducing the causes that can lead to heart disease. B vitamins also help maintain optimal brain and nervous system functioning.
Scientists are investigating the role fish consumption may have in protecting people from some cancers, Alzheimer's disease, depression, asthma, diabetes, macular degeneration, high blood pressure and multiple sclerosis.
Contains antioxidants.
What to serve with Dill Salmon
We have served this with our Air Fryer Potato Wedges, however it also goes well with our Cheesy Potato Bake which is one of our favourites for total comfort food. Here are some of our favourite side dishes that go perfectly with this oven baked salmon:
You could also keep it simple with a big green salad. The key to an epic green salad is to use a variety of greens, like romaine, spinach, kale and rocket. You want leafy greens, but crunch too. Then you need the perfect dressing. Why not try our Lemon Vinaigrette, Honey and Mustard Dressing or Tomato and Basil Vinaigrette.
Storage
Store: If you make a big batch of this and can't eat it right away, then it would be good in the fridge for about 3 days. We often shred it up and keep it in the fridge to add to pasta and salads for lunch a couple of days after.
Freeze: We wouldn't recommend freezing this salmon, because of the yogurt dill sauce that is one top. It doesn't defrost very well.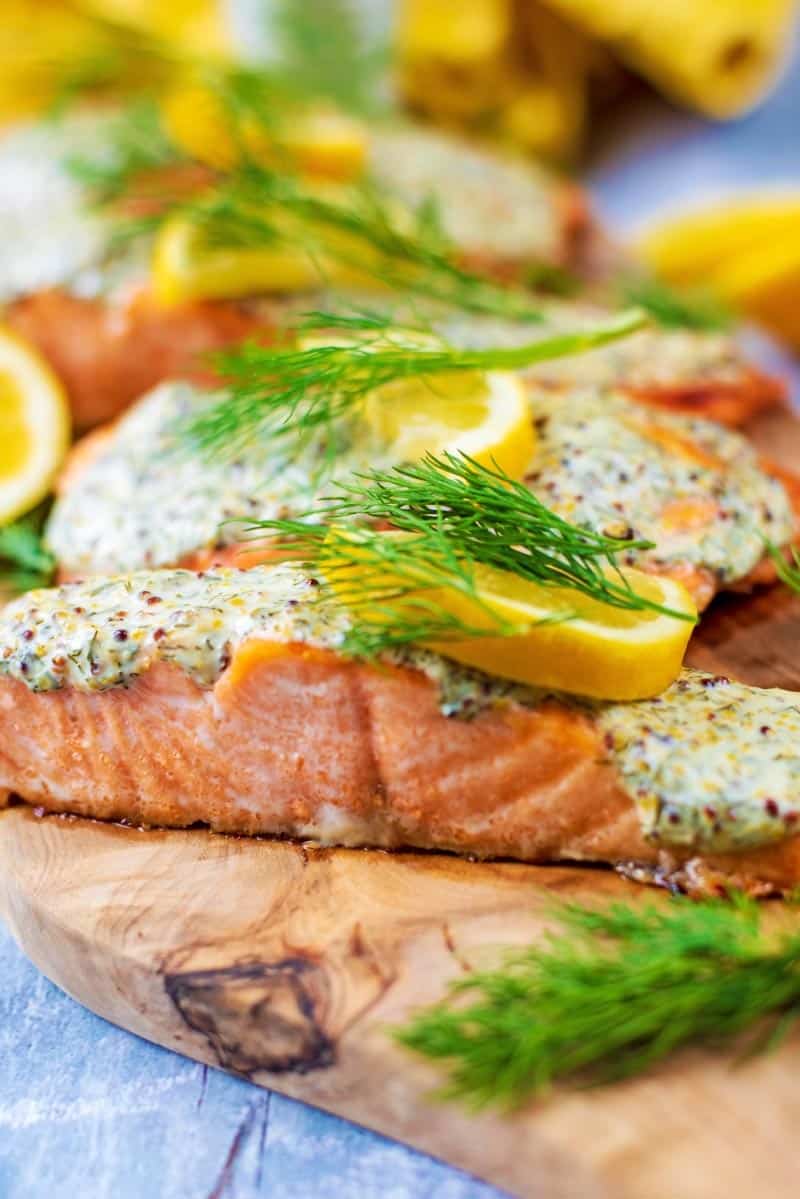 Frequently asked questions
Do you put dill on salmon before cooking?
Yes, you can put it on before cooking, but we like to add some extra on top before serving too, because it has more of an intense flavour when it isn't cooked.
What can I do with leftover dill?
If you have bought dill just for this recipe and have some leftover, then it goes really well in a potato salad. Why not try our No Mayo Potato Salad.
Is dill salmon gluten free?
Yes, as long as you make sure the mustard you use is gluten free and that there is no cross contamination, then this can be gluten free.
How to choose salmon in the shop?
For salmon to taste its best, you want to choose the freshest that you can. Look for salmon that is moist rather than dried out - moisture content is a good indicator of freshness and it can also tell you how carefully the fish was handled. You also want to avoid salmon with any brown spots around the edges of the fillet or side, or if the skin has started browning and curling up.
Do you have to keep the skin on the salmon?
You can follow this recipe with skin on or off. We find that keeping the skin on helps to lock in the moisture though. Once the salmon is cooked the skin comes off easily anyway.
How can you tell that the salmon is cooked?
This salmon takes about 15 minutes to cook under the grill, however, salmon should reach 145°F/63°C. For a more visual cue, you want to look out for the salmon flesh to be a little opaque and a knife should easily slide through it. Salmon thickness can vary, so if your salmon is a bit thicker and not done after the suggested cooking time, then just add another few minutes.
Can you overcook salmon?
Yes, you definitely can. It can go from perfectly moist and flaky, to dry and overdone very quickly. So make sure to follow the guide above to make sure your salmon is perfectly cooked.
What is the grey part of salmon and can you eat it?
Salmon, like other fish, develops a grey-ish, brown layer of insulating fat between its skin and flesh. Yes, you can eat it, although it does have a stronger salmon flavour that some people don't like. This grey layer contains plenty of heart-healthy omega-3 fatty acids too.
Can I make Dill Salmon in advance?
Yes, you can make the sauce in advance and then keep it in the fridge until you need to use it.
More salmon recipes
If you've tried this salmon dill recipe, let us know how you got on in the comments below.
Tag us in your creations on Instagram @hungryhealthyhappy - Use the hashtag #hungryhealthyhappy too.
Recipe
Creamy Dill Salmon
Salmon and dill are a match made in heaven and our Creamy Dill Salmon might just be the best salmon recipe we have ever made.

Gluten Free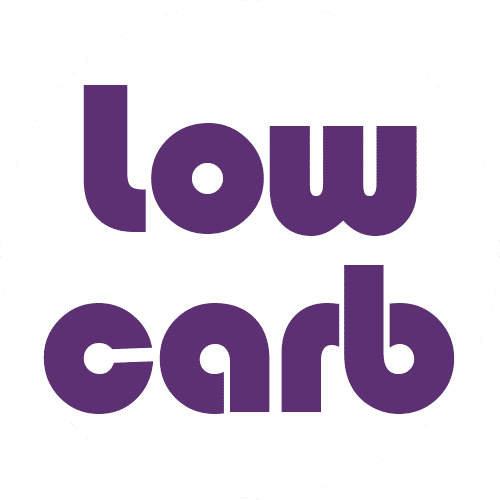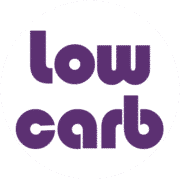 Low Carb
Pin
Print
Save recipe
Recipe saved!
Ingredients
480

g

(

1

lb

)

Salmon fillet

4

tablespoon

(

4

tablespoon

)

Fresh dill

-

chopped

2

tablespoon

Wholegrain mustard

4

tablespoon

(

4

tablespoon

)

0% Greek yogurt

1

tablespoon

Lemon juice

1

pinch

Black pepper
Instructions
In a bowl, mix together

4 tablespoon 0% Greek yogurt

,

4 tablespoon Fresh dill

,

2 tablespoon Wholegrain mustard

,

1 pinch Black pepper

and

1 tablespoon Lemon juice

.

Place

480 g Salmon fillet

under the grill and cook for 10 minutes.

After 10 minutes under the grill, remove the salmon and spread the yogurt mixture over the fillets.

Return the coated salmon to the grill and cook for a further 5 minutes.
Recipe tips
We used Greek yogurt for the dressing, however you could swap it for creme fraiche.
If you want to give this sauce a little kick, then crush a couple of garlic cloves into it.
You could add some crunch to the creamy sauce by mixing in one finely chopped shallot.
The cooked salmon will last in the fridge for about 3 days.
You could make this recipe with a side of salmon too.
Other variations we have made to the creamy sauce include mixing in a couple of crushed garlic cloves, and 1 finely diced shallot for some added texture.
Nutritional Information
Serving:
1
portion
|
Calories:
187
kcal
|
Carbohydrates:
1
g
|
Protein:
25
g
|
Fat:
8
g
|
Saturated Fat:
1
g
|
Cholesterol:
66
mg
|
Sodium:
144
mg
|
Potassium:
598
mg
|
Vitamin A:
80
IU
|
Vitamin C:
1.8
mg
|
Calcium:
36
mg
|
Iron:
1.1
mg
The nutritional information provided is approximate and is calculated using online tools. Information can vary depending on various factors, but we have endeavoured to be as accurate as possible.