Air Fryer Sausages are so quick and easy to make and they are healthier too because you don't need lots of oil. No oil splatter to clean up either and you get perfectly cooked sausages every time. You can use fresh or frozen sausages for this hands-off cooking method and it takes just 12 minutes.
Crispy and perfectly browned on the outside and juicy on the inside sausages, all done in the air fryer. If your family love sausages, then these sausages in the air fryer are going to make your life so much easier! No standing over the frying pan, minimal clean up and you can use any sausages.
If you are looking for other ways to use your air fryer, then why not try our Air Fryer Tortilla Chips, Air Fryer Carrots, Air Fryer Roast Potatoes, Air Fryer Broccoli or The BEST Air Fryer Chips.
Jump to:
Ingredients needed
Sausages - The best thing about this recipe is that you can use any sausages. We have used thick Cumberland sausages, but we have given the cooking times for other options below.
Spray oil - This isn't essential, but we find that it helps stop the sausages from sticking to the air fryer. This is important if you are using lean sausages.
A full ingredients list with measurements is in the recipe card below.
Step by step
One: Spray the air fryer basket with some oil.
Two: Add the sausages in a single layer.
Three: Put on at 180°C for 12 minutes.
Four: Turn halfway through.
Why should you try it?
Healthier - Unlike frying, you don't need to use loads of oil to cook these sausages in the air fryer. This recipe is a much lighter option.
Quick - These are ready in just 12 minutes, which is the same time as frying them, but much quicker than cooking them in the oven.
Easy - You don't have to stand over the pan, turning them every couple of minutes to stop them burning. You just turn them once and you have perfectly cooked sausages.
Minimal clean up - No oily pan and oil splattered walls to clean up. Just the air fryer and that's super easy.
What is an air fryer?
Our air fryer is one of our favourite kitchen appliances, because it cooks out favourite meals quicker and healthier. They work by cooking food by rapidly circulating hot air around. It gives (most foods) a crispy texture with much less oil than frying or roasting. By cooking this way, the air circulation cooks food evenly and nothing sticks. See below in the FAQs for our recommendation of which air fryer is the best.
Why use an air fryer?
Air fryers are a healthier way to cook food. You can get crispy food, like chips (fries), bacon, and roast chicken with much less oil than frying or baking.
They are quick and easy to turn on and they heat up quickly, so you don't have to wait for an oven to heat up.
Air fryers usually cook food in less time than it would take to roast it. These sausages would take around 20-25 minutes in the oven, but they cook in the air fryer in just 12 minutes. You can fry them in the same amount of time, but there is more chance of burning them and you have to use more oil.
They might take up a fair amount of space on your countertop, but they are so versatile that you will use them over and over again. They are very easy to clean too.
There is nothing worse than using your oven on a hot day, and heating up the whole kitchen. Using the air fryer stops this from happening.
Using an air fryer means more space in the oven. This is especially important if you're cooking a big meal like Christmas dinner and need your oven space for the meat and potatoes.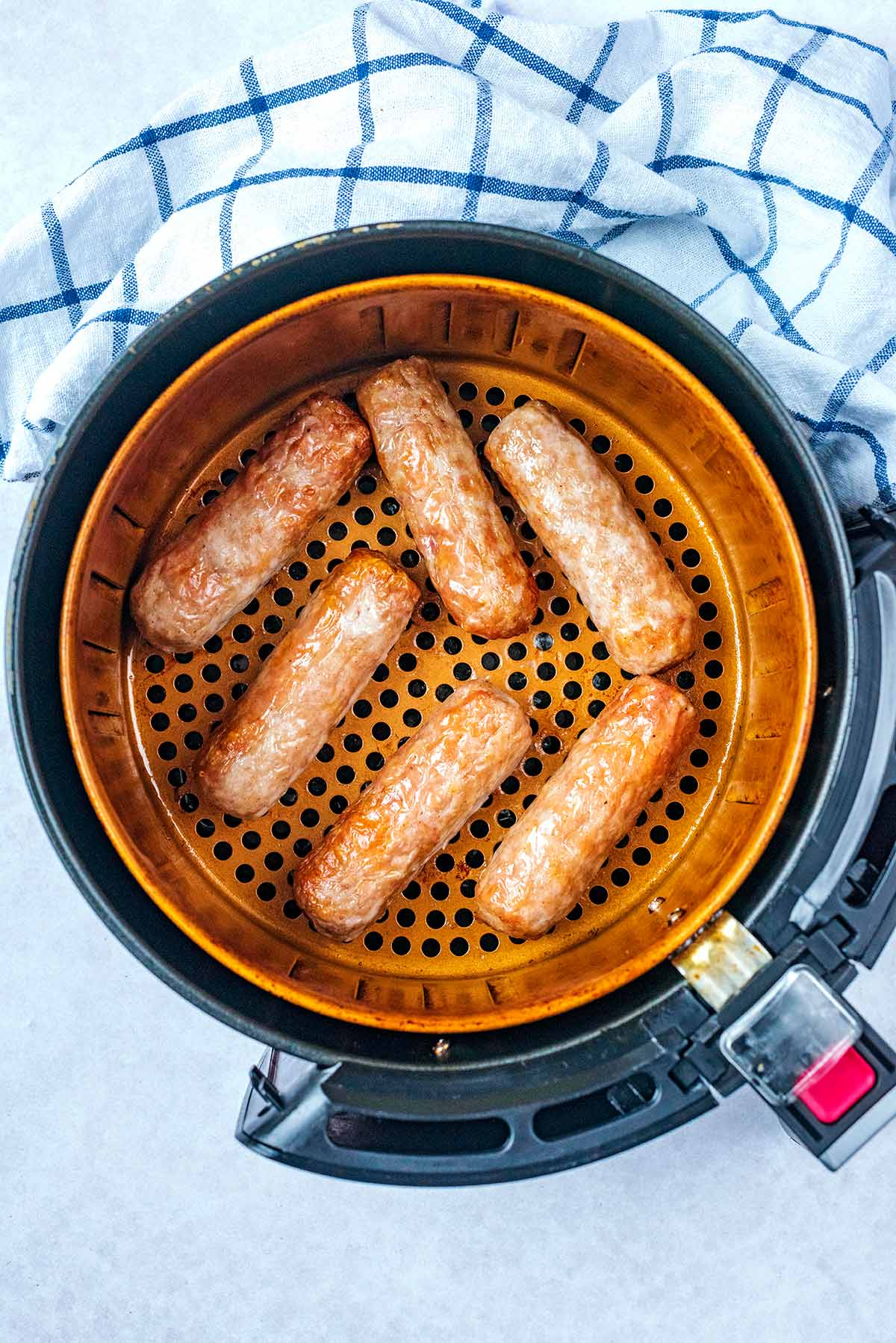 Variations
The only ingredient is sausages, so there isn't much that you can change up. However, you can cook any sausages you want to in the air fryer, but the cooking time will vary. Here is our time guide for different sausages:
Cocktail sausages (already cooked) - 4 minutes
Chipolatas (breakfast sausages) - 8 minutes
Thick Cumberland sausages (what we have used here)- 12 minutes
Bratwurst - 14 minutes
Frozen sausages - 15 minutes
What to serve with Air Fryer Sausages
Let's talk about dip first! You need something on the side to dip these air fryer sausages into, so why not try our Homemade BBQ Sauce or Healthy Ketchup Recipe?
To make this into a full meal, we like to serve it with some kind of potato. Here are some of our favourites: The BEST Mashed Potatoes, Garlic Potato Wedges, Hassleback Potatoes or Crispy Garlic Smashed Potatoes.
When it comes to vegetables sides, we have got you covered! Why not try our Grilled Corn with Herb Butter, Buttered Leeks, Garlic Spring Greens, Roasted Tenderstem Broccoli or Garlic Green Beans.
Storage
Store: You can store cooked sausages in an air tight container in the fridge for up to 3 days.
Freeze: Once they are fully cooled, you can wrap them up and put them in a freezer bag and they will keep for up to a month.
Defrost: Defrost in the fridge overnight.
Reheat: You can reheat them in the air fryer too. Put them in at 180°C for about 4 minutes until they are heated through.
Frequently Asked Questions
What is the best air fryer to use?
We can't rate highly enough the Power Air Fryer XL. The 5 litre capacity is big enough for cooking for the whole family and it can fry, grill, bake, sauté, roast and steam. There are simple touch screen controls and it heats up quickly and can cook your food up to 70% faster than a conventional oven. Also, it's dishwasher safe.
Do I need to preheat the air fryer?
No, there is no need to preheat the air fryer for this recipe. If you want super crispy sausages, then you could preheat it for 5 minutes first.
Do I need to pierce the sausages first?
If you don't want the skins to split and are worried about presentation, then you can pierce them a couple of times each. But for ease, but don't and we haven't had any problems with exploding sausages. We find that piercing them loses some of the flavour, but it does let some of the fat drain out too.
How do I know when the sausages are cooked?
The best way to ensure that meat is cooked is to use a meat thermometer. Sausages should be cooked to 74°C/165°F.
Can I cook more than 6 sausages at a time?
Yes, you can, as long as your air fryer is big enough. You need to make sure that the sausages are in a single layer and not overlapping otherwise they won't cook evenly.
Can I use frozen sausages?
Yes, you can, although it doesn't get the best results. If you want to use frozen sausages, then they should be ready frozen ones you can buy in the supermarket. If they are sausages you have frozen yourself then you need to defrost them beforehand.
What temperature do I put the air fryer to?
For perfectly cooked sausages, set your air fryer to 180°C/350°F. A higher temperature doesn't mean the sausages will cook quicker. They will just burn on the outside and be underdone on the inside.
More sausage recipes
If you've tried cooking sausages in the air fryer, let us know how you got on in the comments below.
Tag us in your creations on Instagram @hungryhealthyhappy - Use the hashtag #hungryhealthyhappy too.
Recipe
Air Fryer Sausages
Air Fryer Sausages are so quick and easy to make and they are healthier too because you don't need lots of oil. And they take just 12 minutes.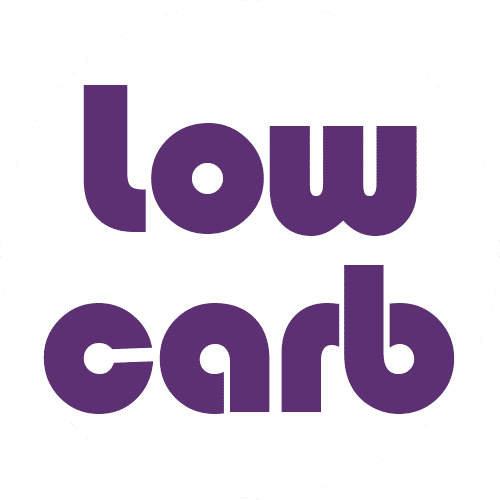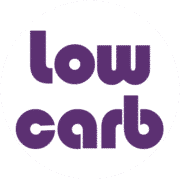 Low Carb
Pin
Print
Save recipe
Recipe saved!
Ingredients
6

Pork sausages

15

sprays

Spray oil
Instructions
Spray the air fryer basket with some oil.

Add the sausages in a single layer.

Put on at 180°C for 12 minutes.
Notes
This recipe is based on the air fryer we have used and mentioned above. Using a different air fryer may mean that cooking times vary. It is best to check the sausages after 10 minutes.
Turn the sausages half way through. This makes sure that they don't get stuck to the basket and they are cooked evenly.
You don't have to add any oil to the air fryer, but we do find that it stops the sausages from sticking. This is important if you are using very lean sausages.
Make sure put a single layer of sausages in the air fryer.
You don't have to use pork sausages for this - you can use chicken and beef sausages too.
Nutritional Information
Serving:
2
sausages
|
Calories:
349
kcal
|
Carbohydrates:
1
g
|
Protein:
24
g
|
Fat:
26
g
|
Saturated Fat:
9
g
|
Sodium:
2
mg
|
Sugar:
1
g
Disclaimer
The nutritional information provided is approximate and is calculated using online tools. Information can vary depending on various factors, but we have endeavoured to be as accurate as possible.