Baked potatoes (or you might call them jacket potatoes) are a classic autumn/winter comfort food. Fluffy potato covered in a crispy skin and then stacked high with toppings. Here we are sharing our 10 favourite healthy baked potato toppings to keep you going through the colder months. We have Tex-Mex and Greek toppings, ways to use up leftovers and some classic easy comfort toppings.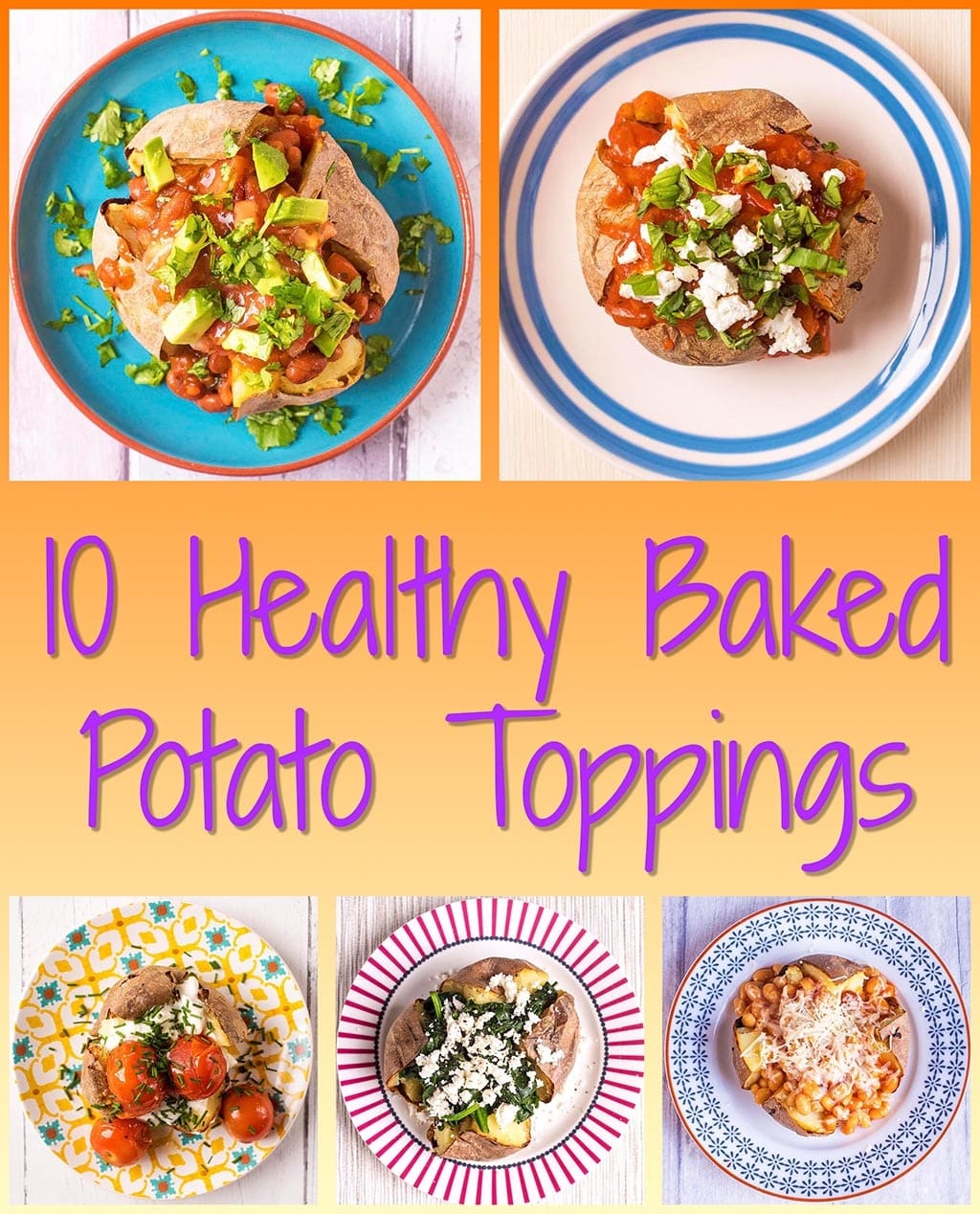 Jump to:
The great thing about baked potatoes is they are so versatile because the topping options are almost endless. Whilst it is easy for the calories to add up, especially if they are loaded with cheese, there are plenty of healthy options too. In this post we are sharing our 10 favourite baked potato toppings.
If you are hosting a party soon, instead of doing the usual party food and canapés, why not set up a baked potato bar? Have a big pile of cooked potatoes and then bowls for all the toppings and let everyone create there own perfect potato.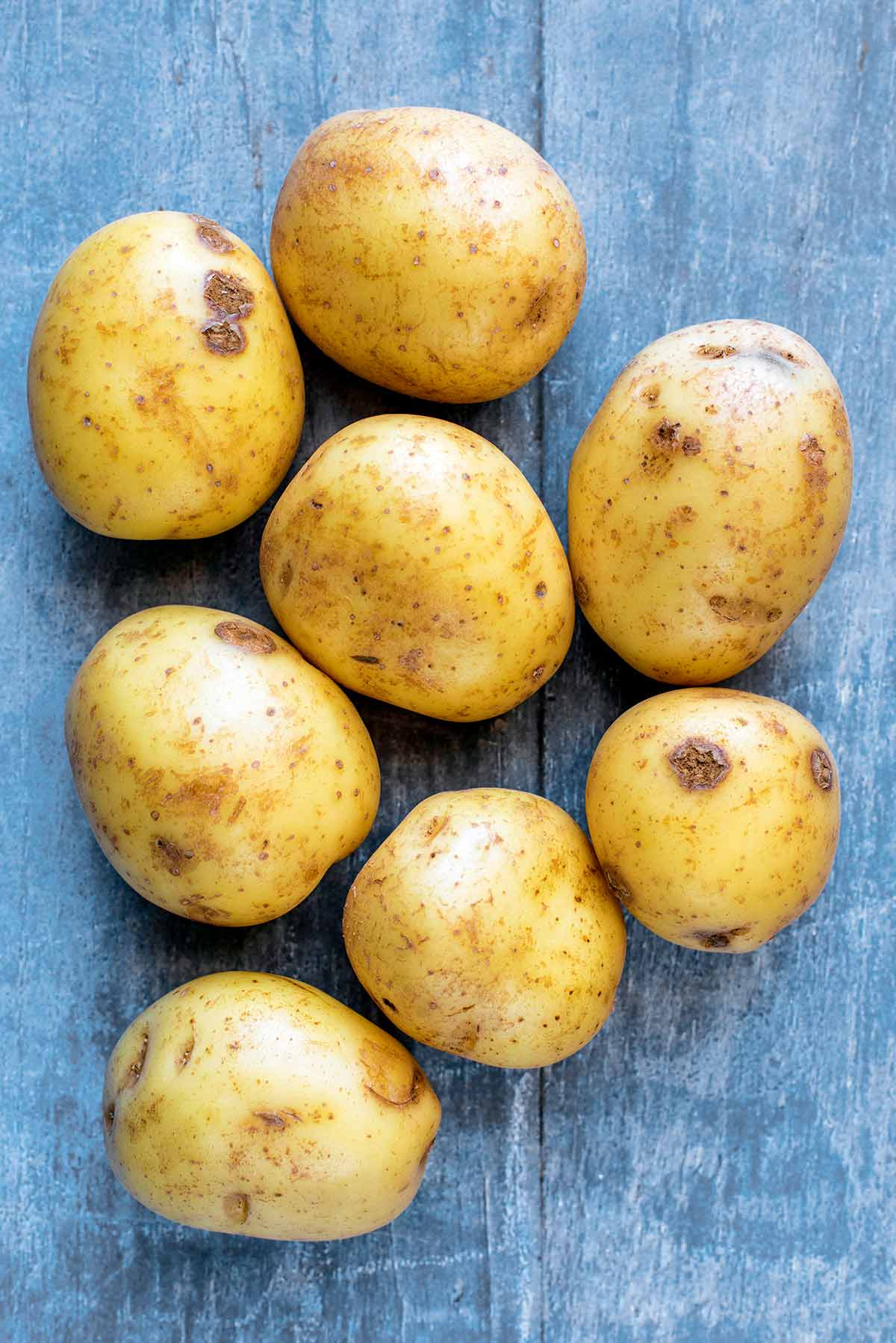 How to cook a baked potato
To cook a baked potato in the oven, simply brush it with a little oil and put it in a preheated oven at 220°C/200°C(fan)/425°F/Gas 7 for 20 minutes. Turn the heat down to 190°C/170°C(fan)/375°F/Gas 5 and turn the potato over. Cook for a further hour until the flesh is soft and the skin is crispy. Why not try our Microwave Jacket Potato, Slow Cooker Jacket Potatoes or Air Fryer Jacket Potatoes too - they are really easy and you get perfect fluffy potatoes.
Then load it up with one of the toppings below. All the toppings are enough for one potato.
Spinach and feta
This topping is a great way to get a good hit of greens in one meal. Simply heat a little oil in a pan and then add 4 handfuls of spinach (remember, it will wilt down) and gently cook for 2-3 minutes. Sprinkle with a little sea salt and black pepper and then put on top of a cut open baked potato and sprinkle over 30g of feta cheese.
Turkey chilli
Nothing says comfort food quite like a big spoonful of chilli, which is why it makes an ideal baked potato topping. We used turkey breast mince to keep in nice and lean.
Just take one portion of our Turkey Chilli and add a little guacamole and pico de gallo and you are ready to go.
Baked beans and cheddar
Cheese and beans is a classic baked potato topping and not one to be missed. Ditch the tinned baked beans and make your own Slow Cooker Baked Beans, which are much healthier because they are lower in salt and sugar.
Add one portion on the slow cooked baked beans on top of a baked potato and then sprinkle with 30g of mature cheddar. Using mature cheddar means you can use less, as it has so much flavour.
Leftover chicken and creamy Leeks
We hate waste, which is why everything gets used up and we love finding new ways to use leftovers. This is something we have most Monday lunchtimes to use up chicken leftover from the roast dinner the day before.
Heat a little oil in a pan and add one chopped leek and gently cook for 4-5 minutes. Add one portion of shredded chicken and 4 tablespoon of creme fraiche and 1 tablespoon of wholegrain mustard. Stir and cook for 2 further minutes and the put on top of the baked potato.
Ratatouille
Another great way to eat a lot of different vegetables in one go is Ratatouille. It also makes the perfect baked potato topping. Take one portion of our One Pot Ratatouille and pile it on top of a baked potato and then crumble over 30g of garlic and herb goats cheese for some added creaminess.
Creamy rosemary mushrooms
If you're looking for a vegetarian option that has plenty of meaty texture, then mushrooms are the way to go. Slice 8 chestnut mushrooms and add to a hot pan with a little truffle oil and 6 diced rosemary leaves.
Cook for 4-5 minutes, whilst stirring and then add to your potato. You can also use the mushrooms from our Creamy Mushrooms on Toast recipe.
Tex-Mex
You didn't think I would miss a Mexican recipe did you? This might be one of my favourite healthy baked potato toppings, as it has everything that I love about Mexican food on it. It's got spicy beans, salsa, avocado of course and a sprinkling of coriander (cilantro).
Simply heat 200g (half a tin) of pinto beans in a pan with 4 tablespoons of passata, 1 teaspoon chipotle and half a teaspoon of cumin and gently cook for 3 minutes. Add it to a baked potato with 2 tablespoons salsa, quarter of a diced avocado and 1 tablespoon fresh chopped coriander. Our Restaurant Style Salsa works really well with this.
Creamy harissa tuna
If you have never tried harissa and tuna together, then you are seriously missing out. Mix half a can of drained tuna with 2 tablespoons of fat free Greek yoghurt and 1 tablespoon of harissa and mix well. Load on to your baked potato.
Cottage cheese, roasted tomatoes and chives
This is a protein packed baked potato, which is one of the many reasons we love cottage cheese. It's a delicious vegetarian source of protein and pretty cheap to buy too.
Mix 4 cherry tomatoes with a teaspoon of olive oil and a pinch each of sea salt, black pepper and garlic granules and mix well. Add to a baking tray and cook in a preheated oven at 190°C/170°C(fan)/375°F/Gas 5 for 15 minutes.
Load the baked potato with 2 heaped tablespoon of cottage cheese, roasted tomatoes and 2 tablespoons of fresh chopped chives.
See our recipe for Roasted Cherry Tomatoes.
Meze
I always knew that you could pretty much do anything with hummus and baked potatoes are no exception. The creaminess of hummus pairs perfectly with the fluffy inside of a baked potato. Add 3 tablespoons of hummus (get creative with the flavours) to a baked potato and then 6 chopped olives and 2 chopped sun-dried tomatoes.
What to serve with baked potatoes
We think that baked potatoes are a filling meal in themselves, but if you a are looking for some vegetable packed side dishes to serve with this, then we have got you covered.
More potato recipes
If you've tried any of these different baked potato toppings, let us know how you got on in the comments below.
Tag us in your creations on Instagram @hungryhealthyhappy - Use the hashtag #hungryhealthyhappy too.